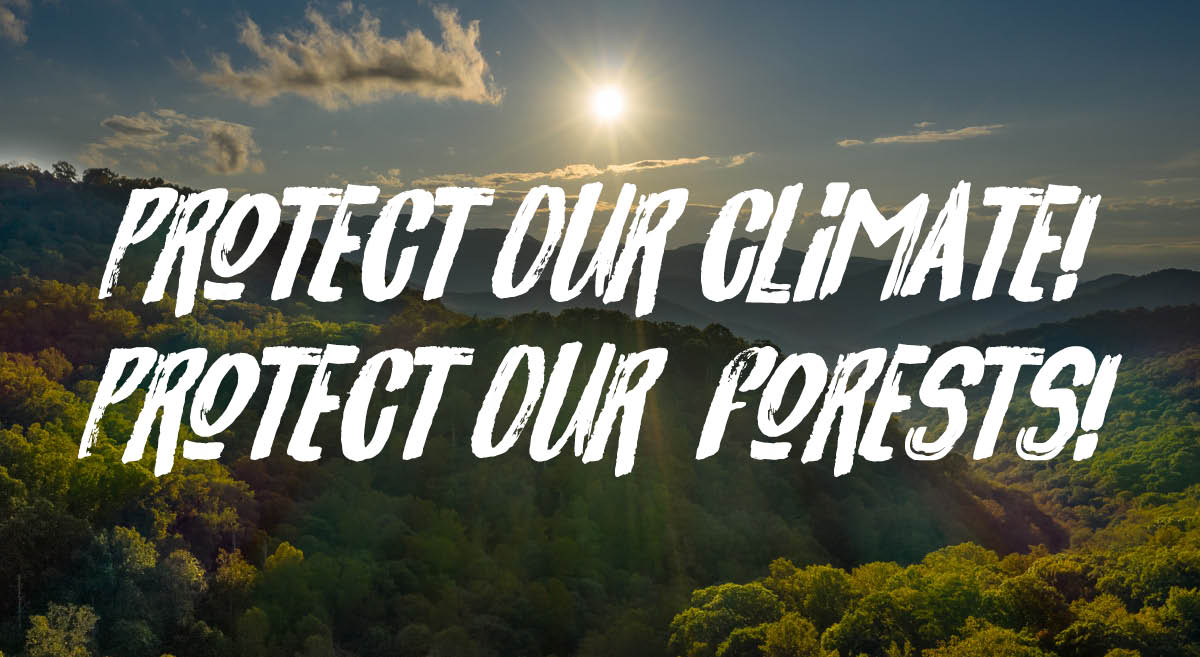 The Nantahala and Pisgah National Forests are a tremendous resource in the battle to slow climate change. A 2011 Forest Service assessment estimated that these forests store more than 72 million metric tonnes of carbon, and that number continues to rise as our forests grow.  
Help protect our publicly owned, 1.1 million acre carbon sink by taking action today!
June 29 is the deadline for public comments on the Draft Management Plan for the Nantahala-Pisgah National Forest. Now is our last significant chance to make our voices heard on a plan that will determine how our forests are managed for the next 15-20 years.
The Forest Service takes climate adaptation and mitigation into consideration when drafting its plan, but with your help we can make the plan even more climate friendly by:
1. Protecting old-growth forests from timbering
As trees grow they capture carbon, and they slowly release it as they die and decompose. With old-growth forests, the equation favors carbon capture. More than other forests, old-growth forests store and accumulate more carbon than they release through decomposition. That's why we support a forest management plan with the most inclusive definition of old-growth forests and the widest protections.
The Forest Service should place all of the established old-growth — plus areas identified by ecologists and conservation experts — in the Designated Old Growth Network and into protective management areas to prevent logging, as recommended under Alternative C. However, any restrictions to adding old growth stands that have yet to be identified to the Designated Network should be lifted.
2. Defining "old growth" for more consistent forest management
The term "old growth" was coined by foresters in the early days of logging, but the lack of consensus around a single definition creates room for interpretation at the project level. It also makes building consensus among forest user interest groups, such as timber companies, recreationists, and conservationists difficult if not impossible. The forest service must not allow the lack of a single definition to endanger old-growth stands and create a pathway for increased logging. The Forest Service should set a definition in the final management plan that best protects these crucial carbon stores.
3. Mandating sustainable timbering practices
Timbering can be done in a manner that is sustainable and beneficial to the overall health of the forest. Our moist and fertile forests are resilient to timber harvest and can quickly rebound.However, if they are being grown for future timbering, whether they continue to store carbon after they've been cut down is a crucial question. As such, we support:
Our mountain forests are not suitable for commercial biomass electricity production. Though byproducts of restoration activities could be used for firewood or artisanal uses, our public forests should not be cut down just to be burned. Though, biomass energy production is not currently a concern due to the lack of a biomass wood pellet factory in our region. Limits should be placed on what types of wood could be available for biomass harvest should that change during the term of this management plan.

Preference should be given to timber companies that provide quality timber for furniture making, construction and other durable goods so that the wood's carbon continues to be stored.
The use of specialized equipment should be required on sustained steep slopes of over 40% to guard against increasing erosion and landslides due to the effects of climate change. The type of logging methods should be outlined in the project's environmental review documents.
Unused forest roads in backcountry areas should be decommissioned or repurposed for trails. This would help prevent erosion and sediment pollution and extreme flooding in forest rivers and streams due to the heavier rains and storms brought on by climate change.
4. Protecting our forests and vulnerable species from the effects of climate change
To ensure the long-term health of our forests and the native species that call the Pisgah and Nantahala National Forests their home, the Forest Service should strengthen their climate adaptation. This includes:
Increasing the number of streams occupied by native brook trout in the highest elevation, highest flow cold water streams to compensate for losses in other warmer streams.
Increased use of controlled burns to reduce forest density and prevent larger wildfires that would damage native habitats and reduce our carbon stores.
Because non-native invasive plant species (NNIPS) spread in part due to our warming climate and land disturbances such as timbering, the plan should include an objective that all new harvest units and associated roads (including a 100-foot buffer) should be monitored for new infestations of priority NNIS and treated, if found. Also, the Forest Service should include a desired condition that priority NNIS are not spreading.
Habitat connectivity should be maintained and increased for migratory species and species whose habitat may shift due to climate change
Do your part to fight climate change: help protect the Nantahala-Pisgah National Forests and ensure that they remain healthy and effective carbon sinks for our region.
Comment below or check out our Forest Plan Resource page for our full analysis of the entire Draft Forest Management Plan.