Public Lands Team Experiments on Invasive Species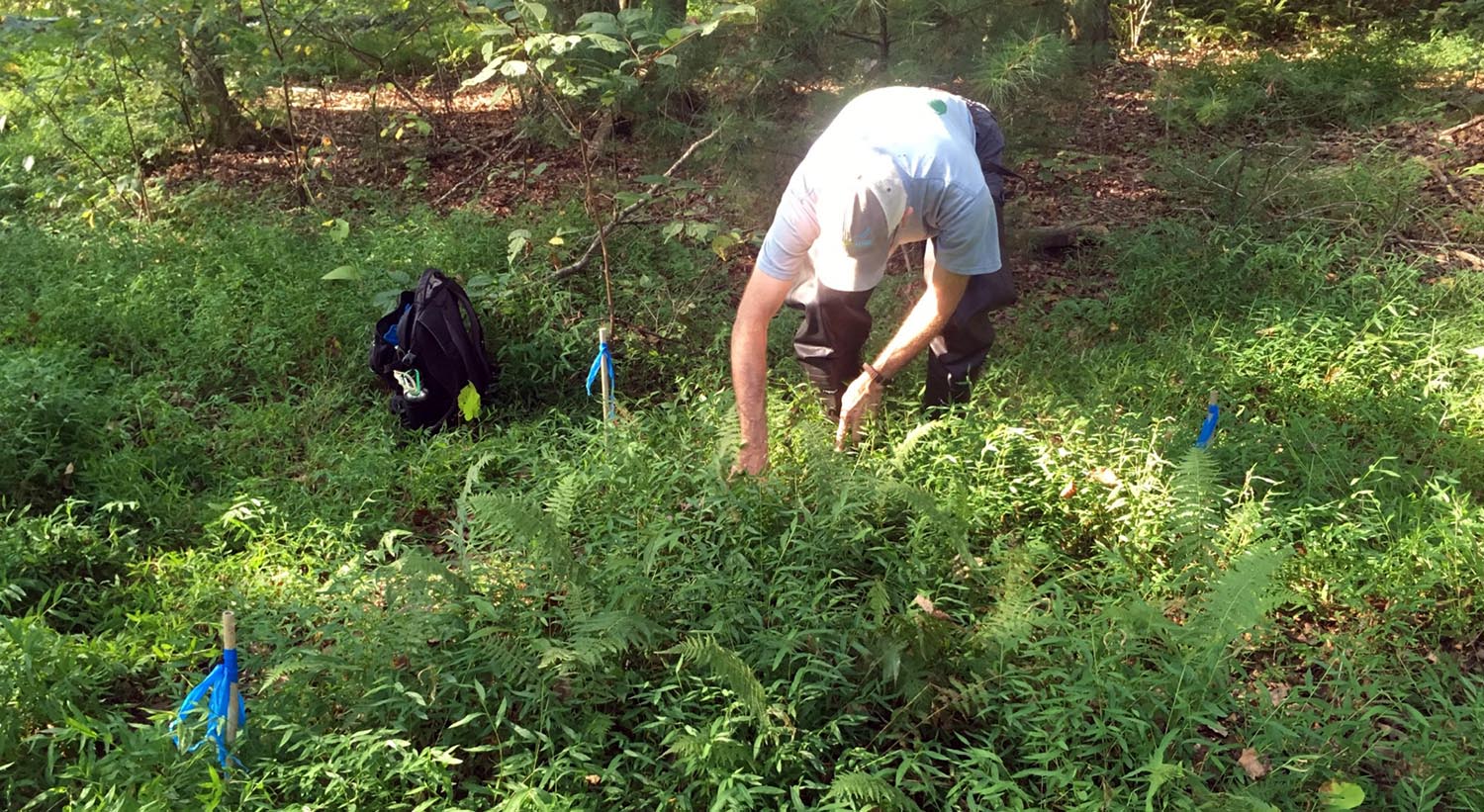 ​MountainTrue takes pride in being at the forefront of conservation techniques in many areas. Last summer, Public Lands Director Bob Gale decided to work on finding new ways to tackle two of our worst invasives: Japanese stiltgrass (Microstegium vimineum) and Japanese knotweed (Reynoutria japonica).
For the invasive stiltgrass, we are typically stuck hand-pulling it in mid-summer.  This can be a rewarding activity to do with a large volunteer group, but takes a lot of people-hours to accomplish.  However, Bob Gale noticed that in some infested areas, there were pockets of ferns that weren't being pushed around by the stiltgrass.  Bob decided to work with interns and our Forest Keeper Coordinator, Rhys Burns, to test their ability to fight back. They picked out areas at a local wetland ranging from highly invaded to unimpacted, laid out 4×4-foot plots, and transplanted 48 ferns into these areas.  The ferns continued to establish through the fall, and we will return this spring to see how they fared. Wouldn't it be nice to fight plants with plants!
Japanese Knotweed is widely considered one of the worst invasives we have.  If broken up, it can resprout from tiny pieces or float down the rivers where it likes to live until it finds a new home.  It is also resistant to many common herbicides, including the low-impact chemicals we like to use in sensitive areas. However, a new herbicide was developed that may kill this unstoppable plant.  In collaboration with the Appalachian Trail Conservancy and the Nature Conservancy, we were able to purchase some of this expensive chemical, and put it to the test. Although it will take several years to determine if it truly works, the initial results are hopeful!  In a study conducted over 3 treatments last summer, we were able to kill the knotweed using some methods of application, and rule out others.
With both of these experiments, we will continue to monitor and treat these plots, and work with partners to share the data we collect. Here's to hoping!