Smart Growth and Henderson County's 2045 Comprehensive Plan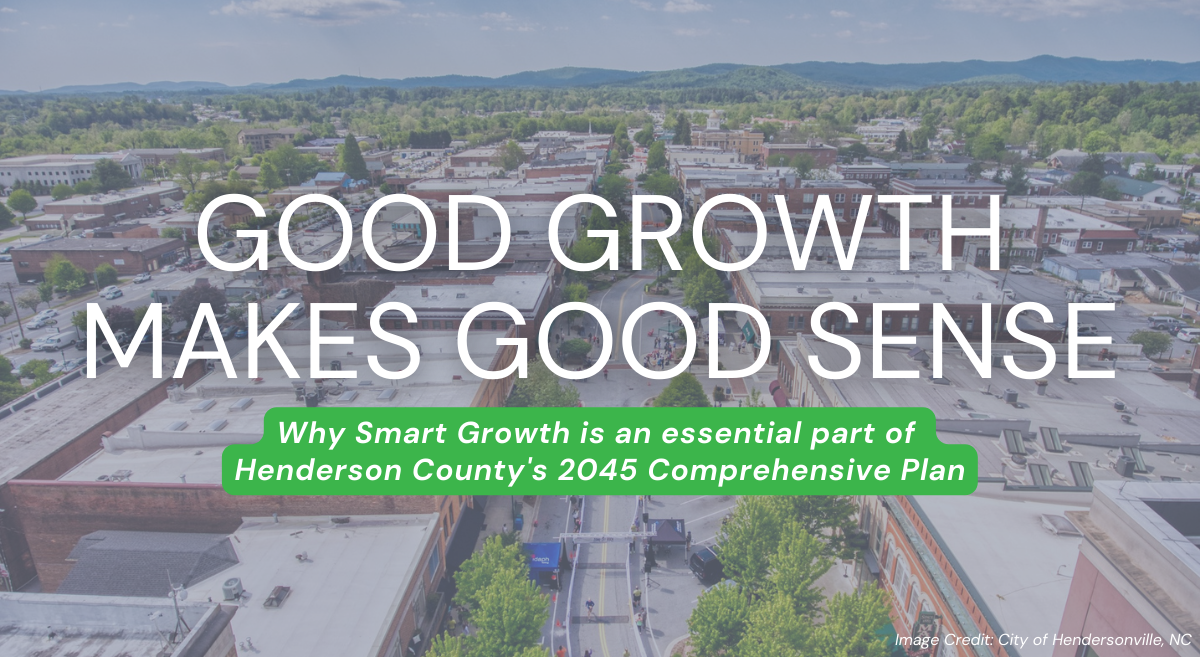 The state projects that in the next 25 years, over 39,000 people will move to Henderson County. To put that in perspective, that's more than the current populations of Hendersonville, Flat Rock, Fletcher, Laurel Park, and Mills River combined. Furthermore, when they get here, they'll require 17,000 new homes — that equates to nearly 700 new homes per year!
How will we accomplish that? Where will those houses go? Fortunately, we have an opportunity to answer those pressing questions, as Henderson County is now developing a 25-year plan for future development. 
This long-range plan, called a comprehensive plan, provides a significant opportunity for residents and businesses to inform the next 25 years of growth and development in Henderson County. Community input in the comprehensive planning process will ensure the county is better equipped to meet the challenges of a growing population, climate change, and increased pressures on our built environment.
When we think of how we typically meet a huge demand for housing, we envision sprawling subdivisions and massive apartment complexes.
Smart Growth: limiting the expansion of infrastructure and building only where infrastructure such as water, sewage, and electricity already exists is one of the most effective ways to combat urban sprawl, protect green space, and ensure higher density and more functional communities.
On February 10, MountainTrue Healthy Communities Program Director Chris Joyell chatted with us about smart growth in relation to Henderson County's 25-year Comprehensive Plan. Taking the county's predicted population increase into consideration, Joyell outlined how we can realize a vision for growth that encourages economic development, respects our natural resources and agricultural heritage, and enhances our communities' quality of life for generations to come! Presented in partnership with Conserving Carolina, this free webinar was the first of four Special Edition Green Drinks series webinar, entitled Good Growth Makes Good Sense. Click here to watch the webinar recording!
Those projects usually require extending new water and sewer lines into rural and undeveloped land. Instead of expanding our infrastructure into rural landscapes, we can choose to invest in our existing communities by improving aging infrastructure to accommodate the growth that cities and towns are designed to absorb.
Focusing development in established neighborhoods protects our farmland and natural areas and represents a sound financial approach to the problem. By encouraging development in existing communities, the county reduces the long-term maintenance obligation of new infrastructure. Investing in our communities supports our neighbors and is ultimately more efficient, saving the county money and strengthening its tax base.
A greater focus on providing a wide range of housing options can serve as an antidote to sprawling development patterns that perpetuate gridlock, auto emissions, and the climate crisis. These housing options don't always have to be 200-unit multi-family apartment buildings. Instead, we can encourage modest forms of infill development that are comparable in size and scale to large homes. These "middle housing" types include duplexes and courtyard apartments and have been largely missing from housing production since the 1970s.
If you visit any pre-war neighborhood in the region, you'll find modest brick-faced townhouses and courtyard apartments blending in seamlessly with single-family homes. These middle housing types can provide a wide range of affordable options for, say, seniors looking to downsize or young adults looking to strike out on their own; for service workers, public servants, and school teachers looking to live closer to where they work. 
Accessible, affordable housing options can help us build a community that accommodates all walks of life. To do this, we need a fair and predictable set of rules to guide development. When we leave these decisions to the discretion of a county board or a judge, the only people who benefit are the lawyers. Instead, we need to streamline the permitting and approval process to make development decisions more timely, transparent, and predictable for developers and residents alike. 
If we want to preserve Henderson County's farmland, forests, and heritage, we need to find a better way to accommodate the anticipated influx of new residents while supporting our existing communities. Henderson County's ongoing comprehensive planning process allows county residents to articulate what middle housing options could look like and how they could fit in/around existing neighborhoods and town centers while preserving their unique character.
Visit Henderson County's 2045 Comprehensive Plan website to learn more and get involved.