Photos from Our SMIE Water Quality Training in Henderson Co.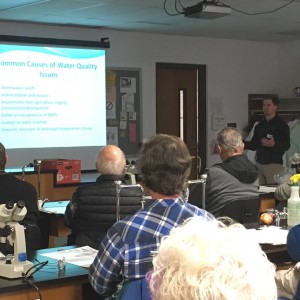 On Saturday, March 11, MountainTrue held our Stream Monitoring Information Exchange (SMIE) bio-monitoring training at Blue Ridge Community College.
MountainTrue volunteers monitor stream health throughout Henderson County and go out into the field to do bio-monitoring twice per year, in April and October. Through the SMIE bio-monitoring program, we sample aquatic macro-invertebrates, or aquatic insects, as indicators of water quality. Bugs tell us a lot about the health and vitality of our rivers and streams.
Participants learned basic stream ecology, how to identify aquatic macro-invertebrates, why macro-invertebrates are terrific indicators of water quality, and the sampling protocol. The event was led by MountainTrue Water Quality Administrator Jack Henderson and volunteer members of the Clean Water Team.
After a morning classroom session, the class headed out to the Big Hungry River field side, where participants got to put their newly learned sampling methods and identification knowledge to practice.
Thank you to Blue Ridge Community College for hosting!