Special Raleigh Report: GenX and the Safety of NC's Public Drinking Water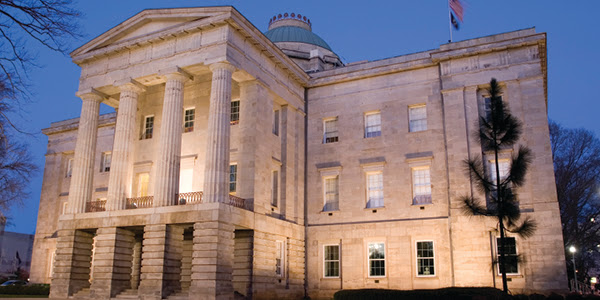 The GenX issue has focused on the Cape Fear area, but emerging contaminants raise serious questions about the safety of drinking water across North Carolina.
Nov. 9 2017 
Revelations that a potentially dangerous chemical called GenX has been found in the Cape Fear River – as well as the treated water supplies for hundreds of thousands of people in the Cape Fear region – for decades have been roiling in the press, in Wilmington politics and at the General Assembly since the news hit earlier this year.
But while the GenX issue has largely focused on the Cape Fear region, recent developments reveal that chemicals like GenX raise a host of questions about the safety of North Carolina's drinking water more broadly, including in Western North Carolina.
GenX – An "Emerging Contaminant"
GenX is a often referred to as an "emerging contaminant" – a substance or chemical that has been discovered in our air and water but whose environmental and public health risks have been scarcely-researched. Because so little is known about these substances, federal standards for environmental or human exposures to them are rarely enacted. Nor do regulatory agencies regularly monitor for these substances. Instead, states have a lot of leeway under the federal Clean Water Act to regulate them – or not.
Keep in mind that there are between 80 and 130 million known chemicals, and new ones are developed regularly. About 85,000 of these are used in commerce, and perhaps 10,000 of these have been tested for toxicity. Under the Clean Water Act, the U.S. Environmental Protection Agency (EPA) has listed 126 of these chemicals as "priority pollutants" and flagged 65 as "toxic pollutants." The EPA has banned just nine pollutants outright (PCBs, dioxins, chlorofluorocarbons, asbestos, hexavalent chromium and four carcinogenic mixed nitrates used in metalworking).
GenX – Not New to NC
GenX is used to manufacture Teflon. Its presence in the water of the Cape Fear has been known since at least 2015, and recent research by Harvard scientists disclosed that EPA-mandated sampling detected GenX in public drinking water supplies for 6 million people nationally between 2012 and 2015. North Carolina ranked third nationwide for the number of GenX detections.
The GenX issue finally got the attention it deserved in June of this year when the Wilmington Star-News reported that people in the Cape Fear region had been drinking GenX-contaminated water for years and that the local water utility and the state did not publicize the findings after they were alerted to the problem by Detlef Knappe, a water chemist at NC State University, in 2016.
The GenX Fallout
Since that revelation, DEQ has ordered the source of GenX, the Chemours Company, to stop all GenX discharges from its Cumberland County plant. DEQ has also ordered the company to stop discharging two other chemicals. A number of families living near the Chemours plant are now being supplied with bottled water after GenX contamination was discovered in their personal wells.
The EPA has begun investigating Chemours and its parent company, DuPont, and the NC Attorney General's office has started a civil investigation. The local water authority in the Cape Fear region is also suing Chemours and DuPont, and the NC Department of Health and Human Services has reduced its "provisional health goal limit" for GenX from 70,000 parts per trillion (ppt) to 140 ppt in drinking water.
On the political front, Republicans in the General Assembly and Democratic Gov. Roy Cooper have traded charges about who is responsible for DEQ budget cuts and GenX going undetected for so long.
The Bigger Picture
While GenX has received a great deal of attention, it also raises much larger issues about North Carolina's drinking water supplies. For example, Dr. Knappe, the NC State professor, recently told a legislative study committee that another emerging contaminant — 1,4-dioxane — is also present in Cape Fear drinking water at levels that exceed NC standards. Like GenX, 1,4-dioxane is not removed by traditional water treatment methods. Dr. Knappe estimated that more than one million North Carolinians, mostly in the Cape Fear river basin, are now drinking water that exceeds the state standard for 1,4-dioxane toxin.
Cape Fear Riverkeeper Kemp Burdette told the same committee that industries should be required to prove that the chemicals they want to discharge into drinking supplies are safe before they are permitted to do so. Right now, Kemp told the committee, polluters are only required to stop putting emerging contaminants into rivers and streams when there is scientific evidence that they are harmful — a process that can take years and cost a great deal of money to complete.
Another environmental group, the North Carolina Coastal Federation, has urged lawmakers to invest several million dollars in a new generation of water monitoring technology that can detect emerging contaminants and ensure that everyone — scientists, regulatory agencies and the public — know what is in our drinking water.
At MountainTrue, our Riverkeepers for the French Broad, Green and Watauga rivers and our Broad River Waterkeeper Affiliate are working with Riverkeepers from across the state to explore the extent of the presence of emerging contaminants in watersheds statewide.
We will also be joining the alliance of environmentalists, local governments, public health advocates and concerned citizens who are pushing policymakers to invest the time, money and regulatory muscle needed to keep our water clean and healthy.
More specifically, MountainTrue's priorities for the state's response to GenX include:
A full audit of all industrial dischargers into North Carolina rivers and streams so that we understand what chemicals are being discharged into our water;
Expanded state investment in water quality monitoring to detect emerging contaminants in all public drinking water supplies;
Full enforcement of the state's authority under the Clean Water Act to detect emerging contaminants and to ensure they do not pose a risk to human health or the environment;
Full public disclosure of the results of water monitoring and discharge audits so that everyone — including the public — understands what is in our water; and
A transparent, open decision-making process to determine the best way to eliminate, reduce and prevent emerging contaminants in public drinking water.
More GenX Reading
You can find a GenX FAQ from the Star-News here.
All of the NC Department of Environmental Quality's GenX information can be found here.
The North Carolina Health News' reporting on GenX can be found here.
A good summary of Dr. Knappe's work on 1,4-dioxane can be found here.