French Broad Riverkeeper Releases New Report on River's Health
Asheville, NC – The French Broad Riverkeeper has released the State of the French Broad River Watershed 2018, the first published report that grades the cleanliness and water quality of 62 creeks and streams throughout the French Broad Watershed.
"Right before jumping into the river, the number one question people ask me is 'Is it clean?'" says French Broad Riverkeeper Hartwell Carson. "This report is an answer to that question."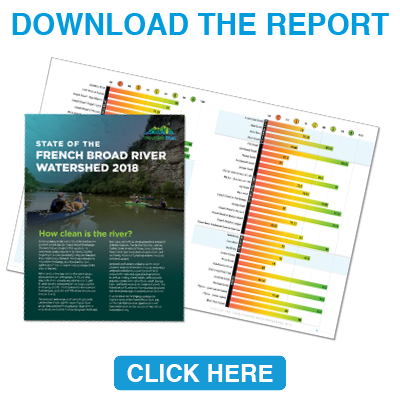 The report combines testing results from the North Carolina Department of Environmental Quality, the Volunteer Water Information Network, the Stream Monitoring Information Exchange, and MountainTrue's volunteer water quality monitoring programs, weights the data and gives each stream a grade from A through F.
An A grade is given to streams that have excellent water quality and low pollution levels, and Fs are given to streams that have poor water quality. Sixty-six percent of streams scored A or B, a vast improvement from decades past. However improvements are still needed, as 34 percent of the rivers in the report were rated a C or a D.
Four Cleanest Streams:
Middle Fork French Broad River – 100 points
Cathey's Creek – 100 points
Cataloochee Creek – 100 points
Pigeon, upstream of Canton – 100 points
Four Dirtiest Streams:
Turkey Creek – 60 points
Newfound Creek – 62.5 points
Boylston Creek – 65 points
Fines Creek – 65 points
The report is averaging data sets from various sources collected over the last few years. "The report serves as a good, useful guideline," explains Hartwell Carson. "But it's important to remember water quality will vary a bit depending on weather conditions. Water is usually dirtier right after a big rainstorm, so be more cautious when the water is cloudy."
The cleanest waterways are well protected from pollution, and most of their watersheds are located in protected public lands that lack a lot of agriculture, development or industrial pollution sources. The dirtiest streams lack land-use protections and are heavily impacted by bad agricultural practices and development.
Sediment and bacteria pollution are the most common sources of pollution to our waters. Sediment pollution is caused by runoff from construction sites and agricultural operations as well as eroding stream banks. Bacteria pollution comes from agricultural runoff, sewage leaks and faulty wastewater treatment plants.
If you're interested in helping to make the French Broad River cleaner and healthier, you can take part in the French Broad Riverkeeper's water quality volunteer programs. The French Broad Riverkeeper also spearheaded the development of the Muddy Water Watch smartphone app, which allows the public to easily document and report erosion incidents to the appropriate authorities on-the-go. To learn more and download the app, visit: http://www.muddywaterwatch.com/ or get it from the Apple App Store (https://itunes.apple.com/us/app/muddy-waters-watch/id1092256794) or Google Play (https://play.google.com/store/apps/details?id=com.statcrew.muddywaterwatch).
About MountainTrue:
MountainTrue is the oldest grassroots environmental non-profit in North Carolina and champions resilient forests, clean waters and healthy communities. We engage in policy advocacy at all levels of government, local project advocacy, and on-the-ground environmental restoration projects across 23 counties in our region.MountainTrue is also the home of the French Broad Riverkeeper, Green Riverkeeper, Watuaga Riverkeeper and the Broad River Alliance – Waterkeeper Alliance affiliates and protectors of their respective watersheds.