Protecting our mountain waters wouldn't be possible without the help of members, volunteers, and supporters like you.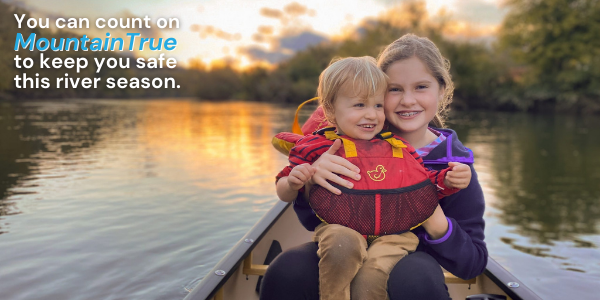 With your help, we will maintain E. coli sampling at 85 popular swimming areas this summer. Samples will be taken, processed, analyzed, and published on the easy-to-use Swim Guide website and smartphone app before starting your weekends!
Our goal is to raise $20,000 by May 30 to help fund this summer's Swim Guide E. coli sampling program. Each sample costs $30, which includes staff time, supplies, lab analysis, and travel expenses. Businesses or organizations can fully sponsor a site for $500/year with recognition on the Swim Guide platform and social media.   
"I like to paddleboard, so water quality is important to me. People need a tool like the Swim Guide app to know when the water is safe. My friends and I care about sharing these results and letting community members know about this amazing tool. MountainTrue addresses pollutants they find in the river and advocates for better policies that will protect it." 
-Tiffany Narron, Swim Guide Volunteer
"I love getting outside and helping our Riverkeepers by taking water samples, and it's especially rewarding to see the results posted within 24 hours so my friends and I know the water conditions before the weekend." 
-Erica Shanks, MountainTrue Board Member and Swim Guide Volunteer
"I'm a hardcore river enthusiast, spending a lot of time canoeing and paddleboarding. I need to know if the water I'm playing in is safe. I appreciate how local this is to the High Country. It's awesome to know where it's safe and have that knowledge be current for my family and dogs. I love the sampling side because I get to feel like I'm contributing." 
–

Jordan Sellers, Swim Guide Volunteer
"The City of Hiawassee strives to have the best water quality. Being out on the lake and knowing it's safe to boat, swim, and fish in is important. We really appreciate our relationship with MountainTrue." 
–

Liz Ordiales, Mayor of Hiawassee, GA
We want you and your family to be able to visit publicly accessible swimming areas without having to worry about health risks. Swim Guide makes it easy for people to know when their water is contaminated and when it is safe to swim, giving our community the information needed to prevent waterborne illnesses. Our sampling will also help us identify problem areas where work is needed to improve water quality for the future.
Will you stand with MountainTrue? We need you to take action today so our waters can be healthy today and for generations to come. Help us reach our $20,000 goal by donating today.
From all of us on the MountainTrue Clean Water Team, thank you for making this summer swim season the safest one yet!