Tamia Dame, AmeriCorps Forest Keeper Coordinator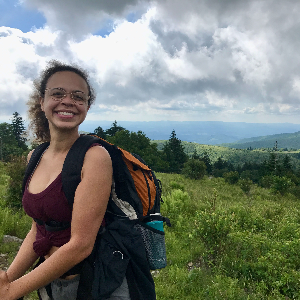 Tamia is a graduate of UNC Asheville, where she earned her B.S. in Environmental Studies in 2020. Native to the Appalachian foothills of Lenoir, NC, Tamia spent much of her childhood exploring the outdoors and longing to live in the mountains. Upon moving to Asheville in 2015, she swiftly realized her calling to serve the exploited and underserved parts of our shared environment and society. Ever-seeking an opportunity to connect with her community, Tamia worked alongside Asheville GreenWorks, Southern Appalachian Highlands Conservancy, and the UNC Asheville Office of Sustainability while in college. In addition to networking with sustainability and education professionals across the state and country, Tamia's experiences and relationships with her local community have reinforced her passion for critical intersectionality in pursuit of environmental and climate healing.
As Forest Keeper Coordinator, Tamia is eager to explore, learn, and improve our public lands while reimagining education and volunteer coordination to preserve momentum and advance social equity during the COVID-19 pandemic. She brings with her a wealth of experience in environmental and racial justice education, event and program management, youth leadership, communications, and journalism. In her free time, Tamia enjoys reading, playing video games, hiking and camping, and spending time with her dog, Wendy and her nephew, Ronin.