These Owls May Not Survive Climate Change If We Don't Do Something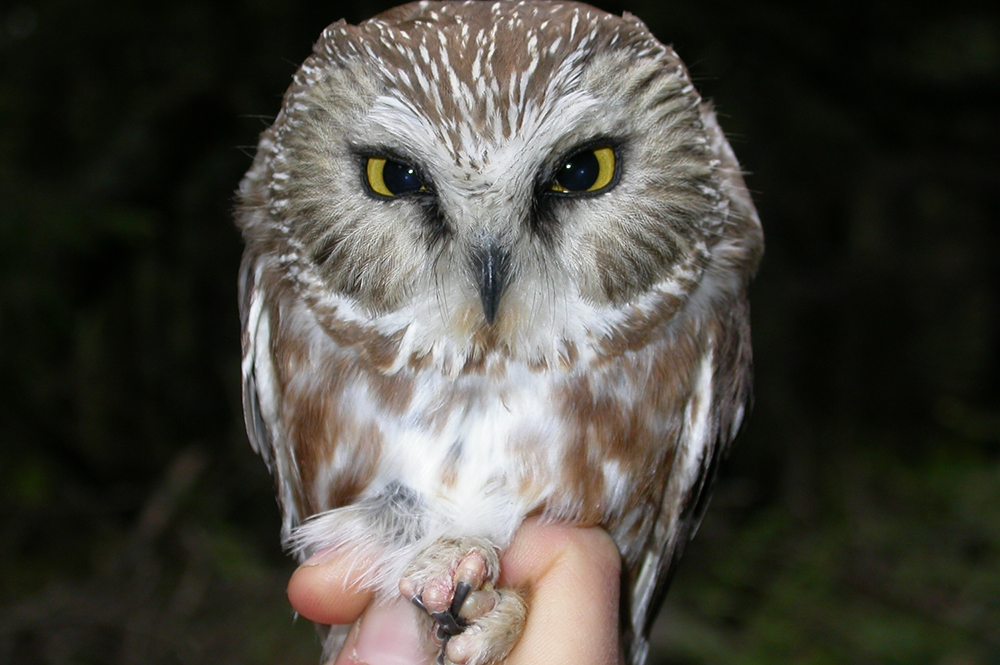 This little guy is the northern saw-whet owl, which makes its home in the spruce and fir forests at the tops of our highest mountains. At about the size of an American robin, the saw-whet owl is one of smallest owls in North America.
This owl, and other species that live at higher elevations such as the northern flying squirrel and the spruce fir moss spider, are in danger.
That is because rising temperatures due to man-made climate change are pushing species uphill, from lower elevations toward cooler climates. But the ones who already live at our highest elevations may have to abandon our Southern mountain habitat.
Support MountainTrue's Climate Resilience Work, Donate Today. 
As you are probably aware, the United Nations released an alarming new report concluding that man-made climate change is warming our planet faster than previously anticipated, and that if we don't act now, the damage will be irreversible. One of the report authors, Debra Roberts, stated: "The next few years are probably the most important in our history."
The northern saw-whet owl and its high-elevation forest friends won't be the only ones affected by rising temperatures and shifting weather patterns. Climate change will touch everyone of Western North Carolina's communities. At current emission levels, Western North Carolina is expected to be 4.6°F warmer in 2050 than it was in 2000. Our weather patterns are already changing, and we can expect it to get worse. Storms will be stronger and wetter, and dry spells will be longer and hotter. That means more flooding and landslides as well as more intense droughts and a greater number of wildfires.
We will also be profoundly impacted by what happens to communities living at lower elevations. Rising sea levels and increasingly destructive hurricanes and storm surges will turn many of our fellow Americans into climate refugees. Florida alone could lose more than 2.5 million residents by the end of the century. This will likely lead to incredible population pressure on our mountain towns to accommodate those seek refuge and resettlement. If mismanaged, this could lead to more sprawl and encroachment on our natural environment.
So what are we going to do about it?
Meeting the challenge outlined in the UN's report requires global cooperation, leadership at the national level as well as innovative local programs and action on the part of individuals. That's where MountainTrue comes in. Our members and supporters are working across Western North Carolina to confront and mitigate the threats of climate change. Please join us by supporting these crucial programs. 
MountainTrue and our members are working to:
Protect our region's carbon sinks by monitoring every timber sale in the Pisgah and Nantahala national forests, advocating for a forest management plan that protects our old-growth forests and most special places from logging, and eradicating invasive species to protect native habitats.
Reduce our region's carbon footprint by pressuring local governments, Duke Energy, residents, and businesses to invest in energy efficiency, solar power, and other sources of renewable, clean energy. MountainTrue is pushing Asheville City Council and Buncombe County to fund their commitments to renewables, and we're working to replicate the groundbreaking Blue Horizons initiative in Henderson County and throughout our region.
Mobilize faith-based organizations to combat climate change. Our Creation Care Alliance program is spreading the gospel of caring for God's creation and helping faith groups upgrade their facilities to reduce their energy bills and their carbon footprints.
Kick our region's dependence on fossil fuels by championing greenways, bike lanes and public transit. We are also encouraging local leaders to adopt policies for growth that encourage livable density and discourage construction in areas that are vulnerable to landslides and wildfires.
Build a rapid response-team for climate disasters. Our Riverkeepers traveled to Houston after Hurricane Harvey and to the Cape Fear River Basin after Hurricane Florence to assess environmental risks and damage from chemical leaks and coal-ash spills. The experience they gained there will help us protect our communities from the next big flood.
MountainTrue's innovative programs are a great way for Western North Carolinians to do our part to combat climate change. Help us rise to this historic challenge by contributing today.
Photo Credit: Kent McFarland. Link:https://www.flickr.com/photos/vtebird/3647623056