This Holiday Season, Buy Locally From Sustainable Farmers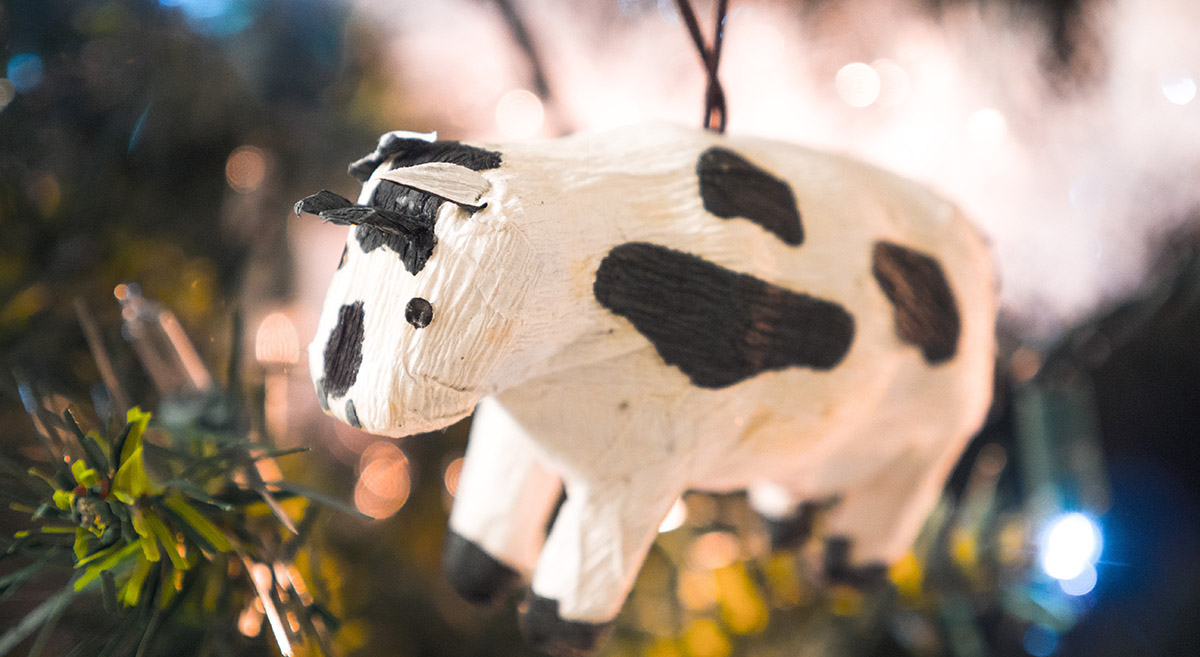 As we approach the holiday season, it's a good time to think about where that turkey, pork, or beef comes from that will round out our family meals. We are fortunate to live in a region where good soil, climate and plentiful water have allowed livestock farmers to thrive for hundreds of years. Farming is a tradition here, but it has continued to change along with our food systems and markets.
Currently in the US, over 95% of our meat comes from factory farms. It hasn't always been this way. Small family farms of the past were much more diverse, often growing their own vegetables as well as raising cows, pigs and chickens for their own needs and to supply the local markets. The money earned by local farmers stays in the local economy. They are involved in and invest in local communities.
These farmers also know that taking care of the land and water will ensure the survival of their farms. They use best management practices like fencing livestock out of streams, maintaining vegetative buffers, rotational grazing and following a waste management plan to manage, recycle and utilize manure and nutrients effectively. These practices make for happier, healthier animals and protect our environment. As one local farmer, Colfax Creek Farm, puts it, "The goals of creating a better food system, regenerating the land and soils that we farm, and reviving rural communities around us all drive us to always become better farmers and stewards of our lands and animals."
We are seeing a revival of small sustainable farms, and these farms deserve our support. Most local grocery stores do not carry local meat products, unfortunately. Luckily we have farmers markets, and often the farmers sell directly from their farms. Buying products directly from farmers is a great opportunity to visit a farm and get to know the people who feed us. Additionally, we can support local farmers by eating at local restaurants like Newgrass Brewing Company, which not only source local fruits, grains, and herbs for beer ingredients, but also buy meats from local producers. Roger Holland, owner at Newgrass, says, "It is important to us to support our local farmers as much as possible, and between our kitchen and our brewing operation we are in a unique position to do just that. The local products not only support our local farmers, but in most cases provide a superior product that is reflected in our food and beer quality. We are all in this together and it is critical that we show our support for one another through our actions and decisions."
Below is a map that our Clean Water Teams have created to help you find environmentally-conscious farmers in your watershed.
Sustainable farming best practices
We're proud to work with farmers who strive to keep our rivers clean. North Carolina's Riverkeepers are interested in supporting your sustainability efforts and hearing how you're making your farm more sustainable.
Vegetative buffers. Buffers with vegetation at least 3-4 inches tall along surface waters and wellheads of no less than 25 feet. Buffers should slow the movement of water over the soil or field surface and stop soil particle and nutrient movement.
Stream protection/fencing and stream restoration. Livestock should be fenced out of streams, ditches and ponds that drain to streams. Restore banks or edges of streams that have been degraded by grazing animals, and improve degraded stream crossings and watering points.
Runoff capture and recycling. Runoff from farm yards or fields should be captured and recycled on the farm.
Feed, forage, barnyard manure and agri-chemical storage and handling. Feeds, forages, fertilizers, and stored manures should be covered and protected from precipitation, runoff and flooding.
Minimize nutrient imports. Optimize nutrient cycling and limit feed imports to the farm. Calculate your farm's nutrient budget.
Pasturing or loose-housed deep-bedded barns. Livestock, cattle, swine and/or poultry are on pastures with live/growing vegetation or are loose-housed at low density in a roofed structure or barn with bedding to absorb nutrients and facilitate composting.
Managed or "holistic" grazing. Pasture management should maintain 3-4 inches or taller of vegetative cover over more than 95 percent of the pasture area at any time. Avoid overgrazing.
Manure management plan. Farms should have, and follow, a waste management plan to manage, recycle and utilize manure and nutrients effectively, and should never exceed recommended NCDA agronomic rates for any nutrient.
Manure spreading/dispersal. Accumulated manure, as well as bedding or compound fertilizers, should be applied to growing vegetation without exceeding recommended soil levels for nitrogen and phosphorus. Waste should not be spread within 48 hours of precipitation.
Avoid erosion. Use no-till, minimal-till, or reduced or strip tillage to reduce erosion and build organic soil matter, water retention and drainage.