Update on Swim Guide Testing in the High Country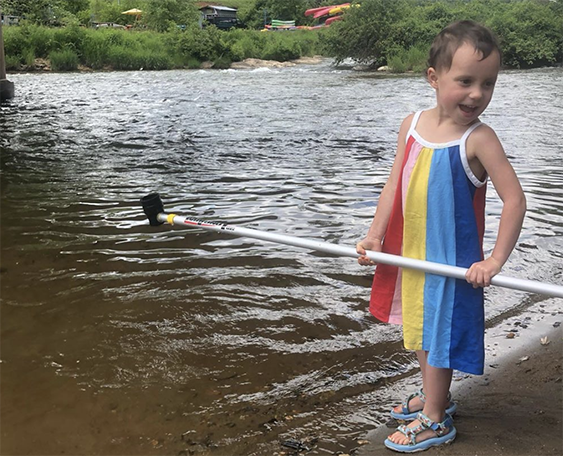 Willa "Wild Bill" Hill helps out with water samples for our Swim Guide monitoring program. 
Our bacteria monitoring program in the High Country is in full swing, and this year we've expanded to include two additional testing sites on the New River and four more sites on the Watauga River tailwaters. So far we're seeing mixed bacteria results across the watershed, with three of the sites we monitor consistently failing to meet EPA water quality standards: Calloway Bridge on the Watauga River, Guy Ford Bridge and Hickory Nut Gap Road on the Elk River.
Calloway Bridge is located in Foscoe, where high levels of E. coli are likely a result of failing infrastructures such as septic systems and small non-municipal sewage plants referred to as package plants. The higher bacteria levels at Guy Ford Road are likely due to agricultural runoff in the Beaverdam Creek area. And problems at Hickory Nut Gap on the Elk River are likely due to a mix of stormwater runoff from golf courses and failing sewer infrastructure. The high levels of pollution at Elk River Falls and our new Tennessee tailwater sites are also likely caused by failing sewer infrastructure.
This year's water quality results have been worse than last year's, which could be due to changes in how land near our rivers is being used and/or higher than average rainfall. Water pollution is caused not only by leaks in broken sewer pipes, but also when heavy rains overwhelm sewage systems and cause them to overflow – releasing large amounts of untreated sewage directly into rivers, streams and lakes. Unfortunately, these pollution events are common, and we believe many of them go unreported to the public. When they are reported, it can take weeks to find out and the public is expected to learn about them through legal ads in local newspapers. We believe that such overflows are contributing to rising bacteria and nutrient levels resulting in algal blooms in the Elk and Watauga Rivers as well as Watauga Lake. 
To better track sources of pollution we've hired Hannah Woodburn as our AmeriCorps Water Quality Administrator, added lab capacity to our testing program and have begun using new cutting-edge techniques. One such technique is using a fluorometer to trace the optical brighteners and detergents commonly found in sewage in order to track pollution in real-time.
To help tackle the likely sources of bacterial pollution, MountainTrue has launched the ILoveRivers.org campaign and we need your help in pushing for a package of reforms at the federal, state and local levels to increase investments in fixing our sewage infrastructure, help farmers improve their agricultural practices, and upgrade our public notification system so the public learns about SSOs when they happen not weeks later.
For resources on how to help improve water quality in the High Country take action at ILoveRivers.org.