MT Raleigh Report: Who's Up, Who's Down in Raleigh (and WNC) After Last Week's Election?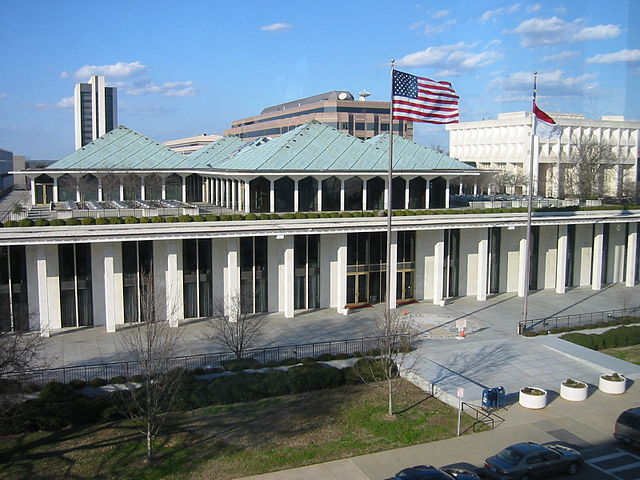 While the dust is still settling from last week's election – with several state legislative races still too close to call – it's clear that Republicans have lost their veto-proof majorities in either one or both chambers of the legislature.
Going into this year's elections, the GOP held the House 75-45. The 2019 House will likely seat 65 Republicans and 55 Democrats when a new legislature arrives in January, although that split could change depending on how the recounts of three House races turn out. In the Senate, where Republicans held a 35-15 majority, the 2019 Senate breakdown right now is 29-21. Democrats picked up just enough seats to end the GOP supermajority there, assuming one recount continues to go their way.
Some thoughts about what this all means for state policy and WNC's legislative delegation:
Gov. Roy Cooper had a good night. The reduction of GOP power in the General Assembly means Republicans in the legislature will have to negotiate with Democratic Gov. Roy Cooper – or pick off enough Democrats to help override his veto. After eight years in the political wilderness, though, Democrats will likely stick with Cooper and force Republican leaders to negotiate with the governor – and check many legislators' questionable environmental policies.
The 2019 session is likely to be very long. With power more evenly divided between Cooper and the GOP legislature, the two sides may cooperate on some issues. Disaster recovery might be one area, for example, where they could feel some political pressure to work together. But the two parties hold significantly different views on many basic issues, and both sides know that the 2020 election – as well as control of the 2021 redistricting process – is just around the corner.  So the safest bet is on a political stalemate. If that happens, the annual budget bill – perhaps the only legislation that must be approved in 2019 – is likely to become a mishmash of appropriations and policies, with lawmakers loading it up with proposals they know Cooper would otherwise veto as stand-alone legislation. In this scenario, the two sides would hunker down for long, drawn-out negotiations that may delay budget approval and the end of the session well into the fall.
Funding for environmental protection, healthcare and education will be top issues in 2019. With GenX water contamination, flooding and water pollution from Hurricane Florence still in the news, Cooper will likely ask the legislature for substantial increases in funding for the state's environmental protection agencies – something GOP leaders have been reluctant to do. Other remaining areas of disagreement include funding to move hog lagoons out of the floodplain and other conservation investments to make North Carolina more resilient. Cooper's Hurricane Florence recovery plan calls for tens of millions of dollars in these investments. So far Republican leaders have not indicated their willingness to appropriate this funding.
The GOP supermajorities aren't dead yet. The 2018 version of the General Assembly – complete with the GOP veto-proof majorities – is scheduled to be back in session on Nov. 27. Lawmakers are expected to take up another round of disaster recovery appropriations, though the details are still TBD. Implementing legislation for the four constitutional amendments approved by voters is also likely. Beyond that, the agenda for the November session is murky, though many in Raleigh expect legislative leaders to wield their soon-to-go authority widely before the 2019 legislature takes over.
Powerful people in 2019. GOP legislators will pick their leaders for the 2019 session some time after the November special session. House Speaker Tim Moore and Senate President Pro Tempore Phil Berger, both Republicans, seem likely to return to lead each chamber. Assuming this is the case, Henderson County GOP Rep. Chuck McGrady – already a key leader on House budget matters – could become more influential. That's because his colleague, senior GOP budget leader Rep. Nelson Dollar (Wake) was defeated on Tuesday. Dollar's loss could mean McGrady's gain in authority; on the other hand, Dollar and McGrady were allies in many budget battles, both within the House GOP caucus and with the Senate. The break-up of their appropriations dream team could make it harder for McGrady to find already scarce GOP support for many of the environmental policies and programs he supports.
Among other WNC legislators, the already powerful GOP Senator Ralph Hise will likely play an even larger role in the GOP Senate, particularly on health and human services issues. The same goes for Rep. Josh Dobson, who will take up some of the slack on health issues left by Dollar's departure. And with the Senate GOP caucus is now smaller in numbers, second-term GOP Senators Chuck Edwards of Henderson and Watauga County's Deanna Ballard are well positioned to increase their influence.
Whatever happens in the coming months in Raleigh, MountainTrue will be there to keep you informed and to speak up for Western North Carolina. Thank you to all of our members and supporters who make our advocacy efforts in the state capitol possible.