MountainTrue Comes to High Country with Kickoff Event in Boone
Boone, N.C. — The High Country welcomes MountainTrue with a kick off event at Appalachian Mountain Brewery in Boone on Thursday, March 3rd at 6pm. The event will feature great beer, music by Andy Ferrell and the unveiling of a tasty new seasonal cookie from Appalachia Cookie Company. A limited-edition poster featuring an illustration of Linville Falls was designed by Open Door Design Studio of Asheville and will be available for purchase at the event.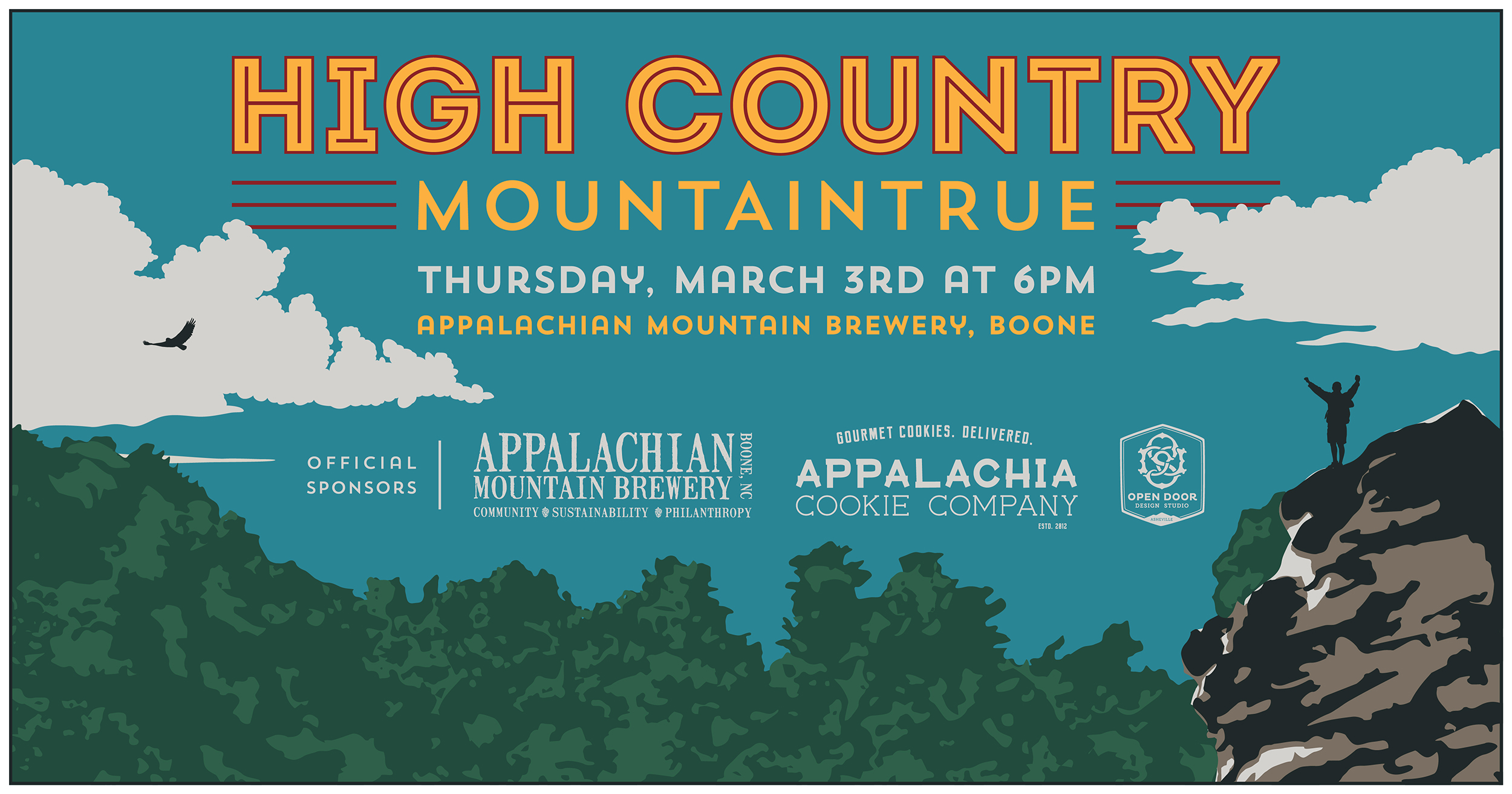 RSVP Through Facebook
Love clean water, healthier forests and more sustainable communities? Then, join us on March 3rd as we welcome MountainTrue to the High Country.
MountainTrue is a region-wide conservation organization that focuses on a core set of issues across the 23 counties of Western North Carolina: sensible land use, restoring public forests, protecting water quality and promoting clean energy – all of which have a high impact on the environmental health and long-term prosperity of our residents.
To expand their presence in the High Country, MountainTrue has opened an office in The GreenHouse in Downtown Boone which is staffed by Andy Hayslip, who was recently hired as MountainTrue's High Country Regional Director and Watauga Riverkeeper. Andy comes to the High Country from the Florida Fish and Wildlife Conservation Commission where he worked to protect and conserve Florida's natural resources, and brings a diverse background in land use planning, conservation, and water resources science and policy.
Andy Hayslip, MountainTrue High Country Regional Director and Watauga Riverkeeper, says:
I'm looking forward to expanding our work here in the High Country. Donna Lisenby, the former Watauga Riverkeeper, as well as other members of the community  have been doing a great job of introducing me to everyone and getting me up to speed. I'm really excited to partner with business leaders, community groups, and environmental organizations to help protect our region's beauty and ecological heritage.
At the March 3rd kickoff event, Andy looks forward to discussing MountainTrue's history, mission, and upcoming programs for 2016, which will include a volunteer-led water quality monitoring program as well as stream restoration and clean-up events.
Appalachian Mountain Brewery is hosting the event, and has generously dedicated proceeds from its popular Pints for Nonprofits program exclusively to MountainTrue for the month of March. The brewery has put sustainability at the center of its business philosophy and has taken the lead in welcoming MountainTrue to town.
Danny Wilcox, Director of Retail Operations at Appalachian Mountain Brewery, says:
What really impressed me about MountainTrue is how dedicated they are to bringing the entire community together towards solutions that are good for everyone—conservationists, recreationists, business owners, tourists and locals. They take a balanced, holistic approach, and Andy seems like a really stand-up guy.
Appalachia Cookie Company has also pitched in by collaborating with MountainTrue on their Spring seasonal cookie, which will benefit MountainTrue and its conservation programs. Cookies will be available for purchase at the Brewery on the night of the event.
David J. Holloman, Owner of Appalachia Cookie Company, says:
Western North Carolina has its own issues and values that are distinct from what might be of concern to people in the eastern regions of the state. It's going to take a regional vision if we're going to effectively advocate for our forests, rivers and streams. Those are the lifeblood of our communities and MountainTrue gets that.
About MountainTrue
MountainTrue fosters and empowers communities throughout the region and engages in policy and project advocacy, outreach and education, and on the ground projects. To achieve our goals, MountainTrue focuses on a core set of issues across 23 counties of Western North Carolina: sensible land use, restoring public forests, protecting water quality and promoting clean energy – all of which have a high impact on the environmental health and long-term prosperity of our residents. MountainTrue is the home of the Watauga Riverkeeper, the primary watchdog and spokesperson for the Elk and Watauga Rivers; the French Broad Riverkeeper, the primary protector and defender of the French Broad River watershed; and Broad River Alliance, a Waterkeeper Affiliate working to promote fishable, swimmable, drinkable waters in the Broad River Basin. For more information: mountaintrue.org
Media Contact:
Karim Olaechea, MountainTrue Communications Director
C: 415-535-9004, E: karim@mountaintrue.org