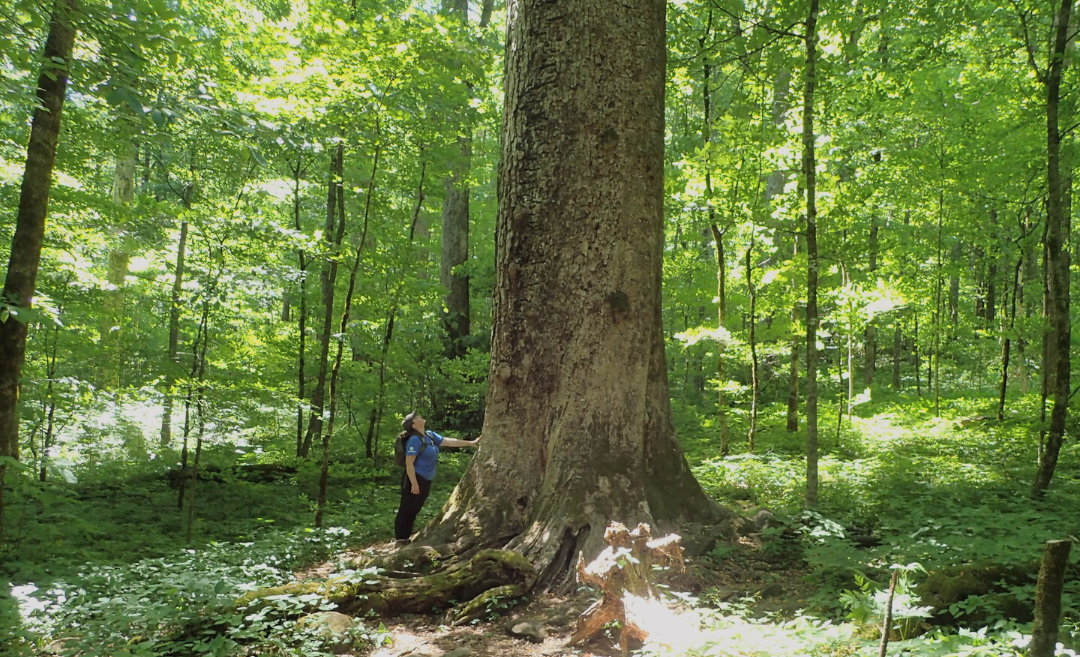 Does MountainTrue care about trees? You bet your Ash we do!
Pictured above: MountainTrue's AmeriCorps Forest Keeper, Ellianna McLaughlin, stands at the base of a large ash tree in Pisgah National Forest.
From April to June 2022, MountainTrue's Public Lands team re-treated hundreds of ash trees in Pisgah and Nantahala National Forests to continue protecting them against the emerald ash borer. We've treated approximately 1,200 ash trees since 2017 with help from our trusted partners at the Appalachian Trail Conservancy (ATC). Many thanks to our stellar MountainTrue volunteers and interns, the wonderful folks at Appalachian Arborists, and our ATC partners for making 2022's successful treatment season a true "teamwork makes the dream work" scenario. 
Click here to read more about this year's treatment season and our partnership with ATC in more detail. 
Quick facts:
What is the emerald ash borer?
The emerald ash borer is a nonnative invasive insect that was first identified in Michigan in 2002. This invasive beetle has spread to 35 states since then, including North Carolina. 
What does the emerald ash borer do?
Emerald ash borer larvae bore into the bark of ash trees to feed on the cambium — a cell layer that transports nutrients throughout the tree. The beetles girdle the trees as they feed on the cambium, causing them to die. The devastating effects of the emerald ash borer were seen throughout our treatment areas as the giant ash trees we left untreated began to fall. However, with a highly effective treatment method, MountainTrue has been able to save thousands of ash trees over the last several years. 
Where can I see treated ash trees? 
Hike along the Moffett Laurel section of the Appalachian Trail or make a pit stop off the Blue Ridge Parkway and hike the section between the Mills River Valley Overlook and Stony Bald View to see the thriving, treated ash trees! Pro tip: you can also use this as an opportunity to support MountainTrue by taking part in the 40th-anniversary Hike-a-Thon!