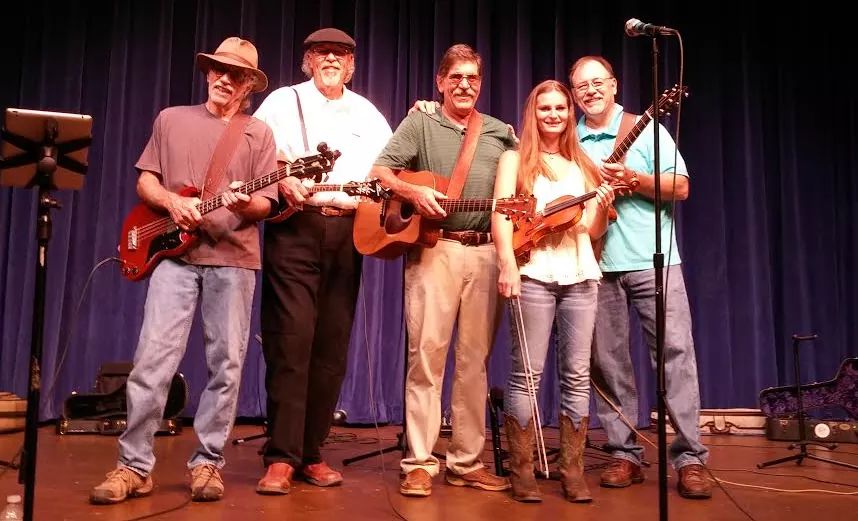 Local favorite Gnarly Fingers will play during the merger celebration event on August 17th. From left to right, band members are Brian Kruger, Tom Edwards, Pat List, Joann Holoman, and Keith Layton. 

For Immediate Release

Media Contacts:
Karim Olaechea, MountainTrue Communications Director
C: 415-535-9004, E: karim@mountaintrue.org
Callie Moore, MountainTrue Western Regional Director
C: 828-837-5414, E: callie@mountaintrue.org

Renewal: Celebrating the Merger of Hiwassee River Watershed Coalition and MountainTrue
Brasstown, N.C. — MountainTrue invites everyone to a celebration of its recent merger with the Hiwassee River Watershed Coalition (HRWC). The event will be held at the Staurolite Farm Barn in the Trout Cove community of Brasstown, NC on Saturday, August 17, 5:30-9:00 p.m.
Long-time members and supporters of HRWC will join with staff and local members of MountainTrue for food, games, music, dancing and fun. Program coordinator, Tony Ward, will offer a tour of one of the Coalition's oldest stream restoration projects, Trout Cove Branch, and live music will be provided by local favorite Gnarly Fingers.
The merger represents a renewal of MountainTrue's roots in far Western North Carolina, as well as a renewal of the Hiwassee River Watershed Coalition's programs. This event is a great opportunity to learn more about MountainTrue and its current and future work. Admission is free, but please RSVP online at: https://mountaintrue.org/event/21549/ or call 828-837-5414.
#  # #