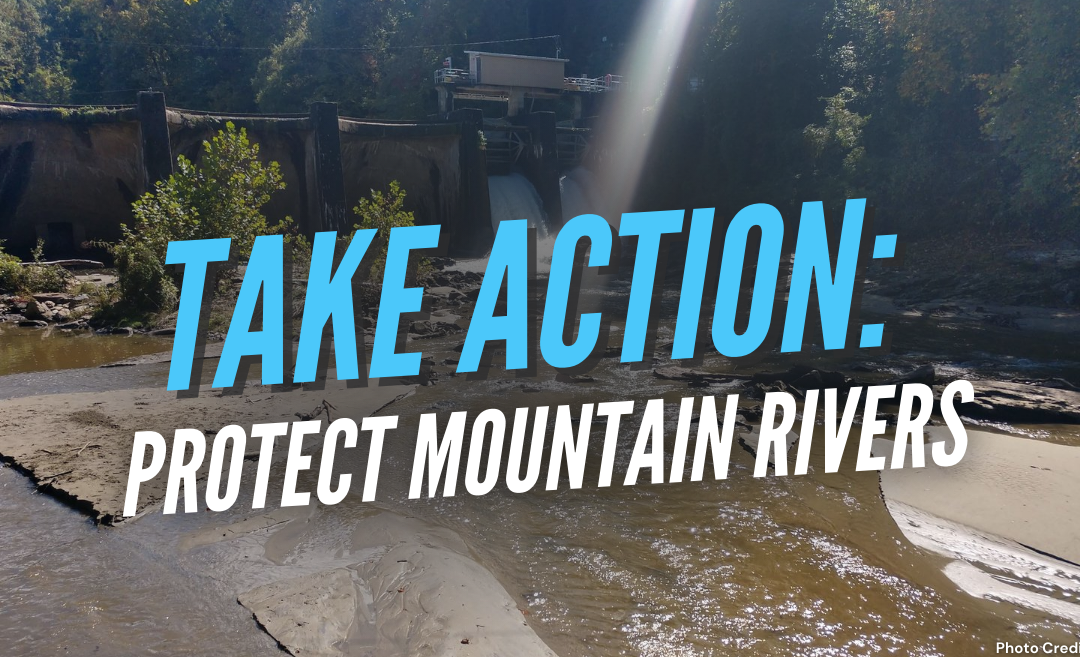 Tell FERC to Protect Mountain Rivers
On October 4, 2021, the Oconaluftee River below Ela Dam — once a high
quality mountain river — was completely filled with sediment during a reservoir drawdown for a repair by the dam's owner, Northbrook Carolina Hydro II, LLC. 
Tell FERC to protect rivers in the Little Tennessee and Hiwassee River basins by monitoring and enforcing
the provisions of Northbrook's license for the Bryson, Franklin, and Mission Hydroelectric Projects.
MountainTrue has been tracking the successful efforts of state agencies and the U.S. Army Corps of Engineers to hold Northbrook accountable for this disaster. However, our review of public documents revealed that Northbrook "has conducted no active sediment management activities since obtaining the Bryson Project" in 2019. Furthermore, the company hasn't developed the long-term sediment management plans required by the Federal Energy Regulatory Commission's project license at any of its three Nantahala Projects: Bryson on the Oconaluftee (where the massive sediment release occurred), Franklin on the Little Tennessee River, and Mission on the Hiwassee River. 
Our mountain rivers contain a dazzling array of wildlife species, some of which are threatened or endangered. High quality water means high survivability for aquatic wildlife, especially those species most sensitive to pollution. Increased sediment pollution in our local waterways makes it difficult for native wildlife to feed, mate, move, and even breathe. This was the unfortunate fate suffered by many aquatic species when tons of sediment were unloaded into the Oconaluftee River last October. 
Mountain rivers often provide our communities with drinking water. They're also important recreational resources in our region, hosting a wide variety of recreation opportunities, including fishing, snorkeling, canoeing, and kayaking. 
Hydroelectric dams owned by private companies like Northbrook are licensed every 30-40 years by the Federal Energy Regulatory Commission (FERC). Licenses have many pages of provisions designed to minimize impacts to human safety and the environment from the dams and their operations. But FERC's responsibility doesn't stop when the license is finalized. FERC must ensure that the requirements of the license are met to protect our river resources!
We'll deliver this petition to FERC on January 28, 2022. We've got to do all we can to prevent a catastrophe like this from happening again!
Update: Thanks to all who signed on! We're thrilled to have exceeded our goal of 500 signatures. MountainTrue will continue to monitor the situation — stay tuned for updates!