Virtual Green Drinks – July
July 9, 2020 @ 6:00 pm

-

7:00 pm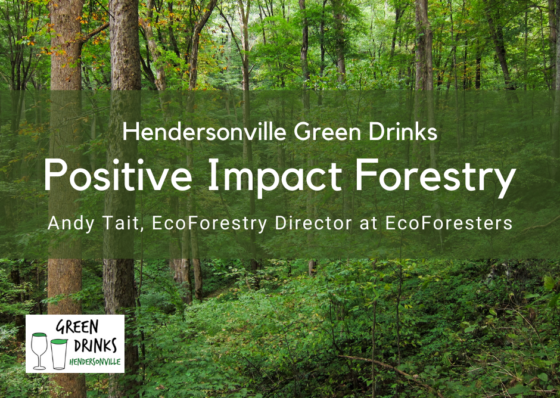 Hendersonville, NC – On Thursday, July 9th, Virtual Hendersonville Green Drinks continues with a presentation from Andy Tait, EcoForestry Director at EcoForesters. EcoForesters is a non-profit professional forestry organization dedicated to conserving and restoring our Appalachian forests. In his talk, Andrew will discuss how forests become degraded whether due to invasive pests, poor timber management, fire exclusion or climate change and how "forest stand improvement work" can make degraded forests healthier.
Using this link, bit.ly/julygreendrinks, you can register for the event. Once registered you'll receive an email allowing you to join the online presentation or to call in by phone. We hope to see you virtually on Thursday!
Andy Tait has been the EcoForestry Director at EcoForesters since its inception in 2015. He oversees all of EcoForesters' Southern Appalachian forestry projects, including forest stewardship planning and timber sale administration, and works to advance the practice of forestry through research at the Bent Creek Experimental Forest. Prior to this position, he spent 10 years conducting on-the-ground research on ecologically beneficial forest stewardship in Western North Carolina. He has also worked at the US Forest Service's Southern Research Station in Asheville, taught high school and led youth backpacking trips. 
About Hendersonville Green Drinks
Hendersonville Green Drinks is presented by MountainTrue, Conserving Carolina and Appalachian Coffee Co. Come to Green Drinks to learn more about current environmental issues, have relevant discussions, and meet with like-minded people. This is a monthly event and everyone is welcome. You don't have to drink at Green Drinks, just come and listen. We are gathering virtually for the time being.