Virtual Green Drinks – September
September 10 @ 6:00 pm

-

7:00 pm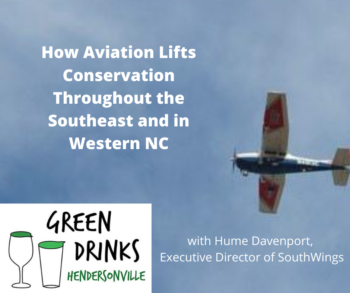 On Thursday September 10th, Virtual Hendersonville Green Drinks welcomes Hume Davenport, Co-Founder and Executive Director of SouthWings, to discuss How Aviation Lifts Conservation throughout the Southeast and in Western NC. This talk will answer everything you ever wondered about Conservation Aviation but had no one to ask! Like…what is Conservation Aviation?
Beginning with Charles Lindbergh, American aviators have harnessed the power of flight to further conservation goals in the U.S. The aerial perspective reveals much about the condition and management of, and the possibility of improvements available to, the world below. In our region, SouthWings has delivered aviation services to hundreds of organizations as we've honed our own brand of volunteer-powered Conservation Aviation. Learn how we employ three flight models to advance local environmentalism. Enjoy a brief overview of SouthWings' twenty five year engagement in some of the region's most successful and influential environmental campaigns. Hear a bit about pilots who volunteer their time, expertise, aircraft and associated costs to protect natural resources. This is one Zoom meeting you'll be glad you joined.
Sign up here to get the link: https://zoom.us/webinar/register/WN_6tvqfiXzT7iaKw0_j5ruhQ
About Hendersonville Green Drinks
Hendersonville Green Drinks is presented by MountainTrue, Conserving Carolina and Appalachian Coffee Co. Come to Green Drinks to learn more about current environmental issues, have relevant discussions, and meet with like-minded people. This is a monthly event and everyone is welcome.