Historic Settlement Results In Largest Coal Ash Cleanup In America
On January 2, MountainTrue, community partners and our legal counsel the Southern Environmental Law Center (SELC) announced a historic settlement with Duke Energy and the N.C. Department of Environmental Quality.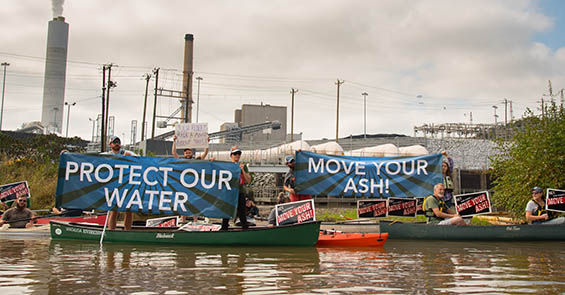 The agreement mandates that 80 million tons of coal ash will be excavated from six Duke Energy coal ash sites: Allen, Belews Creek, Cliffside, Marshall, Mayo, and Roxboro. Prior settlements and court orders require cleanups and excavation of coal ash at the eight other Duke Energy sites in North Carolina for the excavation of 46 million tons of coal ash. This agreement now puts in place a comprehensive cleanup plan for all coal ash lagoons at all 14 Duke Energy sites in North Carolina under which 126 million tons of ash have been or will be excavated across the state, resulting in the largest coal ash cleanup in America to date. Read more.
Tell the NC Utilities Commission: Enough is Enough. No More Rate Hikes For Dirty Energy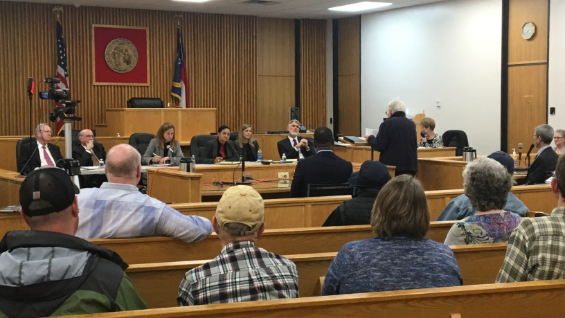 Residents speak out against Duke Energy's latest rate hike proposal at the NC Utility Commission's hearing in Franklin on Jan. 15
Last Wednesday, January 15, MountainTrue members and staff attended the NC Utilities Commission hearing in Franklin to speak out against Duke Energy's latest energy rate hike proposal. If you haven't seen it yet, check out the video of our Western Regional Director Callie Moore speaking at the hearing here.
If you couldn't make the hearing, you can still take action to oppose the rate hike and learn more about Duke's proposal here.
Central Regional News
For Buncombe, Madison, McDowell, Mitchell and Yancey counties
French Broad Riverkeeper Pens Op-Ed On Lake Julian Coal Ash Cleanup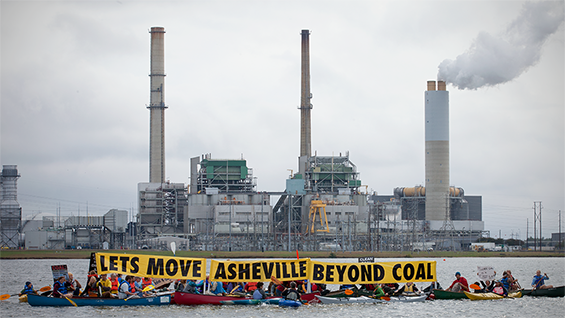 Supporters of MountainTrue and the Sierra Club take part in a float on Lake Julian to protest coal ash pollution in October 14, 2014. Photo: Courtesy photo by: Jeff Rich.
The Asheville Citizen-Times has published an opinion column by French Broad Riverkeeper Hartwell Carson, providing important technical information and historical context for the permit that Duke Energy is seeking as part of their cleanup of Lake Julian's coal ash. As Hartwell makes clear: this is the resolution for which environmentalists and energy advocates have long fought — full excavation of all the remaining coal ash at Lake Julian and moving it to lined pits where it will stop polluting our groundwater and the French Broad River. Read more.
Learn Better Climate Change Communication Strategies At The Collider
Join MountainTrue, the Creation Care Alliance, the Sunrise Movement, UNCA Divest, the Wenoca group of the NC Sierra Club, Catawba Brewing and other co-hosts on January 23 from 5:30-7:30 PM for an engaging evening on effective strategies for communicating about climate change. We'll have a brief reception in the Collider lobby with complementary beer and beverages at 5:30, followed by a program and discussion at 6.
Read more.
Event link: https://www.facebook.com/events/2848178995249271/
We're Looking For An Intern To Join Our Water & Outreach Teams
MountainTrue will host a Community Outreach and Water Quality Intern through the Non-Profit Internship Program, funded in part by Z. Smith Reynolds Foundation. This intern will work with both our French Broad Riverkeeper team on water quality projects and also our Community Engagement Manager on outreach, education and advocacy campaign efforts. The application is due February 10, 2020 at 12:00 p.m. (noon). Learn more.
Guardians of Our Troubled Waters at New Belgium Brewing
The Center for Cultural Preservation's Guardians of Our Troubled Waters documentary film tells the story of three communities in Western North Carolina, east Tennessee and south Florida. The film uncovers their historical connection to their rivers and streams, how that changed during the industrial age, and the early heroes who rose to unite the community to stand up for their waterways. Join us at New Belgium Brewing in Asheville on Tuesday, February 25 for folk music by Carol Duermit at 7:00 PM followed by a film screening at 7:30. More details: https://saveculture.org/product/guardians-of-our-troubled-waters-new-belgium/
Southern Regional News
For Cleveland, Henderson, Polk, Rutherford and Transylvania counties
Recycling Team Volunteers Brave The Weather To Recycle Hundreds Of Holiday Trees at Jackson Park in Hendersonville
Neither rain, nor snow, nor sleet, nor cold will keep our dedicated Recycling Team volunteers from saving the planet and reducing waste. Led by super volunteer Doreen Blue, the team recycled 560 holiday trees at our Annual Holiday Tree and Wreath Recycling Event on Saturday, January 11.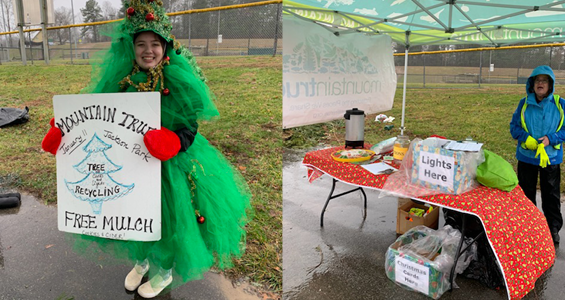 We also collected two huge boxes of cards, 10 large bags of lights, and broke down about 30 wreaths for recycling. Hendersonville and Henderson County staff were a big help running the heavy equipment and mulcher provided by King's Hardware, and friends from the local 4-H Club were out in force to lend a hand as well. Thank you to all of our volunteers for your amazing dedication to this event each winter.
Western Regional News
For Cherokee, Clay, Graham, Haywood, Jackson, Macon and Swain counties in NC, and Towns and Union counties in GA
2019 Alternative Break Students Donate 1,200 Volunteer Hours to Restoring Native Habitats
MountainTrue West's alternative breaks program went out with a bang! We hosted student groups from Saginaw Valley State University in Michigan and Georgia Southern University who helped us remove nonnative invasive plants like Chinese privet, Oriental bittersweet, multiflora rose and even kudzu. Altogether in 2019, we hosted 44 college student volunteers from five universities in three states, who donated more than 1,200 volunteer hours — worth $30,795 according to the value of volunteer time hourly rate established by Independent Sector for 2019. Work took place at several past stream restoration project sites, technical assistance locations, as well as the Riverwalk in Murphy, Cherokee County Heritage Park in Andrews and Mayor's Park and Lloyd's Landing in Hiawassee, Georgia.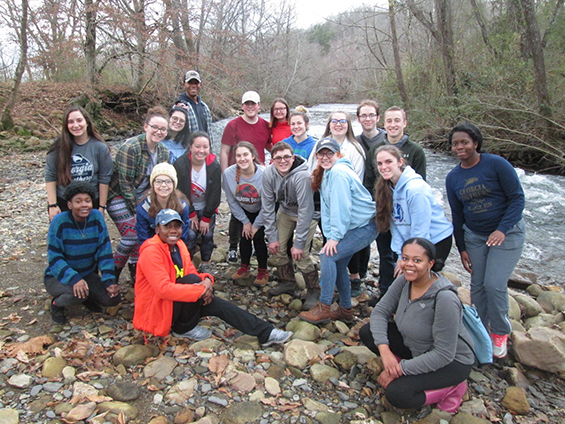 College volunteers from Saginaw Valley State University in Michigan and Georgia Southern University participated in an alternative winter break Dec 15-20, 2019.
The schools that participated in order of participation are: Univ. of Missouri (aka Mizzou), Eastern Michigan Univ., Grand Valley State Univ. (MI), Saginaw Valley State Univ. (MI), and, new to our program this year: Georgia Southern Univ. Fourteen community volunteers also participated in the effort by providing lunches for the students on every work day.
Several Ways To Participate In The 12th Annual Watershed Gala
The 12th Annual Watershed Gala and Holman Water Quality Stewardship Award presentation is coming up on Thursday, February 27, 2020. The event promises to be a delightful evening of food, laughter, and fun as we gather to celebrate good water quality and to honor this year's Holman Water Quality Stewardship Award winner, Brenda K. Hull! The Gala is also a fundraiser for the MountainTrue Western Regional Office and there are a variety of ways you can participate: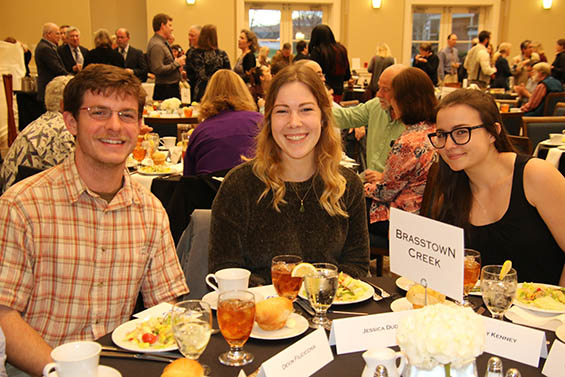 Photo caption: Young Harris College students, Devin Filicicchia, Jessica Dudt, and Bethany Kenney pause for a photo during the 11th Annual Watershed Gala.
Events & Volunteer Opportunities
Jan. 23: Climate Change Communications Strategies At The Collider.
Join MountainTrue and other co-hosts to learn effective strategies for communicating about climate change.
Feb. 1: Winter Tree ID Workshop At The Cradle of Forestry in Pisgah Forest
Join Carrie's Tree School and MountainTrue's Public Lands Biologist Josh Kelly for a day in the classroom and in the woods learning how to identify trees.
Feb. 7: Paddle-N-Plant Workday In Hendersonville
Combat sediment pollution of our local waterways with MountainTrue and the French Broad Riverkeeper. We'll plant stakes that grow into trees which stabilize riverbanks and reduce erosion.
Feb. 7: Creation Care Retreat In Montreat
Designed with Creation care volunteers and clergy in mind, spend the day learning from and with a theologian, a climate scientist, a forest biologist, local colleagues and pastoral innovators.
Paddle-N-Plant Workdays In Valle Crucis
Come hop in a boat and help us reduce erosion along our local rivers by planting tree-cutting that grow into groundcover.
Feb. 9 workday
Feb. 16 workday 
Mar. 13 workday
Mar. 20 workday
Feb 25: Guardians of Our Troubled Waters at New Belgium Brewing
This documentary film tells the story of three communities in WNC, east Tennessee and south Florida and the heroes who rose to unite these  communities to stand up for clean water.
Feb. 27: 52 Weeks 52 Trees Art Exhibit In Flat Rock
Join us for the opening reception of an exhibition of paintings by artist Dale McEntire that are inspired by a love of the trees that surround us. Ten percent of proceeds from sales of paintings from the exhibition will be donated to MountainTrue.
Feb. 27: 12th Annual Watershed Gala In Young Harris
Join us at the 12th Annual Watershed Gala and Holman Water Quality Stewardship Award presentation for a delightful evening of food, laughter and fun, and to honor this year's Holman Water Quality Stewardship Award winner, Brenda Hull!
Mar. 7: Spring SMIE Macroinvertebrate Training In Flat Rock
Become a citizen scientist and take part in our SMIE (Stream Monitoring Information Exchange) water quality monitoring program. Teams head out twice a year to creeks throughout Henderson and Polk counties to collect and identify aquatic insects — strong indicators of water quality.
Mar. 14: Annual Bird Watch At Lake Chatuge
Join MountainTrue and retired Young Harris College professor and former board member, Brenda Hull, to learn about and observe the birds of Lake Chatuge.
Mar. 21: Signs Of Spring Hike Into The Green River Gorge
Celebrate the arrival of spring with a moderate 6.8 mile out-and-back hike into the Green River Gorge. Guided by expert ecologist Bob Gale, we will search out the season's first ephemeral wildflowers such as trillium, bloodroot and toothwort.