July 2021 E-Vistas Newsletter
Jackson County Wins the 2021 Bioblitz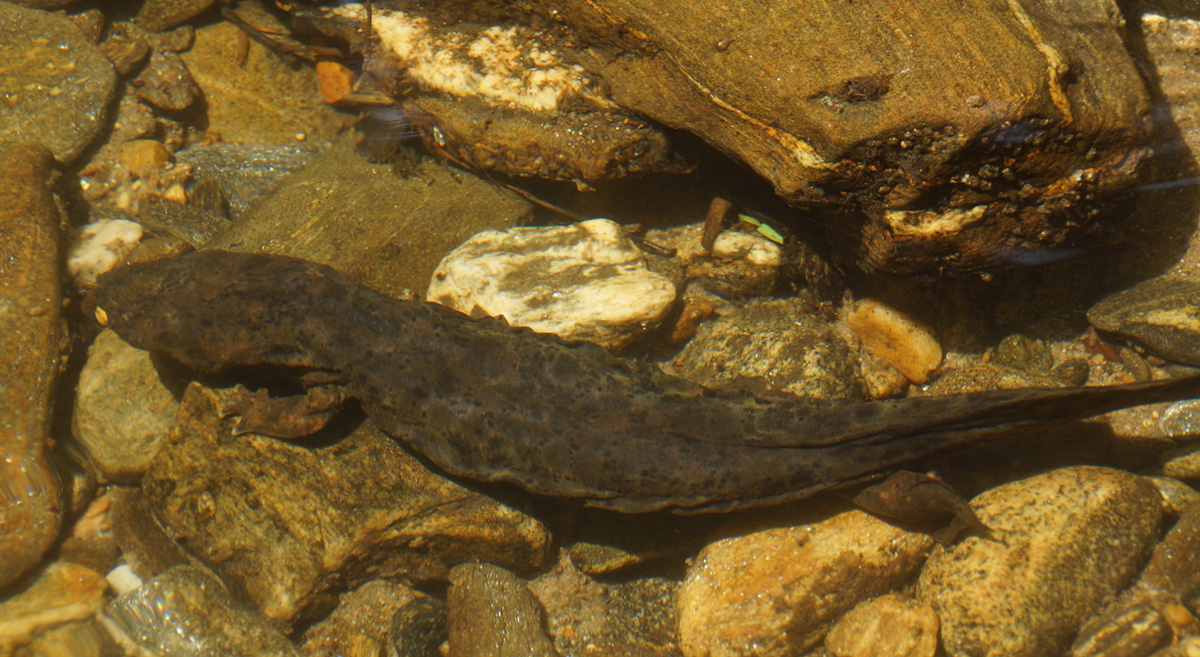 After two weeks of hard-nosed competition, Jackson County won the 2021 Bioblitz, beating Watauga and Transylvania Counties. Overall, 46 people contributed 2,947 observations, and 317 people helped with the identification of 1,228 species. While Jackson County had 1,403 observations to Watauga County's 1,068, the competition for the most species was much tighter – Jackson county prevailed 738 to 681. Transylvania County came in a distant third with 472 observations and 279 species. Check out our blog post to read more about our Bioblitz results and see photos of the winning observations.
Sarah Ogletree Joins MountainTrue as the Director of the Creation Care Alliance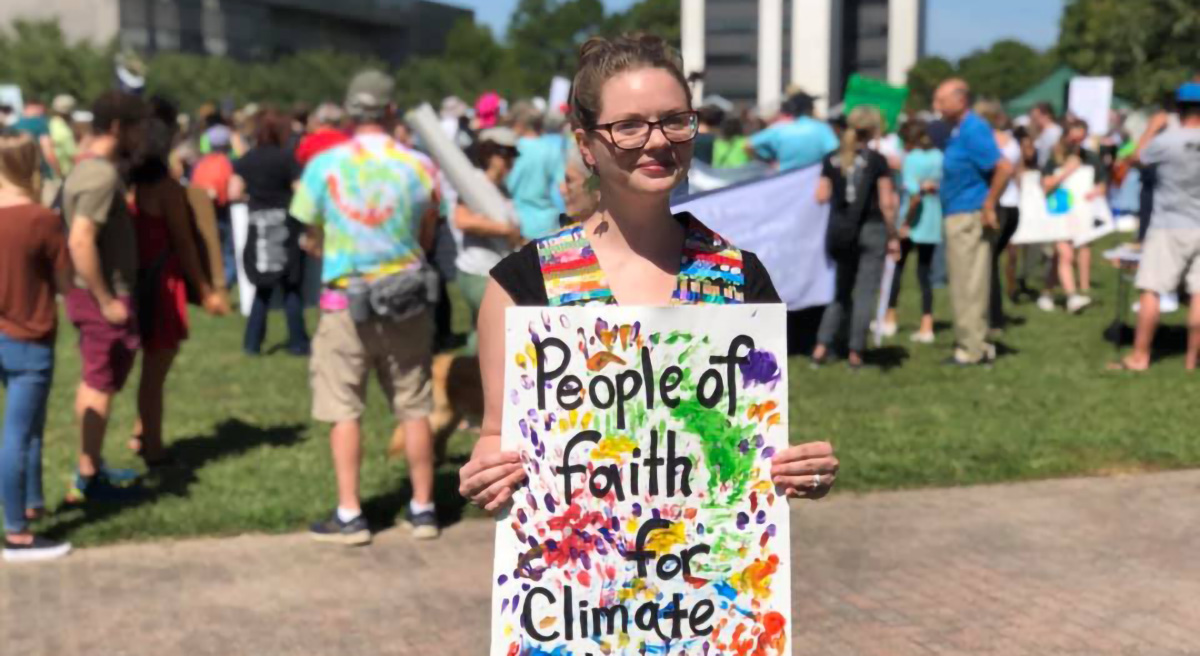 The Creation Care Alliance is pleased to announce that Sarah Ogletree will be our next director. Sarah comes to us from our close partner, NC Interfaith Power and Light, where she has been for the last three years. Her dedication to seeking justice for both people and planet shines through in all aspects of her life, and she has consistently been recognized with awards for her leadership, dedication and excellence. Join us in welcoming Sarah! Read more.
We're Hiring! MountainTrue Seeks a Great Environmental Communicator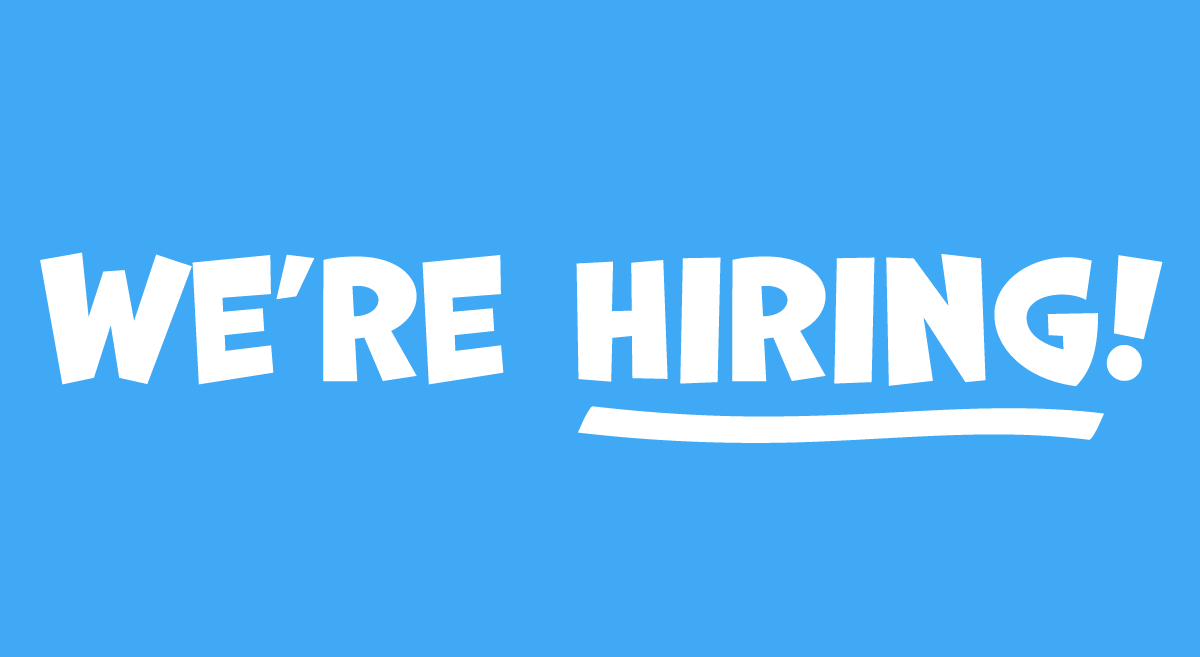 MountainTrue seeks a bright, organized, and outgoing individual with strong communications skills, experience in online advocacy, and development writing. The Communications Associate will report to the Director of Communications and work closely with our Community Engagement Director, program directors and regional directors to (1) promote our programs through member outreach and correspondence, public relations, social media, and marketing; (2) support our advocacy goals through online organizing/advocacy; (3) provide writing and communications support for our fundraising activities. The deadline to apply is Sunday, August 15, 2021. Read more and apply.
August 29: Michael Franti and Spearhead Concert to Cleanup and Protect the French Broad River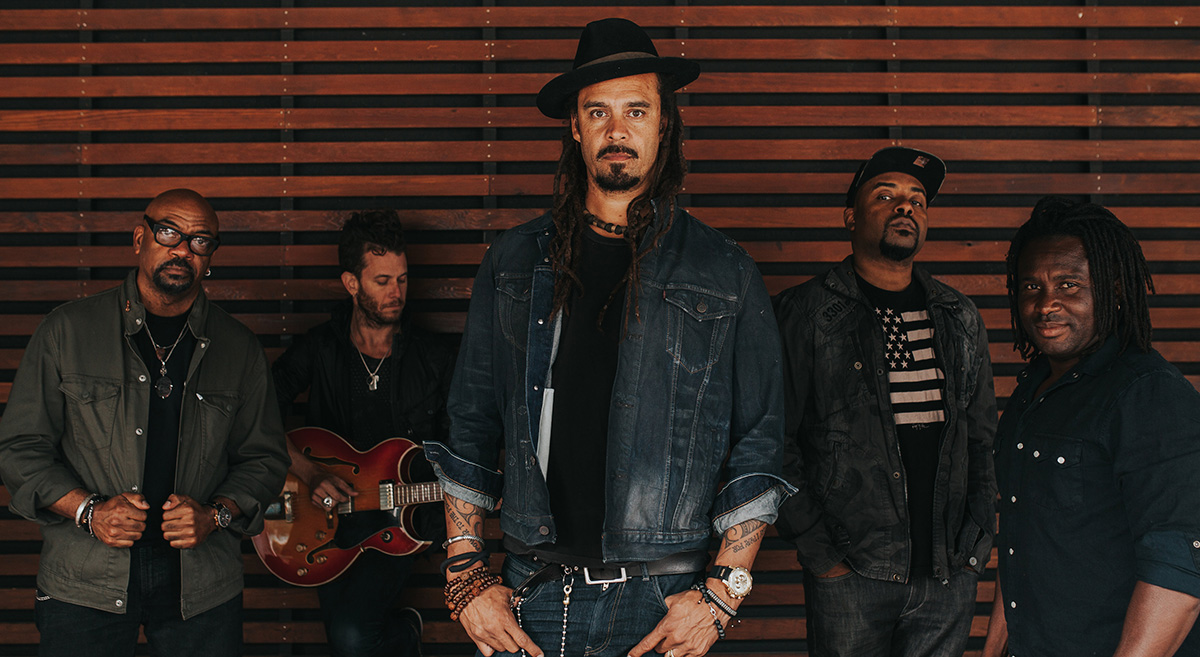 MountainTrue, French Broad Riverkeeper and 98.1 River are proud to present Michael Franti and Spearhead for a benefit concert to support MountainTrue's work to clean up and protect the French Broad River.
Sunday, August 29, 2021
Doors: 5:00 p.m., Starts: 7:00 p.m.
All Ages are Welcome
Tickets: $35 in advance; $39 general admission
French Broad Riverkeeper Hartwell Carson says, "Michael Franti is the perfect artist to bring us back down to the banks of the French Broad to celebrate our beautiful river. Come to enjoy a night of inspiring music and support our ongoing work to make our river cleaner and healthier." Read more and buy tickets.
High Country Regional News
For Alleghany, Ashe, Avery, Burke, Caldwell, Watauga and Wilkes counties
Sparking a Love for Clean Water and Healthy Ecosystems at High Country Forest Wild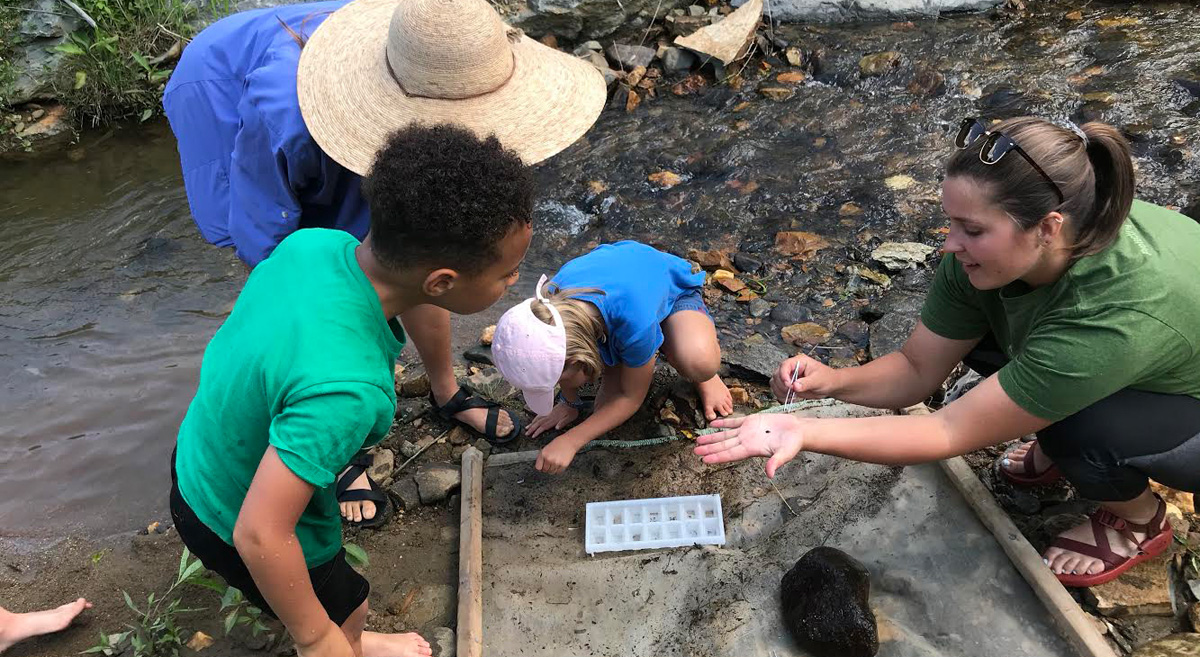 Our Water Quality Administrator, Hannah Woodburn, visited High Country Forest Wild, an outdoor experiential learning school. She gave an instream lesson on aquatic insects and water quality to about 45 students. It was an excellent way to get young minds thinking about freshwater ecosystems and water quality.
MountainTrue Reports Water Quality Violation for Development Along Watauga Lake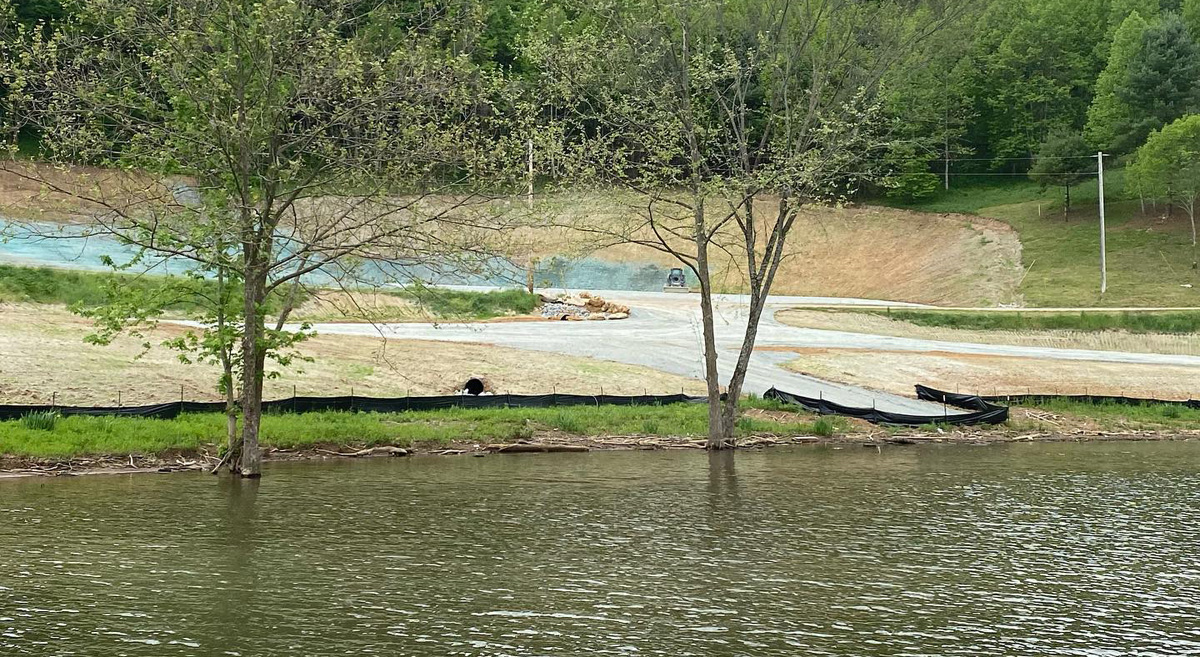 While conducting routine sampling of Watauga Lake for our Harmful Algal Bloom Study, we spotted a new development lacking erosion control. We promptly contacted the Tennessee Department of Environment & Conservation, which issued a notice of violation. We hope to see improvements on the construction site and continue monitoring this development to help keep our waterways free of sediment pollution.
Bottomley Farms Clearcut Causes Severe Erosion, Ecosystem Collapse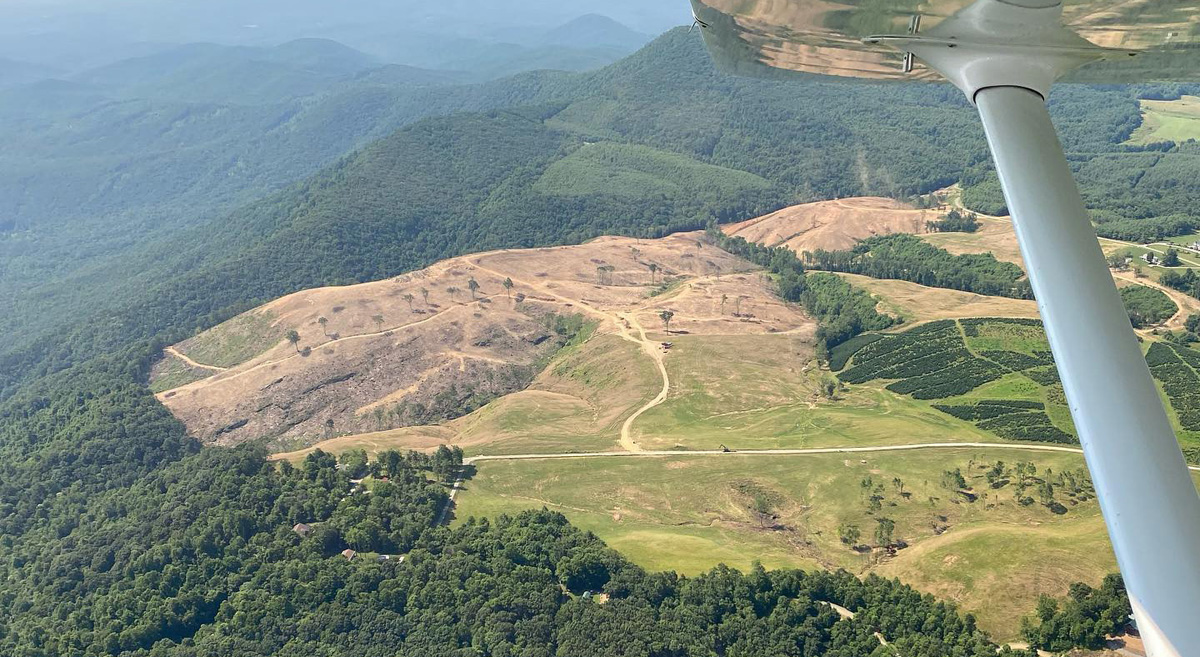 Our Watauga Riverkeeper teamed up with Southwings to get a bird's eye view of a massive clear-cut timber operation in Alleghany County being conducted by Bottomley Farms — a Sparta-based agribusiness company. The developers are removing all the trees, shrubs and vegetation, and grubbed it down to hundreds of acres of bare earth. The result has been severe erosion, sediment pollution of area waterways, and a total collapse of the ecosystem in Ramey Creek — once a thriving spawning ground for native brook trout. North Carolina Wildlife Resource Commission staff could only save 13 individual trout out of the hundreds previously documented in that stream. Commission staff relocated the survivors to an adjacent watershed. Tragically, a species that thrived in that watershed since the glaciers retreated tens of thousands of years ago was erased by one egregiously bad timber project. Our report resulted in the NC Department of Environmental Quality issuing a notice of violation. We will continue to monitor this project and push for a lasting riparian buffer and a complete restoration of the stream.
Trash Trout Update: There's Too Much Plastic in Our Waterways
Our Trash Trout on Winklers Creek continues to collect so much litter. We have removed and cataloged thousands of pieces of trash in the few weeks that the trash-collection device has been in place. The majority of the garbage found has been single-use plastics and styrofoam, underscoring the need to address the prevalence of plastics and microplastics in our environment.
Southern Regional News
For Cleveland, Henderson, Polk, Rutherford and Transylvania counties
Volunteer for Rhythm & Brews! Hear Good Music and Get Cool Stuff!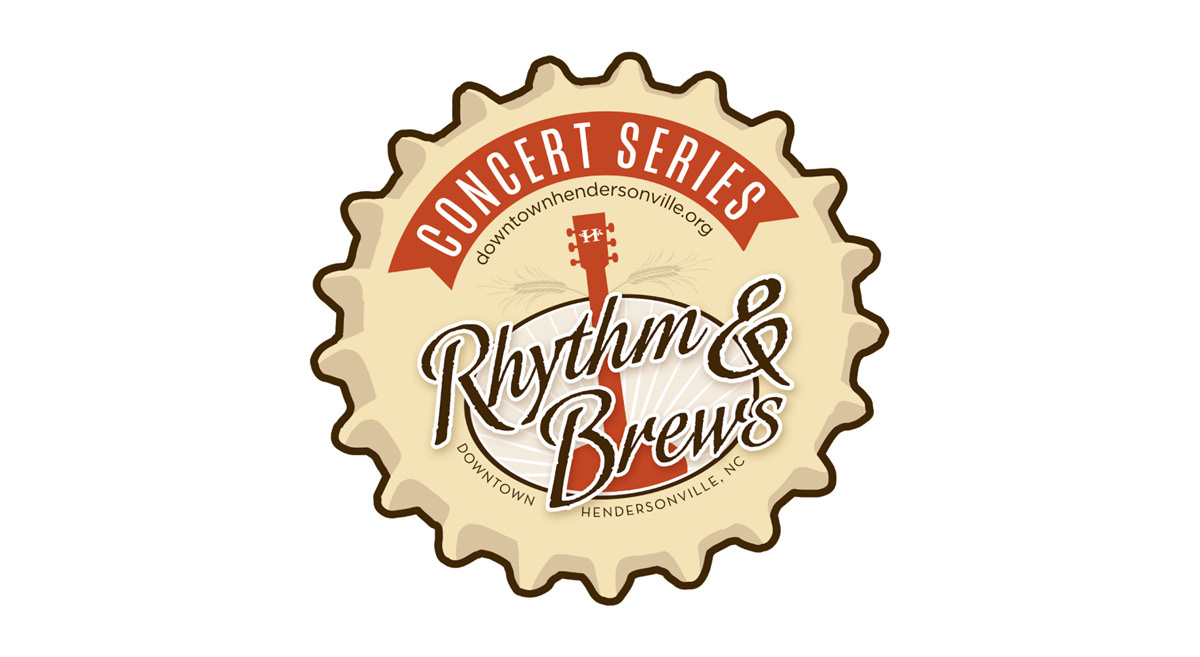 Join MountainTrue's Recycling Team on Main St. during the Rhythm & Brews Concert Series in downtown Hendersonville this summer and fall to reduce waste and encourage recycling. Volunteers will be rewarded with an R&B volunteer t-shirt, a voucher for a free beverage, a koozie and a water bottle! Help educate attendees and monitor the waste stations.
Upcoming Concerts:
July 15: Abby Bryant & The Echoes with opener Andrew Thelston Band
August 19: Jamie McLean Band with opener Hustle Souls.
September 16: Mike and the Moonpies with opener Kenny George Band.
October 21: The Broadcast with opener TBD.
2 Shifts: 5:30 – 7:30 p.m. & 7:30 – 9:30 p.m.
Volunteers needed: 4 per shift, 8 total
To sign up: https://signup.com/go/eRCebTq
Working to be Plastic Free Program Endorsed by Hendersonville City Council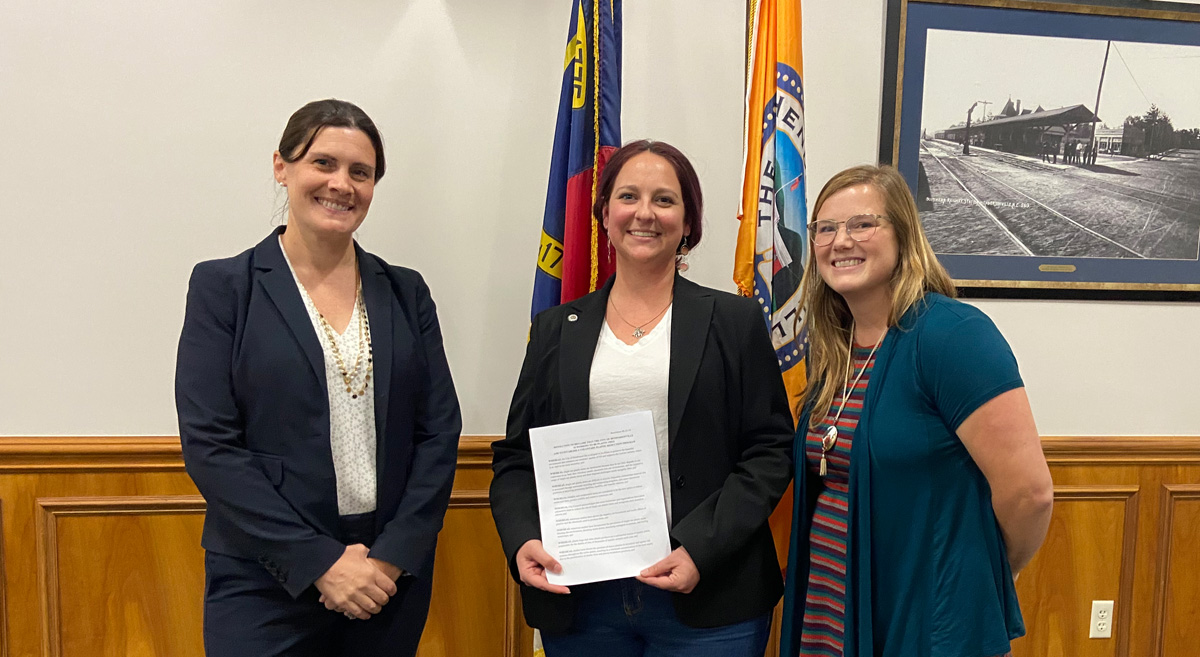 L to R: Beth Stang, chair of Hendersonville's ESB. Lyndsey Simpson, H'ville City Councilwoman, and Christine Wittmeier, chair of MountainTrue's Recycling Team, hold a July 1st proclamation endorsing the Working to Be Plastic Free program.
On July 1, Hendersonville City Council approved a proclamation supporting Working to be Plastic Free — a plastic reduction program created by MountainTrue and the Hendersonville Environmental Sustainability Board. Hendersonville Mayor Barbara Volk signed the pledge and has encouraged staff to reduce the city's use of plastic.
Many of the local merchants and restaurants participated in a plastics-use survey earlier in the year. Now, we're encouraging them to sign the pledge and begin working to eliminate single-use plastics, such as plastic bags, straws, cutlery, and take-out containers. Most of these plastics are not recyclable and end up in landfills or littering our rivers and streams.
MountainTrue is ready to help businesses find sustainable packaging alternatives, and participants will be recognized in press releases, newsletters, social media, and a webpage promoting the program. To get more information and sign the pledge, visit our webpage or contact MountainTrue's Interim Southern Regional Director, Katie Breckheimer, at srogray@mountaintrue.org.
Congratulations to Our Broad River Race Winners: Jordan Jackson and Marc Stowe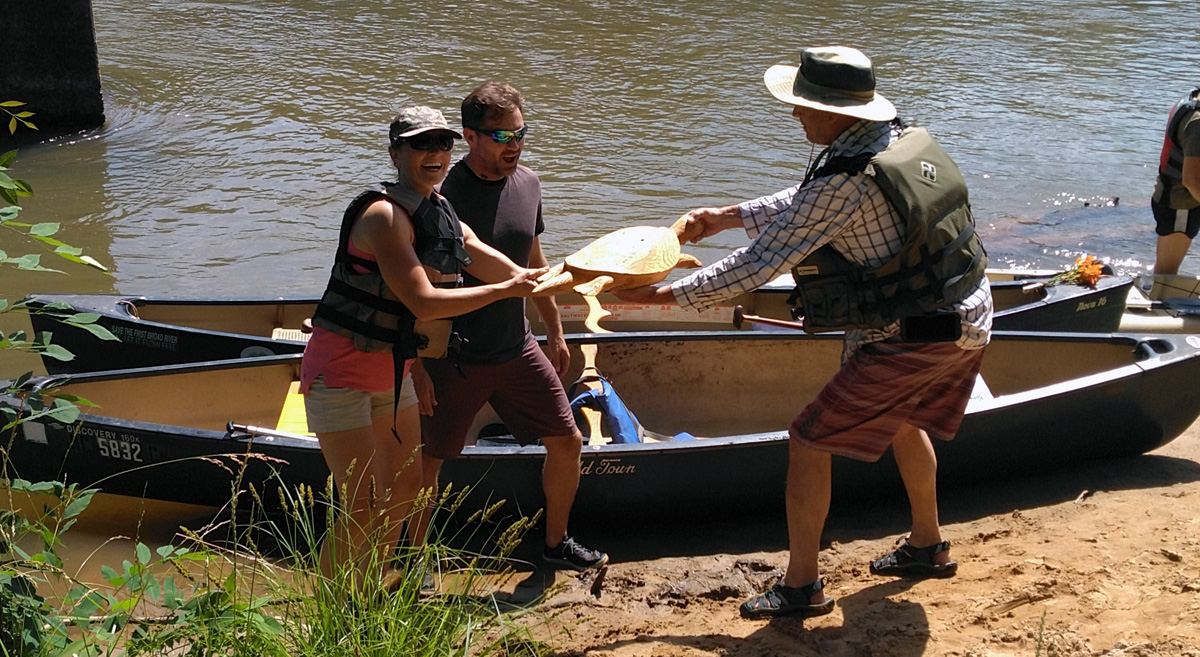 Broad River Race winners Jordan Jackson and Marc Stowe accept the trophy from David Caldwell, the Broad Riverkeeper.
Our Third Annual Broad River Race was postponed when a thunderstorm moved across the area last Saturday, July 12. A day later, the race flag dropped, and the paddlers sped down the river. Four and a half miles and an hour later, Jordan Jackson and Marc Stowe were the first to cross the finish line in a tandem canoe to take home our race trophy, Betsy the Turtle. Annie Keith and her son David Caldwell, our Broad Riverkeeper, were hot on their trail. It was great to see so many people enjoying the cool waters of the Broad River, and we look forward to seeing who wins next year.
App State Eco-Tox Team Collects Fish Tissue Samples From the Broad River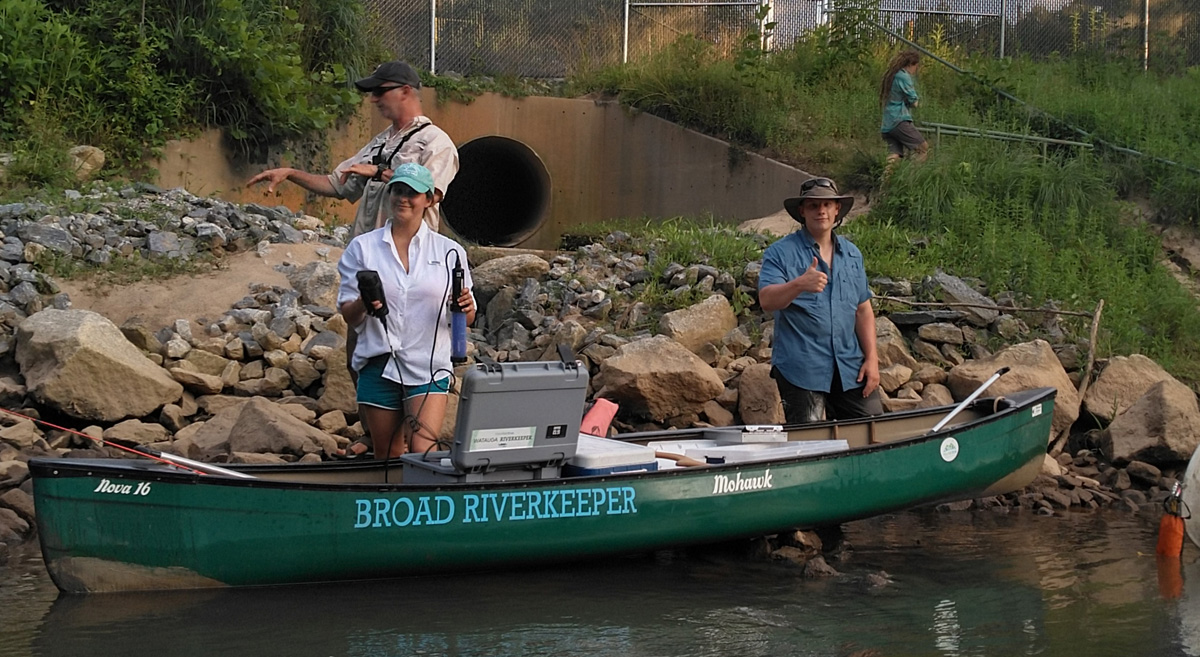 The Appalachian State Eco-toxicology Team returned to the Broad River to collect more water, sediment and fish tissue samples for an ongoing study of the bio-accumulation of heavy metals in fish. The team sampled upstream and downstream of two industrial sites with permits to discharge pollutants into the river. MountainTrue will use the results to determine if we need fish consumption advisories for the affected sections of the waterway. Special thanks to our High Country Water Quality Administrator, Hannah Woodburn, and Appalachian State's Dr. Shea Tuberty for leading this fantastic project.
ICYMI: Broad River Spring Sweep Collects Over 100 lbs of Litter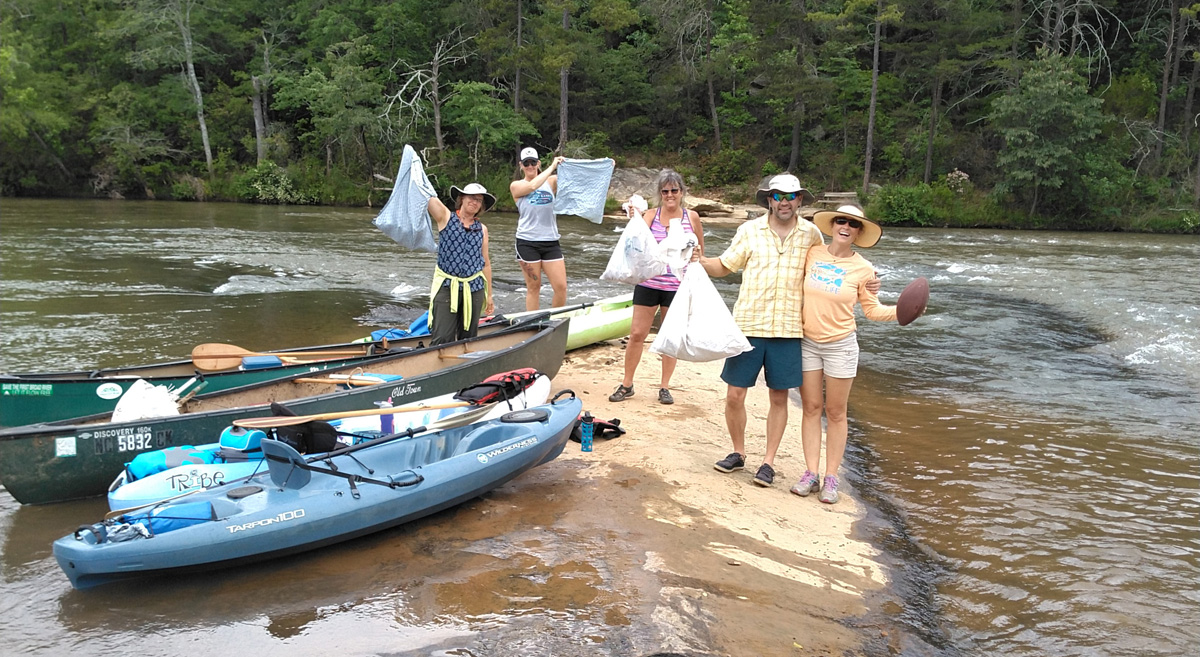 We had a small crew for this year's Annual Broad River Spring Sweep on May 29, but we made a big impact by collecting over 100 lbs of litter (including a football) from the Broad River. It was also inspiring to see so many folks cooling off in the water and enjoying the river at the Greenway canoe access.
Western Regional News
For Cherokee, Clay, Graham, Haywood, Jackson, Macon and Swain counties in NC, and Towns and Union counties in GA
Crossover Timber Project Update: Your Advocacy Is Making a Difference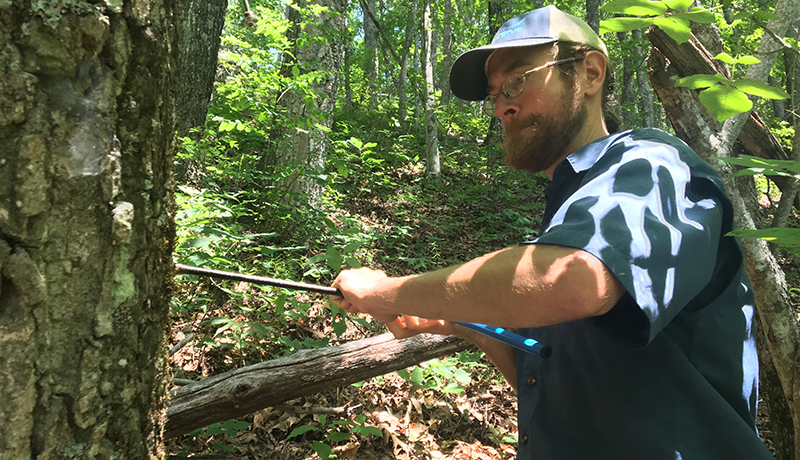 MountainTrue's Public Lands Field Biologist Josh Kelly documents the age of a 200-year-old tree in the Nantahala National Forest.
We asked, and you responded! MountainTrue's members submitted 334 public comments (36% of which were customized) and 24 letters to the editors of relevant local newspapers during the comment period for the US Forest Service's Crossover Project. As currently proposed, the project would log more than 300 acres of old-growth forest, rare species habitat, and remote backcountry in the Snowbird Mountains of Nantahala National Forest.
The Nantahala Pisgah Forest Partnership — a broad coalition of forest users representing recreation, conservation and timber interests of which MountainTrue is a member— has joined the fight and requested that the Forest Service remove these acres from the project. For its part, the Forest Service has indicated a willingness to collaborate with the partnership to develop a better alternative during the Environmental Assessment phase of the project. Thank you for speaking up for our forests!
We're Hiring a Nonnative Invasive Plant Control Intern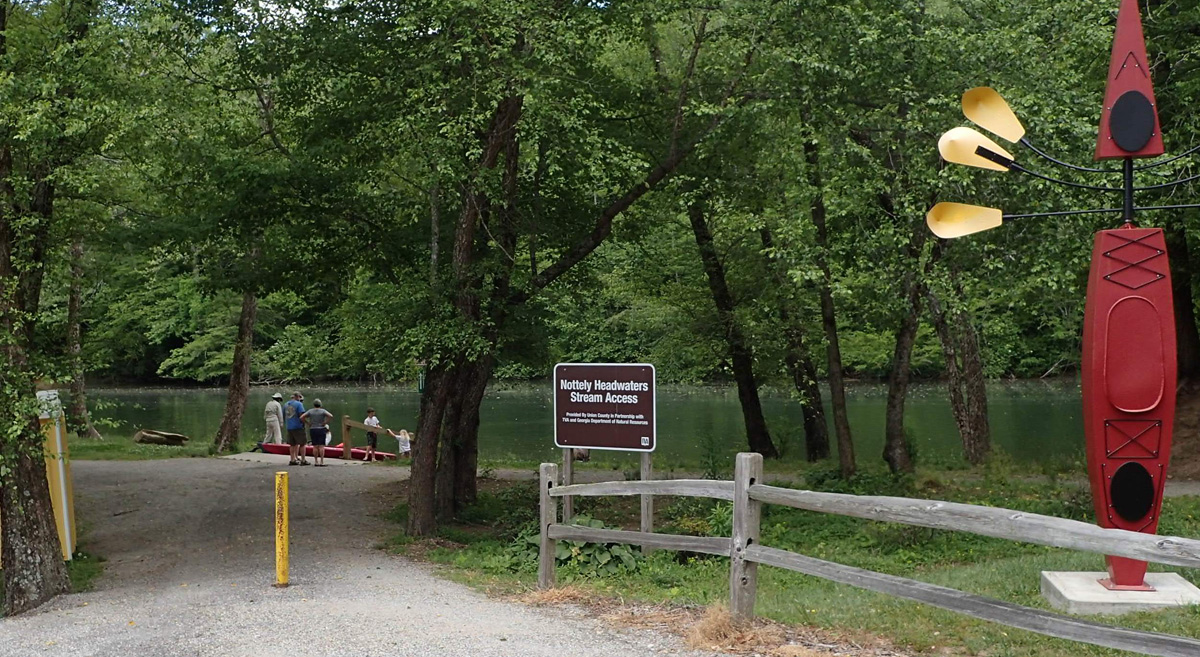 MountainTrue seeks a dedicated individual to fill a part-time, 12-week paid internship for its western region in Fall 2021. The position includes a combination of on-the-ground stewardship of public and conserved lands, volunteer recruitment and coordination, and public outreach. It will require travel to various locations within a 60-mile radius of Murphy (including north Georgia) and substantial work outdoors. The application deadline is August 4, and the start date is August 30. Visit our website to learn more.
Managing Nonnative Invasive Plants Webinar Coming in August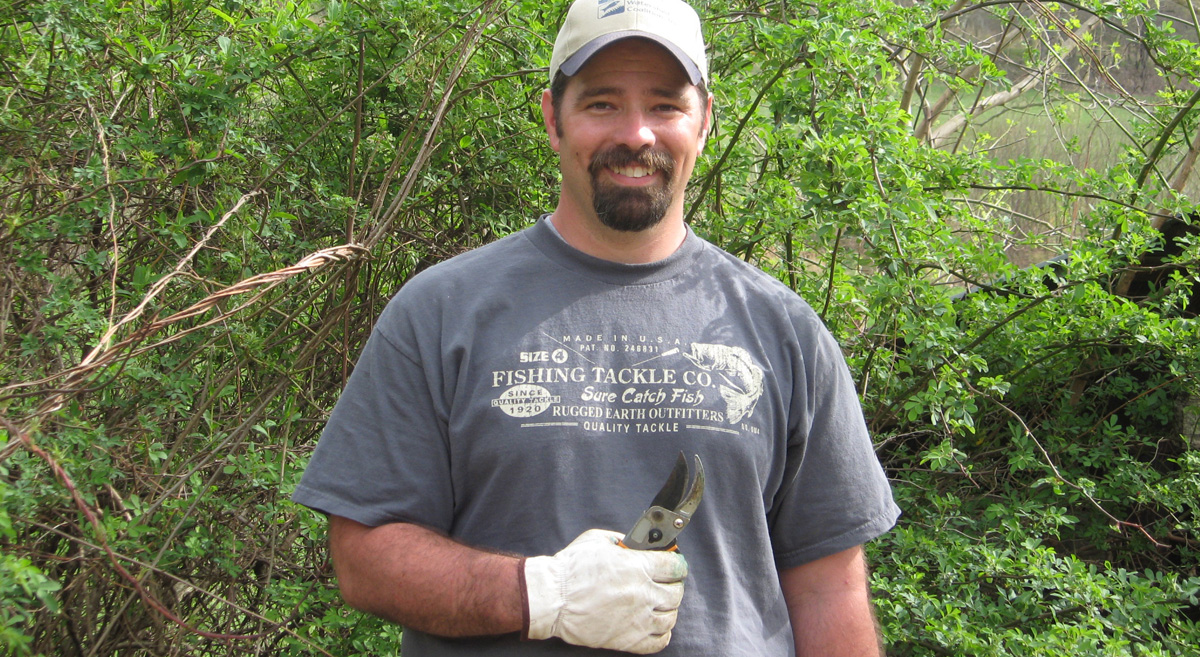 Due to popular demand, MountainTrue Western Region Program Coordinator Tony Ward and Public Lands Director Bob Gale will host a webinar on how to eradicate non-native invasive plants (NNIP) on Tuesday, August 24 at noon. Tony and Bob will discuss the best tools to control common NNIP species and the best seasons for treatment. The webinar will include an in-depth discussion about herbicides, the active ingredients of commonly used products, and how to apply them correctly and with minimal impact on the environment. Register for the free webinar today!
Become A Georgia Green Landscape Steward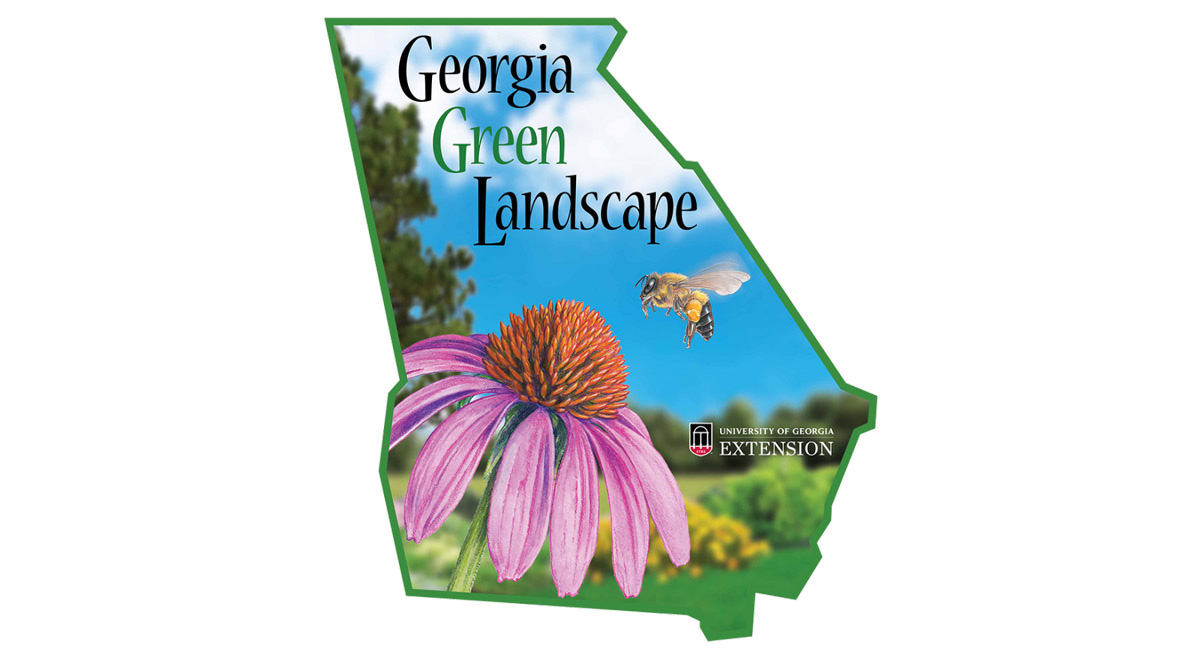 The Georgia Green Landscape Stewards certification program provides educational resources that teach landowners about increasing plant and animal biodiversity, conserving soil and water, providing wildlife and pollinator habitat, and improving public and environmental health. Participants can measure their activities with the program's metric scorecard and earn certification status for their landscape. Along with the satisfaction of contributing to natural resource protection, Georgia Green Landscape certification includes an option for Georgians to purchase an attractive yard sign to designate their property as a sustainably managed landscape.
Events & Volunteer Opportunities
July 18, 10 a.m.-3 p.m.: Headwaters Fun Float on the First Broad River
Join MountainTrue as we head up to the South Mountains for a fun paddle on the cool shady waters of the First Broad River! Read more.
August 24, 12-1 p.m.: MountainTrue University: Managing Nonnative Invasive Plants
Join us for an educational program about managing common nonnative invasive plants, including techniques for control, best seasons for treatment, and more. Read more.
August 29, 7 p.m.: Michael Franti and Spearhead Concert to Cleanup and Protect the French Broad River
MountainTrue, French Broad Riverkeeper and 98.1 River are proud to present Michael Franti and Spearhead for a benefit concert to support MountainTrue's work to clean up and protect the French Broad River. Read more.