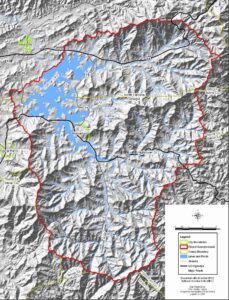 Lake Chatuge is a 7,000-acre man-made impoundment of the Hiwassee River that straddles the North Carolina-Georgia state line in Clay and Towns counties, respectively. The dam was constructed by the Tennessee Valley Authority (TVA) in 1942 and was originally built to store water to help reduce flood damage and aid navigation of the Tennessee River downstream.  Twelve years later in 1954, a single hydropower generating unit was placed into operation at Chatuge Dam, adding electricity production to its list of operational purposes. Still today, releases from Chatuge continue to provide flood control and help maintain favorable navigation conditions in the Tennessee River downstream.
Another important use of Lake Chatuge is as a drinking water supply. The City of Hiawassee, GA withdraws raw water from the lake and provides treated drinking water to residences and businesses in Hiawassee and along the main highway corridor (US 76) in Towns County.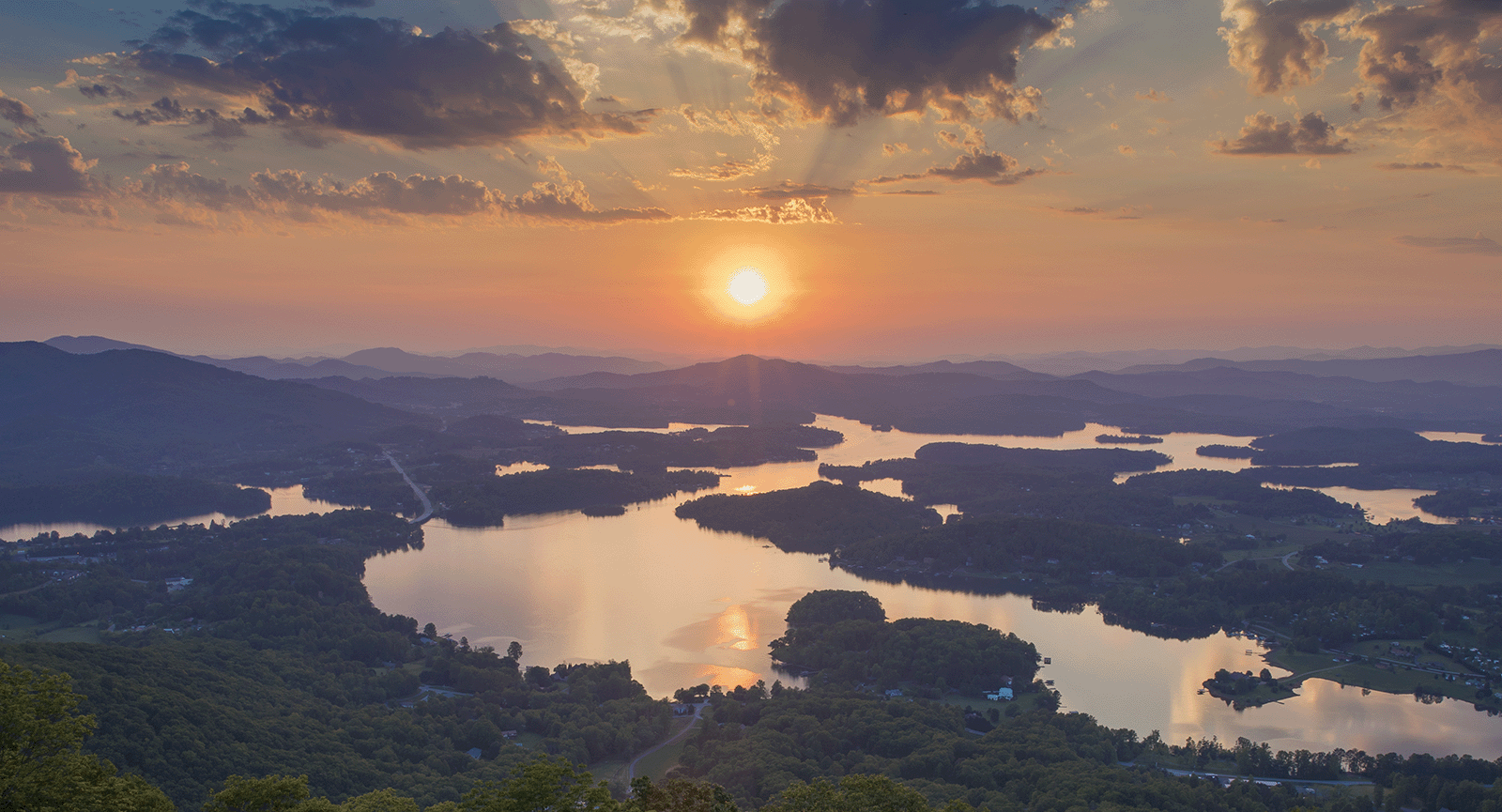 The scenic beauty of Lake Chatuge is nearly unsurpassed in the Southern Appalachian Mountains, drawing visitors and seasonal residents from all over the country. This influx of people contributes positively to the economies of Towns and Clay counties. Recreation includes boating, swimming, fishing, and a wide variety of other water sports. Along the shoreline, people enjoy walking, hiking, and mountain biking.
Algae determined to be a growing problem
A watershed is an area of land that drains to a common point. The roughly 70-square-mile watershed that drains to Lake Chatuge contains forests, farmland, and livestock operations, as well as roads, homes, businesses, and other developed areas. Runoff from all the activities that happen on the landscape can carry pollutants into the lake. The Lake Chatuge watershed and surrounding area experienced explosive growth in the 1990s and early 2000s. During that time, the ecological health rating that TVA routinely assigns to its reservoirs dropped more than 25 points from Good to Poor.
In 2001, the former Hiwassee River Watershed Coalition (HRWC) — now MountainTrue — received an appropriation from the Georgia legislature of $216,000 to determine the causes of lower ecological health ratings in the watersheds of Chatuge and Nottely Reservoirs and to develop an action plan for improving water quality conditions. The Lake Chatuge Watershed Action Plan, published in early 2007, was the result of an intensive study of Lake Chatuge completed over a 5-year period by HRWC and TVA. The study determined that an excess of nutrients (nitrogen & phosphorus) was a leading cause of low ecological health ratings. This result was expected due to elevated concentrations of algae in the lake; however, the study provided a much larger volume of data and the ability to determine which sources were contributing most to the problem.
Lake rating improves
Shortly after the Lake Chatuge Watershed Action Plan was published, HRWC began working with Towns County, Georgia, the City of Hiawassee, Georgia,  and many other partners and private landowners to protect and improve the water quality and health of Lake Chatuge. In 2015, HRWC completed a 3-year grant with a total project cost of $186,000 to implement measures to reduce nutrients and other pollutants in the upper half of the Lake Chatuge watershed in Towns County. Leaking and failing septic systems were repaired, and stormwater management systems were designed for developed areas around the lake. Lake and streamside riparian areas were planted with native trees and shrubs, and agricultural best management practices were installed on farms and livestock operations. The result: approximately 2,800 pounds per year of phosphorus and 1,400 lbs/yr of nitrogen were removed from Lake Chatuge. Sediment loading was also reduced by 173 tons/yr. The grant project, funded largely by the Georgia Section 319(h) Nonpoint Source Pollution Program, accomplished a 30% reduction in phosphorus loading over the estimated 2007 levels.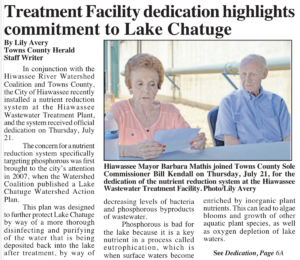 These nutrient reduction efforts produced a measurable improvement in the ecological condition of Lake Chatuge. From 1998-2006, the ecological health rating for Lake Chatuge averaged 54.1 (Poor). There was only one Fair rating during that period — in 2001 when all the mountain reservoirs scored inexplicably higher. But in the nine years following the publication of the Lake Chatuge Watershed Action Plan (2007-2015), the average ecological health rating was 61.4 (Fair), representing a 7.3-point improvement.
In 2016, new nutrient reduction technology, funded by Towns County's Special Purpose Local Option Sales Tax (SPLOST), was installed at the City of Hiawassee wastewater treatment plant, eliminating another 25-27% of phosphorus that was being discharged to Lake Chatuge at the time of plan publication.
Water quality monitoring and improvement work continues
HRWC began a volunteer water quality monitoring program in the Lake Chatuge watershed in 2002. With the exception of a few years during the economic recession (2009-2011), twelve locations on the Hiwassee River, Shooting Creek, and other streams flowing into Lake Chatuge have been monitored monthly for nearly 20 years. In addition to the volunteer monitoring program that's part of the Georgia Adopt-A-Stream network, MountainTrue now monitors E. coli in the summer months at seven locations on the lake itself, four of which are part of the weekly Swim Guide monitoring program.
Lake Chatuge is safe for swimming and other water-based recreation activities, fishing, irrigation, and withdrawal for the purpose of providing treated drinking water.
Monitoring water quality and reducing nutrients in the Lake Chatuge watershed, keeping the lake free of major algae blooms, and improving the lake's health remain high priorities for MountainTrue. Property owners can help in a number of ways: by ensuring that septic tanks are being properly utilized and maintained, planting native trees or shrubs along the streams and the lake, and discouraging populations of domesticated Canada geese. You can also evaluate your property for ways to retain or treat stormwater and minimize water usage and runoff. And encourage local governments to implement water quality protection measures. Learn more.
Find Out How You Can Help Prevent Algae in Lakes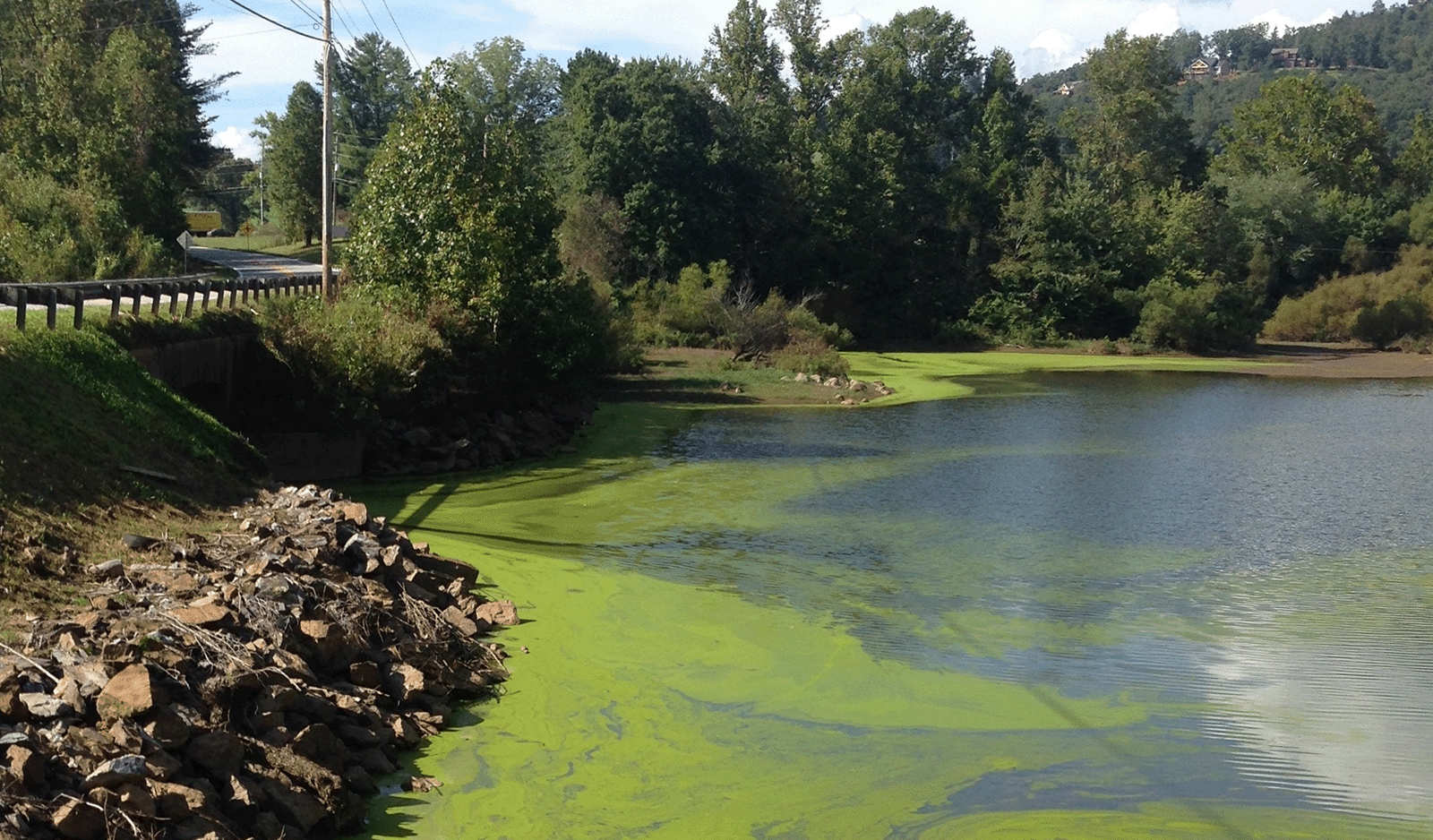 Learn how you can help reduce sediment and nutrient pollution and prevent algal blooms in Lake Chatuge and elsewhere.