March 2021 E-Vistas Newsletter
Rethinking Smart Growth. Reclaiming Community Design's Radical Roots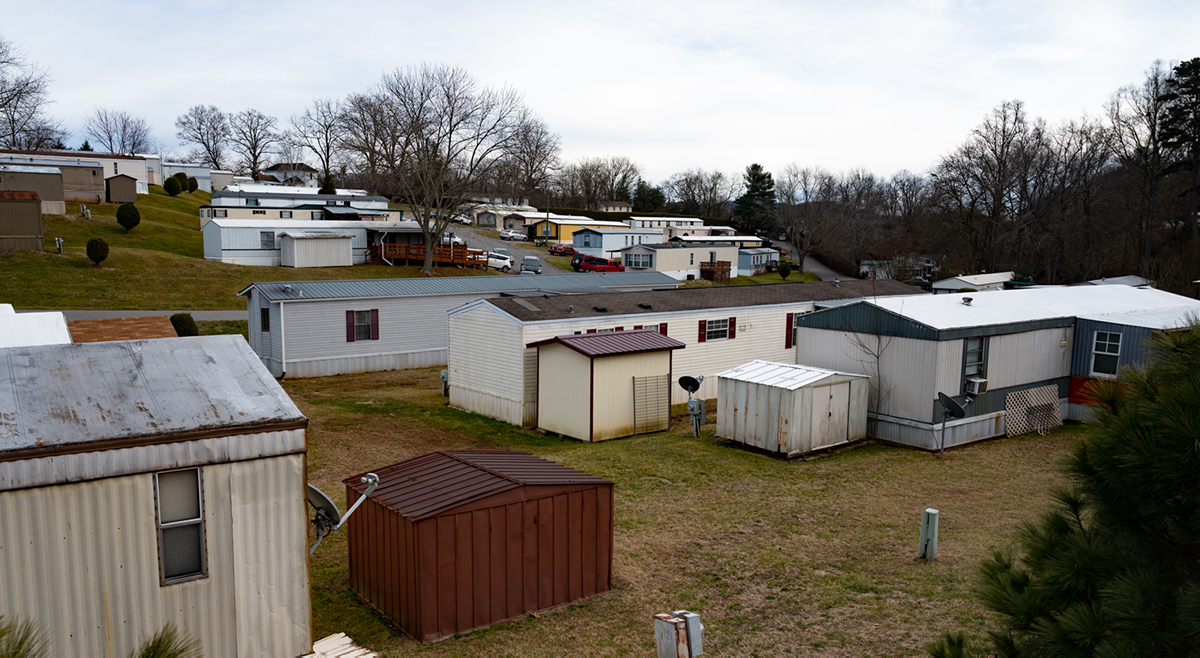 A few months before the pandemic set in, Asheville Design Center Director Chris Joyell had a meeting with a community group in the Emma neighborhood in Buncombe County that challenged many of the assumptions he held regarding Smart Growth development and the role of Design Centers. Over the past year Chris has given this issue much thought, and one result is this article, "Rethinking Smart Growth." In this piece, Chris explores the historic role Design Centers have played in the US and examines how, despite good intentions, Smart Growth initiatives can threaten many of the communities that Design Centers were created to serve. Read more.


Massive Public Comment Sign Ups Lead To Several New Hearings on Duke's Energy Plan
You signed up, and the NC Utilities Commission noticed! So many people signed up to make virtual public comment on Duke's proposed new energy plan that the NC Utilities Commission canceled yesterday's original hearing to schedule several more opportunities for public comment. Final tallies show that over 200 people signed up for the original hearing date. This is a huge victory, and shows that the NC Utilities Commission is aware of how much public pushback there is against Duke's proposed plan.
To recap: Duke is required to submit a long-term plan to the NC Utilities Commission detailing how the company plans to source energy over the next fifteen years. Duke released a proposal toward the end of 2020 that is bad news for the climate: proposing the construction of up to 13 new gas plants, overinflating the costs of renewable energy and battery storage, and proposing less renewable energy 14 years from now than what is already the national average. Thank you to everyone who showed power in numbers by signing up, and we hope you'll join us in building momentum for the NCUC to require big changes to Duke's plan.
If you registered to speak at the public hearing that was originally scheduled for March 16, make sure to respond to the email from the NCUC to confirm your attendance for a future hearing. Thank you!
High Country Regional News
For Alleghany, Ashe, Avery, Burke, Caldwell, Watauga and Wilkes counties
MountainTrue University About Sustainability in the High Country | April 7 at 12pm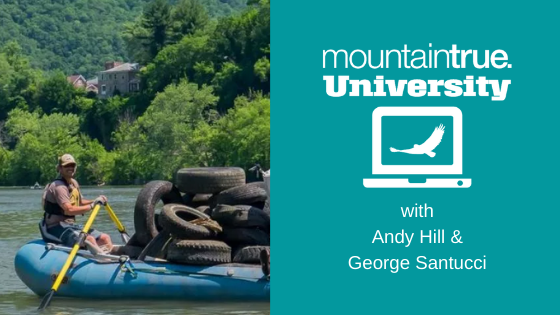 Join us for a High Country sustainability discussion with George Santucci. You may know George as the long-time Director of the New River Conservancy. George has brought his decades of environmental experience to his new role as Sustainability and Special Projects Director for the Town of Boone.
Join us for an informative discussion about how MountainTrue and the Town of Boone have partnered to address energy use, climate change, stormwater and microplastics pollution. Learn more.
Avery County Clean Sweep on Beech Creek (March 20, 27 and April 7)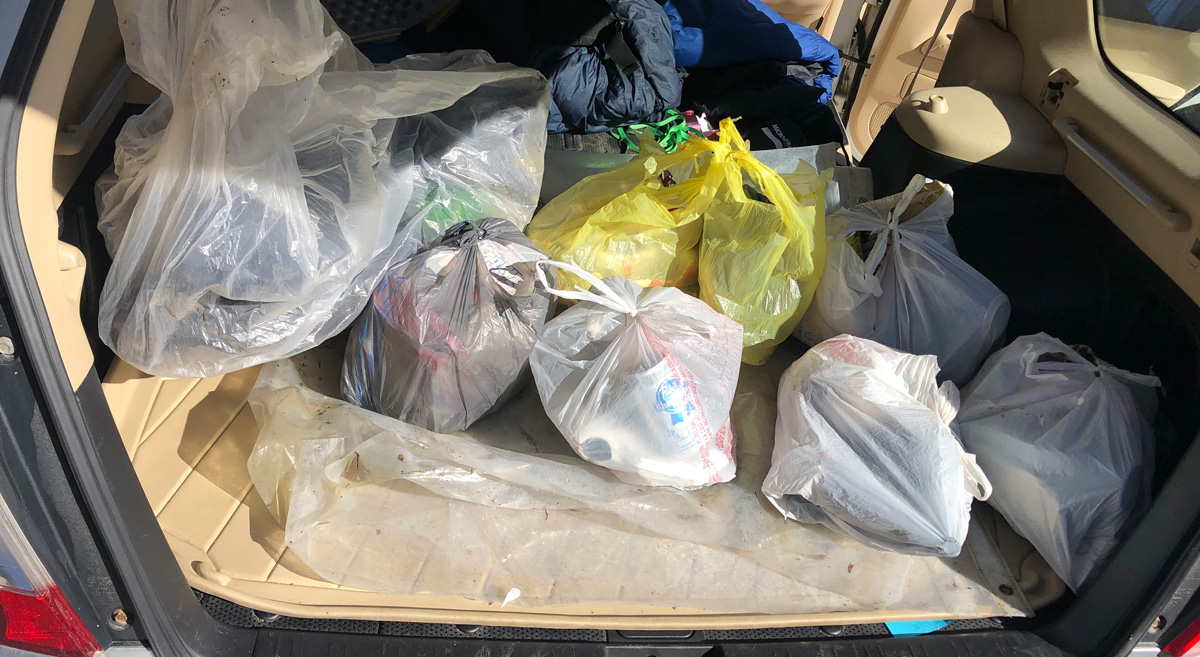 Litter is on the rise, with personal protective equipment (PPE), masks, single-use plastics and tires showing up far and wide in our watershed. In response, Avery County Clean Sweep is a collaborative grassroots effort to clean up the roadways and public spaces across our community, with a focus on the Beech Creek Area in Avery County. We're joining the Grandfather Stewardship Foundation, Avery County Sheriff's Office, Avery County Emergency Management and countless other organizations to help take back the beauty of this area.
We love to see the hard work of our volunteers, and we hope you'll share your cleanup photos on social media with @mtntrue and @wataugariverkeeper. We can also provide bags and gloves so that you or a small group can participate safely. There will be prizes for the most trash collected! Sign up here.
Last Live Staking Day: March 20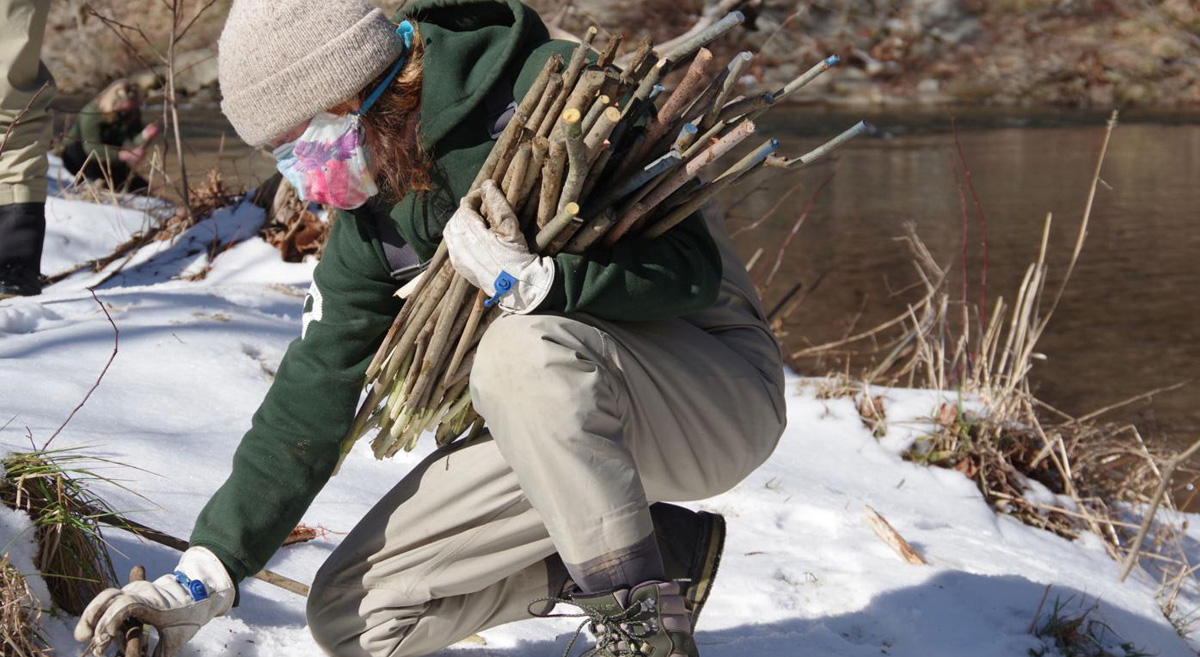 Photo By Moss Brennan
Missed our other live staking workdays? No worries, we still have one more! Sign up and come join us this Saturday to plant native tree cuttings at Valle Crucis Community Park. Thank you to our wonderful volunteers who have helped us plant thousands of trees this season. Sign up here.
Looking For Other Opportunities To Volunteer?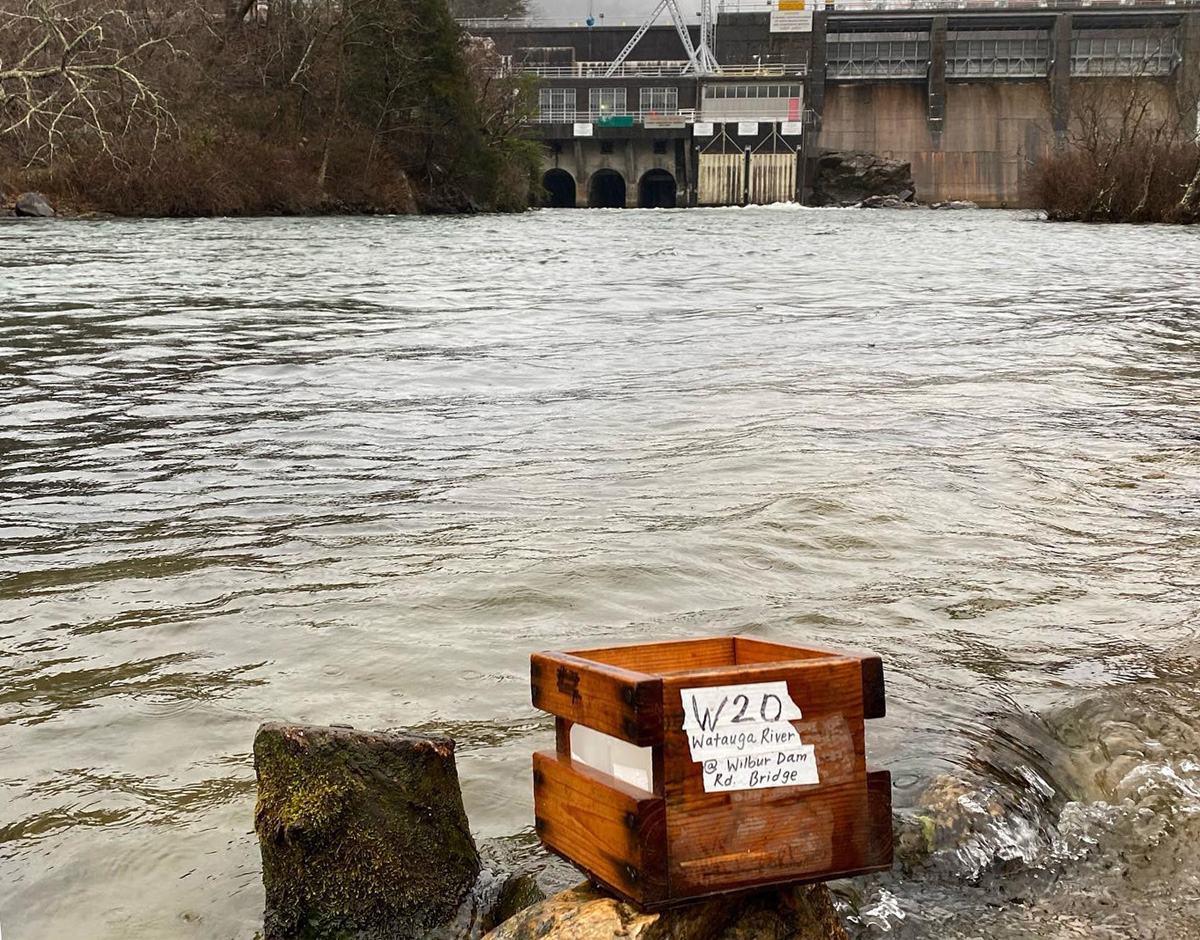 Volunteer Water Information Network (VWIN) Sampling at the Wilbur Dam on the Watauga River.
We also have year-round opportunities to get involved with MountainTrue's High Country Office. Our Volunteer Water Information Network (VWIN) is a monthly water chemistry sampling program that relies on volunteers, and our microplastics program needs volunteers to take monthly water samples and do small trash inventories at various locations throughout the Watauga Watershed. If you are interested in becoming a regular volunteer for either of these programs or would like more information, please contact our High Country Water Quality Administrator Hannah Woodburn at hcwqa@mountaintrue.org.
Now is also an excellent time to join our Headwaters Giving Program. You can make a tremendous impact with a small, recurring monthly donation. Invest in our future, pay your river bill and help support our ongoing programs today. Make your river gift here.
Southern Regional News
For Cleveland, Henderson, Polk, Rutherford and Transylvania counties
Round Two: Asphalt Plant Proposed for East Flat Rock Reapplies for Rezoning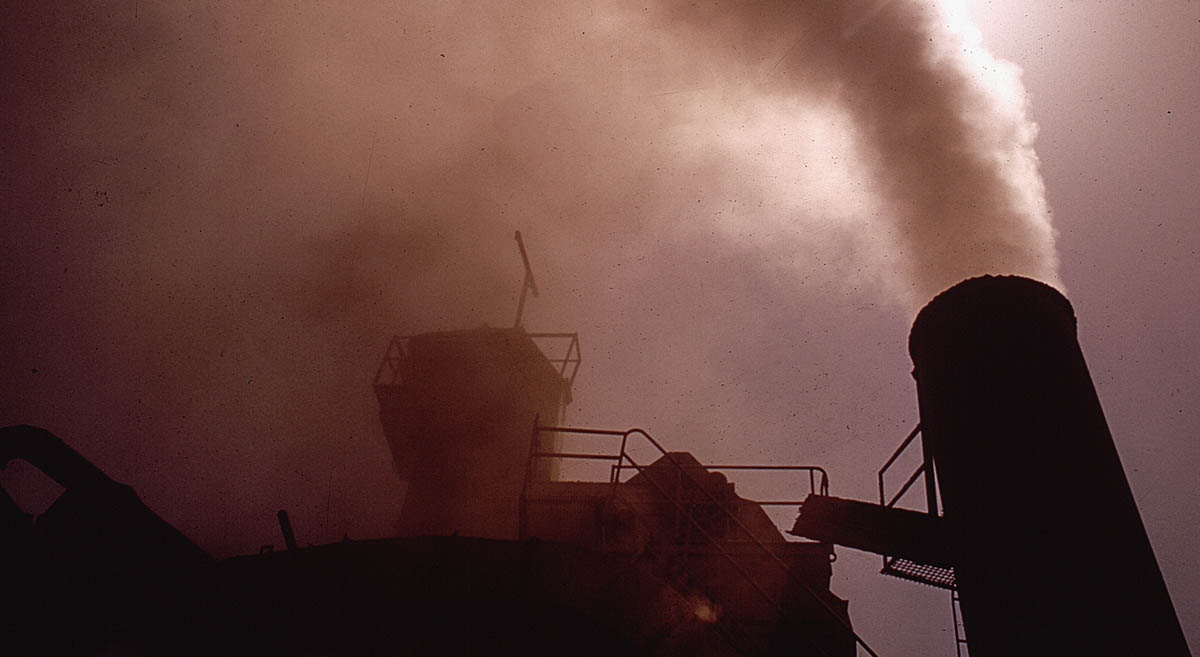 SE Asphalt has submitted a new rezoning application in Henderson County to build an industrial asphalt plant at the intersection of Spartanburg Highway (US-176) and US-25. This location is across the street from a low-income mobile home park and surrounded by hundreds of single-family homes, small farms and the Green River Game Lands. The site also drains directly to Laurel Creek, which flows into the Green River.
Last year, MountainTrue's Green Riverkeeper and hundreds of local residents organized with Friends of East Flat Rock to successfully oppose this rezoning and the construction of the new asphalt plant. Now we're asking the Henderson County Board of Commissioners to protect communities and the environment by standing by its existing zoning rules and denying the application.
Henderson County will host a Community Compatibility Meeting on Tuesday, March 30 at 4pm in the East Henderson High School Auditorium. Then on April 15, the Henderson County Planning Board will hear the application and make a recommendation to the County Commissioners at its meeting in the same location. Mark your calendars and show up to make your voices heard! Learn more here.
Green River and Lake Adger Spring Cleanings are On for April 10!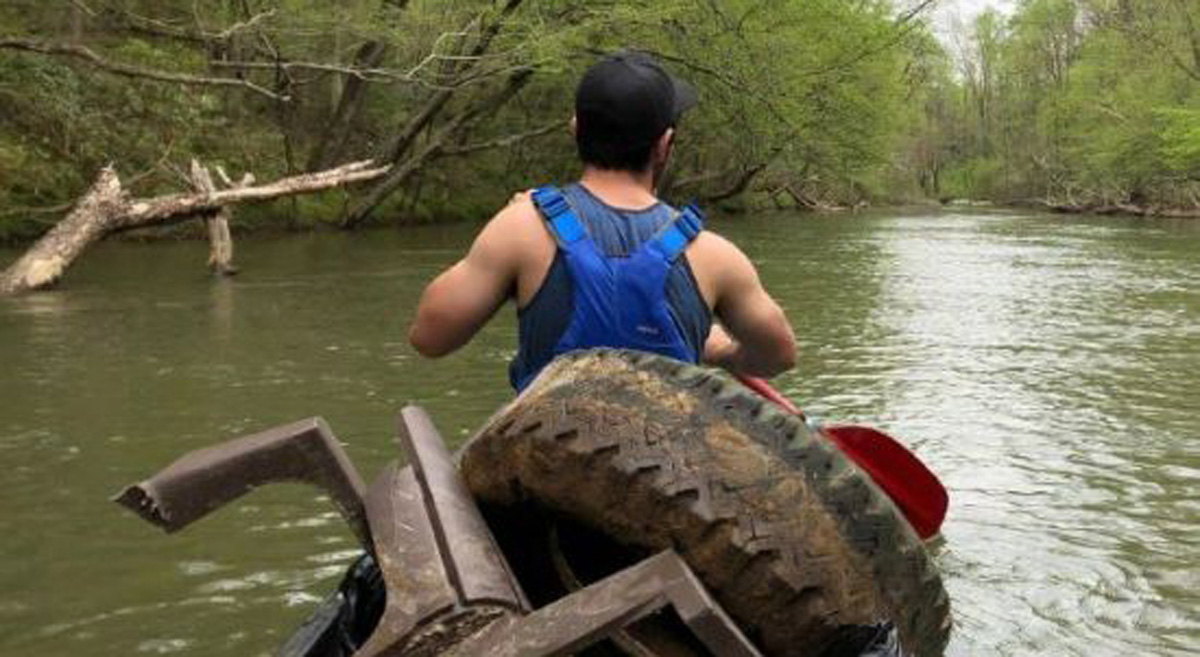 Join MountainTrue's Green Riverkeeper and Liquidlogic Co-founder Shane Benedict for the 11th Annual Green River Spring Cleaning!
For obvious reasons, we'll need to take additional precautions to keep everyone safe and healthy this year, including wearing masks in parking lots and anytime you can't maintain six feet of distance, avoiding large groups and shuttling with household groups. We're asking folks to provide their own boats or to clean up from the land, and to manage their own day-of logistics in terms of location, time, and shuttle if necessary.
Post your photos to social media and we'll send prizes to the best, biggest, weirdest, and most trash finds! Pre-register for the Green River cleanup here and the Lake Adger cleanup here to stay connected and get updates about available supplies and trash disposal.
Sign up for the Green River cleanup. 
Sign up for the Lake Adger cleanup.
Partner Organization Spotlight: SouthWings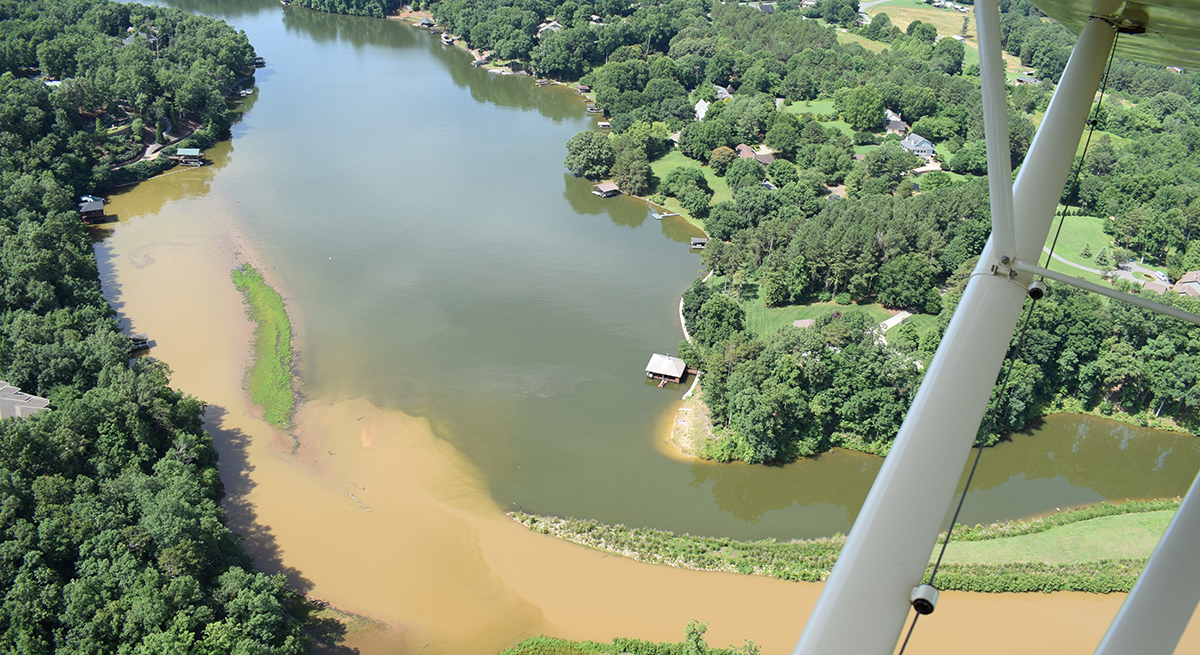 MountainTrue's Broad Riverkeeper, David Caldwell, was introduced to SouthWings in 2017 during the effort to make Duke Energy excavate its unlined coal ash pits in Cliffside. The views from above were telling, showing the huge volume of coal ash and its proximity to the Broad River. Images gathered during flights with SouthWings informed our advocacy efforts, which ultimately helped secure a state order requiring Duke to excavate and move all of the company's coal ash in North Carolina to lined landfills safely away from water.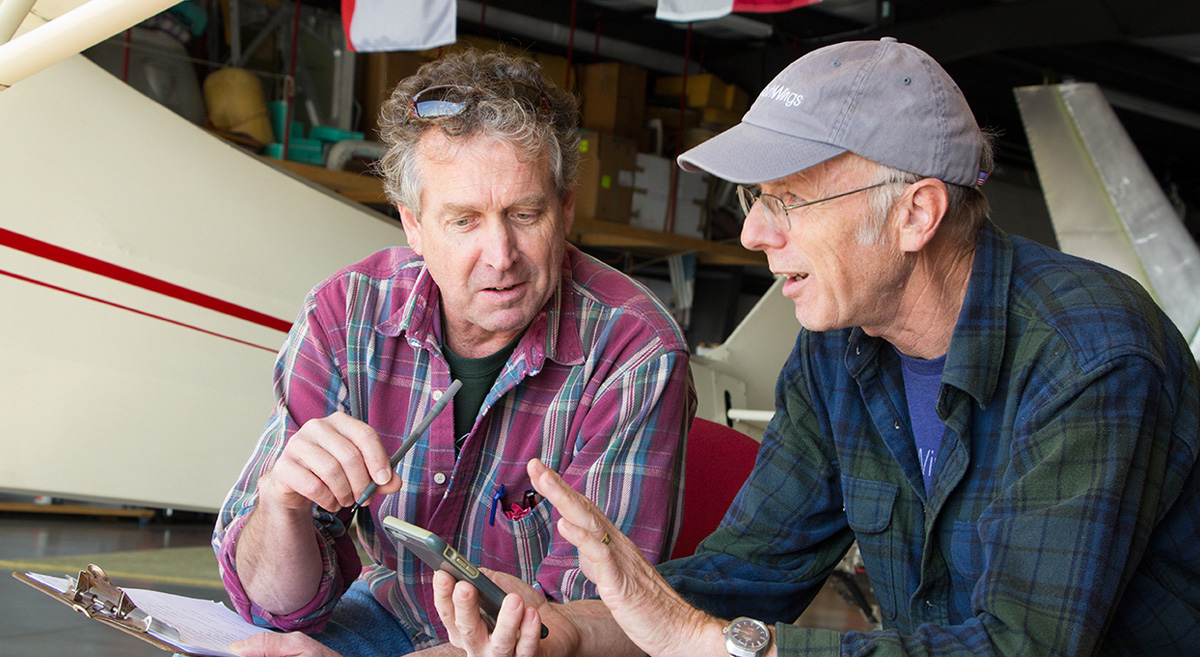 Broad Riverkeeper David Caldwell (left) with SouthWings pilot Peter Stauble (right) discussing their flight plan before takeoff.
Later flights with SouthWings pilot Peter Stauble revealed some beautiful views of the watershed, from the headwaters near Chimney Rock down to South Carolina's Big Bay. But other less beautiful views from the plane included runoff and sedimentation from development sites, huge piles of uncovered poultry waste from factory farms and numerous industrial facilities. These flights give us the information and images to better protect our watershed by investigating pollution sources and implementing strategies to fix them. Thanks for your great work, Peter and SouthWings!
Western Regional News
For Cherokee, Clay, Graham, Haywood, Jackson, Macon and Swain counties in NC, and Towns and Union counties in GA
Virtual Watershed Gala Honors David Liden, MountainTrue History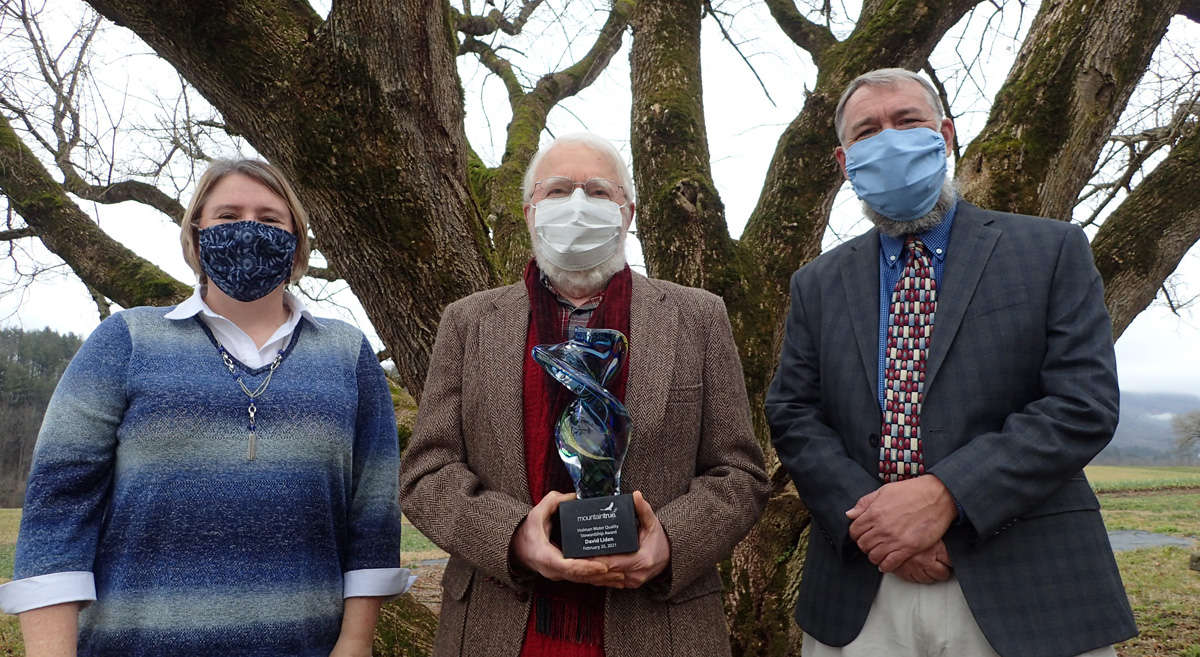 David Liden (center) received the 2021 Holman Water Quality Stewardship Award from MountainTrue Western Regional Director Callie Moore (left) and Hiwassee Watershed Advisory Council Chairperson Jason Chambers (right) at the John C. Campbell Folk School gardens before the online event.
Although we missed the human interaction of the traditional in-person event, the 2021 virtual Watershed Gala was fun and familiar in its own way. We celebrated our accomplishments over the past year and honored the Holman Water Quality Stewardship Award winner just like we always do. We also had conversations in small virtual groups and smiled and laughed – without masks – like we've done at past Galas. Yes, it was different being on Zoom, but the 42 participants learned a lot about the founding and early history of the movement that continues today as MountainTrue from David Liden, this year's award winner and a person who was in the center of it all.
Thank you to all who contributed and participated to help make the virtual Gala successful! We plan to be back in a ballroom in 2022, but our silent auction may be a little different in future years as we strive to continue to involve all of MountainTrue in the event.
If you missed the Gala this year, you can still watch the video highlighting our western region 2020 accomplishments here!


MountainTrue Trains 17 New Volunteers for the Georgia Adopt-A-Stream Program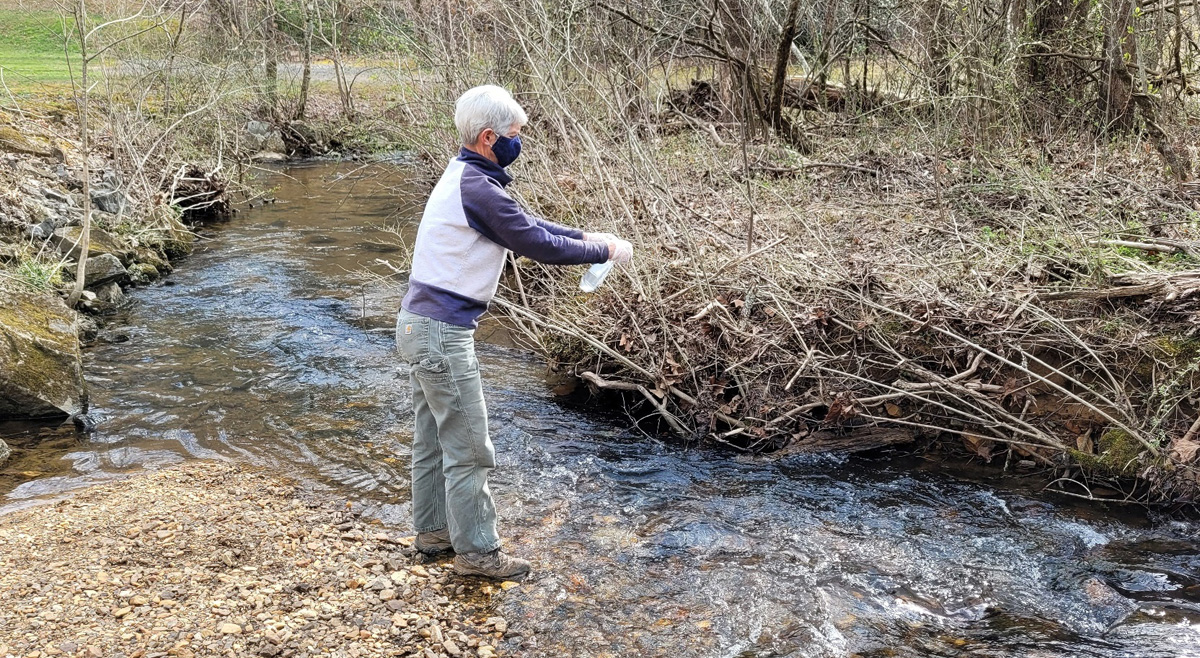 Union County, GA resident Clare Johnston demonstrates how she collects a bacterial sample during a recent AAS volunteer recertification workshop.
Seventeen new water quality monitoring volunteers are being added to the ranks of the Georgia Adopt-A-Stream (AAS) program this month in the Hiwassee Watershed! For more than a decade, volunteers have been sampling water chemistry and E.coli at more than 40 locations across Towns and Union counties in North Georgia and Cherokee and Clay counties in WNC as part of Georgia AAS. Thanks to the generosity of our donors, MountainTrue provides supplies and monitoring equipment free of charge at five locations across the watershed so that volunteers can help us keep tabs on water quality regardless of their financial situation.


Reminder: Blue Ridge Paper Permit Hearing & Comment Period Coming Up in April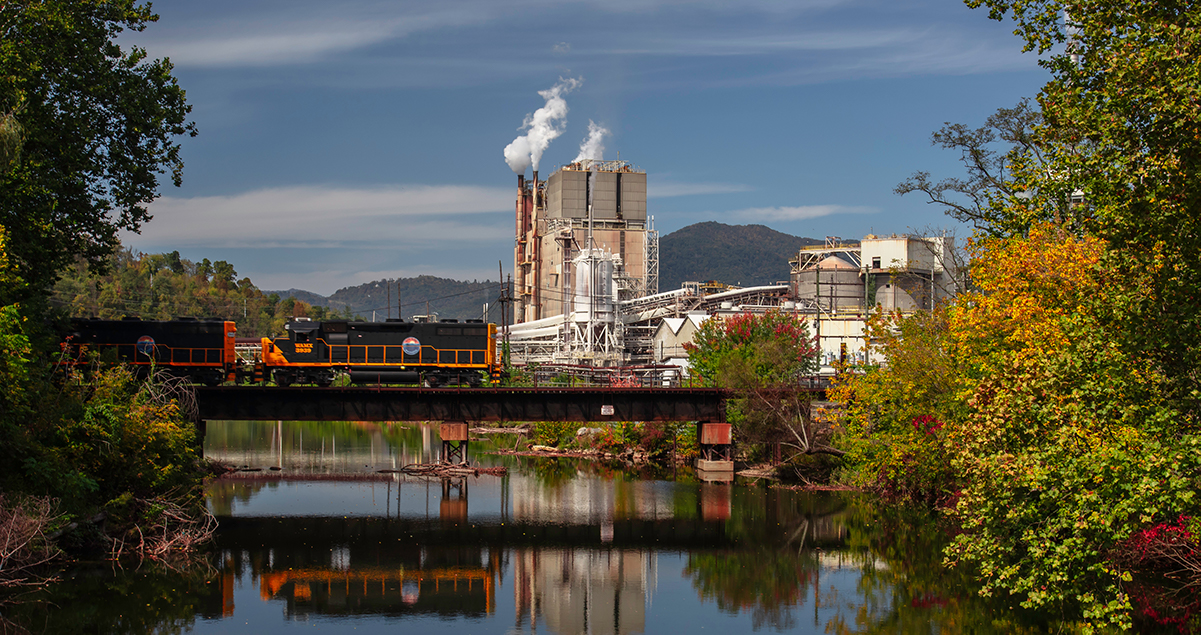 Blue Ridge Paper Products has a long history on the Pigeon River in Canton. It has provided good jobs for decades, but historically it has also caused massive negative impacts to water quality and aquatic life in the Pigeon River. Because of pressure from the public, environmental groups, states and the Environmental Protection Agency (EPA), there have been significant improvements in the quality of the plant's discharge and a reduction of the amount in the river.
Now that river conditions are better – such that rafting and other water-based recreation is thriving – we want to ensure that strong protections stay in place and that the facility's new permit will drive continued improvement, particularly with regard to water temperature. Visit our Help Make the Pigeon River Healthier page to learn more, submit comments, and/or sign up to attend the online public hearing set for April 14!


Winter Tree Identification Workshop with Tony Ward this Saturday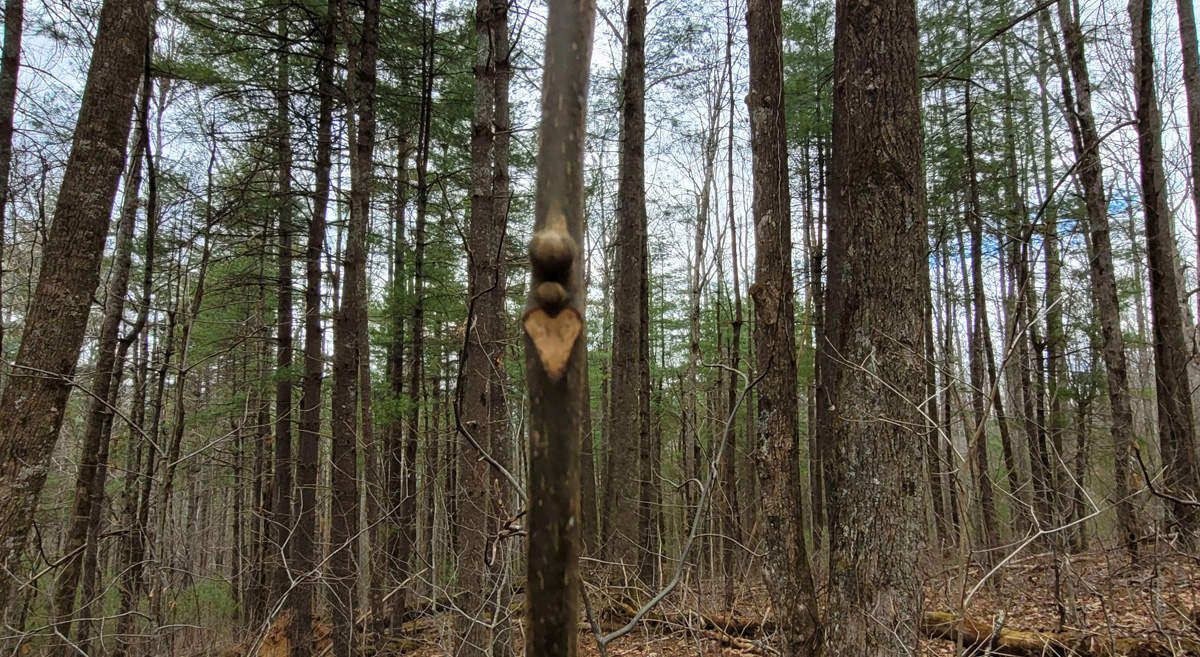 A heart-shaped leaf scar on a young hickory tree. Leaf scars can help you identify native trees in winter.
Join Tony Ward, MountainTrue's Western Region Program Coordinator, this Saturday at 10am for a relaxing 1.2-mile loop trail hike along the lake shoreline at the Lake Chatuge Recreation Area. This trail features a wide variety of native trees perfect for identification. During this hike, Tony will discuss how to identify trees in our area in a way that is accessible to all skill levels of tree identifiers.
The cost of the workshop/outing is $10 for MountainTrue members and $20 for non-members. The non-member ticket includes a year-long membership, so you'll enjoy reduced rates on other events and outings for a full year afterward. Register today!
Events & Volunteer Opportunities
Note: All attendees at in-person events are required to follow our COVID-19 safety guidelines.
March 20, 10am-2pm: Live Staking Workday In Valle Crucis
Fight sediment pollution, erosion and climate change with Watauga Riverkeeper Andy Hill by planting live stakes along streams and river banks. Sign up here.
March 20, 10am-12pm: Western Region Winter Tree ID Workshop
Join MountainTrue's Western Region Program Coordinator, Tony Ward, for our Winter Tree ID hike at Lake Chatuge. The 1.2-mile loop trail at the Lake Chatuge Recreation Area Trail offers a tour along the lake shoreline and has a wide variety of native trees perfect for identification! Sign up here.
April 7, 12-1pm: MountainTrue University: How Local Governments Are Responding To Climate Change
Join us for an informative discussion with George Santucci, the Sustainability and Special Projects Director for the Town of Boone, about how MountainTrue and Boone's local government have partnered to address energy use, climate change, stormwater and microplastics pollution. Register here.
April 10: Spring Cleanings on the Green River and Lake Adger
Join MountainTrue's Green Riverkeeper and Liquidlogic Co-founder Shane Benedict for the 11th Annual Green River Spring Cleaning! We'll send prizes to the best, biggest, weirdest, and most trash finds.
Register for the Green River cleanup (10am-4pm).
Register for the Lake Adger cleanup (9am-5pm).
April 11, 18, 23 & 25: Paddlers For Hemlocks Workday
Join the Paddlers Hemlock Health Action Taskforce (PHHAT) as we work to protect hemlock trees along the Green River from the deadly hemlock woolly adelgid. PHHAT works in areas that are only accessible by boat in the Green River Game Lands.
Sign up for the April 11 workday here.
To sign up for the workdays on April 18, 23 or 25, email gray@mountaintrue.org.
April 22, 9am-12pm: Bearwallow CCA Spring Hike
This easy-to-moderate trail climbs one mile through the lovely mountain forest and opens up onto a large grassy field at the top. This spectacular summit will be the site for some guided reflection before looping back down the mountain. Sign up here.
May 7, 10am-3pm: High Country Wildflower Hike
Join MountainTrue's Public Lands Field Biologist, Josh Kelly, as he leads us on a hike to explore the wildflowers found in Elk Knob State Park. The hike is on the Summit Trail, a moderate, four-mile out and back trail that offers spectacular views of Mount Jefferson, Grandfather Mountain, Mount Mitchell and more! Sign up here.