MountainTrue FAQ: Live Staking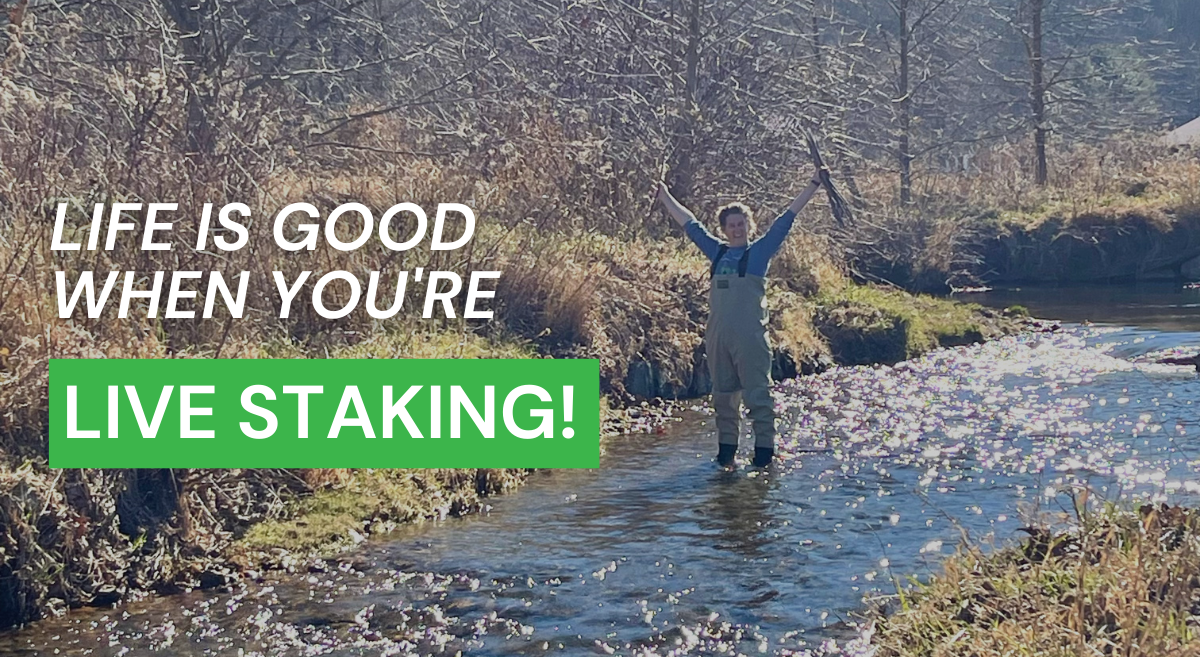 We love live staking here at MountainTrue, as it's one of the easiest and most effective ways to support native biodiversity and stream bank restoration! This blog hopes to answer many of the frequently asked questions we get about live staking. Most of this information is general, but some is specific to the Watauga Basin and Riverkeeper Program. 
Q: What's live staking?
Live staking is a method of stream bank repair using native tree cuttings to revegetate the riparian buffer. The riparian buffer consists of trees, shrubs, and grasses alongside stream banks — it plays a crucial role in protecting stream health. The resiliency of riparian buffers is frequently impacted by land use. Activities like mowing to the edge of a stream, cutting down trees to see the water, or new development can negatively impact water quality. By live staking, we can positively and directly impact the overall health of our waterways! 
Q: Where do you get the stakes from?
We get our live stakes from Foggy Mountain Nursery in Lansing, NC — their team harvests the stakes from native tree species, cutting stakes two to three feet long and one-half to two inches thick. While it's possible to cut the stakes ourselves, we choose to support a fantastic local business and ensure that we're planting the correct species. We've also harvested stakes from our previous live staking sites, where planted stakes have become well established. 
Q: How do you choose where you'll be planting?
We prioritize local public parks and river accesses because they're easy to access and directly benefit the public. We've frequented Valle Crucis Community Park in Banner Elk, Cove Creek, and other public riverside locations around Watauga County. We also partnered with the City of Hendersonville to host two live staking workdays in Henderson County this February! 
Q: What species do you plant?
We only plant tree species native to our region — primarily silky willow, silky dogwood, elderberry, and ninebark stakes. We've also planted other species, like buttonbush, black willow, and red stem dogwood. Recommended for stream bank repair by the NC State Cooperative Extension, these native tree species prefer moist soil and thrive in riparian habitats. These species support native wildlife, especially local pollinators. They can also establish extensive root systems to successfully hold soil in place along riparian buffers, ultimately preventing erosion. 
Q: Why do you plant during the winter?
Live stakes are living cuttings of dormant trees that can propagate or sprout a new plant from the cutting of the parent plant. During winter, trees enter a state of dormancy to conserve their energy and weather the colder temperatures. Our live staking season lasts from November to March. We plant hearty hardwood stakes that use their energy to establish roots, waiting until spring to grow their branches and leaves. These resilient roots serve as a stream bank's first line of defense against erosion, especially during high-flow events. Planting live stakes while tree species are in their natural pattern of energy conservation allows for a higher likelihood of survival along riparian buffers. 
Q: How successful are the stakes?
Live stakes have a survival rate of 30-80%. However, survival varies from species to species and depends on environmental conditions. For example, we'd likely have very low survivability if a drought occurred after planting. But, if we plant under ideal conditions using correct planting techniques and have favorable weather post-planting, our stakes can do remarkably well! We can also remove invasive plant species and water the freshly planted live stakes to give them a better chance of success. 
Stakes are most successful when planted along naturally sloped stream banks. They can still be planted on extremely incised banks, though they're more likely to be less impactful in those locations. In our experience, silky willow and silky dogwood stakes tend to fare better than other native tree species we plant. 
Q: How long does it take for the stakes to grow?
Roots, leaves, and branches can be well established after one growing season. From there, they continue to grow in length from the tips of their roots and branches year after year. 
Q: How do live stakes benefit our waterways?
Live stakes grow root systems that hold soil in place and prevent erosion in local waterways. Sediment pollution remains a significant threat to the Watauga River Basin. This type of pollution clogs aquatic habitats and transports toxic substances through local waterways, increasing water temperatures and negatively impacting native biodiversity.
Once planted, small live stakes will grow into larger trees that stabilize and support riparian buffer health. Healthy riparian buffers benefit stream health in a multitude of ways — they also absorb nutrients, create wildlife habitat, and reduce the intensity of flooding from rain events. Unvegetated streams are often incised and can lose several feet of bank in a single rain event — this can be detrimental to nearby homes and other structures. 
Q: What's a typical day of planting?
We prep the stakes by cutting the live ends at a 45-degree angle. The NC State Cooperative Extension states that such cutting is enough to catalyze root growth at the nodes. The folks at Foggy Mountain Nursery kindly mark the planting ends of our stakes, so we know which ends to cut (pictured right). Once prepped and ready, we take the stakes in buckets down to the stream. We plant along the bank from the water's edge to the bank's top — not in the actual stream bed. Stakes are planted at an angle and submerged into the soil about two-thirds of the way. From there, the rest of the work is up to the stakes!
Want to learn more about live staking? Check out our Events page to sign up for one of our upcoming volunteer workdays, or contact our resident live staking experts listed below: