October 2020 E-Newsletter
To get this in your inbox, sign up for our email newsletter here.

October 14, 2020
If You Can, Vote Early!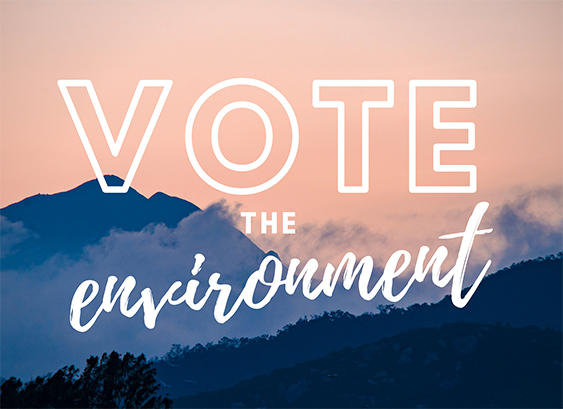 Early in-person voting in North Carolina starts tomorrow and lasts until October 31. In Georgia, early voting began on Monday and will last until October 30. No matter where you live, we encourage you to vote early if you can. Here are some other tips to make sure your voting experience goes as smoothly as possible:
While the first day of early voting tends to be pretty busy, the first week of early voting should be your best bet to avoid crowds. Try to arrive in the morning if you can.
Wear your mask and practice social distancing.
If you see anything unusual or have problems voting, immediately report it to election staff on site and call the voter protection hotline: 888-OUR-VOTE (888-687-8683). It's against the law to intimidate voters or interfere with the voting process.
For more information, visit our 2020 voting page here.
Happy voting!
Announcing Our 2020 MountainTrue Award Winners!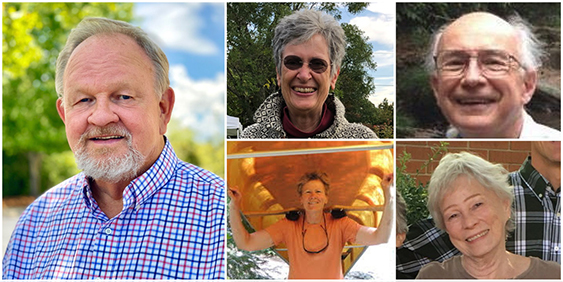 We're honored to be recognizing five critical MountainTrue supporters next week at our Virtual Annual Gathering: Representative Chuck McGrady, Craig Weaver, Joan Parks, Maureen Linneman and Suzanne Hale. Click here to read more about the great work these folks have done on behalf of a healthy environment over the years, and click here to register to attend the Annual Gathering on October 21 and celebrate them in real time. We hope to see you there!
Support MountainTrue and Enter to Win a Handcrafted Paddle!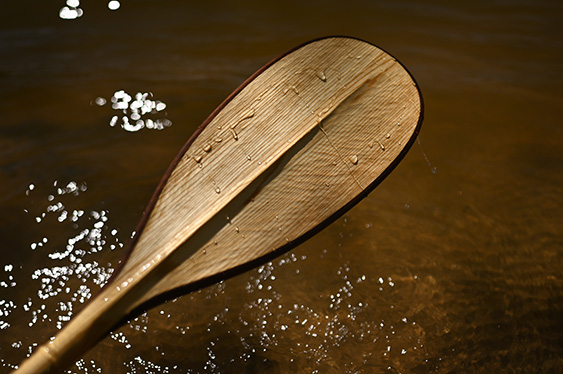 We're excited to announce a raffle drawing for a handmade, one-of-a-kind wooden paddle crafted by your Broad Riverkeeper David Caldwell! The winner will be announced at our Virtual Annual Gathering on October 21. You can get one entry ticket for $10 or three tickets for $20, and all funds raised will support the work and programs of MountainTrue. Enter today for your chance to win one of these beautiful paddles!
MountainTrue Members Successfully Defend Solar Projects On Asheville City Schools!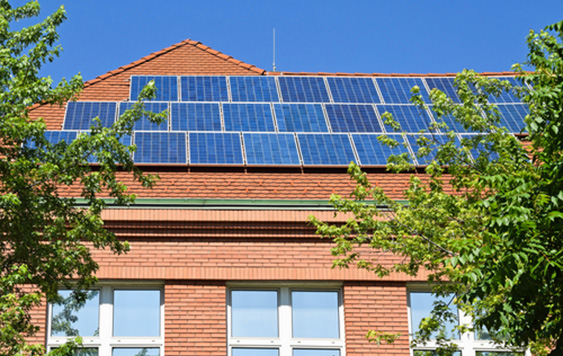 Last Monday, October 5, the Asheville City School Board made a surprise decision to no longer pursue nine solar panel installations on city school properties. The projects in question were among the 40 solar projects approved by the Buncombe County Board of Commissioners this summer, which MountainTrue members advocated fiercely in support of.
Even though it was a long shot, last week we decided to do everything we could to try to save these solar projects and get the school board members to change their minds. Since the County was closing on the financials for all of the solar projects this Monday, October 12, the school board had to make its decision by last Friday – leaving a very short timeframe to reverse the decision. But when we called, you answered, and MountainTrue supporters sent over 250 messages to the school board calling for them to reverse their vote on the solar panels in only two days. As a result, the school board convened an emergency meeting last Friday afternoon and approved eight of the nine solar installations. Thanks to everyone who made this quick turn of events to support solar energy possible!
Local Residents Fend Off the Asphalt Plant Proposed for East Flat Rock!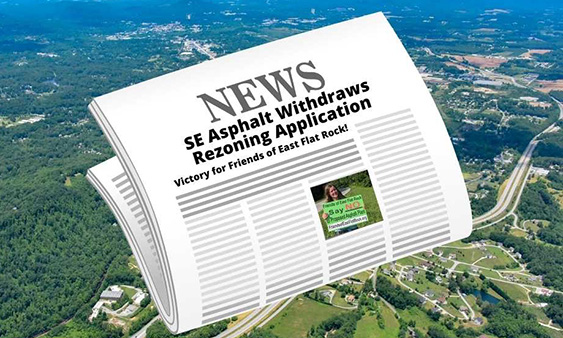 We're so excited to share the good news that developer SE Asphalt has withdrawn their application to the Henderson County Board of Commissioners requesting rezoning to allow construction of an industrial asphalt plant in East Flat Rock! We are confident that the pressure applied by concerned residents like you raising your voices in opposition to this dangerous proposal is what resulted in this victory for our community. Together we have proven, yet again, that engaged citizens can and do make change for the better in our communities. Huge thanks to the Friends of East Flat Rock and everyone that spoke out in opposition of this project.
Stream Monitoring Information Exchange (SMIE) Biomonitoring Is Underway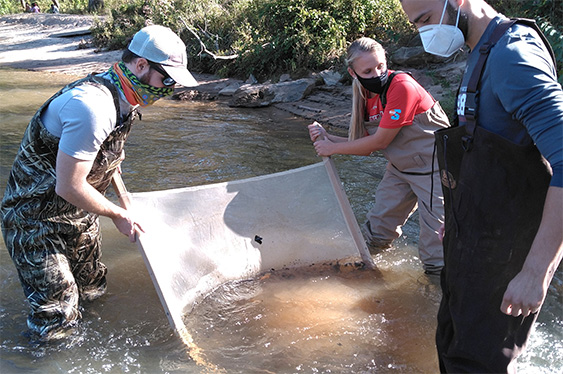 Students from Gardner-Webb University's Animal Physiology class join our macroinvertebrate sampling on the Broad River.
Despite challenges presented by the pandemic, our fall season of Stream Monitoring Information Exchange (SMIE) biomonitoring is underway. Benthic macroinvertebrates, also known as water bugs, tell us a lot about water quality in our rivers because different species have various levels of tolerance to pollution.
Students from Gardner-Webb University's Animal Physiology class recently joined Water Quality Administrator Grace Fuchs and Broad Riverkeeper David Caldwell on the Broad River in Boiling Springs to sample macroinvertebrates. If you'd like to get involved as a volunteer with this program, reach out to Grace at wqa@mountaintrue.org.
Broad Riverkeeper and Appalachian State University Partner to Study Heavy Metal Pollution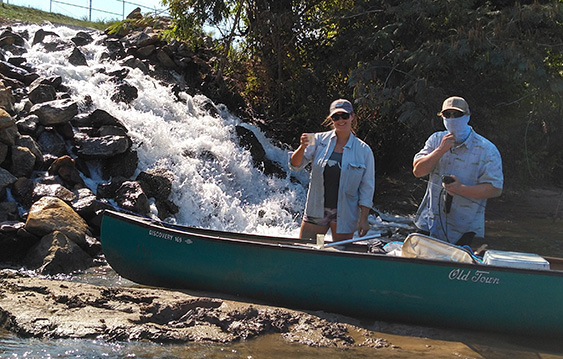 For over a decade, fishermen in our region have been concerned about the contamination of game fish in the Broad River due to discharges from industrial operations. To assess the level of contamination, a team of Ecotoxicology students from Appalachian State University have sampled for heavy metal contamination on the Broad over the past few years – revealing that almost all of the fish and water samples taken downstream of industrial polluters have elevated amounts of arsenic, lead, zinc, selenium and chromium.
To continue this research, Appalachian State University's Ecotoxicology team came down to the Broad River again last month and spent three days taking water, sediment and fish tissue samples on 30 miles of the Broad River. The team has now collected over 120 samples that will be processed and analyzed for the presence of 20 different heavy metals. The results of this study are important to help determine safe fish consumption rates, and to help the Department of Health & Human Services issue fish consumption advisories if needed.
Inaugural Union County Environmental Awareness Day Was a Success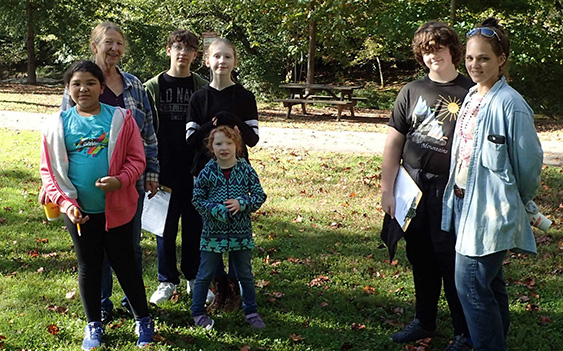 Students checked out our Native Tree ID Scavenger Hunt at the first ever Union County Environmental Awareness Day.
Western region staff had a great morning at Meeks Park on the inaugural Union County Environmental Awareness Day! We had visits and meaningful conversations with many Union County residents about water quality, recreational safety, native and invasive plants and MountainTrue's work. Several people enjoyed a nature walk with Tony on one of the many park trails, and five homeschool students and their teachers participated in the Native Tree ID Scavenger Hunt. We hope to make future celebrations of the environment on this day bigger and better! Mark your calendars now for October 1, 2021!
10th Annual Lake Chatuge Shoreline Cleanup Is Happening November 7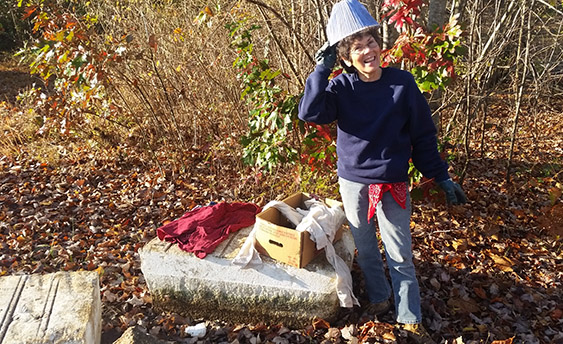 Although we're changing things up a bit to keep people safe during the ongoing COVID-19 pandemic, the annual Lake Chatuge Shoreline Cleanup will proceed on the first Saturday in November in conjunction with Georgia Rivers Alive! The event will again kick off at the Towns County Swim Beach Pavilion at 9 AM. After signing waivers, volunteers will be assigned to specific areas of the lake to clean up trash, as usual. Bags, gloves, coffee and grab-n-go breakfast snacks will be available, but we ask volunteers not to congregate in the pavilion this year before heading out to their assigned site.
Also new this year, we are encouraging everyone to register in advance by noon on the Friday before the cleanup to make the site assignments easier for event organizers. When registering it is important to verify the number of vehicles as well as the number of people in your group, so that we can assign volunteers to clean up areas with enough parking for them. We ask that participants do not carpool with others outside of their families for this year's event. As in prior years, volunteers will leave trash piled up near the entrance to the assigned site for pickup by the big truck toward the end of the event.
We will not gather for awards after the cleanup this year; however, your team can still win prizes for your good work! Just be sure to take photos and send them to callie@mountaintrue.org for a chance to win. More details on the categories and prizes will be available at the event. Since we had a light turnout last year due to very cold temperatures, We hope to see lots of registrations coming in for the event this year!
Fall Native Tree Sale Ongoing Through November 4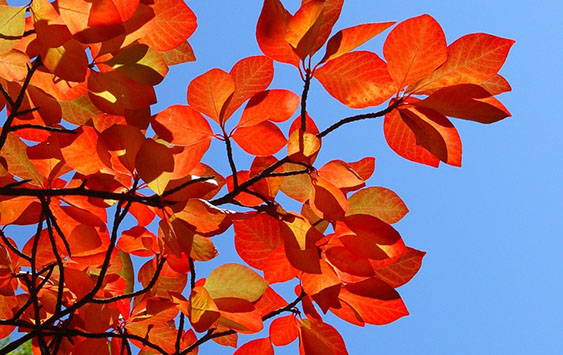 Orders are still being taken for the Native Tree and Shrub Sale through November 4! Choose from 36 species of native trees and shrubs ranging from large shade trees to native ornamental shrubs while supplies last. Descriptions for the various plants indicate that there are good pollinator and wildlife species on the list. All plants are quality nursery stock ranging in size from one to three gallon potted trees.
You must pay for the order at the time you submit it and pick up your plants from our Western Regional Office parking lot in Murphy, NC on Saturday, November 14 between 9AM and 1PM. Why so late? The dormant season is the best time to plant woody trees and shrubs so that they can develop a strong root system before putting energy into flowers, leaves and fruit in the spring.
2021 Watershed Gala: February 25, 2021
Save the date of February 25, 2021 at 6 PM for the first ever virtual Watershed Gala! Yes, we are disappointed too, but the difficult decision had to be made. The team agreed that too much is still up in the air related to the pandemic to count on being able to gather 200 people for an indoor meal in February. We're working hard to make sure it's still going to be fun – and you'll want to celebrate our Holman Water Quality Stewardship Award winner with us!
We are also planning an online auction fundraiser that will start on February 15 and run through the evening event on February 25. More details will be rolling out soon. In the meantime, please consider what you might be able to donate or recruit for the auction and email callie@mountaintrue.org about your ideas.
Update on Pollution from The Ponds Sewage Plant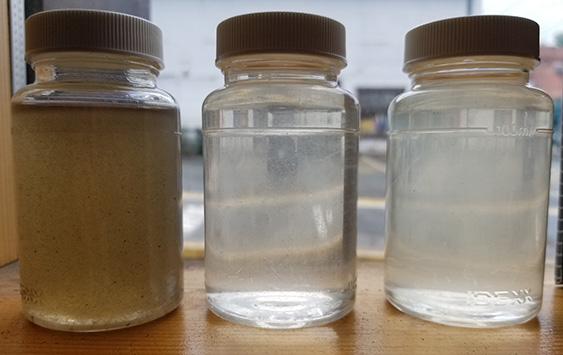 Water samples in our lab.
After identifying a significant source of pollution stemming from a deteriorating private sewage plant on the Watauga River, our Watauga Riverkeeper program has continued to monitor the area and follow up with the NC Department of Environmental Quality (DEQ). "DEQ found multiple sources of regulatory non-compliance such as corroded leaking pipes, inactive overflow alarm systems, and uncontrolled solids buildup," said High Country Water Quality Administrator Hannah Woodburn. "Overall, the facility shows a serious lack of regular maintenance and a significant threat to water quality on the Watauga River."
As a result of our diligent sampling, the plant is now receiving fines and notices of violations, and has been required to make repairs to fix their failing infrastructure. Thanks to all our members who make this work possible.
High Country Swim Guide Season Wraps Up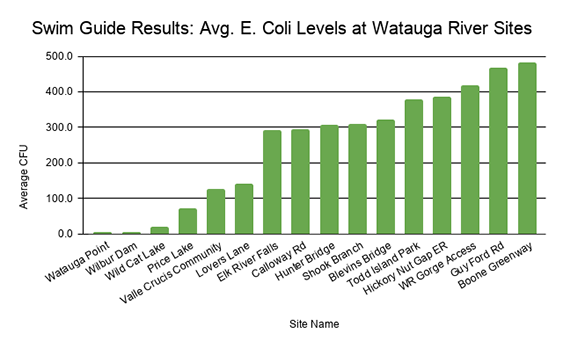 The results are in! Our top 3 cleanest sites are Watauga Point, Wilbur Dam and Wildcat Lake. The three sites that failed the most frequently this summer were Boone Greenway, Guy Ford Road, and WR 321 Gorge Access. The sampling season is over for now, but we will start back up in May. Thank you to our wonderful team of volunteers that makes this program possible!
Calling All Volunteers For Our Stream Monitoring Information Exchange (SMIE) Program in the High Country!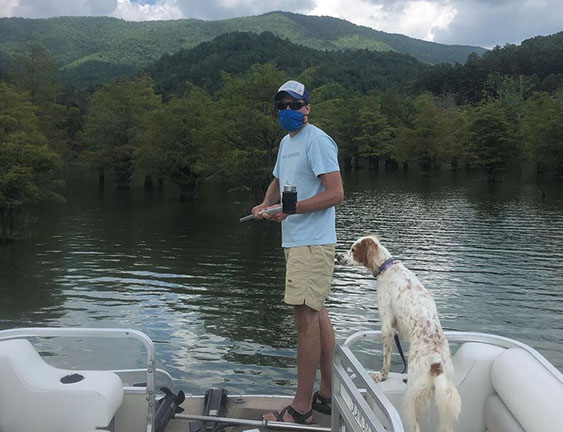 We're starting a Stream Monitoring Information Exchange (SMIE) program in the High Country! The SMIE program mobilizes volunteers to check our local waterways for the presence of macroinvertebrates (also known as bugs). Since the presence of certain bugs in streams tells us a lot about the health of those waters, this is a useful metric that we plan to collect, analyze and share widely. Within MountainTrue, we will join our Green Riverkeeper, French Broad Riverkeeper and Broad Riverkeeper programs in collecting these samples in October and April. We'll distribute new data on the High Country's waters to the Environmental Quality Institute in Asheville, the NC Department of Environmental Quality's Division of Water Resources, partner organizations and the public.
If you're willing to get out in a stream on one or two weekends this October, click here for more info!
---
Events Calendar
September 21-November 4: 2020 Fall Native Tree & Shrub Sale
Once again, our Western Regional Office is holding a native tree and shrub sale to raise awareness about the resilient plants that are native to the Southern Blue Ridge Mountains and to raise some funding for our ongoing non-native invasive plant eradication efforts. Orders must be picked up from the parking lot of our Western Regional Office in Murphy.
October 17, 9AM-4PM: Fall Scenic Hike
Join MountainTrue's Ecologist and Public Lands Director, Bob Gale, for a gorgeous and educational hike on the Pilot Cove Loop Trail through Pisgah National Forest. This hike offers breathtaking views of the fall foliage, and if we're lucky, we'll catch glimpses of the monarch butterfly migration.
October 17, 10 AM-5PM: Stream Monitoring Information Exchange (SMIE) Training
Interested in helping preserve our waterways? Then join us for our Stream Monitoring Information Exchange (SMIE) training to learn how to safely examine macroinvertebrates in order to determine stream health. The rain date for this training is October 31.
October 18, 1-4PM: Broad River Race Day
Join us for the 2nd annual Broad River Race Day! We welcome folks to race at their own pace and enjoy five miles on the most beautiful stretch of the Broad River. Remember, the hare may not outrun the tortoise!
October 21, 6-7PM: Virtual Annual Member Gathering
For this year's Annual Member Gathering, we'll be gathering virtually on Zoom to celebrate recent accomplishments and honor recipients of this year's MountainTrue awards – such as it is in 2020!
October 28, 12PM-1PM: MountainTrue University: Recycling & Waste Diversion
Tune in for this discussion on municipal recycling and waste diversion programs in WNC with MountainTrue's Southern Regional Director, Gray Jernigan, and Henderson County Environmental Programs Coordinator, Christine Wittmeier. They will cover what materials can and cannot be recycled, logistical challenges with recycling vendors, local and global markets and more.
November 1, 10AM-2PM: Microplastics Volunteer Program
We're hosting this training for volunteers who can collect water samples from the river every month going forward that we will test for the presence of microplastics. If you're willing and able to collect small amounts of river water each month, rain or shine, we would appreciate your help!
November 7, 9-11:30AM: Lake Chatuge Shoreline Cleanup
MountainTrue will host the 11th Annual Lake Chatuge Shoreline Cleanup in conjunction with Georgia Rivers Alive! The event will kick off at the Towns County Swim Beach Pavilion with breakfast and coffee, and volunteer coordinators will lead teams of 5-10 to clean up designated trash sites along the shores of Lake Chatuge. We'll meet back at the swim beach pavilion at 11:30 for prizes.
November 7, 10AM-2PM: High Country Live Staking Event
Reduce the amount of sediment that flows into our rivers by planting live-stakes along eroding riverbanks with Watauga Riverkeeper Andy Hill.
November 9, 3-4PM: MountainTrue University: Fish Tissue Sampling Project
For years, students from Appalachian State University and our Broad Riverkeeper David Caldwell have taken fish tissue samples in the Broad River to assess the presence of heavy metals in the water. In our latest installment of MountainTrue University, tune in for a discussion between our High Country Water Quality Administrator Hannah Woodburn and our Broad Riverkeeper David about their ongoing studies and efforts to raise awareness for communities affected by heavy metal pollution.
November 10, 12PM-1PM: Building Our City Speaker Series: How Accessory Dwelling Units Can Meet Housing Needs
What is an accessory dwelling? Although many people have never heard the term, the greater Asheville area is speckled with examples of these creative ways to foster aging in place. In partnership with AARP NC, Building Our City is excited to present this virtual tour of accessory dwelling units in our community and teach more about this concept.
November 12, 6-7PM: Virtual Green Drinks with French Broad Riverkeeper Hartwell Carson
Virtual Hendersonville Green Drinks welcomes MountainTrue's very own French Broad Riverkeeper Hartwell Carson to discuss the many issues plaguing the French Broad River and what's being done to combat them. We can and need to do more to make sure we finally meet the goals of the Clean Water Act to provide fishable and swimmable river access to all.