The Importance of Watersheds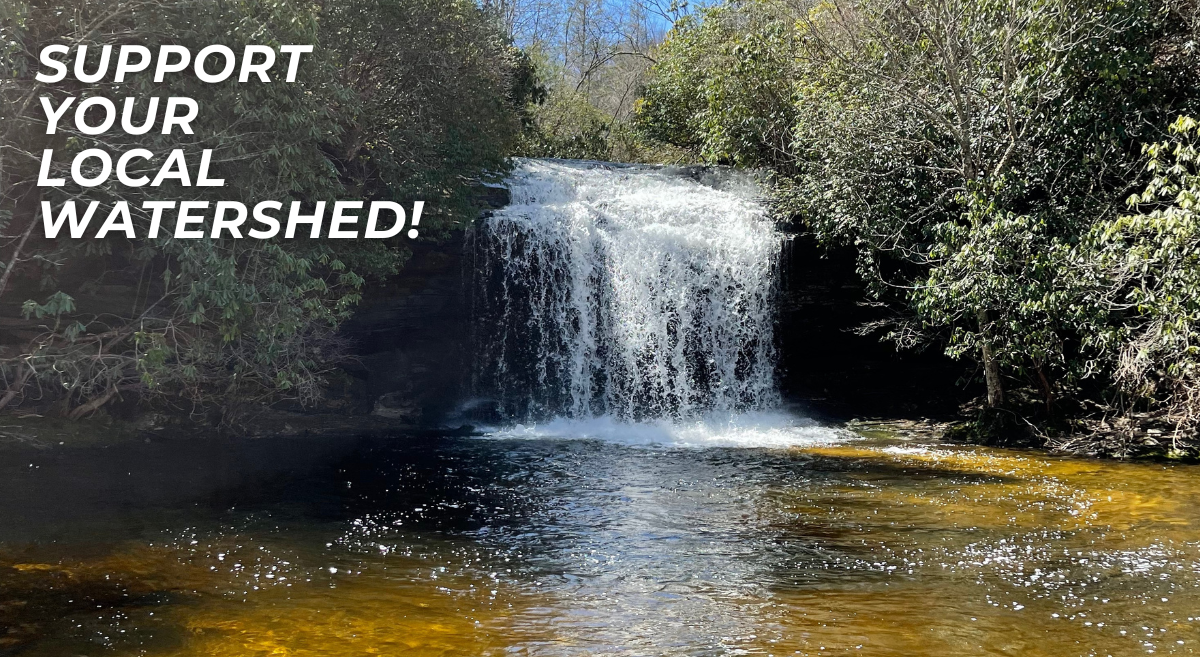 Part of MountainTrue's mission is to protect and restore local waterways here in the Southern Blue Ridge. Watersheds are essential to this mission, though they are often not well understood. Learning about local watersheds is an important first step toward improving water quality and preserving ecosystems in your area. 
So, what is a watershed? A watershed is an area of land that channels rainfall, snowmelt, and groundwater into streams and rivers that flow into common points, like lakes or oceans. Watersheds can be small, such as the area around a single creek, or they can encompass hundreds of miles; the Mississippi River Watershed drains the water from 31 different U.S. states. Every body of water has a watershed, and you likely live in more than one.
Healthy watersheds contain a variety of landscapes, native flora and fauna, and intact natural communities. Water can pick up sediment, pollutants, or harmful bacteria as it flows into larger rivers or lakes, which can lead to increased negative impacts on water quality further downstream. Healthy watersheds provide critical services; the condition of our local watersheds directly impacts our health and well-being. Elevated pollutants can result in unsafe drinking water, fish and aquatic species becoming unfit for human consumption, and swimming waters that can make us sick. 
Watershed Pollution
There are two major types of pollution: point-source and nonpoint-source. The first is relatively easy to identify, as these contaminants tend to come from a pinpointed source, and their emissions are often highly regulated. Point-source pollution can come from factories or power plants with smokestacks, drainage ditches, or discharge pipes. While still a significant source of pollution in the U.S., the impact of point-source pollution has dropped dramatically since the inception of the Clean Air Act (1970) and the Clean Water Act (1972).
Of greater concern today is nonpoint-source pollution, which comes from multiple sources simultaneously. A major example of nonpoint-source pollution is stormwater runoff containing pollutants washed by heavy rainfall from impervious surfaces like parking lots, roofs, and streets into sewers or directly into bodies of water. These pollutants include car oil, tire scraps, pet waste, litter, and other types of garbage. Agriculture runoff is also an issue where the soil in the fields no longer has the capacity to hold as much water after years of intensive use without adequate ground cover. Animal waste, pesticides, herbicides, and fertilizers can all get washed away in the rain and drain into local waterways. Nonpoint-source pollution can be tricky to prevent because the pollutants come from so many different sources and activities. 
Watershed Management 
Managing our watersheds can be a complex task. Managers need to identify and implement sustainable land and water use practices so people can utilize natural resources in a given area without harming the existing plants, animals, and ecosystems. MountainTrue's Clean Waters Program works to restore and support healthy waterways through collaboration with our organizational partners and communities. Our four Riverkeepers and Clean Waters staff continuously monitor point-source pollution, test for bacteria levels in waterways during the summer months, host volunteer cleanups to raise awareness about the problems our waterways face, and so much more.
Making a difference
Here are some steps you can take to support the health of your local waterways:
To check out which watershed you are a part of, visit the EPA's How's My Waterway tool. After typing in your address, you can also see if there are any identified problems in your local watershed. 
From May to September, MountainTrue's Riverkeepers and volunteers collect weekly water samples from the Broad, French Broad, Elk, Green, Hiwassee, New, Notterly, and Watauga river watersheds as part of our Swim Guide Program. We process and analyze each sample and post the results to the Swim Guide website and mobile app before the weekend so you know where it's safe to swim.
Want to get involved? Join us on a volunteer workday! Our dedicated volunteers help to collect water samples for E. coli and microplastic testing, eradicate nonnative invasive plants along waterways, plant native trees along stream banks, clean local rivers and shorelines, and more. Feel free to contact us for more information about how you can get involved.