Henderson County Can Accommodate Growth without Sprawl
The Henderson County Planning Department is circulating a draft Future Land Use Map that contradicts our community's priorities as reflected in the County's own survey results. The draft map prioritizes sprawl — development that spreads too far into the countryside, unnecessarily destroying forests, farmland, and rural communities — at great expense to taxpayers and against the desires of county residents.
Fortunately, Henderson County has plenty of space to accommodate new residents in areas where development and infrastructure already exist.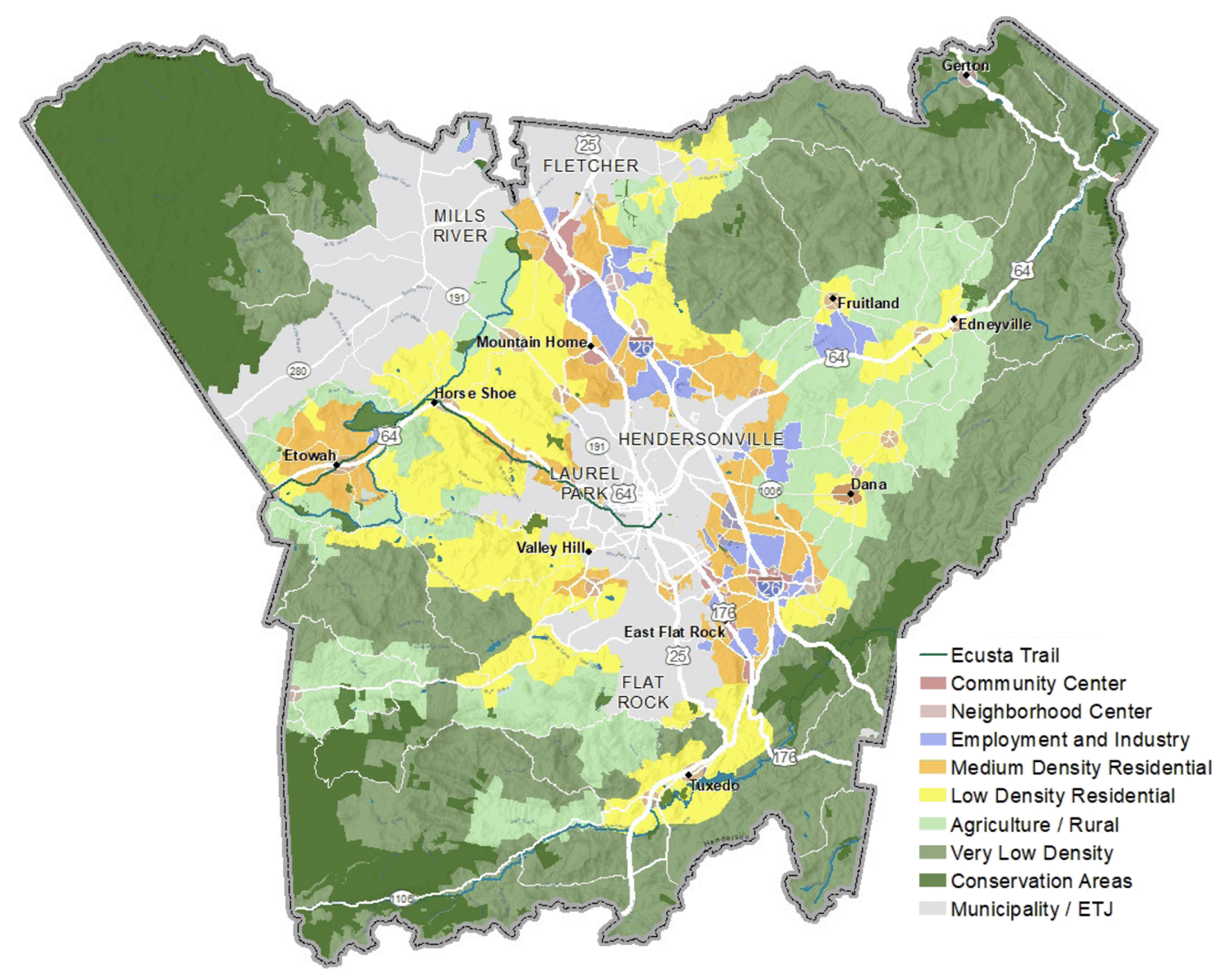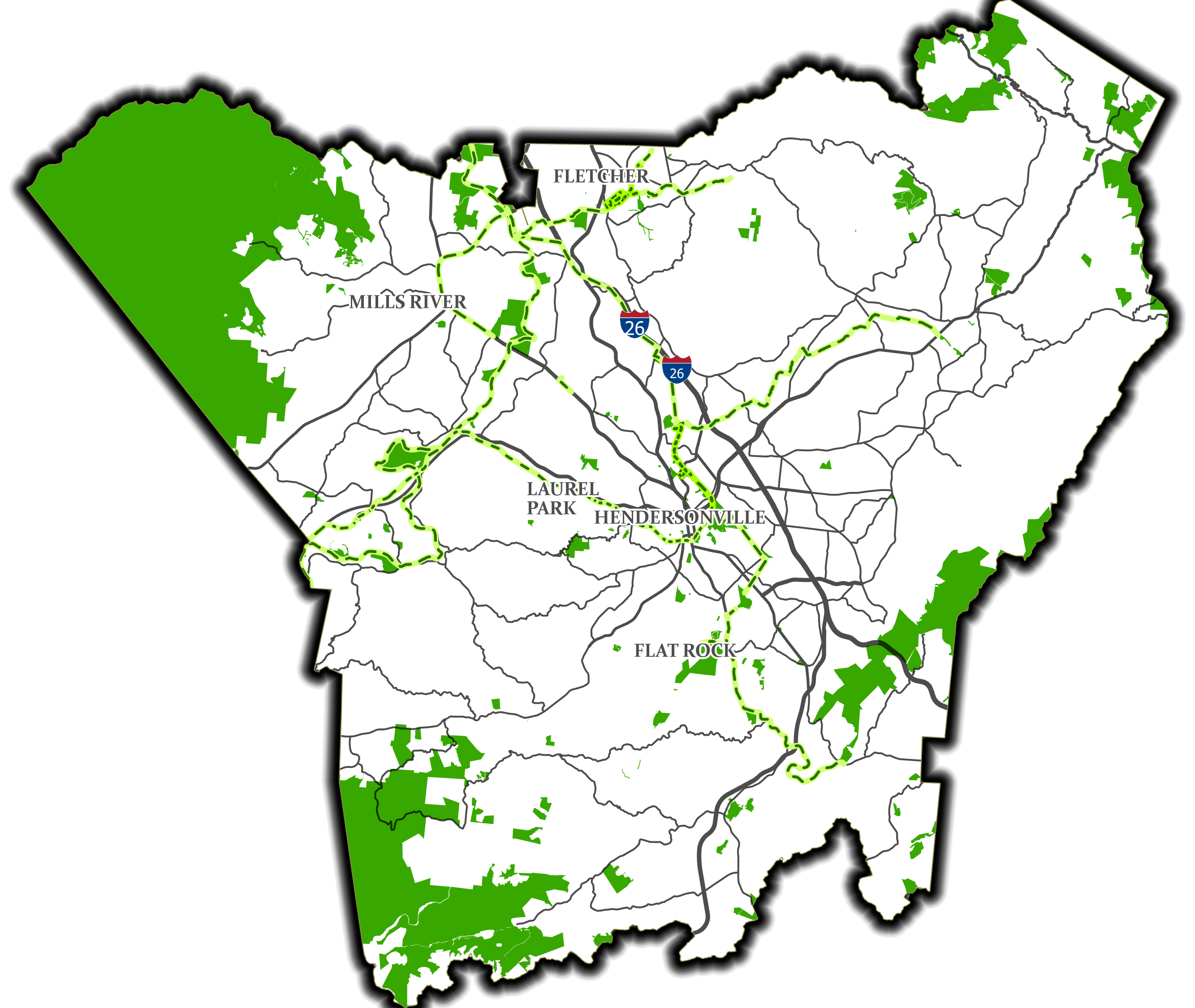 Here is Henderson County. Permanently protected lands like Pisgah National Forest and DuPont State Forest are shaded green. Greenways appear as dotted green lines, with the Ecusta Trail running east-west and the Oklawaha Greenway running north-south.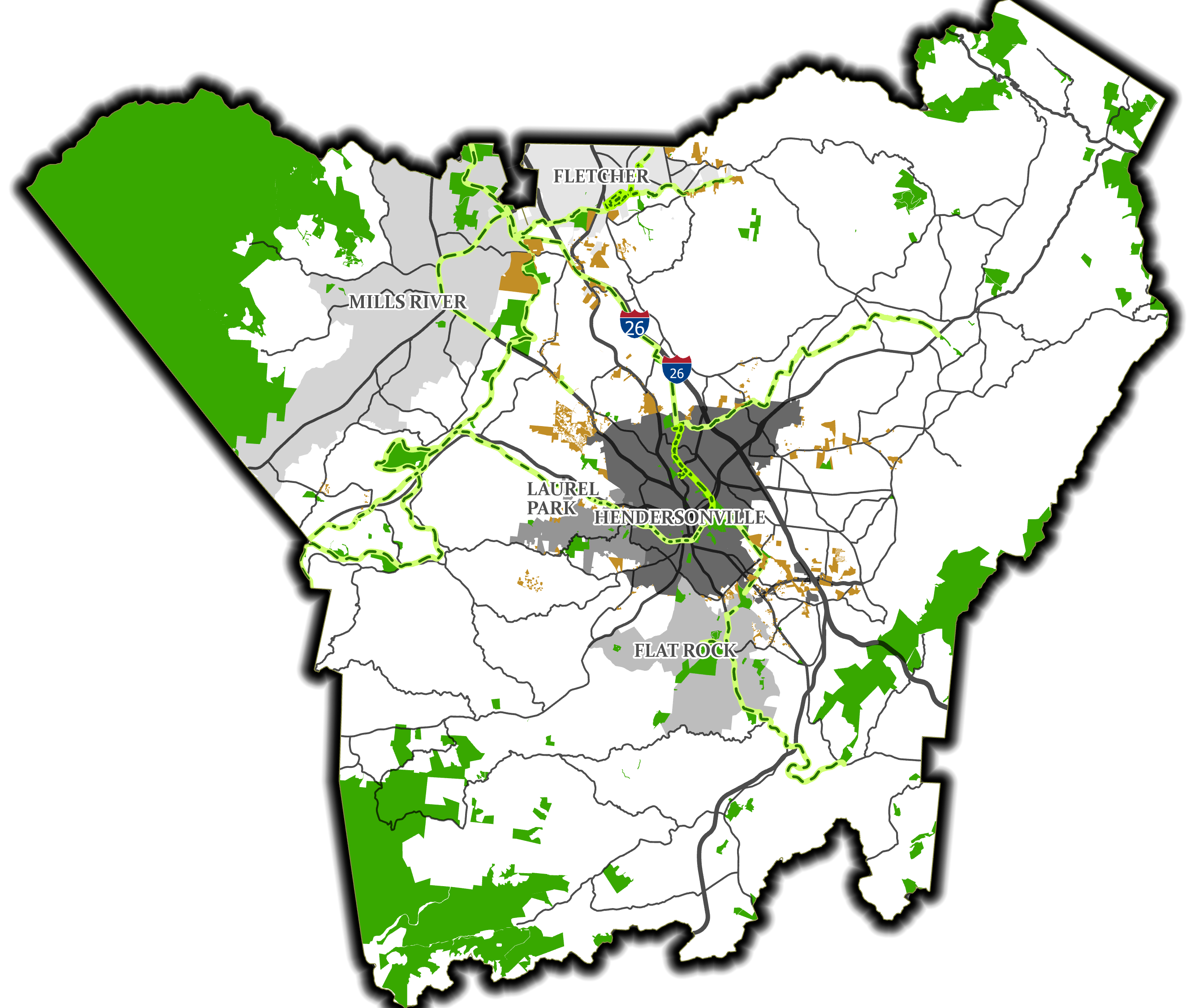 Here we've shaded the municipalities in gray –Hendersonville, Fletcher, Laurel Park, Flat Rock, and Mills River. The County's plan does not include these towns. County land that is served by water & sewer is shaded in dark yellow. Taken together, these areas have the existing infrastructure to support new development.
The state estimates that Henderson County should expect about 32,000 new residents over the next 20 years. If vacant land in the towns and the shaded county land were built out according to existing zoning, they could absorb three times as many people–nearly 95,000 new residents.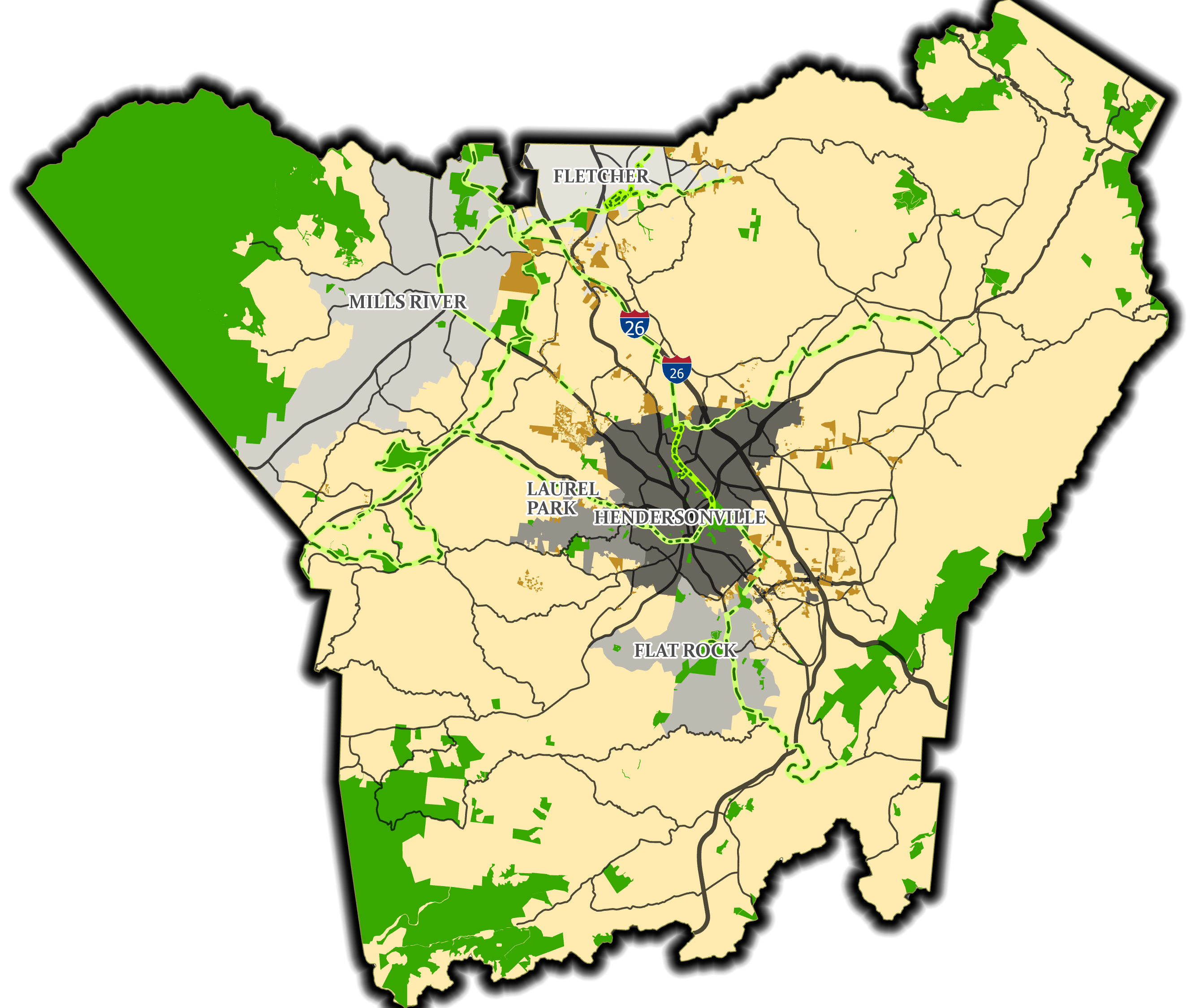 Here's our version of the County's Future Land Use Map. We've changed the color of areas open to development and sprawl from green to a more neutral light yellow.
If this land were built out, the County could accommodate an additional 75,000 people. If you add the 95,000 people that can already fit on vacant land served by sewer and water, you get a plan that accommodates 170,000 new residents when we need less than 1/5th of that.
In short, this is a recipe for sprawl, and it comes at the expense of taxpayers and our agricultural and natural heritage.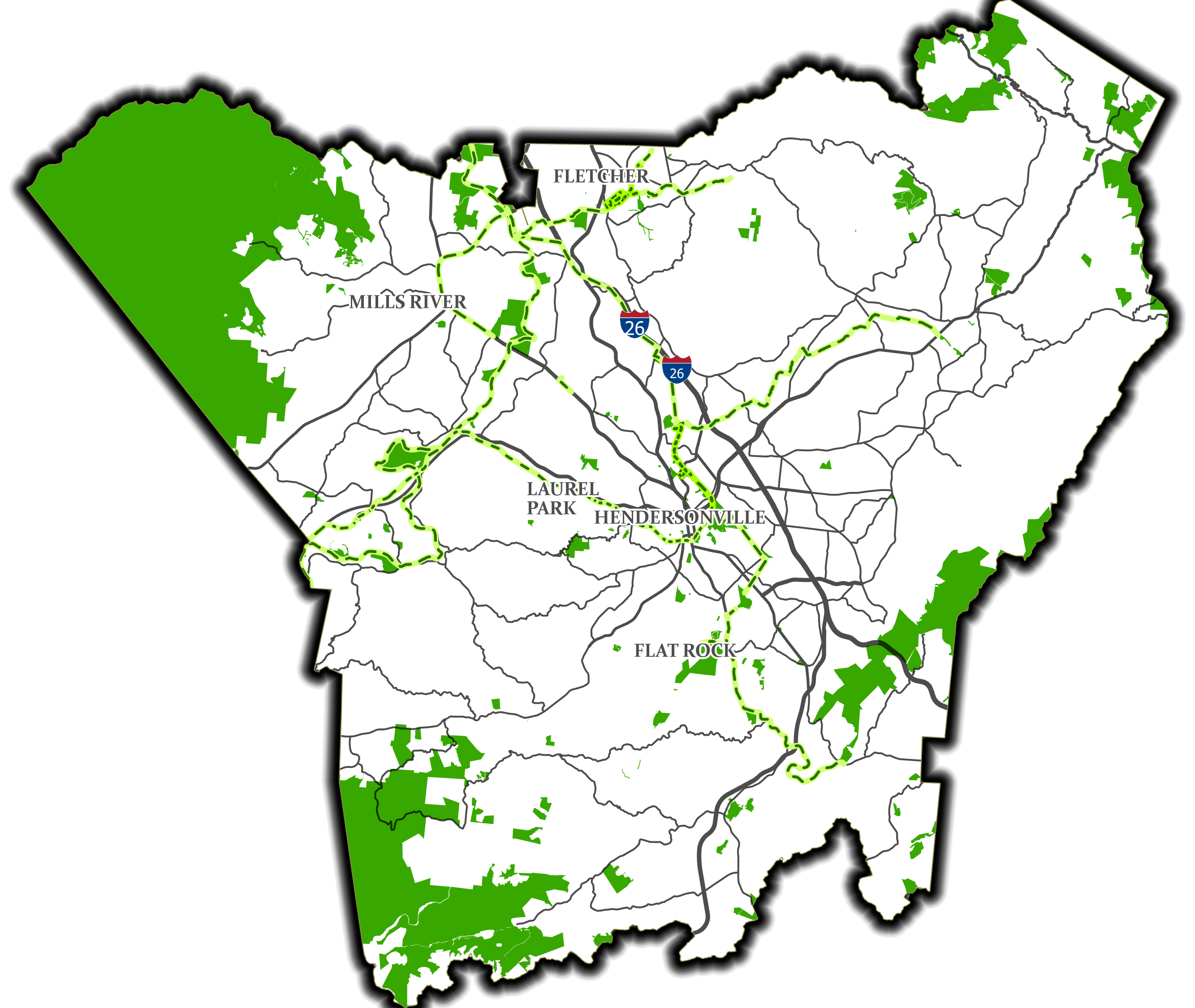 Take Action to Support Good Comprehensive Planning
Henderson County is drafting its new Comprehensive Plan — the blueprint that will guide growth and development here for the next twenty years. This is a critical opportunity to have a voice in how our communities grow and develop to meet the challenges of climate change, a growing population, and increased pressures on our built environment.