Wild & Scenic Film Festival Comes to WNC for Sixth Year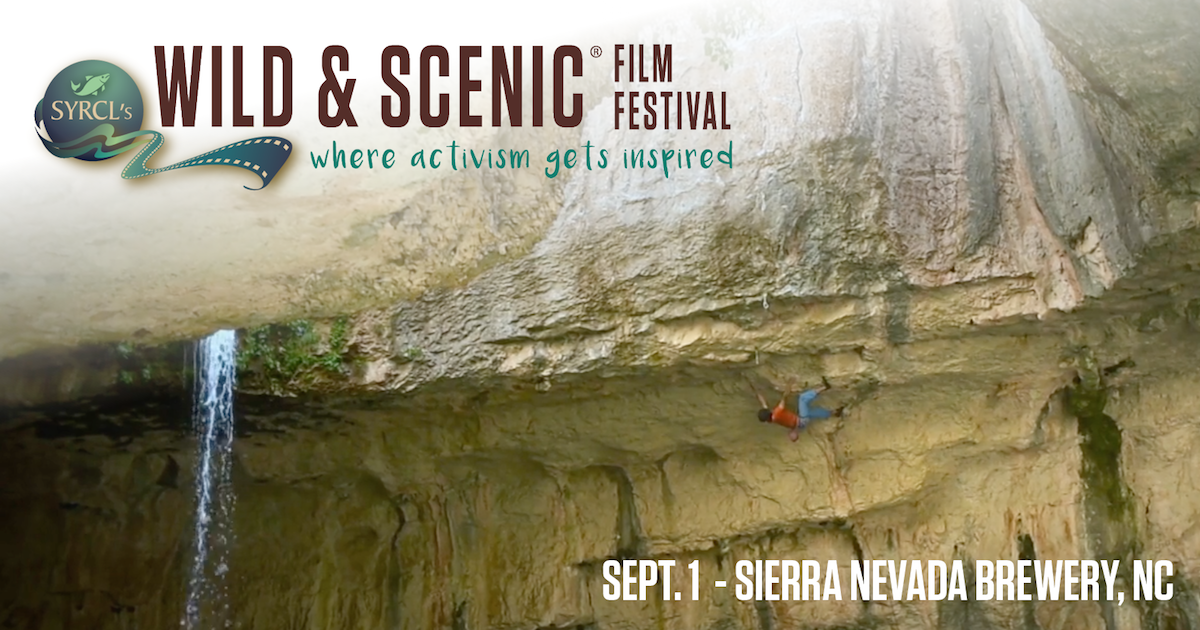 MountainTrue is pleased to announce that it is hosting the sixth annual Wild & Scenic Film Festival presented by Sierra Nevada Brewing Co., taking place at Sierra Nevada's Mills River location on September 1.
Tickets available: http://bit.ly/WSFFWNC
The Wild & Scenic Film Festival features the year's best nature, wilderness and outdoor adventure short films and is sponsored by Mountain Xpress, Blue Ridge Energy Systems, BorgWarner, Holly Spring Farm, JAG Construction and Mosaic Community Lifestyle Realty. This year's festival features 12 films covering a wide range of subjects from the story of our own Southern ancient stream-dwelling Hellbender salamander to rock climbing the Baatara Gorge in Lebanon to grassroots indigenous activism in Honduras.
Avaatara: The First Route Out – David Lama achieves first ascent of the Baatara Gorge in Lebanon, a surreal 'Avatar'-like landscape, unexploited and untouched.
Leave it as it is – The Grand Canyon is one of the most iconic landscapes on the planet, but this natural masterpiece of the Colorado River faces a battery of threats.
The Last Dragons – An intimate glimpse at North America's Eastern Hellbender, an ancient salamander that lives as much in myth as in reality.
Diversity & Inclusion in our Wild Spaces – A campfire discussion on improving the diversity of both the visitation and the employment within our parks and wild spaces and brings light to important issues facing today's conservation movement.
Mile for Mile – A trio of professional ultrarunners travel 106 miles through the newly opened Patagonia Park in Chile to celebrate and highlight Conservacion Patagonica's efforts to re-wild this vast landscape.
Co2ld Waters – Five of the most respected names in the fly fishing world converge on a single creek in Montana to talk about their passion and to discuss the single biggest threat to their timeless pursuit, climate change.
Parker's Top 50 Favorite Things about Northwest Rivers – This fun film celebrates the best things about Northwest rivers from a kid's perspective.
In Current – Rowing a dory in the Grand Canyon is considered by some as the most coveted job in the world. Amber Shannon has been boating the Grand Canyon nine years, trying to work her way from the baggage boat to a dory, while spending as many days as possible in current.
Comes with Baggage – This lighthearted history of bicycle travel in the Americas makes you want to sell all your possessions, quit your job and escape on a bike.
Mother of All Rivers – Berta Cáceres rallied her indigenous Lenca people to wage a grassroots protest that successfully pressured the government of Honduras and the world's largest Chinese dam builder, SinoHydro, to withdraw from building the Agua Zarca Dam. Narrated by Robert Redford.
The Thousand Year Journey – Jedidiah Jenkins quit a job that he loved to ride his bicycle from Oregon to the southern tip of Patagonia. Friend and filmmaker Kenny Laubbacher joined him for a month and a half to pose the question "why?"
The Accidental Environmentalist – John Wathen was just an average guy until coming into contact with toxic chemicals, stumbling upon a video camera, and discovering his passion for protecting Alabama's waters.
Our Wild & Scenic festival is a selection of films from the annual festival held in Nevada City, CA which is now in its 14th year. The festival focuses on films that speak to the environmental concerns and celebrations of our planet, and works to build a network of grassroots organizations connected by the common goal of using film to inspire activism.
The 2016 Wild & Scenic festival will take place under the open sky at Sierra Nevada's new outdoor amphitheater located on the banks of the French Broad River at their Mills River brewery. The event begins at 7 p.m.; show starts at 8 p.m. Get there early to grab a drink, explore the gardens and snag a prime viewing spot for the main event!
WHEN: September 1
WHERE: Sierra Nevada Brewing Co. – 100 Sierra Nevada Way, Fletcher, NC 28732
Price: General Admission $15; $10 for students
The Wild & Scenic Film Festival is made possible by the support of national partners: Patagonia, CLIF Bar, Sierra Nevada Brewing, Orion Magazine, Klean Kanteen, Earthjustice, and Barefoot Wine & Bubbly. There will be door prize giveaways, silent auction items and chances to win premium raffle prizes generously donated by our sponsors. Tickets can be purchased at http://bit.ly/WSFFWNC.
For more information, contact Susan Bean, susan@mountaintrue.org, (828) 258-8737 or mountaintrue.org.
About MountainTrue MountainTrue fosters and empowers communities throughout the region and engages in policy and project advocacy, outreach and education, and on the ground projects. To achieve our goals, MountainTrue focuses on a core set of issues across 23 counties of Western North Carolina: sensible land use, restoring public forests, protecting water quality and promoting clean energy – all of which have a high impact on the environmental health and long-term prosperity of our residents. MountainTrue is the home of the Watauga Riverkeeper, the primary watchdog and spokesperson for the Elk and Watauga Rivers; the French Broad Riverkeeper, the primary protector and defender of the French Broad River watershed; and Broad River Alliance, a Waterkeeper Affiliate working to promote fishable, swimmable, drinkable waters in the Broad River Basin. For more information: mountaintrue.org
###
Festival Tickets on Sale
Get your tickets to the 2016 Wild & Scenic Film Festival at Sierra Nevada before they sell out.