2022 Volunteer of the Year and Esther Cunningham Award Winners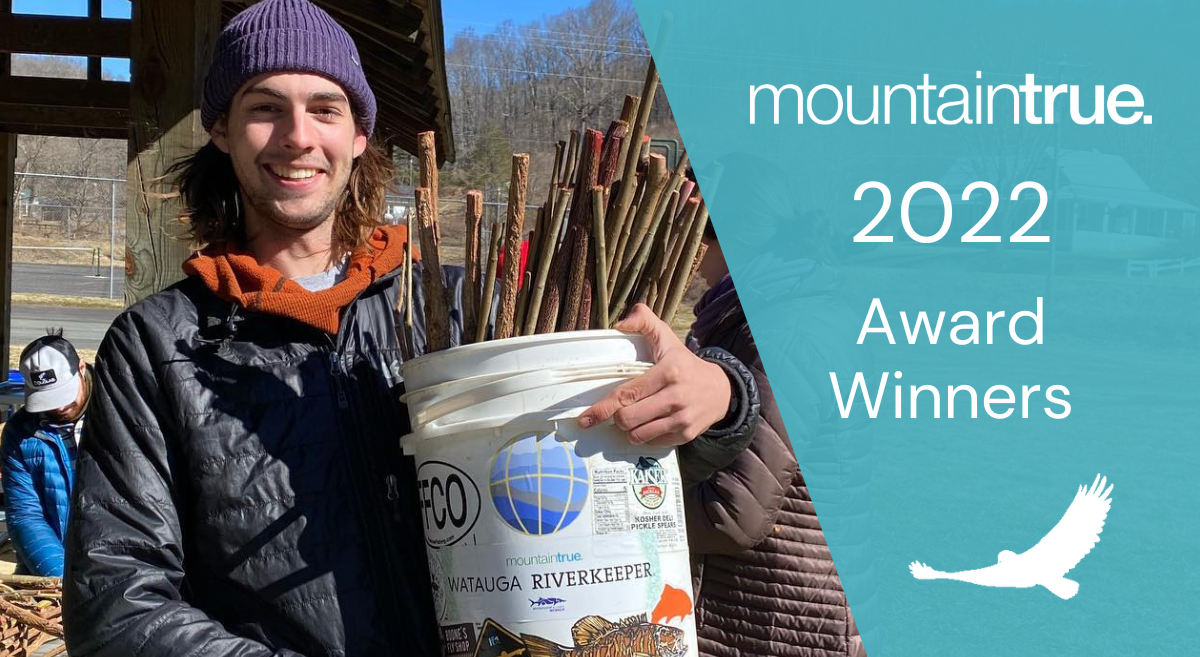 Every year, MountainTrue recognizes five individuals from across the Southern Blue Ridge as our regional Volunteer of the Year and Esther Cunningham award winners. We look forward to celebrating these exceptional MountainTrue volunteers at our 40th Anniversary Celebration on October 12, 2022:
High Country Volunteer of the Year: Hayden Cheek
Hayden (pictured above) works at a local fly shop in Boone, NC. He's an excellent angler and guide, and he often goes above and beyond to take care of his local waterways. His practice of giving back and leaving our rivers and woods better than he finds them permeates his friendships, work relationships, and his career. He's a consistent water quality volunteer with our High Country water quality team and his impact is being passed on to those fortunate enough to spend time with him on the trail or in the river. Thanks so much for all you do, Hayden!
Central Region Volunteer of the Year: Jim Clark
Jim Clark has been helping us clean up the French Broad River for years. He's been a Swim Guide volunteer for nearly ten years and has been a part of our microplastics sampling team from the very beginning. The data he's gathered at Pearson Bridge has helped to get the new Real-Time E. coli Estimator (created in partnership with NCDEQ) up and running. He's gone out of his way to keep trash out of the river, including lugging dozens of heavy, muddy tires out of its reach. Thanks for all your hard work to make the river a better place, Jim!
Western Region Volunteer of the Year: Stacey Cassedy
This year, Stacey has volunteered with both of our Adopt-A-Stream water quality monitoring programs (water chemistry and E. coli) and our Swim Guide program. Stacey's unwavering dedication to our weekly Swim Guide sampling program helped many folks from across the Western Region know where it was safe to swim this summer! When her sampling site failed for the first time in August, she returned to resample and continued to check and photograph the beach for several additional days to monitor the source of the pollution: goose droppings! Stacey has offered to help with festival tabling events and is interested in doing anything needed to help with MountainTrue's mission, particularly in the water quality program area. She's a true super volunteer!
Southern Region Volunteer of the Year: Don Cooper
When Don learned about high bacteria levels in his community's local waterways, he sprung to action and rallied the support of his fellow Rotarians. With his leadership, dozens of volunteers collected hundreds of water samples from streams in and around Hendersonville over the last several years. The data generated from his efforts helped us isolate the sources of bacteria pollution and direct our advocacy resources in the right direction to make meaningful change for water quality and public health. Thank you so much for your leadership, Don!
The 2022 Esther Cunningham Award Winner: Grady Nance
This award is given each year in honor of one of our organization's founders, Esther Cunningham. Esther bravely stood in the face of opposition, rallied her community to stand with her, and tirelessly fought to protect and defend the forests of Western North Carolina. 
Grady and his wife, Kathleen, have been MountainTrue members since 2015. In that time, Grady has repeatedly stepped up to support MountainTrue and our region in a number of ways.  Grady spent his career in the electric utility industry and has been a crucial resource to our energy-focused work, especially as we were working both in opposition to and in partnership with Duke Energy. Grady also served on the Henderson County Environmental Advisory Committee for several years, pushing the county to do more in terms of energy efficiency and renewable energy. Finally, and perhaps most importantly, Grady has served on MountainTrue's board as our treasurer since 2019. He has acted more like a CFO than just a board member and has been enormously helpful as our budget and the complexity of our budgeting have grown. Grady also says yes to every request we make of him. He has been a thoughtful, conscientious, and diligent board member and treasurer, and we will miss him terribly when he rolls off the board at the end of this year. Because of his commitment and service to MountainTrue and his dedication to the environment, we are pleased to award him with the 2022 Esther Cunningham Award.