2023 Volunteer of the Year and Esther Cunningham Award Winners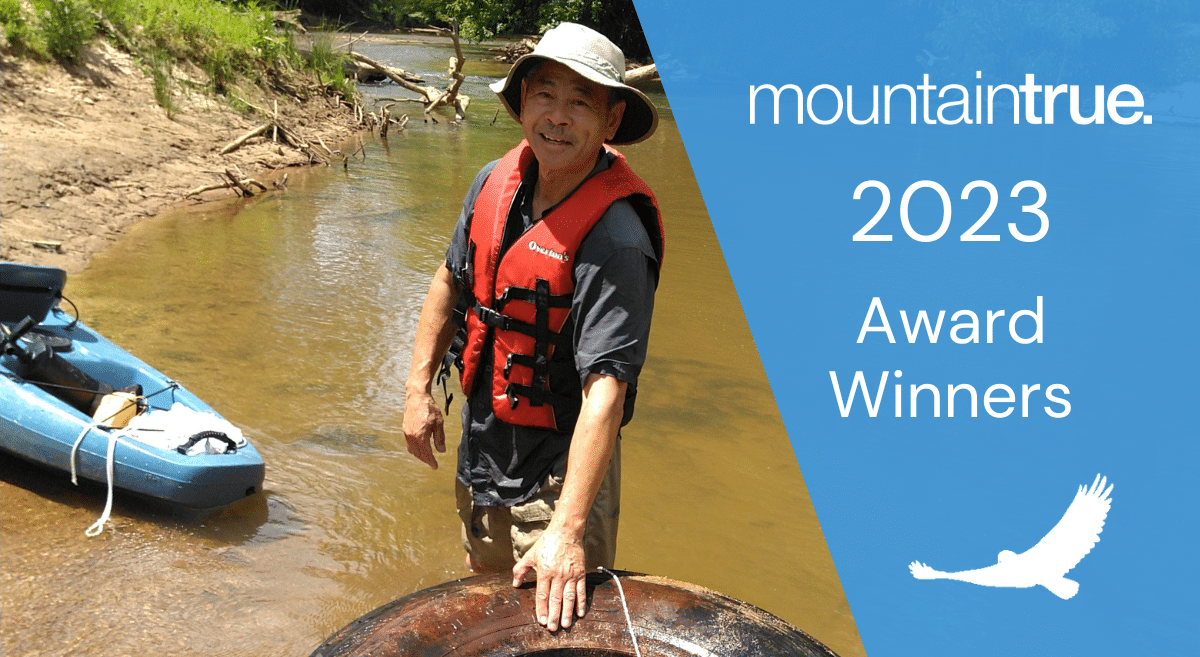 Every year, MountainTrue recognizes five individuals from across the Southern Blue Ridge as our regional Volunteer of the Year and Esther Cunningham award winners. We look forward to celebrating these exceptional MountainTrue volunteers at our Annual Member Gathering on Saturday, October 14, 2023 at Devil's Foot Beverage Co in Asheville, NC.
High Country Volunteer of the Year: Marta Toran
Originally from Spain, Marta has made the High Country her home for the past 16 years. She teaches environmental science, oceanography, and climate change courses in the Department of Geological and Environmental Sciences at Appalachian State University. She also coordinates the department's outreach program, which supports K12 STEM education across Western North Carolina and promotes environmental stewardship among students by connecting them with local organizations. Her students regularly participate in habitat restoration, native plant removal, and water sampling efforts organized by the Watauga Riverkeeper. Marta also helps students become certified as North Carolina Environmental Educators. She has been awarded grants from organizations like the EPA to help educate people about natural resources and how to protect them. She's proud to see her students get involved in the community through environmental advocacy organizations like MountainTrue, especially when they bring friends along with them. She also hopes that one day, North Carolina will catch up to Europe in environmental regulations forbidding the use of single-use plastic and regarding other measures to reduce plastic waste and encourage recycling. Thanks for all you do to make the High Country a better place, Marta! 
Central Region Volunteer of the Year: Elizabeth Porter
Elizabeth moved to the Asheville area ten years ago from her hometown in Northeast Florida to take a position teaching environmental economics at UNCA. She knew when she arrived in the area that she also wanted to find "her people." Having been an active volunteer with the St. Johns Riverkeeper, she began volunteering for Western North Carolina Alliance (the organization that would later become MountainTrue) and French Broad Riverkeeper events. Her years spent canoeing in Florida translated into a particular affinity for river cleanups and all of the interesting things and people to be found on the river. Elizabeth is currently in her second year teaching sustainability and environmental policy in the Department of Business Administration at Mars Hill University. When she's not on campus, there's a good chance you'll find her out on her stand-up paddleboard on French Broad Section 9.
Western Region Volunteer of the Year: Jonathan Micancin
Jonathan Micancin earned his Ph.D. at UNC Chapel Hill and is an Assistant Professor of Biology at Young Harris College, where he teaches courses in conservation biology, ecology, environmental science, and related topics. Since coming to Young Harris in 2019, Jonathan has taken the lead on MountainTrue's Corn Creek Riparian Restoration Project. He has involved his students in all aspects of the work, organizing volunteer workdays to remove nonnative invasive plants and plant native ones in the streamside corridor. Last fall, he began working with Young Harris College to replace its landscaping with native trees and shrubs, again having his students create the plans and help implement them. They bought many plants through our Fall Native Tree & Shrub sale fundraiser. Jonathan and his students also study the behavioral ecology, evolution, and conservation of cryptic amphibians. They discovered the decline of southern cricket frogs in the Southeast, extended the known range of Collinses' mountain chorus frog in Georgia, and are currently studying rare and imperiled Appalachian salamanders. Thanks so much for all you do to conserve Southern Appalachian biodiversity and support MountainTrue's work, Jonathan!
Southern Region Volunteer of the Year: Michael Cheng
Michael Cheng (pictured above) is no stranger to the Broad River, as he frequently joins Broad Riverkeeper David Caldwell for river cleanups, races, and other events. In fact, Michael and his wife, Patsy, were two of the wonderful sponsors of the 8th Annual Sarah Sweep and First Broad River Festival, which took place on September 9 in Shelby, NC. As David has said, "Supporters like Michael help make our work possible; the Broad River is cleaner and healthier because of Michael and his enthusiasm for its wellbeing! Michael, MountainTrue is grateful for you and all you do to support the Broad Riverkeeper in protecting the Broad River Watershed!" 
Last fall, Broad River enthusiast Michael Cheng, several volunteers, and Broad Riverkeeper David Caldwell were joined by the Voices of Deoli film crew while cleaning up a section of the First Broad River. Cinematographer Oxana Onipko filmed the cleanup as part of the Voices of Deoli feature film, which shares the stories of Deoli Internment Camp survivors, including Michael Cheng. We encourage folks to support the Voices of Deoli crew by checking out their website, learning about the project, and following Voices of Deoli on Facebook and Instagram. Learn more about Michael by reading his interview here.
The 2023 Esther Cunningham Award Winner: Jane Laping
This award is given each year in honor of one of our organization's founders, Esther Cunningham. Esther bravely stood in the face of opposition, rallied her community to stand with her, and tirelessly fought to protect and defend the forests of Western North Carolina. 
Jane co-founded MountainTrue's faith-based program, the Creation Care Alliance (CCA, formerly called WNC Green Congregations), in 2012 and has served on the Steering Team ever since. Earlier this year, she filled in as Interim Coordinator while CCA Director Sarah Ogletree was on maternity leave for 14 weeks. Additionally, Jane has been the Creation Care Team lead at First Presbyterian Church in Asheville since 2010. 
Jane volunteered in various roles with Presbyterians for Earth Care (PEC), a national eco-justice network that connects, equips, and inspires Presbyterians to make creation care a central concern of the church. She currently serves as PEC's Vice Moderator. In 2007, she wrote Earth Care Congregations, a certification program for Presbyterian Churches that was adopted by the Presbyterian Church (USA). There are now ~300 certified Earth Care Congregations in the US incorporating creation care in their worship, education, facilities, and outreach.
Jane worked as the first community organizer and Executive Director of Mothers for Clean Air in Houston, TX — a nonprofit that worked to reduce air pollution, especially as it affects children. She organized and collaborated with members of marginalized communities to measure air pollution levels, speak out against industries that polluted their neighborhoods, and engage with elected officials. Jane also worked with a theater artist to develop Ozone Theater — a program to educate children about color codes for ozone warnings — which won a national award from the Environmental Protection Agency. 
Jane is currently working with the Plastic Free WNC coalition. She recently assisted in surveying local organizations that serve the underserved and conducted in-person interviews with unhoused individuals to better understand how they would be impacted by the coalition's proposed single-use plastic bag ban. Many thanks for all you continue to do to protect our shared environment, Jane!