September 2020 E-Newsletter
To get this in your inbox, sign up for our email newsletter here.

September 17, 2020
Make Sure Your Vote Counts This Fall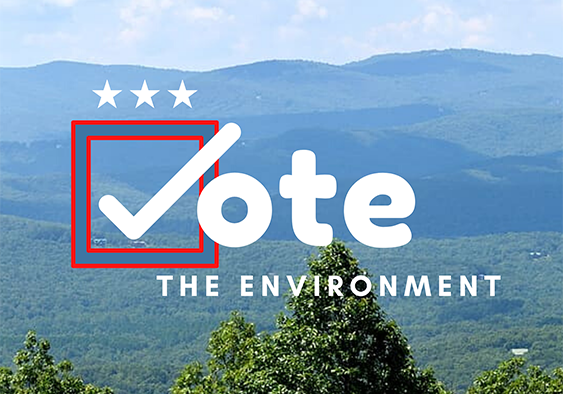 The fate of North Carolina's environment will be heavily impacted by the General Election, and the pandemic and possible delays in the postal system create unique challenges for voting this year. To make sure your vote is counted, we're asking you to make sure your voter registration is up to date and to cast your vote as soon as possible.
In North Carolina, October 9 is the deadline to update your registration online or by mail. Make sure you and your friends and family are registered by then. Online voter registration is available and free through the DMV website here, or you can fill out a registration form here to submit by mail or drop off directly at your local Board of Elections office.
Not sure if your registration is current? Check your voter registration status by entering your name in the NC voter lookup tool. You can also register for the first time or update your registration and vote all at once during the Early Voting period from October 15-31.
RSVP for MountainTrue's Virtual Annual Gathering!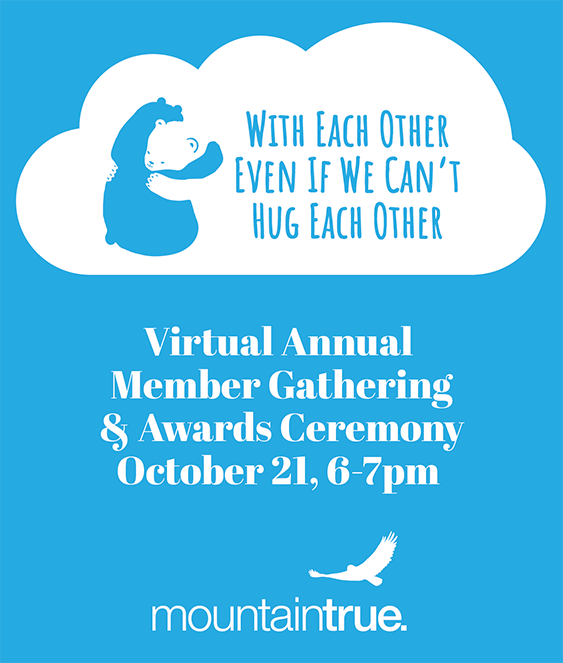 For this year's Annual Member Gathering, we'll be gathering virtually on Zoom to celebrate recent accomplishments and honor recipients of this year's MountainTrue awards – such as it is in 2020! While we wish we could all be in person to celebrate, we sincerely hope you will join us for this hour-long program. Following the program, there will be optional small group discussions with fellow members and MountainTrue staff on issues like the Nantahala-Pisgah Forest Management Plan, stormwater infrastructure and solar energy. RSVP today to come together!
MountainTrue Launches New Web Resource on Racial Equity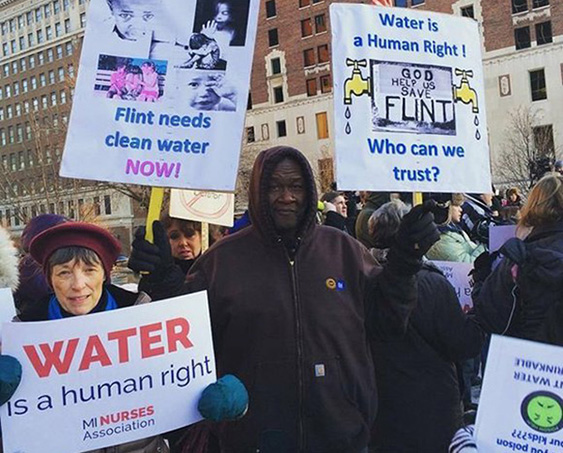 Flint residents protest outside of the Michigan State Capital in January 2016. Photo by Shannon Nobles
Like many organizations, MountainTrue is taking a hard look at the role we should play in the national dialogue on race and equity. We're evaluating our current suite of programs to see where we can create more intersections on issues of environmental justice and where we can better partner with communities of color. And in order to help dismantle the existing framework of systemic racism, we're exploring how we can address discrimination outside of the narrow confines of traditional environmental advocacy. We'll be documenting this work, discussing environmentalism in the context of race, and hosting virtual, small group discussions on a new section of our website. We invite you to check it out at mountaintrue.org/equity
MountainTrue Calls For Duke's 15-Year Energy Plan To Address Climate Change, Protect Low-Income Ratepayers
This month, Duke Energy released its Integrated Resource Plan (IRP), which presents six scenarios for how Duke Energy may source energy over the next fifteen years. Most of the scenarios lock in decades of coal or gas production, and we believe the plan's consideration of renewable energy sources creates a false dichotomy between transitioning to renewable energy and protecting ratepayers from rising costs. MountainTrue is part of a statewide coalition calling for the NC Utilities Commission to approve an IRP with these 10 principles for the sake of our climate and communities.
"The wildfires and bright orange skies on the West Coast are a sobering reminder that devastating impacts of climate change are already happening," says MountainTrue's Energy Organizer Eliza Stokes. "It is urgent that Duke Energy gets serious about using their power to reach 100% renewable energy in North Carolina in the time frame that climate science requires." Read more on the Blue Ridge Public Radio website here.
Take Action: Call On Congress to Include Stormwater Infrastructure Funding in Stimulus Package
As Congress deliberates on additional economic relief efforts, we are calling on our region's elected officials to support funding for expanded stormwater infrastructure. In the process, Congress can create new green jobs, protect our rivers and help preserve recreation-based economies all at once.
Our nation's stormwater and sewer infrastructure is in desperate need of modernization, especially in the face of heavier rain events due to climate change. Join MountainTrue in calling for Congress to triple its annual appropriations for the Clean Water State Revolving Funds and explore additional investments in our nation's drinking water and sewer infrastructure systems.
Public Comments Win A Stormwater Task Force For Asheville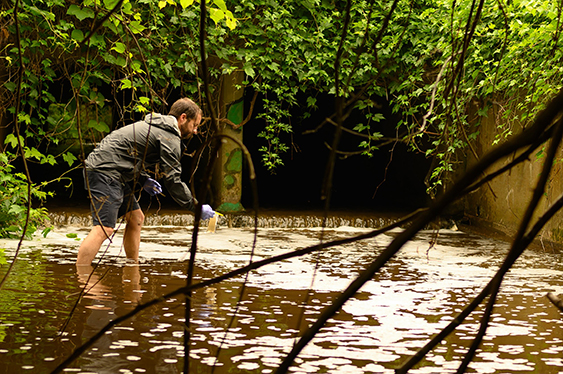 French Broad Riverkeeper Hartwell Carson takes water samples at Nasty Branch in Asheville's Southside Neighborhood. Photo by Karim Olaechea.

The French Broad River is dirty and only getting dirtier. Due in large part to failing sewer and septic systems that overflow during storms, the French Broad has consistently seen high levels of E. coli – a type of bacteria found in human and animal waste. More than half the sites we tested in the French Broad Watershed last year failed to meet the safe standard for E. coli held by the Environmental Protection Agency (EPA), and this year none of Asheville's sites met the safety standard on average. The worst results were at Nasty Branch, which receives over half of downtown Asheville's stormwater and flows through the historically African-American Southside neighborhood before discharging into the French Broad.
To address these problems, we launched a campaign calling on the City of Asheville to join local clean water advocates in setting up a Stormwater Task Force. We called for the task force to analyze where and how the City's sewer and septic systems were failing and to create an action plan to respond. After over 800 people submitted public comments, the City finally agreed.
"We've been moving in the wrong direction on water quality for the French Broad River, and things will only get worse as climate change causes heavier and more frequent storms," says French Broad Riverkeeper Hartwell Carson. "We hope this task force means the City is ready to take this issue seriously." MountainTrue will work to ensure that the task force comes up with effective recommendations and that the City follows through on them. To learn more about our next steps for clean water advocacy, visit iloverivers.org.
One Step Closer to Fending Off the Asphalt Plant Proposed for East Flat Rock!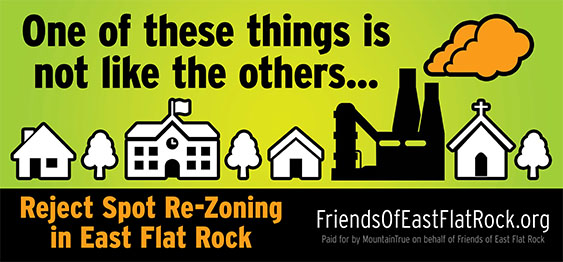 The Henderson County Planning Board met on August 20 to consider SE Asphalt's rezoning application to build an industrial asphalt plant at the intersection of Spartanburg Highway (US-176) and US-25, across the street from a low-income mobile home park and surrounded by hundreds of single family homes, small farms, and the Green River Game Lands. MountainTrue's Green Riverkeeper and hundreds of local residents organized as Friends of East Flat Rock oppose this rezoning and the construction of the new asphalt plant, and in a small victory, the board voted to recommend denial of the rezoning request! The application will be heard next by the Henderson County Commissioners on October 1 at 6:00 PM. Keep speaking out!
Broad Riverkeeper David Caldwell Identifies Harmful Algal Blooms in Moss Lake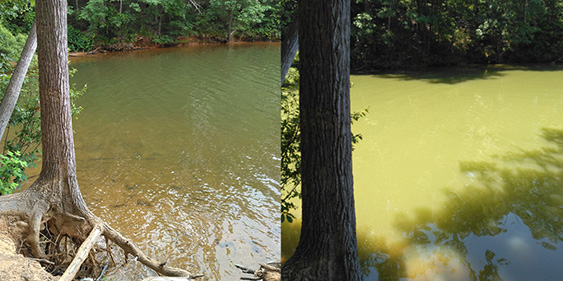 Moss Lake during normal water conditions (left) compared to the algal bloom (right).
While taking water samples this summer, Broad Riverkeeper David Caldwell noticed that Moss Lake was very green and cloudy. He conducted additional tests that showed high dissolved oxygen and pH readings, both of which are indicators of an algal bloom.
The following Monday, David received a call from a Moss Lake resident who had noticed many dead fish in the water. David notified the NC Department of Environmental Quality (DEQ), and they sent a staff member out to take water samples in and above the lake. DEQ sent reports back confirming that it was a harmful algal bloom. In follow-up conversations after these reports came out, David learned that the same resident who reported the dead fish had noticed similar conditions at the lake at least twice since then, and once with a very foul odor.
As algal blooms become more and more common due to rising temperatures and an increase of nutrients in our waters, Riverkeepers across the state believe that more study and analysis of them must be done. We would also like for the residents at Moss Lake to take more of a lead in identifying and reporting possible algal blooms. Residents should contact DEQ immediately if the water turns really green, because the life cycle of these blooms can be really quick – as short as a couple of days. Read more about algal blooms and the incident at Moss Lake here.
First Annual Broad River Fishing Tournament Results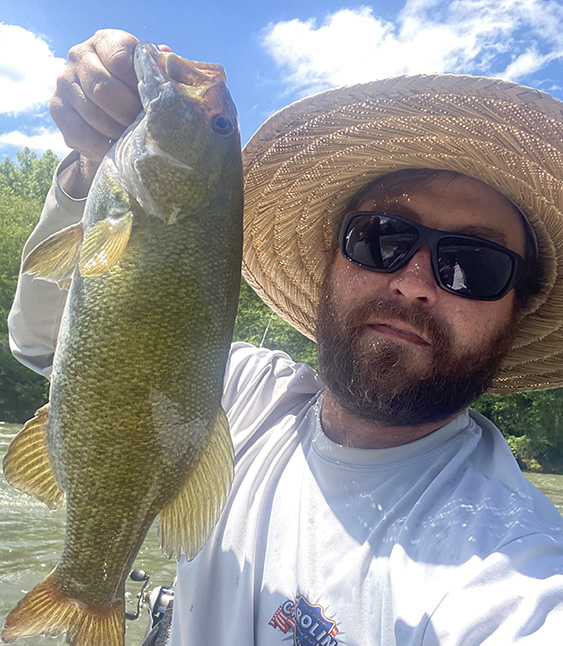 Matthew Frazier, the Broad's Best Angler of 2020!
Thanks for making our first ever Broad River Fishing Tournament such a great success! We're excited to announce our first-ever Broad River Fishing Tournament! After 10 days of phenomenal fishing and careful deliberation, the results are in:
Broad's Best Angler 2020: Matthew Frazier wins with a three fish total of 52 inches combined: 19.5″, 16.5″, and 16″, all smallmouth bass!
2nd Place: Fitz McMurry with 50.5 inches combined with three nice smallmouth bass: 17.5″, 16.5″, and 16.5″!
Biggest Bass: Matthew Frazier: 19.5″ smallmouth bass.
Biggest Panfish and Biggest Catfish: David Caldwell with a 7″ Spotted Sunfish and 11″ Bull Catfish. Can't beat the Riverkeeper!
Most Unusual Fish: Ladonna Dedmond with a very nice 16″ largemouth bass with a distinctive black stripe.
Well done and congratulations to this year's expert anglers! Let's do it again next year!
Update on Pollution from Tryon International Equestrian Center
You might recall that this summer, MountainTrue reported severe and illegal sediment pollution flowing from the Tryon International Equestrian Center into White Oak Creek, a tributary of the Green River. On September 2, we followed up by meeting with the President of the equestrian center to discuss their past and ongoing impacts on water quality and measures that need to be implemented to protect clean water. We will also be following up with a site visit at the facility to inspect and assess the existing stormwater management system, discuss necessary improvements and remediation needs and solidify commitments to protect water quality moving forward.
We will continue to hold this polluter and all polluters accountable, and we thank all of our supporters and community members that report pollution issues to us.
Sediment Pollution from Poultry Operation in Broad River Watershed Results in Enforcement Action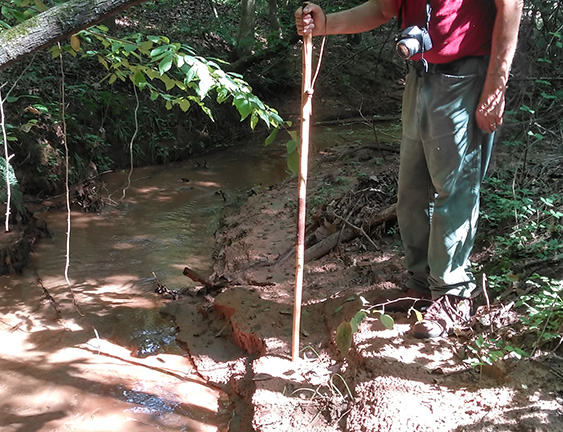 A concerned resident shows the depth of sediment accumulation from poultry farm construction.
This summer, a concerned resident noticed heavy sediment pollution flowing into a small stream that usually runs clear downstream of the construction site for a new poultry facility in the Broad River Watershed. The resident contacted our Broad Riverkeeper David, who reported the issue to the NC Department of Environmental Quality (NCDEQ). NCDEQ visited the site and issued a Notice of Violation, requiring the company to:
Immediately stabilize the site and install proper erosion control measures
Explain why adequate sediment and erosion controls were not installed to protect surface waters
Explain why culvert installation and stream bank stabilization impacts occurred without prior authorization with 401 WQC and 404 permit
Remove all fill material and restore the stream to pre-existing conditions
This is what happens when polluters are held accountable, and why it's so important for the public to notice and report pollution. If you see something, say something!
Welcome Back Grace Fuchs as AmeriCorps Water Quality Administrator!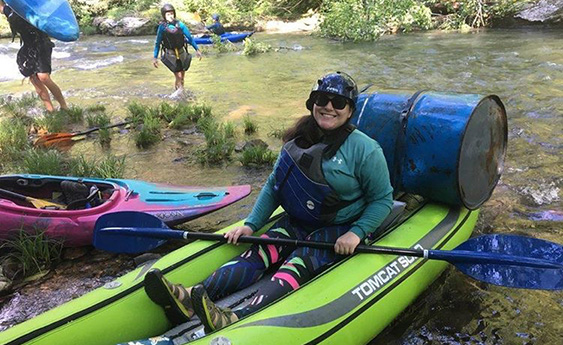 We are so pleased to welcome back Grace Fuchs for a second term as AmeriCorps Water Quality Administrator in our Southern Regional Office! Grace did a great job organizing volunteers for our water quality monitoring programs and educating youth about water quality issues, and her perspective has been a huge asset to our team as we've adapted our programs over the course of the year. We're so excited to see what Grace will bring to her second year of service!
Fourth Annual Native Tree and Shrub Sale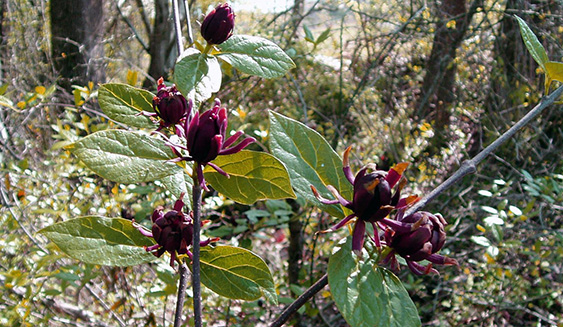 MountainTrue's western regional office is holding our 4th Annual Native Tree and Shrub Sale! Choose from 36 species of native trees and shrubs ranging from large shade trees to native ornamental shrubs. Descriptions for the various plants indicate that there are good pollinator and wildlife species on the list. All plants are quality nursery stock ranging in size from one to three gallon potted trees.
Orders are being accepted now through November 4. You must pay for the order at the time you submit it to secure your species and size of choice. Then make plans to pick up your plants from the MountainTrue office parking lot in Murphy, NC on Saturday, November 14 between 9AM and 1PM. Why so late? The dormant season is the best time to plant woody trees and shrubs so that they can develop a strong root system before putting energy into flowers, leaves and fruit in the spring.
Conservation of Chestnut Mountain Leads to Plans for a New Park in Haywood County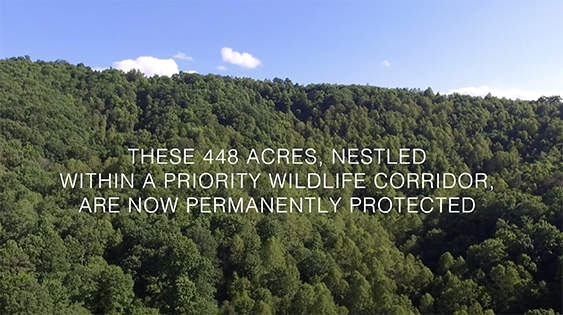 The Southern Appalachian Highlands Conservancy (SAHC) recently acquired 448 acres of land at Chestnut Mountain in Haywood County that will eventually be turned over to the Town of Canton to manage as a nature park. MountainTrue has served on an advisory committee of community members to help guide this process, including public input. The property, located just a mile east of Canton's border, features sources of clean water and forested habitat in an important wildlife corridor. One day, this land may also offer an important recreation destination along the proposed Hellbender Regional Trail. Equinox environmental design firm is leading a public input process to help identify the best uses and highest outdoor recreational needs for the area.
New Partnership for the Return of Native Plants to Bryson City's Island Park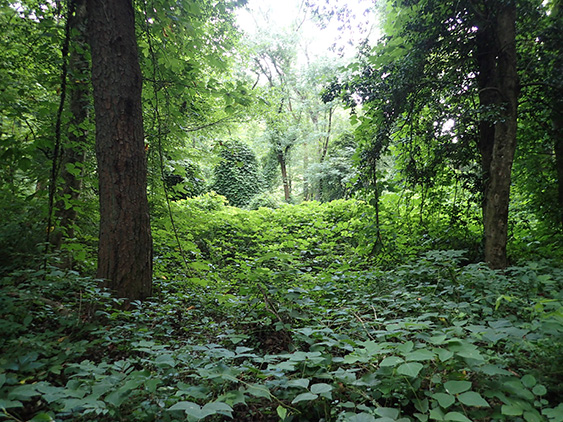 The interior of Island Park is covered with a wide variety of nonnative invasive plants, including kudzu.
MountainTrue has recently formed a partnership with the Tuckasegee River Alliance to implement a river park along the Tuckasegee River in Bryson City. Our role is to guide the removal of non-native invasive plants that are covering Island Park and dominating the riparian area along the river downtown, and to return native plant species to these same areas. Our Western Region Program Coordinator Tony Ward is currently developing a phased implementation plan for this work. Then, later this fall and winter, the Alliance and MountainTrue will jointly host volunteer workdays to start tackling the plant removal and planting. Stay tuned for upcoming dates for work days.
Note: Island Park is currently closed to the public until flood damage repairs and debris removal can be completed.
---
Events Calendar
September 14-20: 33rd Annual Big Sweep
The 33rd annual Big Sweep cleanup has gone virtual and is running until September 20 at 8PM. To participate, pick up trash along your local waterway or neighborhood, and post photos of the trash you collect with the hashtag #WNCBigSweep2020.
September 17, 6 PM: Creation Care Alliance Gathering
All congregations, individuals and clergy are invited to join this virtual gathering to connect with one another, discuss Creation Care concepts  in regionally-based small groups and learn from Asheville Design Center Director Chris Joyell of the Asheville Design Center about urban development, economics and racism.
September 20, 12-6PM: Sarah Sweep
All are welcome to join us to clean up this lovely section of the First Broad River that Sarah Spencer held dear to her heart. Due to COVID-19, you must provide your own shuttle this year.
September 23, 12-1PM: MountainTrue University: Faith, Ecology & Race
Join us for a conversation between Reverend Tami Forte Logan, Missioner of Faith 4 Justice Asheville, and Reverend Scott Hardin-Nieri, Director of the Creation Care Alliance. They will explore how each of their programs addresses faith, ecology and race, as well as how their efforts promote justice in our community.
September 26, 9AM-12PM: E-bike Tour of Downtown Asheville
Ride along on our electric bike tour of Asheville led by Chris Joyell, Director of MountainTrue's Asheville Design Center. As we pass through downtown, the Southside and the River Arts District, Chris will share his extensive knowledge about Asheville's urban core, including stories of how redlining has shaped our city and the highlights (and lowlights) of Asheville's bike infrastructure.
September 27, 8-11:30PM: Moonlight Paddle on the Broad River
Join our Broad Riverkeeper David Caldwell for a moonlight paddle on a flat water section of the Broad River. As we go, David will talk about the history of the Broad River and his work to protect it. We will start from and return to the same point to avoid the need for shuttling vehicles as a precaution against COVID-19.
Sundays October 4-25, 6:30-8PM: "This Changes Everything" Documentary Study
Land of the Sky United Church of Christ and the Creation Care Alliance are hosting a four-week movie discussion group. We will create community, watch portions of the film and explore connections across economics, climate change, racism and our spiritual lives.
October 8, 6-7PM: Virtual Green Drinks with Danny Bernstein
Virtual Hendersonville Green Drinks welcomes author Danny Bernstein to discuss her newest book DuPont Forest, A History. DuPont Forest protects thousands of acres of trees, five lakes and more than 100 miles of multi-use trails. Danny will discuss how it took the generosity of a multinational company, Southern Appalachian grit and local activism to make these benefits available to all.
October 17, 9AM-4PM: Fall Scenic Hike
Join MountainTrue's Ecologist and Public Lands Director, Bob Gale, for a gorgeous and educational hike on the Pilot Cove Loop Trail through Pisgah National Forest. This hike offers breathtaking views of the fall foliage, and if we're lucky, we'll catch glimpses of the monarch butterfly migration.
October 21, 6-7PM: Virtual Annual Member Gathering
For this year's Annual Member Gathering, we'll be gathering virtually on Zoom to celebrate recent accomplishments and honor recipients of this year's MountainTrue awards – such as it is in 2020!
November 1, 10AM-4PM: Whiterock Mountain Hike
Join us for a hike on the Bartram Trail, one of North Carolina's premier long distance trails. We'll tackle a 4.6-mile lightly-trafficked section near Highlands that provides spectacular views into the Tessentee Valley of Macon County. On this stretch we'll summit Jones Knob and Whiterock Mountain.
November 7, 9-11:30AM: Lake Chatuge Shoreline Cleanup
MountainTrue will host the 11th Annual Lake Chatuge Shoreline Cleanup in conjunction with Georgia Rivers Alive! The event will kick off at the Towns County Swim Beach Pavilion with breakfast and coffee, and volunteer coordinators will lead teams of 5-10 to clean up designated trash sites along the shores of Lake Chatuge. We'll meet back at the swim beach pavilion at 11:30 for prizes.
November 7, 10AM-November 8, 5PM: Overnight Paddle on the Broad River
Join us for an overnight paddle exploring the Broad River as it winds through the foothills of the Blue Ridge. We'll spend two days on the river and camp for one night on the Broad River Greenway.