April 2021 E-Vistas Newsletter
We've Done the DNA Testing, And Now We Know the Sources of E. Coli Pollution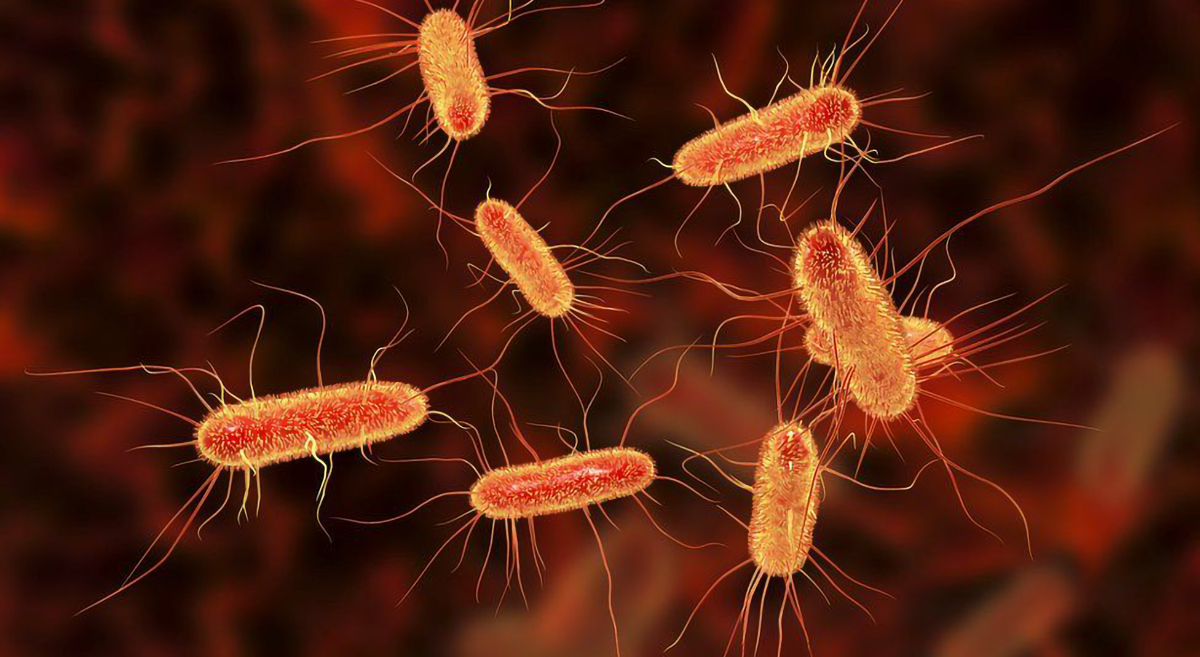 DNA testing conducted by MountainTrue on the French Broad River, one of our region's most polluted waterways, has confirmed that cattle are the biggest source of E. coli pollution, followed by faulty or inadequate sewer, septic or water treatment infrastructure. Our Swim Guide E. coli testing has documented increasing levels of E. coli, but until now we couldn't say for certain what the sources of the pollution were. With new, more sophisticated testing, MountainTrue looked at the DNA found in 55 water samples to measure for genetic fingerprints of E. coli from people, cows, dogs, poultry, sheep and swine. Read the press release for a summary of our testing results.
We're using this data to advocate for science-based policies at the North Carolina General Assembly that would provide financial support to help farmers fence cattle out of streams and property owners fix their septic systems. At the federal level, we're advocating for major investments in water infrastructure. Learn more and take action here.
Now Hiring: Director of the Creation Care Alliance of WNC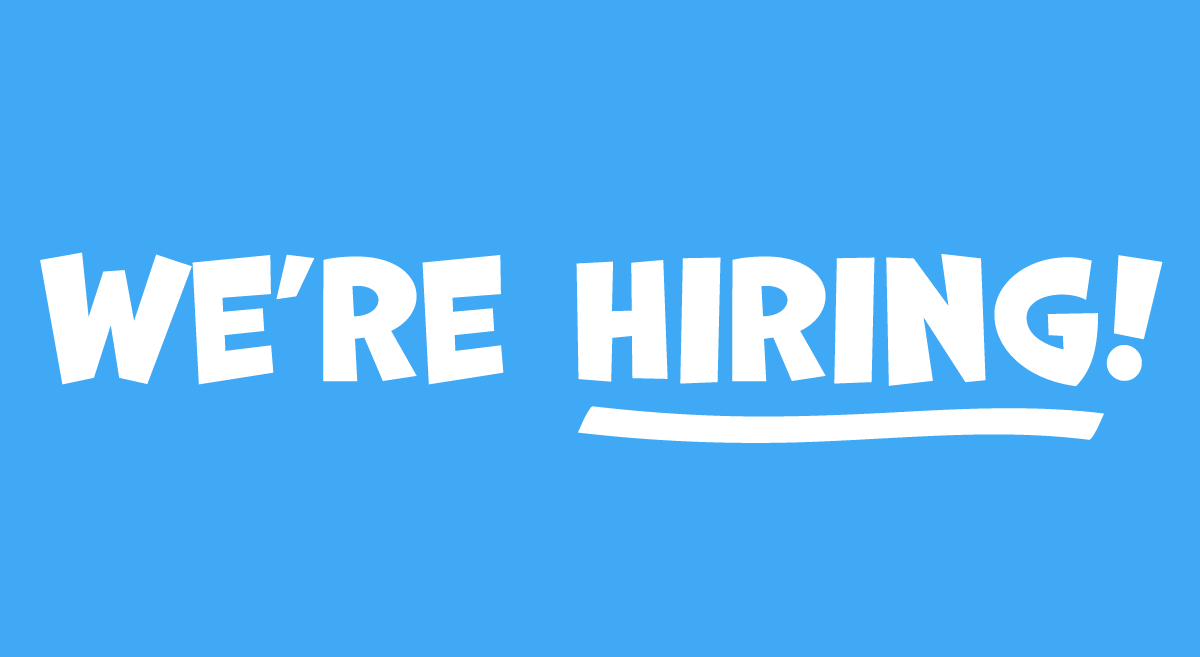 Reverend Scott Hardin-Nieri, Director of MountainTrue's Creation Care Alliance (CCA) program and our beloved colleague, is moving on to a position with the Bethany Fellowship. Scott will always be a part of the MountainTrue family, and that family will soon be getting a little bit bigger as we add another member to the team.
MountainTrue is accepting applications for our next CCA Director until May 5, 2021. You can read the position description and apply here, and you can read Scott's letter to CCA members announcing his departure here.
The Creation Care Alliance is a network of people of faith and congregations who have united around a moral and spiritual call to preserve the integrity, beauty and health of God's creation. We work to bring practical and hopeful solutions to our congregations and broader secular communities by engaging hearts and minds through inspiration, education, service and advocacy. For more information: creationcarealliance.org.
American Zinc Products Facility Continues to Pollute the Broad River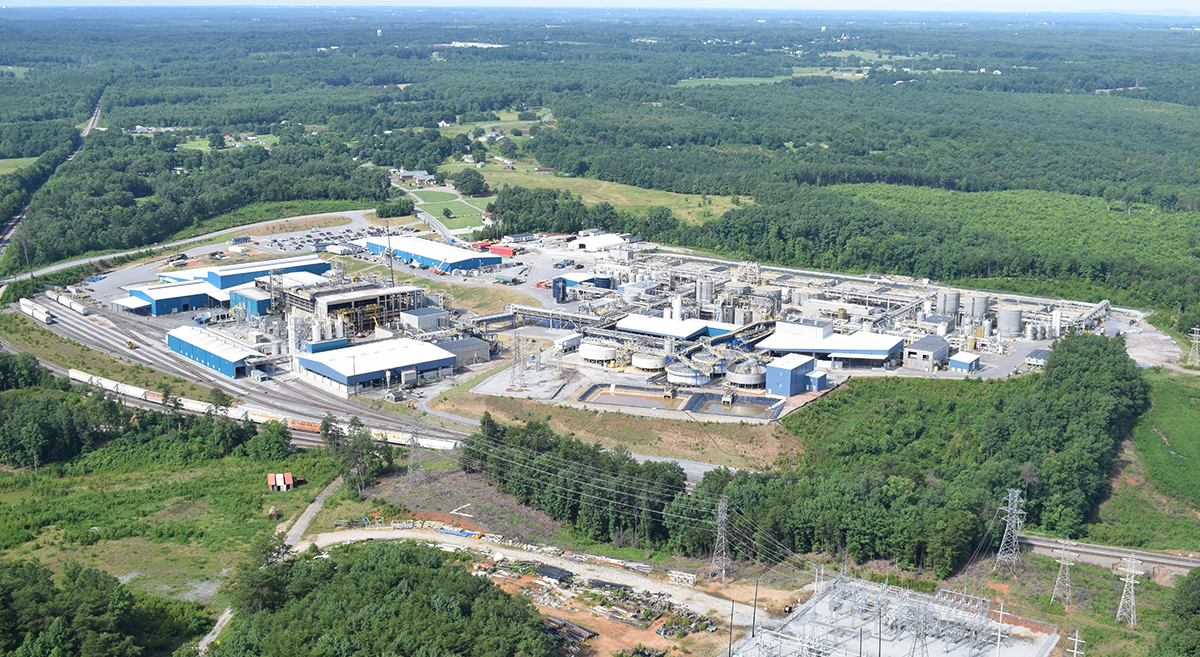 WLOS News Investigative Reporter Kimberly King did an excellent job covering ongoing violations by the American Zinc Products facility in Mooresboro in a seven-minute segment that aired on April 7. After seven years in operation and at least 41 violations issued by the North Carolina Department of Environmental Quality (DEQ), the US Environmental Protection Agency (EPA) has now opened an investigation into the site. Broad Riverkeeper David Caldwell has been working on this issue for the past six years, has met with staff at the facility multiple times, and has asked both DEQ and EPA to take action to keep the zinc plant's pollution under control. Watch the full news story on WLOS.
MountainTrue Helps Lead Bulk Solar Purchasing Effort to Reach 100% Renewable Energy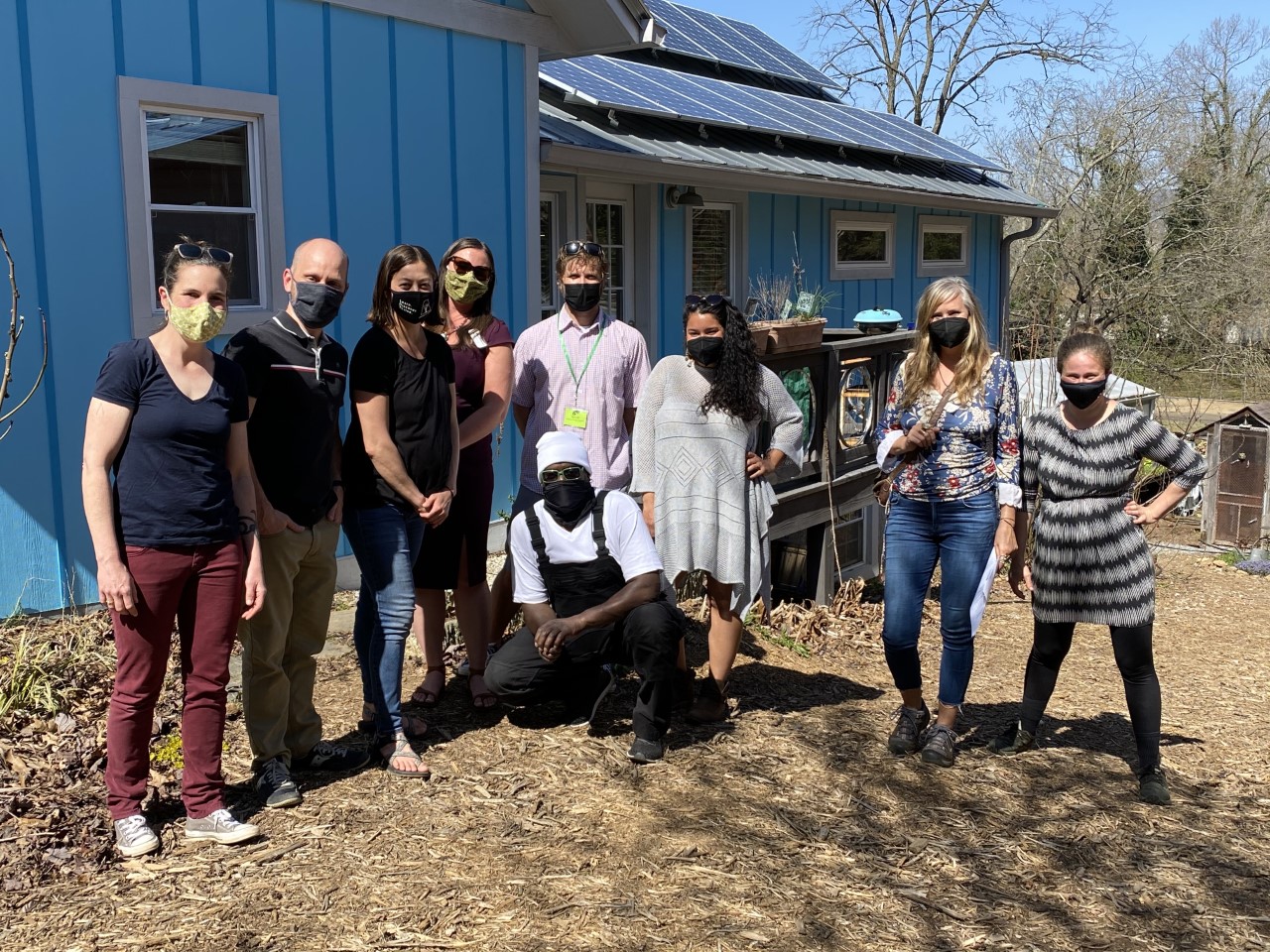 Members of the Solarize Steering Committee at a press event this April. 
MountainTrue is on the team that launched Solarize Asheville-Buncombe last week – a local bulk-purchasing initiative to increase the amount of solar energy and battery storage in our community.
"The model is similar to buying in bulk at the grocery store for a lower price," says MountainTrue's Organizer & Communications Manager Eliza Stokes, who serves on the campaign's Steering Committee. "The more community members who participate, the cheaper the solar will be." By reducing barriers to solar, like cost and confusion about where to start, the campaign is making solar more accessible and aims to help Buncombe County get on track to reach our community goal of 100% renewable energy by 2042.
While similar Solarize campaigns have happened all over the country, the Asheville-Buncombe campaign is unique in our focus on equitable job training and additional affordability efforts. Solarize is partnering with Green Opportunities (GO), an Asheville-based workforce development program, to help train residents from marginalized communities to support installation of the campaign's solar panels.
"Green sector jobs are on the rise, and many positions in this sector are accessible to those with traditional obstacles to employment," says Ben Williamson, Executive Director of Green Opportunities. "We also know climate change disproportionately impacts low-income communities and communities of color and that increasing access to clean, renewable energy is a step in the right direction in that fight."
The campaign has also attained funding to help more families afford solar, and is crowdfunding through our "Neighbor-to-Neighbor" program to provide financial support that will make solar accessible to even more people in our community.
To sign up for a free solar building assessment and/or to donate to Solarize's Neighbor-to-Neighbor financing program, visit solarizeabc.com.
WNC for the Planet Bingo Card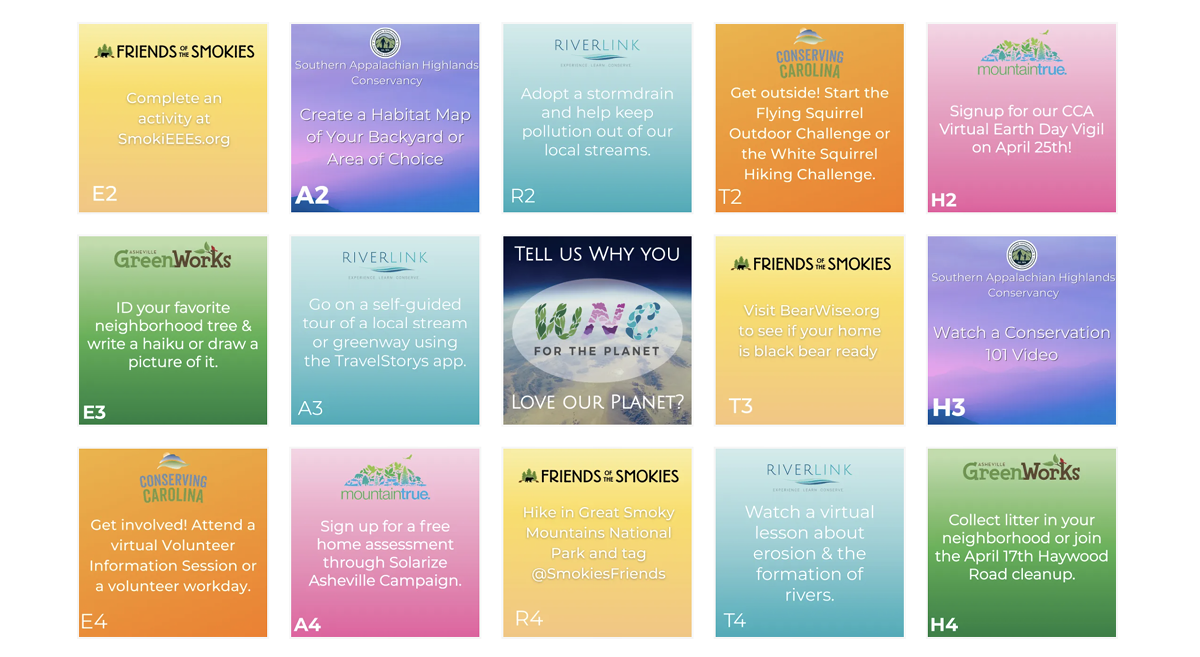 Celebrate Earth Month with MountainTrue and the rest of the WNC for the Planet coalition by playing Earth Month BINGO! The virtual BINGO card features opportunities to engage with our partners through workshops, activities, service and more. Lend a hand cleaning up our rivers, restoring native plant and animal habitats, or clearing non-native invasive plants. Or, learn how to compost, explore nearby hiking trails, or create art and poetry. You can access all of the wonderful Earth Month events in one place at www.wncfortheplanet.org – and you may win a prize from organizations and local businesses! Read more.
High Country Regional News
For Alleghany, Ashe, Avery, Burke, Caldwell, Watauga and Wilkes counties
Thank You for Helping Us Plant 12,000 Live Stakes for a Healthier River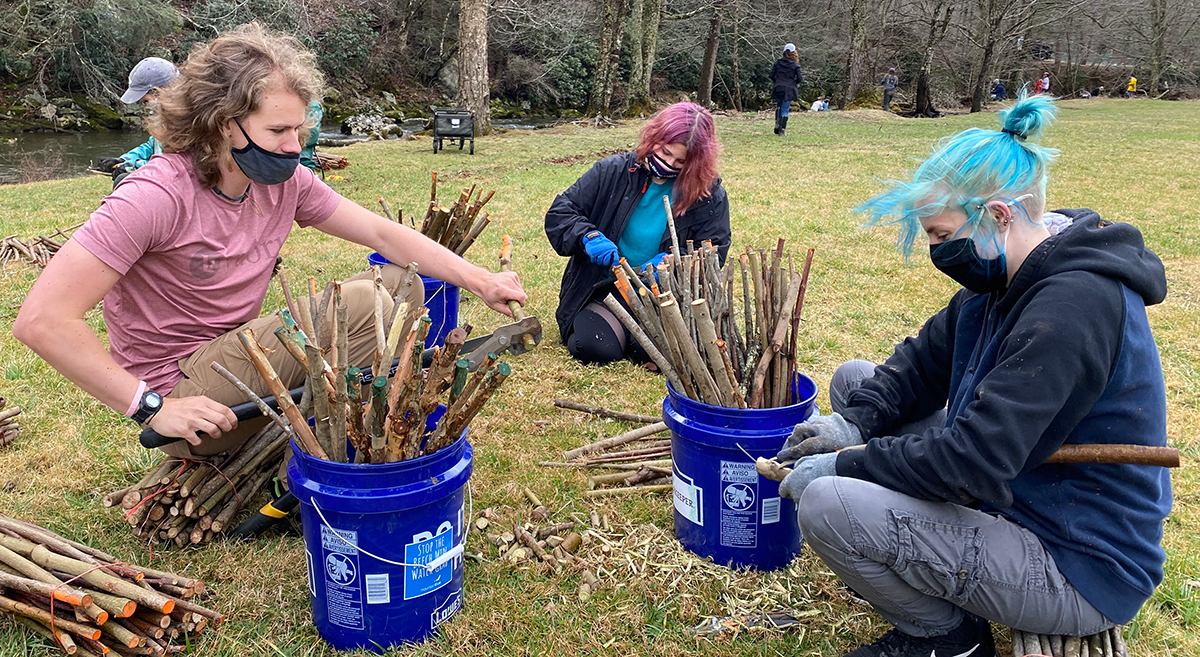 With the help of more than 35 volunteers, MountainTrue planted 12,000 live stakes in the Watauga River Watershed this fall, winter and spring. These live stakes will develop root systems and become trees in the coming years, supporting streambank health, reducing sedimentation, improving flood control and creating shaded habitat for aquatic species. We only planted native species like silky dogwood, silky willow, ninebark and elderberry, which provide added benefits for native pollinators. The live staking season is now finished for the year, but stay tuned for more workdays starting in November 2021!
Microplastics Are Widespread Throughout WNC Watersheds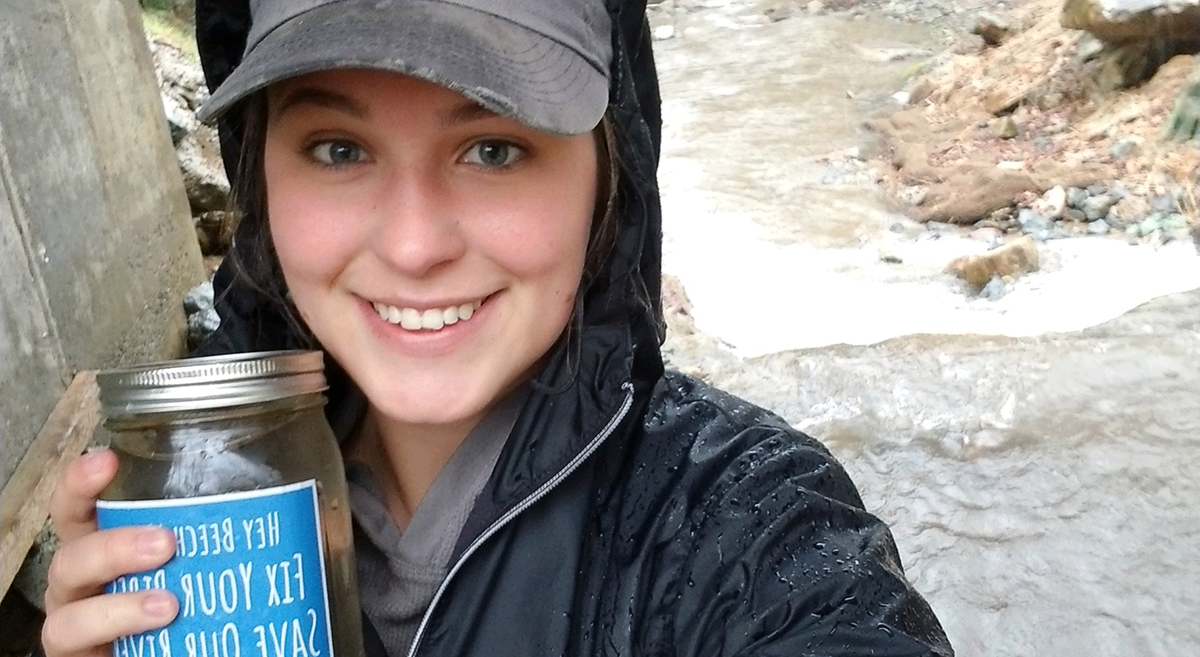 Our water quality staff and volunteers have been hard at work for the last couple of months collecting water samples and testing for the presence of plastics. Unfortunately, we have found microplastics in every single sample of every watershed that we've tested across Western North Carolina, including seven sites on the Watauga River. A total of 164 unique individual plastics have been identified so far, ranging from microfibers from synthetic clothing to microfilms from plastic bags and wrapping. Read more about this program here.
Swim Guide Launches Next Month!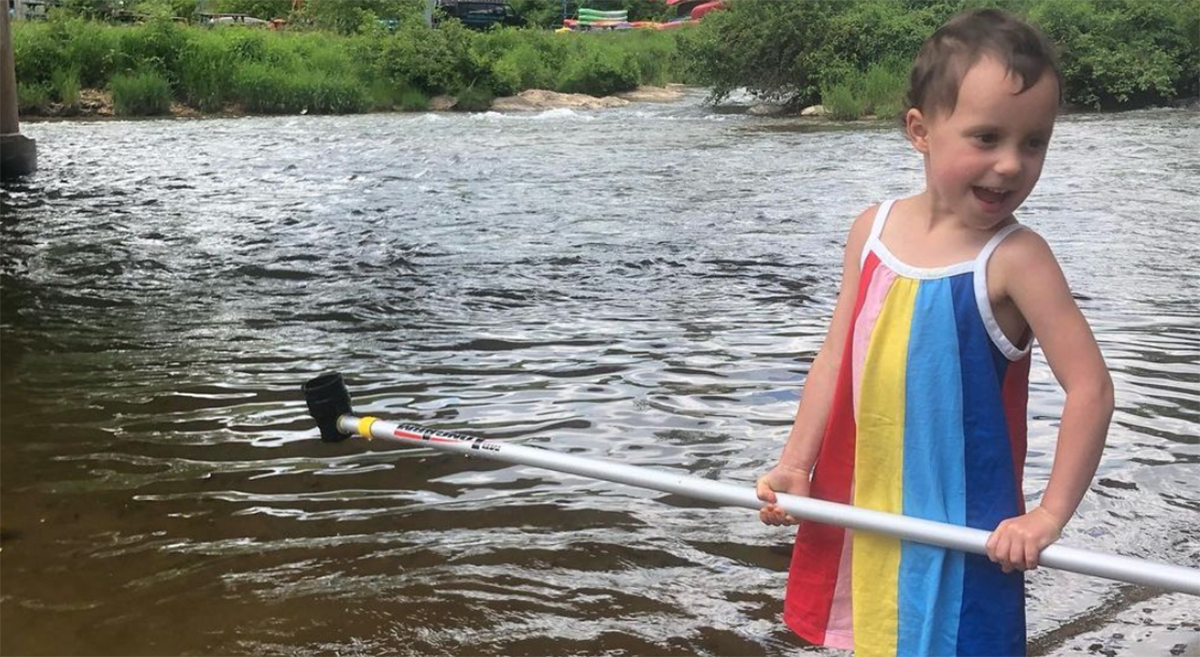 Our 2021 Swim Guide program launches next month. We will be collecting weekly E. coli samples from 16 sites across the Elk, New and Watauga River Watersheds from May to September. Results will be published on the Swim Guide app and website, so be sure to check them before you swim!
Interested in taking samples? Email hcwqa@mountaintrue.org for more program information.
Southern Regional News
For Cleveland, Henderson, Polk, Rutherford and Transylvania counties
Volunteer Spotlight: Erica Shanks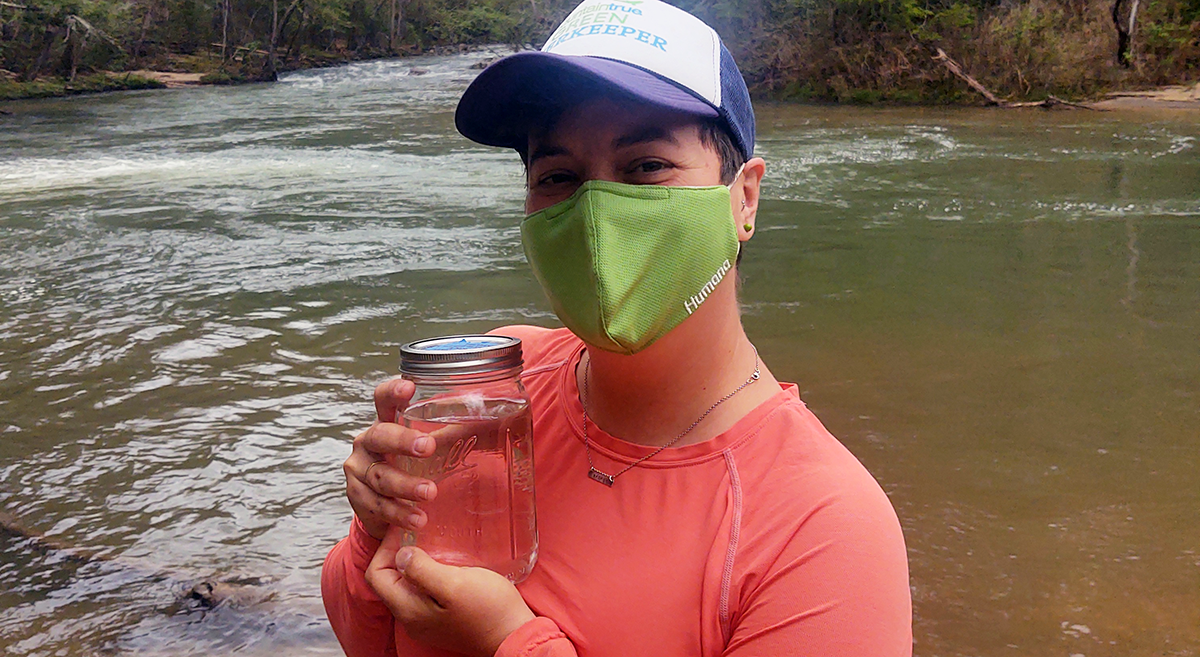 Erica Shanks's enthusiasm for protecting the Green River is evident in all the work she does with MountainTrue. She has volunteered for Green River cleanups since 2014 and has been working closely with the Green Riverkeeper program since it began in 2016. Most recently, she began volunteering with our new microplastics sampling program.
What drives her to be such a superstar for our rivers? "I love doing it. The feeling that you get after you get a lot of trash off the river is kinda indescribable," she explains. "You're really excited, but at the same time you're really sad, you're really mad, you're really frustrated because you know you can keep coming back out here and probably get the same amount of trash every single day."
That hasn't stopped Erica. She's committed to following through on this work for both the environment and the broader community impacts. She's not just picking up river trash, she's also modeling good stewardship of our public resources. "You inspire the community that sees you out and about, and then that encourages them to want to clean up too. Even though the environmental impact is obvious, the community impact is different. People see somebody doing something and then they want to do it too."
MountainTrue appreciates the hard work and dedication of volunteers like Erica, and we're so glad to have their support. "The big thing I love about MountainTrue is the emphasis on protecting places we share," Erica says. "The Green River is a very special place for so many reasons. And to be able to keep this clean and inspire the community to keep their special places clean is a pretty big deal."
Thank you Erica for all your hard work and dedication to protecting the places we share!
Friends of East Flat Rock Oppose Asphalt Plant Again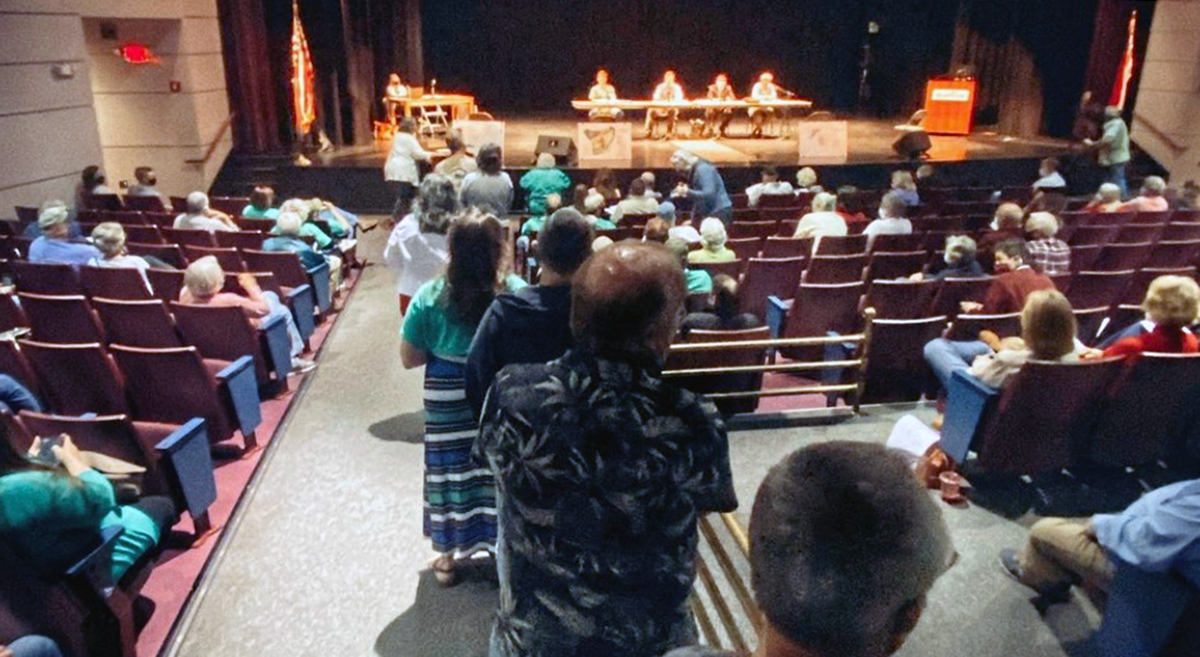 On March 20, approximately 200 concerned neighbors packed the house of a Neighborhood Compatibility Meeting to voice their concerns about a proposed rezoning that would allow the construction of an asphalt plant near homes and businesses in East Flat Rock.
Next up: the proposal goes before the Henderson County Planning Board on April 15 at 5:30 PM in Thomas Auditorium at Blue Ridge Community College (180 W Campus Dr, Flat Rock, NC 28731). Be there to make your voice heard and make it clear that rezoning for an industrial plant in this location is unacceptable. Learn more and sign the petition at www.friendsofeastflatrock.org and submit your comments to the Planning Board here.
Henderson County Compost and Agriculture Fair on May 6th
Come to the first annual Compost and Agriculture Fair at Jackson Park in Hendersonville on Thursday, May 6th from 11:00 AM – 2:00 PM during International Compost Awareness Week!  Celebrate soil health and agriculture, and connect and learn from organizations and fellow compost lovers. Henderson County recently began selling backyard compost bins so you can compost at home. Pre-purchase yours today and pick it up at the fair.
Western Regional News
For Cherokee, Clay, Graham, Haywood, Jackson, Macon and Swain counties in NC, and Towns and Union counties in GA
Carson-Newman University Group Spent Spring Break Volunteering for MountainTrue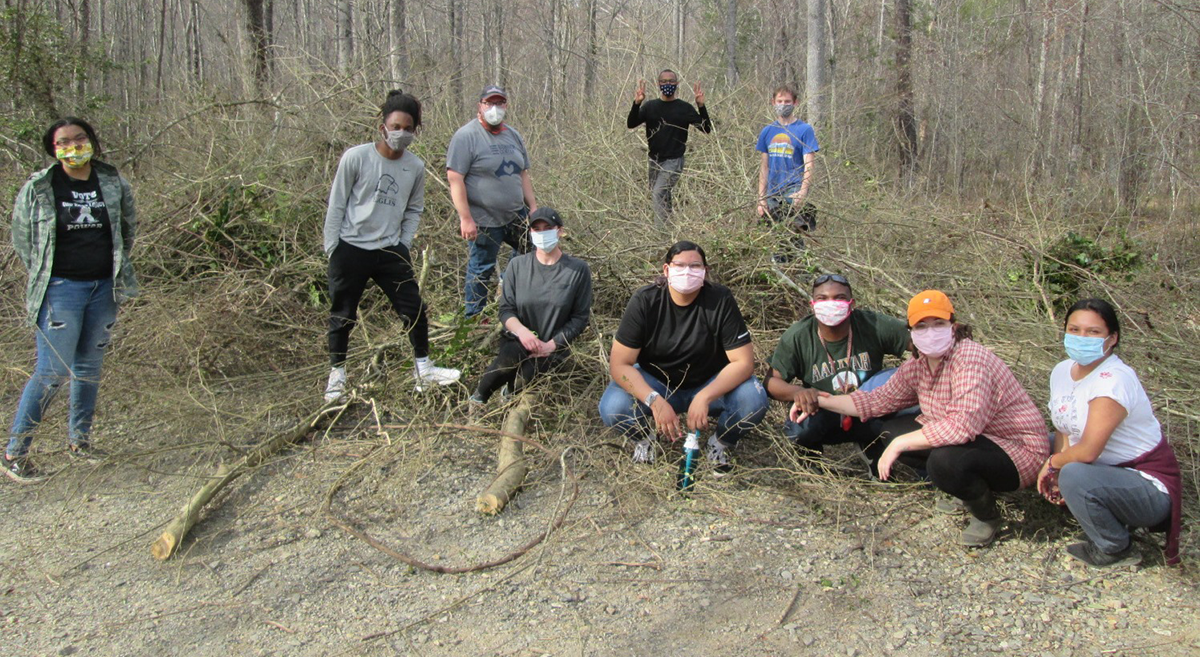 Ten students and faculty from Carson-Newman University spent their spring break this March removing non-native invasive plants alongside streams and rivers on public lands in the Hiwassee River Watershed. Although they worked for a shortened week, this group's participation ensured that the 13-year tradition of hosting alternative breaks wasn't broken by the COVID-19 pandemic! We look forward to next year when we can hopefully bring back volunteer-prepared lunches for these hard-working young adults.
Fun Activities Planned for Andrews Spring Fling – April 24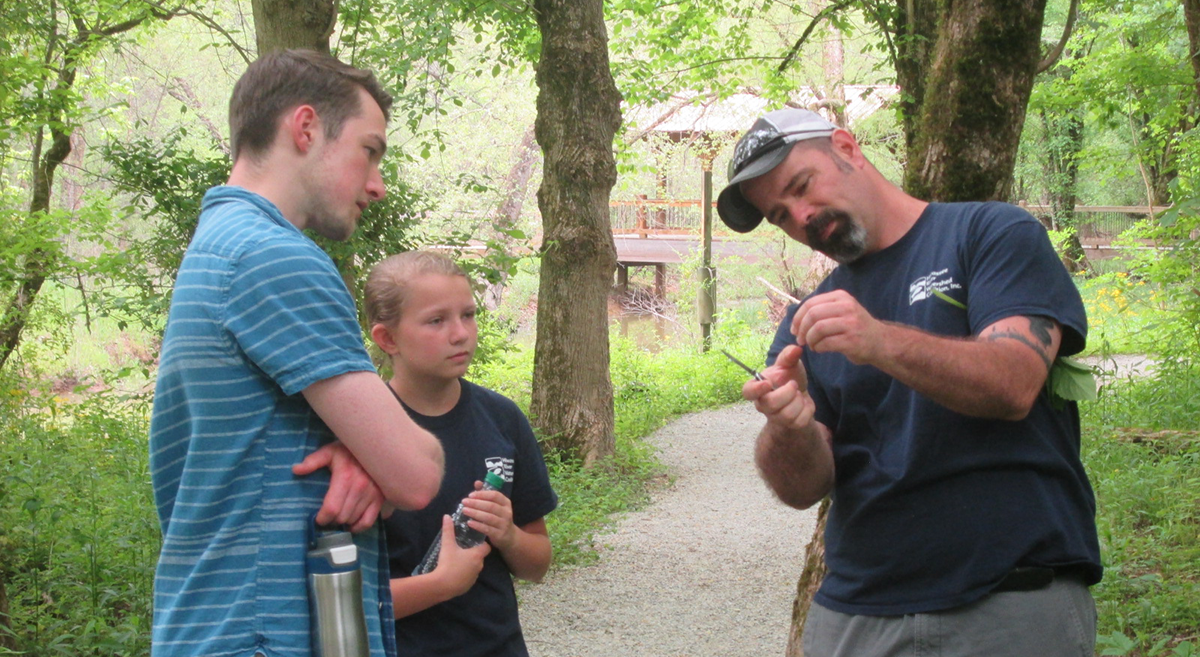 Western Region Program Coordinator, Tony Ward will lead free nature walks along the Valley River and Town Branch during the Andrews Spring Fling on April 24th.
Are you ready to get outside to celebrate Earth Day? Mark your calendars to be in Andrews on Saturday, April 24, 11-6 for the town's annual Street Fair & Nature Expo to learn about gardening, butterflies, water conservation, local history and much more. MountainTrue's booth will include a native tree scavenger hunt; signups for nature walks during the festival led by Western Region Program Coordinator, Tony Ward, at the Cherokee County Heritage Park (easy walking distance from the street fair); and a quiz to test your knowledge of hellbenders, which are the largest aquatic salamander found in our streams and rivers! Hope to see you in downtown Andrews to celebrate Earth Day with us!
Western Region Spring Hike Outing in Panthertown Valley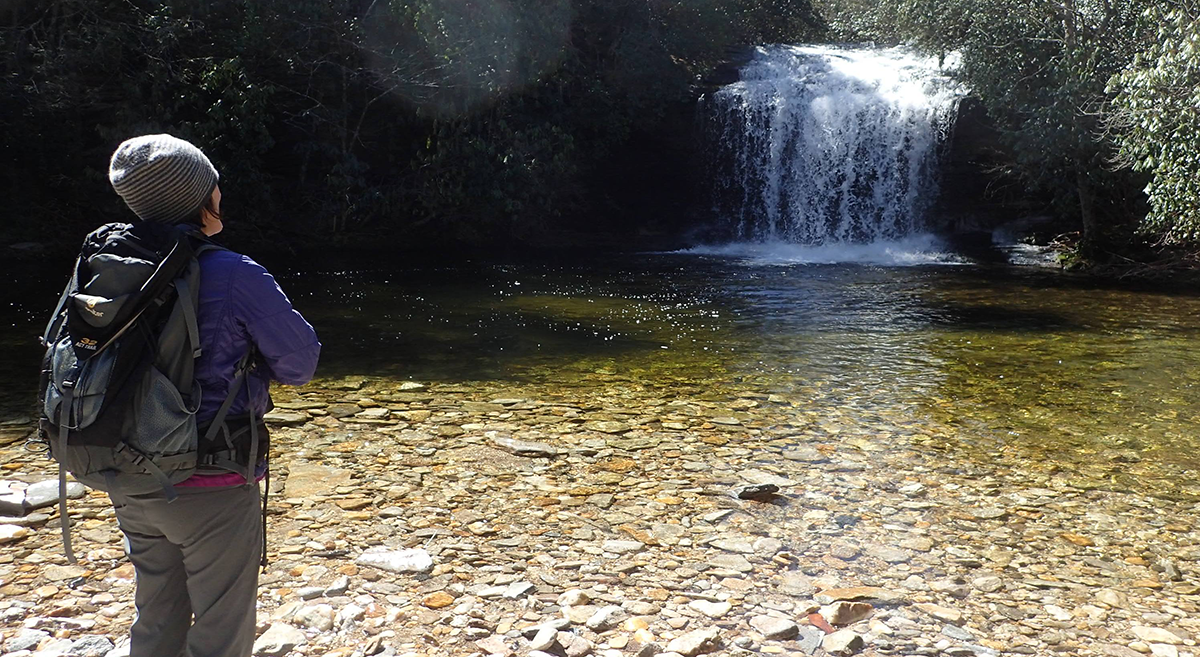 Photo caption: Schoolhouse Falls is one of two larger waterfalls located along the route of the spring hike outing.
Join Western Regional Director Callie Moore and MountainTrue's Outings Coordinator, Kasydi Dunaway, for a loop hike on the Panthertown Valley, Little Green and Mac's Gap Trails. This moderate 5.6-mile hike has a lot of variety including unique golden sandbed streams, long-range views, waterfalls and rock outcrops! There will be a total of 895 feet of elevation gain as we climb Little Green Mountain to our lunch spot at Inspiration Point, and then climb out of the valley at end of the hike. The trails are located near Glenville, North Carolina in the Panthertown Valley area of Nantahala National Forest. The outing is limited to 15 people and you must register in advance.
Events & Volunteer Opportunities
As the COVID situation evolves, we continue to increase capacity for our guided adventures. We highly encourage you to add your name to the waitlist for any hike you are interested in. Spots may open up at the last minute and we would love to get you into those spaces.
Hikes that have a chance to open up:
Western Region Huckleberry Knob Hike – 4/17
Wildflower Hike (Rattlesnake Lodge) – 5/12
High Country Wildflower Hike – 5/7
Lower Green Inflatable Kayak Trip – 5/7
If you are interested, email our Outings & Education Coordinator Kasydi Dunaway at outings@mountaintrue.org to join our waitlist.
April 7-30 – Earth Day Cleanup Challenge
What better way to celebrate Earth Day than participating in a cleanup challenge? Sign up and tag @mtntrue in your cleanup photos on Facebook or Instagram using the hashtag #MTEarthDayChallenge. Pictures with the most trash collected will receive a prize from your MountainTrue region. Participate and show your love for the environment and your community this Earth Day! Take part.
April 17, 9 am-4 pm – Socially Distant Lake Adger Spring Cleaning (Rescheduled)
Join MountainTrue's Green Riverkeeper for the Lake Adger Spring Cleaning! Head out on the lake on Saturday, April 17, collect as much trash as you can, and post images of your haul to social media with the hashtags #lakeadgerspringcleaning or #lakeadgercleanup. Sign up.
April 17, 11 am-2 pm – Island Park Invasive Plant Volunteer Work Session in Bryson City
Join forces with MountainTrue and the Tuckasegee River Alliance to help eradicate non-native invasive plants, restore a beautiful riparian buffer and bring the island back to its full splendor. Sign up.
April 18, 23 & 25, 10 am-4 pm – Treat Hemlock Trees along the Green River
Join the Paddlers Hemlock Health Action Taskforce (PHHAT) to protect hemlock trees along the Green River from the deadly woolly adelgid. PHHAT works in areas only accessible by boat in the Green River Game Lands. Paddling experience of crew members from Class II up to Class V whitewater may be required. Please email our Green Riverkeeper at gray@mountaintrue.org for more information and to get involved.
April 20, 11 am-12 pm – Using DNA to Track E. Coli Pollution in the French Broad River
Join French Broad Riverkeeper Hartwell Carson and Dr. Joseph Craine from Jonah Ventures for a webinar on analyzing water samples for DNA. We will discuss how MountainTrue is using this technology to determine the sources of bacteria pollution. Sign up.
April 21, 10 am-1:00 pm – Native Habitat Restoration along Mud Creek near Fletcher
Join us at this French Broad Paddle Trail campsite as we work to eradicate non-native invasive plants and restore native species. Plant ID and removal techniques will be taught on-site. Plan to get dirty. Sign up.
April 22, 9 am-12 pm – Creation Care Hike at Bear Wallow near Hendersonville
Join Creation Care Alliance Director Rev. Scott Hardin-Nieri and MountainTrue's Public Lands Director Bob Gale for some inspiration and ecological insights on this easy-to-moderate hike up to some spectacular views. Sign up.
April 25, 6 pm-7:15 pm – Creation Care Alliance Virtual Earth Day Vigil
Join Creation Care Alliance Director Rev. Scott Hardin-Nieri and speakers from throughout our region for readings, prayers and songs to inspire you in the care of God's creation. Sign up.
May 13, 12:30 pm-1:30 pm – Getting Around Car-Free: Strive Not To Drive Webinar
Join MountainTrue, AARP and Strive Not To Drive for a webinar about car-free, alternative modes of getting around town followed by a Q&A session with expert guests. Sign up.
May 20, 11 am-12 pm – Climate Change in Our Mountains and Strategies for Mitigation and Adaptation
Join our MountainTrue University Climate Series with Public Lands Director Bob Gale and Field Biologist Josh Kelly as they discuss the likely effects of climate change in the Southern Blue Ridge Mountains. Sign up.
May 22, 10 am-2 pm – Hike & Learn to Identify Trees in Union County, GA
Join Tony Ward, MountainTrue's Western Region Program Coordinator, for a 1.2-mile loop trail hike through an upland forest area of Meeks Park and learn how to identify many of the trees in our region. Sign up.
May 26, 12 pm-1 pm – Building Our City with Heather Worthington (Virtual)
In many American cities, it is illegal to build anything other than a detached single-family home on 75 percent of residential land. Join Minneapolis's Director of Long Range Planning, Heather Worthington, as she discusses why single-family zoning has come under scrutiny as cities grapple with a dire shortage of affordable housing. Sign up.
June 5-19 – 2021 BioBlitz: Tri-County Smackdown
This year's MountainTrue BioBlitz pits Jackson, Watauga and Transylvania counties against each other to determine the 2021 champion of biodiversity. The competition kicks off on June 5 on iNaturalist. We can't wait to see what kinds of observations our participants will share. Tell your friends, neighbors, family, and fellow naturalists, and get prepared for a BioBlitz like no other! Sign up.