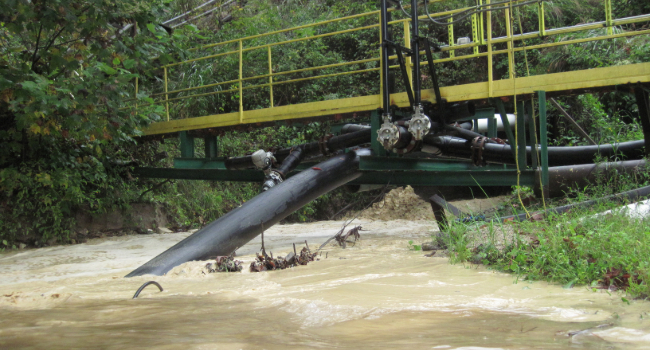 Stand Up For Clean Water at Mine Permit Hearing May 2!
The North Toe River in Spruce Pine is loved by paddlers, anglers and swimmers alike. It provides tourism opportunities for the local community, and is home to trout and endangered species that need clear mountain rivers to thrive.
However, mining facilities on the North Toe have violated water quality standards repeatedly in recent years, and last summer, the North Toe closed to the public after a hydrofluoric acid spill from a mine caused a fish kill. And while the NC Department of Environmental Quality considers the river impaired, the agency has proposed new permits for the next several years that would allow the pollution from the mine processing facilities to continue.
Right now the permits for all six mining facilities on the North Toe are up for renewal. Thankfully, MountainTrue members like you contacted the NC Division of Water Resources in February to make sure the Spruce Pine community gets a public hearing before the permits are approved, and that hearing is now scheduled for Thursday, May 2.
Hearing Details:
Public Hearing on Wastewater Discharge Permit Renewals for Avery and Mitchell Counties

Thursday May 2 at 6 P.M.

Mitchell Senior Citizens Center

152 Ledger School Road

Bakersville, NC 28705

Speaker registration begins at 5:30 P.M.
We hope you'll come to the hearing to stand up for clean water, and spread the word to make sure there's a big public turnout!
Why Are The Mine Permits A Problem?
As it stands, these Clean Water Act permits would allow these mining facilities to continue dumping polluted water into the North Toe River for the next several years. Now is our chance to urge the Department of Environmental Quality to do the right thing. DEQ can still change the permits to require the mines to clean up their act, instead of locking in the same pollution for years to come.
DEQ considers the North Toe River impaired, but allows the current pollution to continue unabated in the proposed renewed pollution permits.
DEQ should require the facilities with aging or failing infrastructure to upgrade their operations, reduce pollution, and protect water quality.
These six mining facilities generate an enormous amount of waste and together have a real negative impact on the North Toe. With all six permits up for renewal, now is the perfect opportunity for DEQ to take a closer look at these mining facilities and to develop permits will clean up the river.
The outdoor recreation economy in Western North Carolina depends on clean water and requires industry to be good stewards of our rivers.
If you live near the North Toe, DEQ needs to hear from you about what conditions you observe when mine runoff clogs the river and where the biggest problems are.
Proposed Mine Facility Permits:
Crystal Operation: https://deq.nc.gov/news/events/crystal-operation-permit-nc0084620-0
The Feldspar Corporation: https://deq.nc.gov/news/events/feldspar-corporation-permit-nc0000353
Red Hill Quartz Processing Plant: https://deq.nc.gov/news/events/red-hill-quartz-processing-plant-permit-nc0085839-0
Schoolhouse Quartz Facility: https://deq.nc.gov/news/events/schoolhouse-quartz-facility-permit-nc0000361-0
Quartz Operation: https://deq.nc.gov/news/events/quartz-operation-permit-nc0000175-0
Quartz Corp/Pine Mountain: https://deq.nc.gov/news/events/quartz-corppine-mountain-permit-nc0000400-1