December 2020 E-Vistas Newsletter
Call on Congress: Support Major Public Transit Funding In The Emergency COVID-19 Aid Package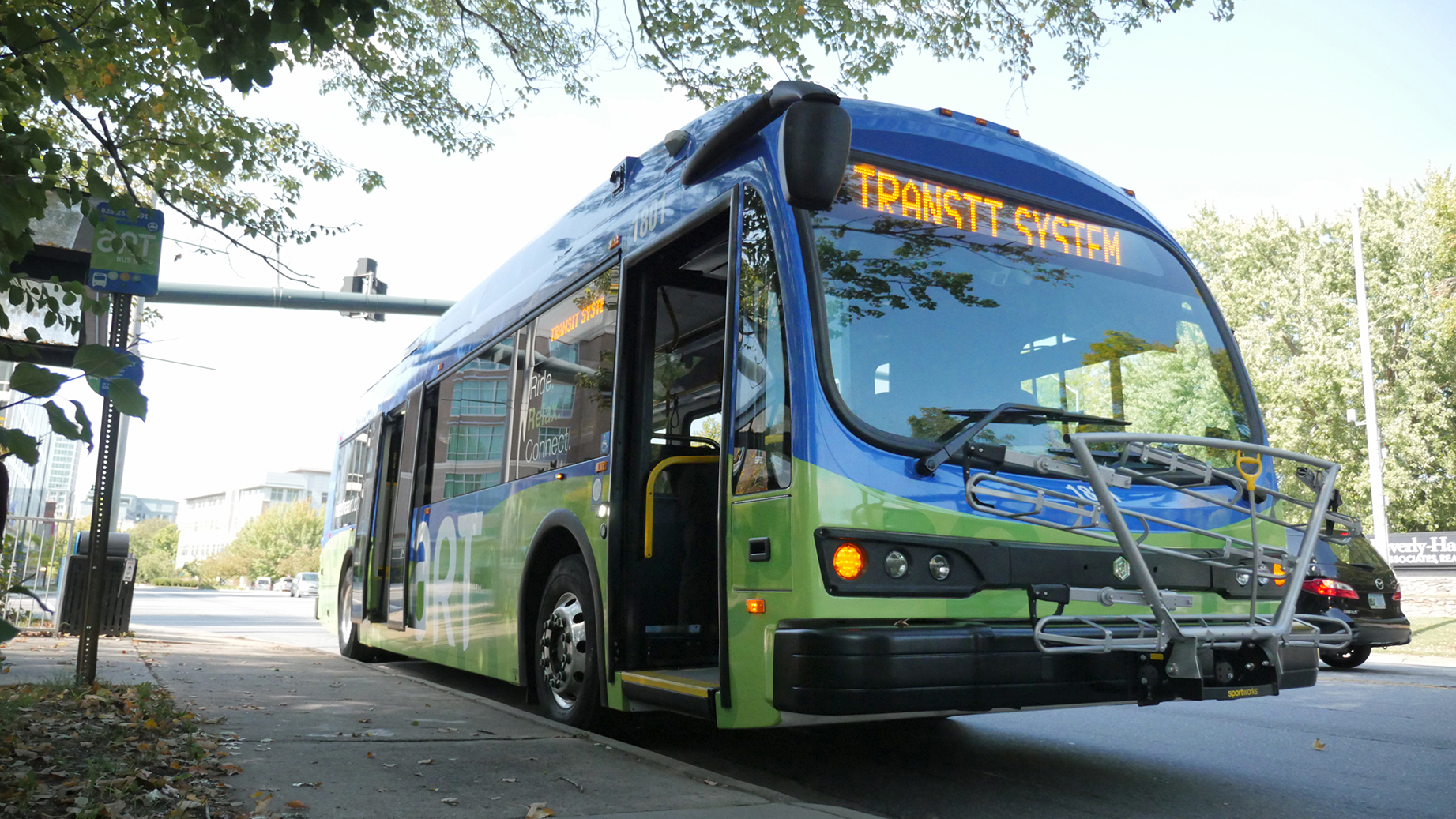 Public transit systems all over the country are at risk of laying off workers and cutting back service due to the pandemic. Will you take action here to call on Congress to include major support for public transit systems this week in its emergency COVID-19 aid package?
Right now Congress has the opportunity to save transit systems that are lifelines for essential workers – who we know are more likely to depend on public transit than other workers – and to make sure public transit can keep growing after the pandemic to build more livable and climate resilient communities. Take action here to call on Congress to provide emergency funding for public transit this week. Take action.
Congratulations 5Point Raffle Winners And Thank You All!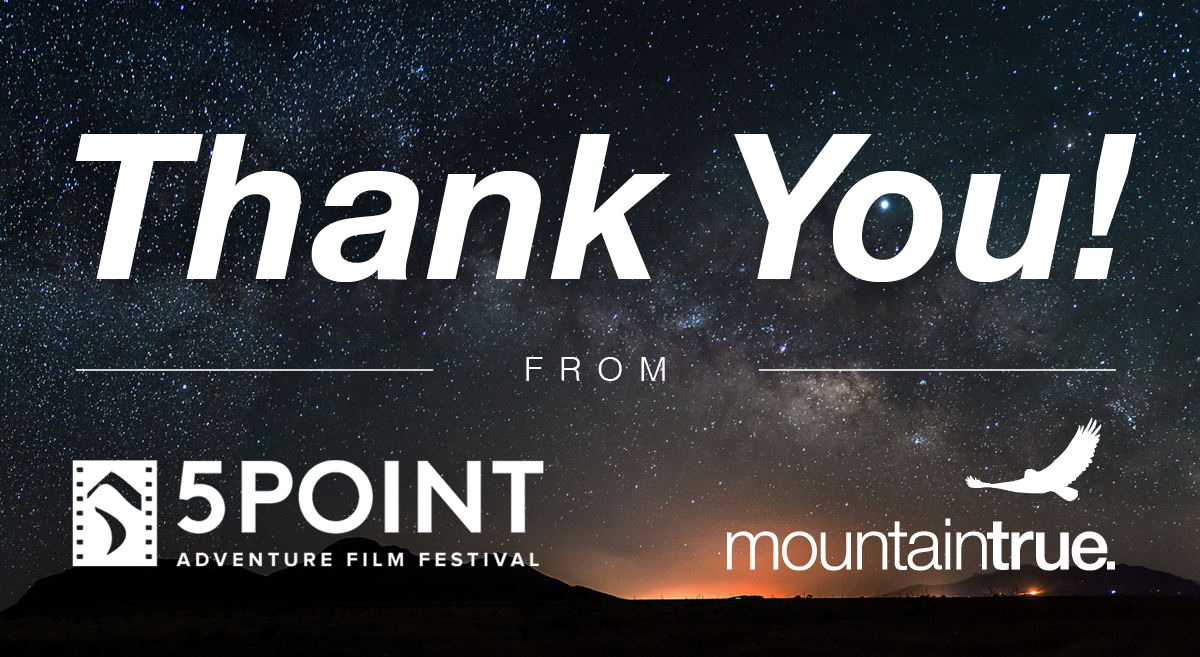 We are so grateful to everyone who contributed to MountainTrue through our 5Point Film Festival fundraiser this month. It was a great success in support of all our programs, and we hope you enjoyed the show as much as we did! Congratulations again to our raffle winners: Stephen Hendricks, Dan Comer, Penny Hooper, Diane Huey, Kimber Kessinger and Rachel Bemis. We hope you enjoy your sweet new gear from festival sponsors!
Read "A Black Naturalist's Journal" By AmeriCorps Forest Keeper Coordinator Tamia Dame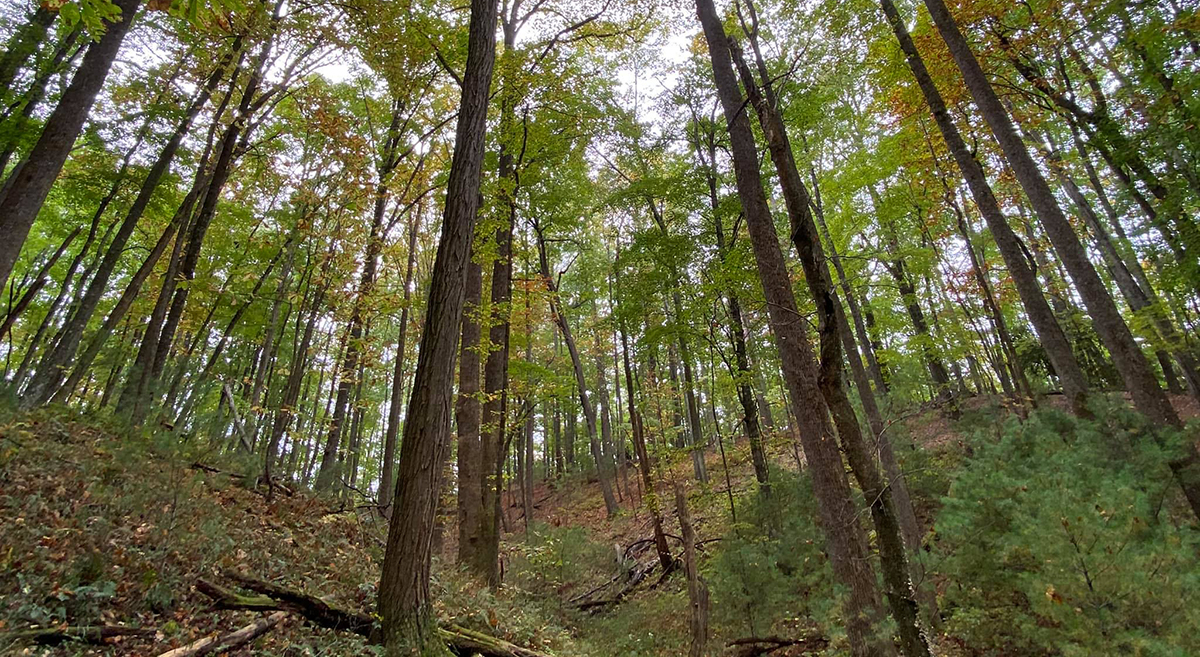 We have two new blog posts up on our website by our AmeriCorps Forest Keeper Coordinator Tamia Dame, in which she explores intersections of anti-Black racism, communicating across political differences and the natural world. A brief excerpt:
"It's raining, forcing me to reschedule a field day. On one hand I don't mind, as this CP flare up probably means I need to rest. On the other hand, I find myself looking at the dozens of photos I've taken over the last weeks. Photos of deep forest, leaves, flowers, mushrooms, caterpillars, rivers, and of course mountain views. A video of a little red salamander (Pseudotriton ruber) shimmying itself under leaf litter, trying to hide itself from danger. I want to be outside, where the birds tune out the noise of society, even if only for a while.
Nature therapy, for me, has become a means for coping with the daily trauma we have collectively been witnessing, and disproportionately been experiencing."
MountainTrue Is Hiring A Temporary Development And Operations Coordinator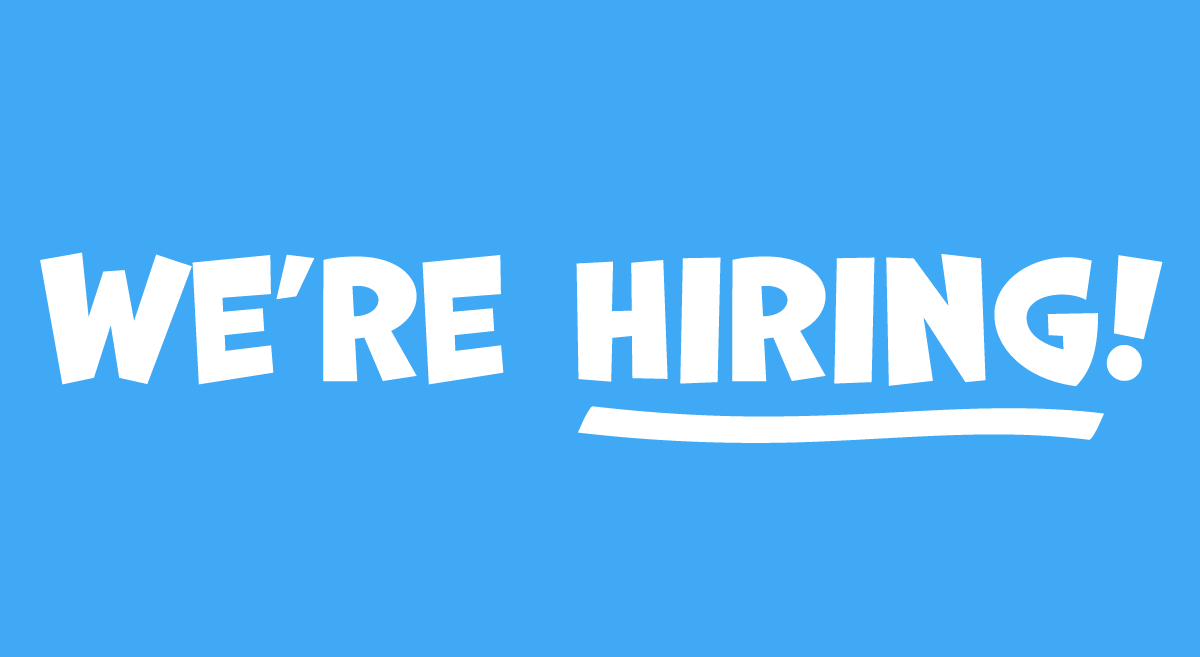 We're looking for a detail-oriented individual to join our Development team while one of our staff is on maternity leave. The position is responsible for processing donations, issuing donation acknowledgments and maintaining accurate data in the organization's database. This is a four month position at 20 hours per week with a rate of pay of $18 per hour. Read more and apply. 
Help Make Our Region Better By Donating To MountainTrue Through Give!Local

Mountain Xpress' Give!Local Guide showcases local nonprofit organizations that do good work in our region. By giving to MountainTrue through the Give!Local you can earn great incentives such as a MountainTrue hat, or a discount at Mast General Store. Check our listing out.
Central Regional News
For Buncombe, Madison, McDowell, Mitchell and Yancey counties
Update from French Broad Riverkeeper Hartwell Carson on Asheville's Stormwater Task Force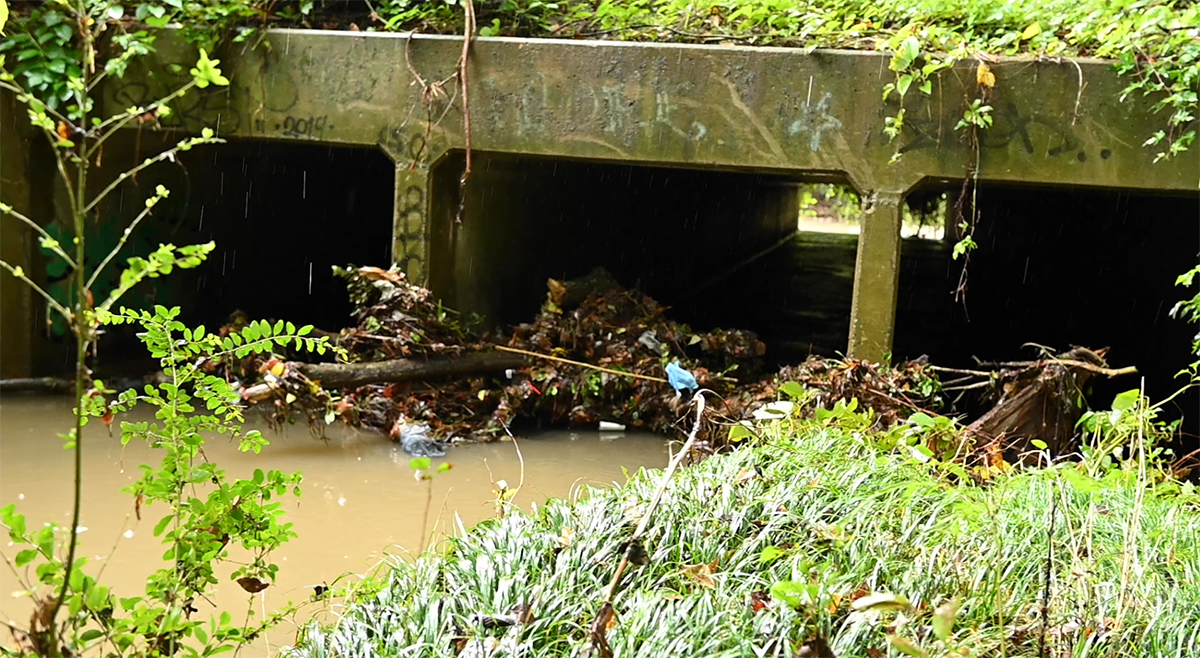 After successfully advocating for a Stormwater Task Force to respond to Asheville's chronic water quality problems this summer, the Task Force is now meeting regularly to improve water quality and flooding issues in the city. The Task Force has 10 members that are developing recommendations for the City of Asheville on green infrastructure, water quality in Nasty Branch, the stormwater ordinance and funding. We are also looking at examples of other communities across the state and country on how best to improve the pollution and flooding that has become common after rain events. We anticipate having some draft recommendations available to bring to Asheville City Council in the spring.
Close The Gap: Take A Step Forward for Asheville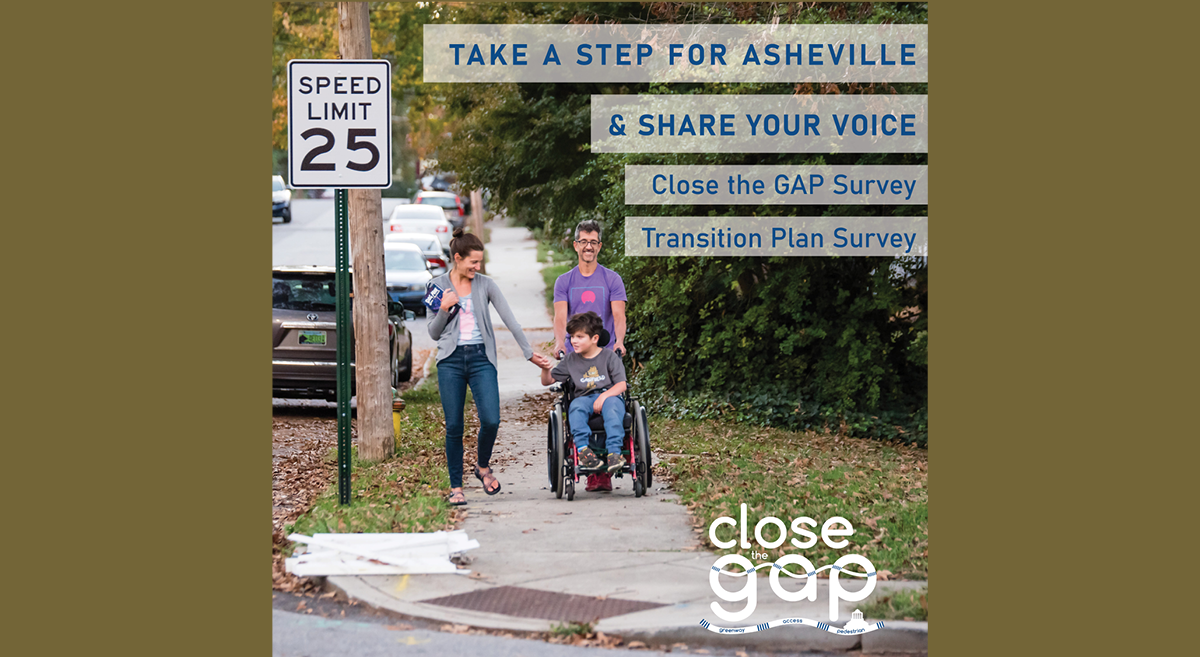 The City of Asheville is updating the City's Greenway (G), Accessibility (A), and Pedestrian (P) Plans. The combined plan, known as "Close the GAP", will be the City's plan to update and expand the network of accessible sidewalks and greenways in our community. MountainTrue endorses this project and we would like your help in supporting it. Please take the general Close the GAP survey and ADA Transition Plan survey (if you have a disability) and be a part of this exciting planning effort.
Take the Close the GAP survey.
Take the ADA Transition Plan survey.
High Country Regional News
For Alleghany, Ashe, Avery, Burke, Caldwell, Watauga and Wilkes counties
Update on Seven Devils Sewage Plant on the Watauga River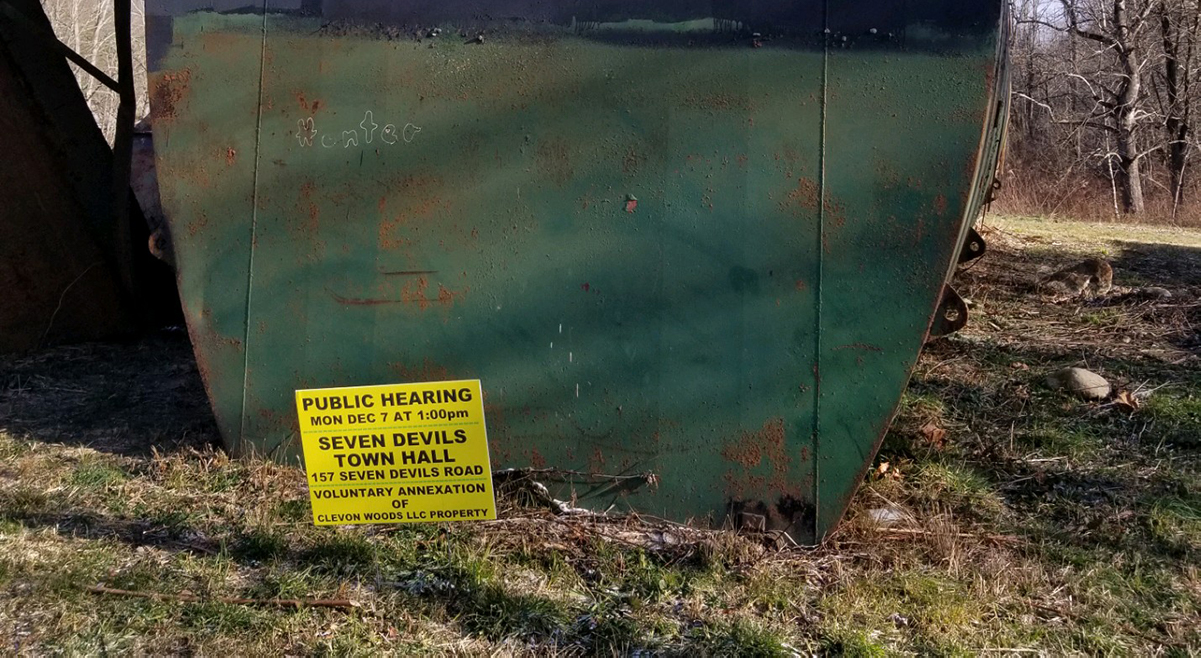 Thanks so much to all of you who stood up to protect the Watauga when a surprise vote about a new sewage plant in Seven Devils came up last week. Almost 500 people took action to contact the Seven Devils Town Council in only a few hours – the most incredible turnout we've ever had for an action like this in the High Country! While the Seven Devils Town Council voted 3-2 to approve the annexation Tuesday night, all the yes votes sounded reluctant, and I truly believe your public comments are what led to the vote being so close.
We have the chance to fight this project again when it goes to the Town Board of Adjustment for a vote. In the meantime, I hope you'll get involved in other ways to protect the Watauga River, like signing up for live staking days to plant trees along river and stream banks and helping us sample for microplastics in the river. Stay tuned for upcoming volunteer opportunities on MountainTrue's events calendar and Watauga Riverkeeper social media platforms.
Livestaking Dates Coming Up In February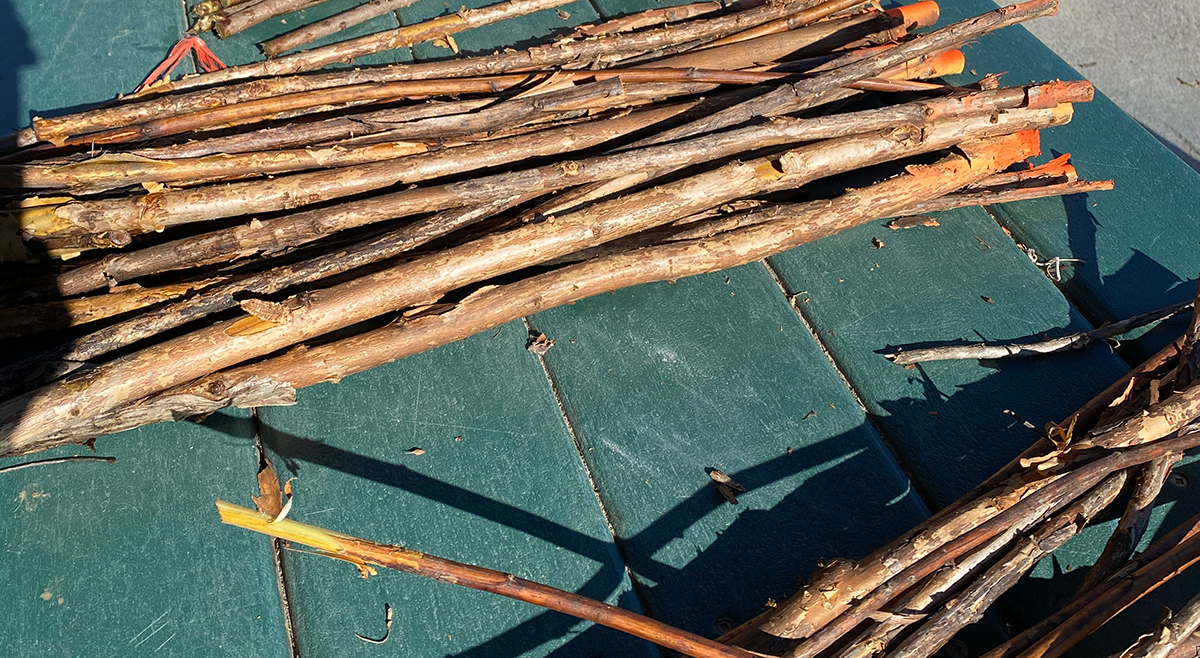 Did you miss our livestaking events in November and December? Don't worry, we have more work days planned for February! Sign up here to join us with planting on Feb 6.
How Many Microplastics Are In The Watauga?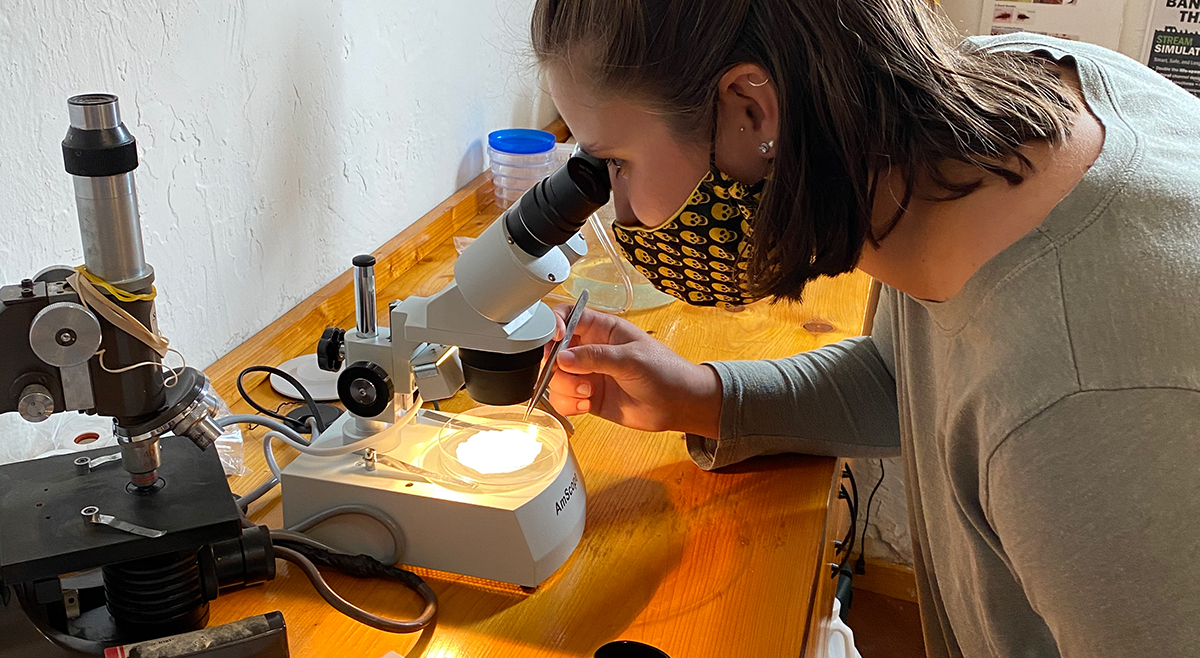 Microplastics are found across the globe, infiltrating even the most pristine areas. We want to figure out just how many microplastics are in the Watauga River, but we need your help!
Interested in collecting water samples? Sign up here to join our volunteer online training January 20th at 2pm.
Call For Volunteers For Stream Monitoring Information Exchange (SMIE)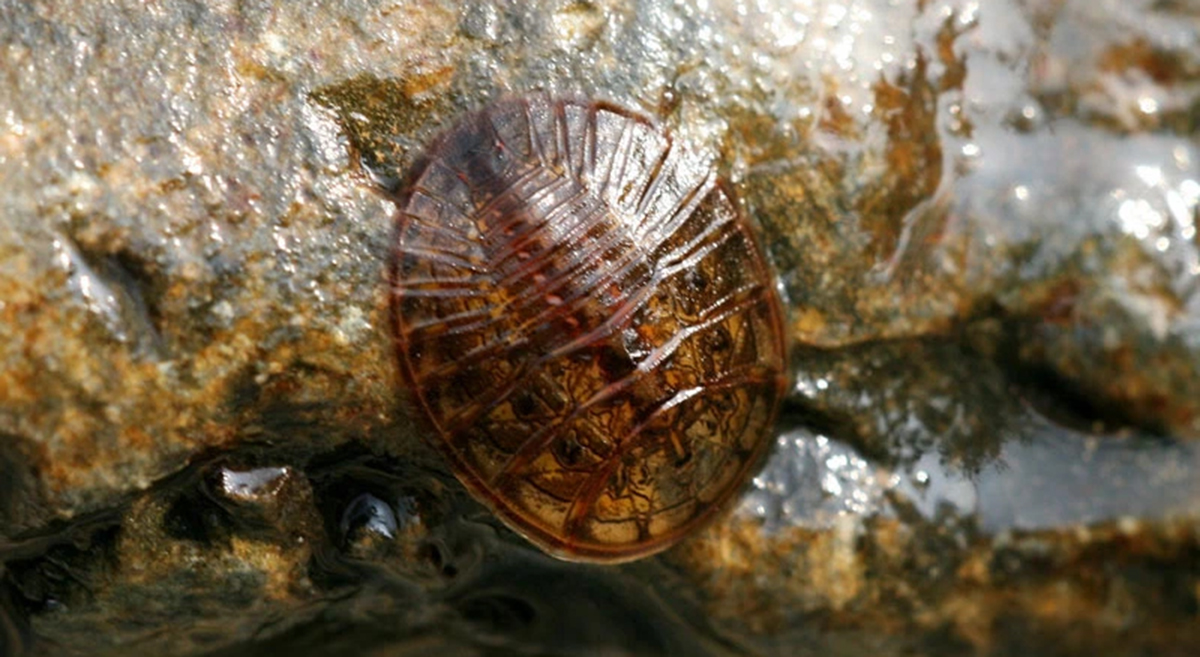 Our Stream Monitoring Information Exchange (SMIE) samples for aquatic bugs as bioindicators to gain information about water quality. The second round of SMIE sampling in April is approaching fast! If you are interested in sampling or learning more about this program, sign up to be the first to hear about the upcoming training.
Southern Regional News
For Cleveland, Henderson, Polk, Rutherford and Transylvania counties
Give Your Decorations a Second Life with Holiday Recycling in Henderson County!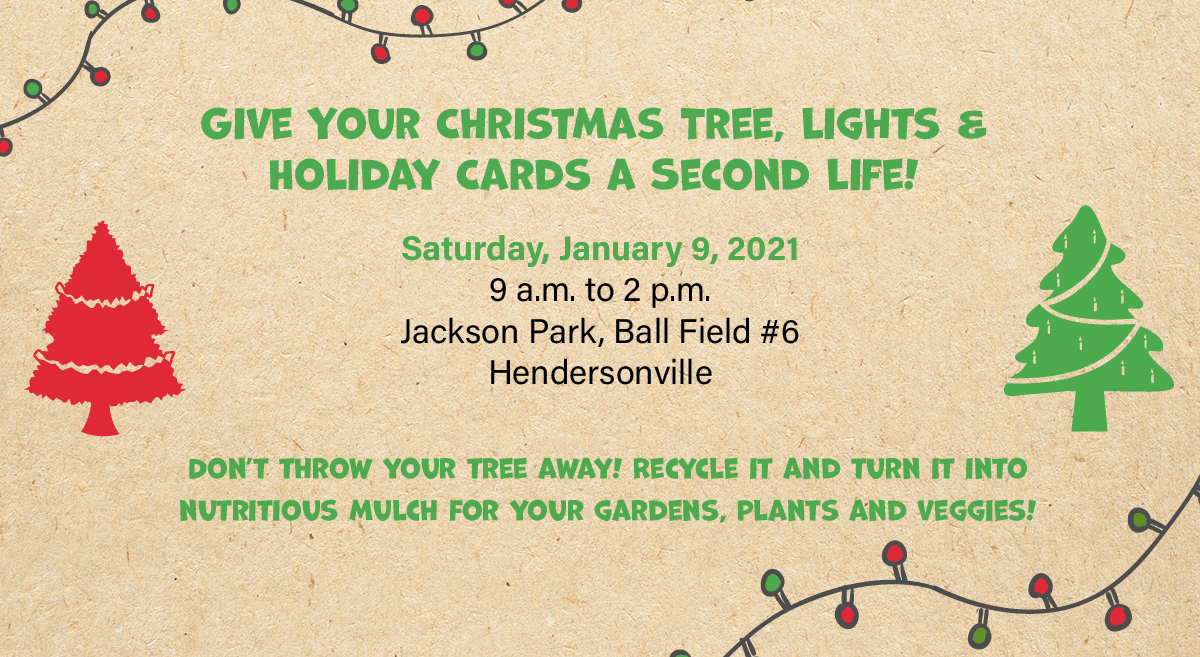 MountainTrue is proud to host our annual holiday recycling event at Jackson Park, Ball Field #6 on Saturday, January 9 from 9 am to 2 pm. We'll be collecting trees, wreaths, lights and cards. Just make sure to remove any decorations from your trees and wreaths before you drop them off.
Trees will be mulched on-site with help from Henderson County and City of Hendersonville staff, as well as a mulcher donated by King Hardware & Rental. You'll have the option to take some mulch home with you – a great opportunity to turn your tree into nutritious mulch for your gardens, plants and veggies. Lights and cards will be recycled by the Henderson County CoOp Extension Service for the 4H Project. Read more.
Western Regional News
For Cherokee, Clay, Graham, Haywood, Jackson, Macon and Swain counties in NC, and Towns and Union counties in GA
Virtual Watershed Gala and Online Auction Fundraiser Taking Shape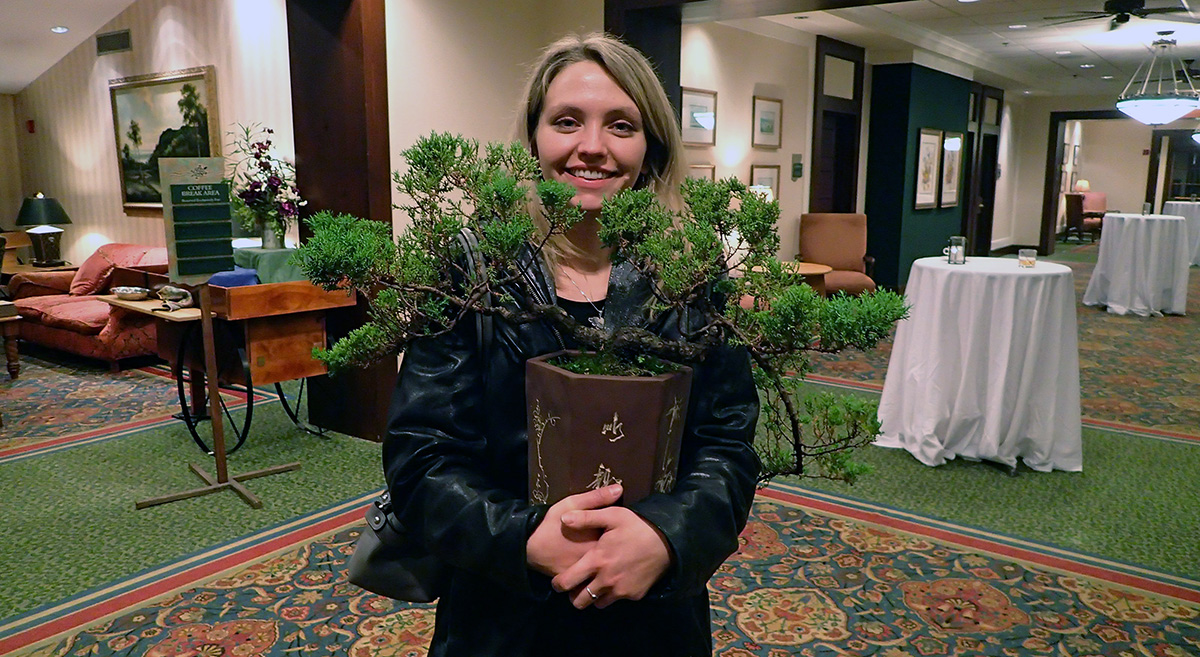 Sara Ruth Posey won this highly coveted bonsai donated by Tim Ryan at the 2016 Gala auction.
Although we won't be gathering in person next February for our traditional gala, we hope you'll still plan to participate with us online as we celebrate our rivers, lakes and streams and honor those who provide us with leadership and inspiration along the way. Our team is working to make this event as much fun as it can be without being in each other's physical company, and there's no required $50 ticket this year, either. Plus, you'll still want to support our Holman Water Quality Stewardship Award winner! Look for that announcement in January.
The 2021 Gala auction will be held completely online, and we're counting on you to help make it a success! Bidding will open at 12 pm on February 15 and close on February 25 at 9 pm (after the Gala event). But before then, we need item donations! This is an excellent opportunity for artists, crafters, restaurants, wineries, breweries and other businesses to gain exposure across MountainTrue's whole 26-county region. Contact me at callie@mountaintrue.org if you would like to donate an item or have an idea of one for us to recruit. Visit our Gala webpage for more event details and to sign up to be notified when the auction opens!
Caney Fork Creek at East LaPorte Park Will Be Shadier Next Summer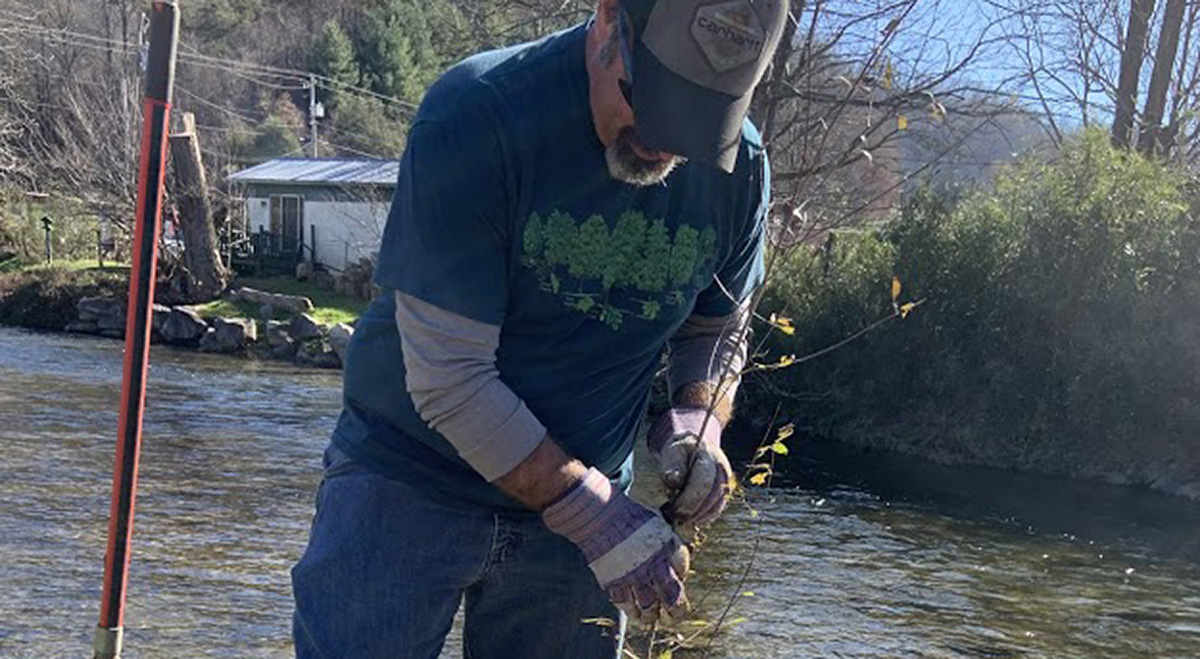 This November and December, MountainTrue's Western Region Program Coordinator Tony Ward ordered, delivered and helped plant native trees and shrubs for three live staking workdays. This collaborative effort was funded by the TVA and led by American Rivers and Mainspring Conservation Trust, with other key partners including the Jackson County Parks & Recreation Department and the Watershed Association of the Tuckasegee River. Staff and volunteers from these organizations planted 160 trees and shrubs, and installed hundreds more live stakes of vegetation along Caney Fork Creek at East LaPorte Park on the Tuckasegee River. This project will cut down on streambank erosion, improve habitat at the water's edge and provide shade to keep water temperatures cooler during the hot summer months. Learn more about live stakes.
Events & Volunteer Opportunities
Jan. 9: Give your Christmas Tree, Lights & Holiday Cards a Second Life in Hendersonville
MountainTrue is proud to host our annual holiday recycling event at Jackson Park, Ball Field #6 on Saturday, January 9 from 9 am to 2 pm. This is a great opportunity to turn your tree into nutritious mulch for your gardens, plants and veggies.
Jan. 12: MountainTrue University: Restoring Island Park
Join us January 12 at 1 pm to hear Tony Ward, MountainTrue's Western Region Program Coordinator, discuss his role in helping to restore Island Park in Bryson City. The project is a partnership between the town of Bryson City, the Tuckasegee River Alliance and MountainTrue.
Jan. 19: Winter Tree ID Zoom Class
Join MountainTrue's very own Public Lands Field Biologist, Josh Kelly, for our Winter Tree ID workshop. This class will cover the concepts you'll need to successfully identify trees in the Southern Appalachians, no matter your experience level!
Jan. 20: Microplastics Sampling Program Training for the Watauga
Microplastics (a term for tiny pieces of plastic) are found all across the globe, infiltrating even the most pristine areas. Help us figure out how present microplastics are in the Watauga River and get trained to collect water samples with us.
Jan. 23: Winter Tree ID Hike at Big Laurel Creek Trail
Join MountainTrue's Public Lands Field Biologist Josh Kelly for our Winter Tree ID Workshop Hike at Big Laurel Creek Trail. This hike is open to aspiring tree identifiers of all skill levels.
Feb. 6: Live Staking Workday in Sugar Grove
Fight sediment pollution and erosion with Watauga Riverkeeper Andy Hill by planting live stakes along streams and river banks.