June 2020 E-News All Regions
6/29/20
The Deadline for Forest Plan Comments is Today!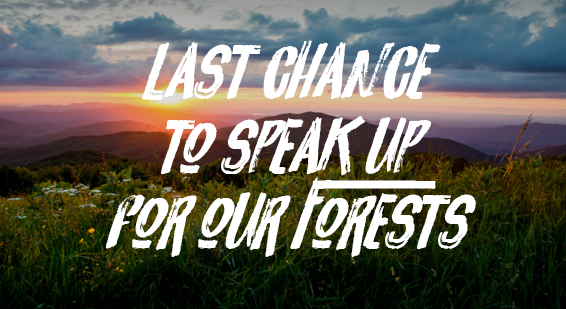 This is the LAST day to make your voice heard about a plan that will determine how Nantahala-Pisgah National Forest is managed for the next 15-20 years. Make your public comment on the Draft Management Plan for the Nantahala-Pisgah National Forest here.
Together we can win better protections for old-growth forests and biodiversity hotspots, more responsible timbering practices and better maintained trails and recreation infrastructure in the National Forest. You can check out MountainTrue's full expert analysis and plan recommendations here, and can also submit your comments through the Forest Service's online portal or mail them (postmarked by 6/29/2020) to: Plan Revision Team, National Forests in North Carolina, 160 Zillicoa St, Asheville, NC 28801.
The Great American Outdoors Act Passes The Senate, Reinvests In America's Public Lands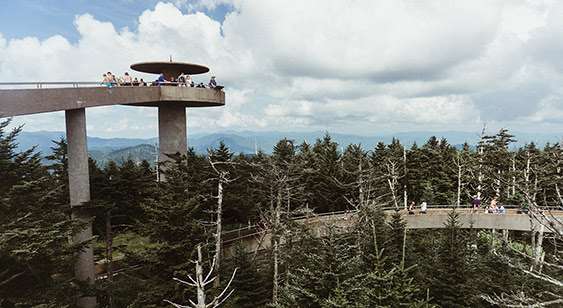 Clingmans Dome, the highest point in the Great Smoky Mountains National Park. Photo by Kirk Thornton on Unsplash.
In a big victory for our public lands, The Great American Outdoors Act (SB 3422) was passed by the U.S. Senate on June 17 with bipartisan support and a vote of 73 yeas to 25 nays. The bill will permanently fund the Land and Water Conservation Fund (LWCF) at $900 million per year and allocate $9.5 billion over the next five years to address the maintenance backlogs in America's National Parks, National Forests, and other public lands.
Though the LWCF has been authorized at $900 million per year, Congress has regularly diverted these funds for other purposes. With this bill, Congress will finally put an end to that practice and fulfill the original promise of the LWCF. Read the rest of our blog post on the bill here.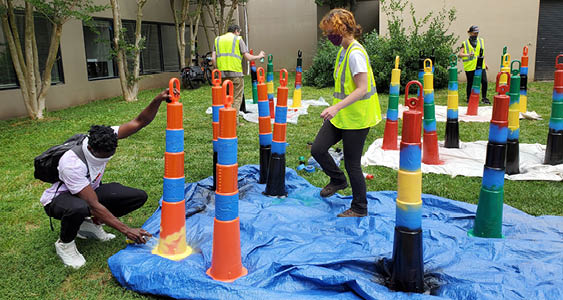 Asheville Design Center volunteers paint traffic barriers for Asheville's first Shared Streets installation on Eagle and Market Streets, also known as "The Block."
As more and more Asheville businesses reopen, the COVID-19 pandemic has required them to need more breathing room – literally. To help businesses adapt to indoor capacity limits and social distancing guidelines, the City of Asheville has contracted with MountainTrue's Asheville Design Center (ADC) to create design solutions that allow businesses to use more public outdoor space.
The heart of the design process is to identify a problem, come up with a solution, design it, prototype it and get feedback," says Chris Joyell, Director of the Asheville Design Center. "And by creating these concepts in conversation with the broader community, we can make sure they meet the needs of our local businesses and are a sustainable design concept for Asheville's future." Read more about this work here.
Check Out The Results From Our Recordbreaking BioBlitz In Madison County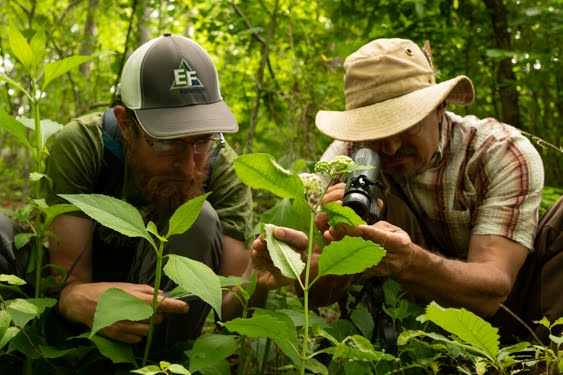 MountainTrue's Public Lands Biologist Josh Kelly observes a plant alongside Pete Dixon of Madison County Natural Heritage, a digital museum that archives Madison County's natural history. 
Every year, MountainTrue hosts a BioBlitz to document all the species we can find in a given area. This year, we partnered with Madison Natural Heritage, a new program of the Madison County Library, to catalog discoveries in Madison County virtually as part of their digital natural history archive.
It blew us away that a total of 97 observers documented 2,618 organisms and 1,186 unique species, including at least one – a rare fen orchid – that has never been documented in the county! Among these finds were several threatened and rare species (don't worry, the locations are hidden for those observations). We more than doubled our record species count for past BioBlitzes, had record youth engagement, and couldn't have done it without our terrific members! Read more about this year's BioBlitz here.
Beating the Heat at Swimming Holes? Stay Safe With Our Swim Guide Results

MountainTrue's AmeriCorps Water Quality Administrator, Grace Fuchs, hits the river to take water samples for our Swim Guide monitoring program. 
During the summer months when water recreation is in full swing, our Riverkeepers are committed to monitoring bacteria levels in local waterways so people can decide how, when and where to get in the water safely. As we still face restrictions on how and where we can interact due to the COVID-19 pandemic, more and more people are turning to rivers and lakes for a place to unwind, cool down, and socially distance, making this work more important than ever.
We test bacteria levels at public access points each week, so make sure to check out the latest results for your local swimming hole at www.theswimguide.org or by downloading the ultra-portable Swim Guide app. Now get out there and have some fun!
NCDOT Chooses To Improve Existing Highway Through Stecoah Community Instead Of Building New Sections

The Stecoah Gap near Robbinsville, NC. Photo By Don McGowan.
After decades of environmental analysis, public meetings and comment periods on the "Corridor K" project in Graham County, N.C. Department of Transportation officials have decided to improve the existing highways instead of building new road sections. The other five alternative courses of action for the project would have built new sections of highway through existing residential communities, fragmented large sections of National Forest, or both.
The purpose of the Corridor K project is to improve travel between Highway U.S.129 in Robbinsville and the existing four-lane section of N.C. 28 at Stecoah. MountainTrue has worked for years for this outcome in order to limit the impacts of the highway on residential communities and the National Forest. We are thrilled that NCDOT has selected the least damaging path forward!
An Environmental Assessment for the highway improvements is expected this summer. We will advocate for the project to include plans for a wildlife crossing to connect sections of public land across the wider highway corridor. We'll also let you know when the opportunity to make public comment begins in the fall.
Final Forest Service Decision on Buck Project in Clay County Ignores Public Input, Potential Compromise

Public Lands Field Biologist Josh Kelly coring a 231-years-old tree in the Buck Project area. Watch a video where he talks about the project and counts the rings of the core sample here. 
In a decision announced on May 22, the Forest Service committed to charging ahead with plans to log in steep backcountry areas in Buck Creek and the headwaters of the Nantahala River, as well as the headwaters of Shooting Creek draining to Lake Chatuge. The decision would allow timber harvest on nearly 800 acres—the biggest logging project in the Nantahala National Forest in a generation. Hundreds of acres of logging would occur in old, biologically rich and unique ecosystems under-represented in Southern Appalachian forests.
The decision follows a formal objection submitted by the Southern Environmental Law Center (SELC) on behalf of MountainTrue, The Wilderness Society, and other partners. It also comes after SELC offered a compromise that would have ultimately met everyone's goals: move ahead with the 465 acres of harvest proposed in Alternative D and launch a collaborative effort to find more acres that don't encroach on sensitive areas. None of the other objectors voiced opposition to this plan, and one even voiced support. The Forest Service ignored this suggestion and the overwhelming public opposition to this plan.
Permit Issued for Cashiers Lake Dredging Project
The NC Division of Water Resources (DWR) issued a 401 Water Quality Certification to Cashiers Canoe Club in April for a lake dredging project that will impact a little over seven acres of wetlands and five acres of open water in Cashiers Lake, part of the headwaters of the Chattooga River. MountainTrue's initial concerns about the project were largely addressed by DWR and the applicant, including the following: a large reduction in the amount of acres impacted by dredging; separating the dredging and development aspects of the project; and requiring the very low "trout standard" for downstream turbidity (a measure of water clarity that reflects the amount of excess sediment in the water). Also included in the permit requirements is payment for wetland mitigation, water quality monitoring for the duration of the project, and maintaining a healthy amount of flow in the Chattooga River downstream. MountainTrue is not contesting the project.
New Rockhouse Creek Self-Guided Hike Available

Philip Moore stands next to one of several large buckeye trees beside the trail on Rockhouse Creek.
While MountainTrue has not planned any group hikes due to ongoing concerns about COVID-19, you can still go hiking with us! I joined MountainTrue's Outings Coordinator Catie Morris and Forest Keeper Rhys Burns to construct a self-guided hike on the Rockhouse Creek trail in the beautiful Fires Creek Watershed. The final product includes a trail description, points of interest, a little history and photos along the way. Access the hike here.
MountainTrue Members Push Back on Beech Mountain Water Grab
Thanks to an amazing response by MountainTrue's supporters in the High Country, we've made a great start in opposing the Town of Beech Mountain's latest attempt to push through a proposal for a water intake in the Watauga River. This proposal would construct a 7.2 mile pipeline and pump house to withdraw up to 500,000 gallons of water per day from the Watauga during times of drought, and right upstream from the ecologically sensitive Watauga Gorge.
Due to public pressure from MountainTrue members and other community members concerned about the proposal, Watauga County Commissioners stated during a recent budget meeting that they would not entertain any attempts to reclassify the Watauga River to allow for an intake. There was also progress at the most recent Beech Mountain Town Council budget hearing, with Town Council approving a capital project ordinance to fix or replace approximately 16,500 linear feet of existing water line in the Charter Hills Road area. We are grateful to see the Town of Beech Mountain prioritizing their infrastructure and addressing water loss after our repeated requests.
Ward's Mill Dam Will Be Removed in Fall 2020
In a big victory for the Watauga, MountainTrue has helped secure the removal of the Ward's Mill Dam – a dam in Sugar Grove that was named the highest priority for removal by a partnership of aquatic resource experts in the Southeast.
Removing the dam will reconnect 35 miles of aquatic habitat in the main stem of the Watauga River and 140 miles of streams across the watershed. This will improve cold water habitat for native aquatic species like brook trout, freshwater mussels and the threatened hellbender salamander, and will reconnect genetically distinct populations kept separate by the dam for 80 years.
The dam is scheduled for demolition in early Fall 2020. Its removal would not be possible without the leadership of American Rivers, Blue Ridge Resource Conservation and Development, Watauga County Soil and Water Conservation and the United States Fish and Wildlife Service.
Events Calendar
June 11-30: No Man's Land Film Festival: Diversify the Outdoors
No Man's Land Film Festival is offering a "Diversify Our Outdoors" virtual film program featuring films that elevate Black athletes, filmmakers and advocates. All proceeds to this event will be donated to the non-profit organization Outdoor Afro.
July 1, 11:30am – 12pm: MountainTrue University – The State of the French Broad River
Join our French Broad Riverkeeper, Hartwell Carson, for a talk about the history of the French Broad Watershed, his work to hunt down pollution sources and ways you can help keep our river clean.
July 9, 6-7pm: Virtual Green Drinks Featuring Andy Tait, EcoForestry Director at EcoForesters
In his talk, Andy will discuss how forests become degraded due to invasive pests, poor timber management, fire exclusion and climate change, and how "forest stand improvement work" can make degraded forests healthier.
July 10, 7-8:30pm: "Pandemics and Prejudice: How Can Democracy Survive in a Hotter Time?" with Dr. David Orr
The Creation Care Alliance is proud to co-sponsor this presentation by Dr. David Orr, Emeritus Professor of Environmental Studies & Politics at Oberlin College, about the moral imperative to restore our democracy as well as the urgency of environmental stewardship.
July 11: Virtual Riverkeeper Beer Series Cleanup with Catawba Brewing Co.
Join us for the first virtual Riverkeeper Beer Series Cleanup of the French Broad River by cleaning your local creek, roadway, or neighborhood.
July 26, 2-5pm: Apalachia Lake Paddle
Join us for a socially distant canoe outing on the peaceful Apalachia Lake, which has very little private shoreline development and no commercial recreation facilities. Fishing and swimming are both options along the way, so bring your line if you'd like.