Step 1: Fix Leaky Sewers & Septic Systems
Leaky sewer pipes are a direct source of pollution that sometimes foul our streams. Heavy rainstorms overload our aging stormwater and sewer infrastructure and cause overflows and backups. Failing septic systems don't properly treat sewage and therefore pollute our streams. This pollution then makes its way into our rivers, where it can make people sick.
To fix this problem, we need significant public investment to meet our current and future sewer and water infrastructure demands.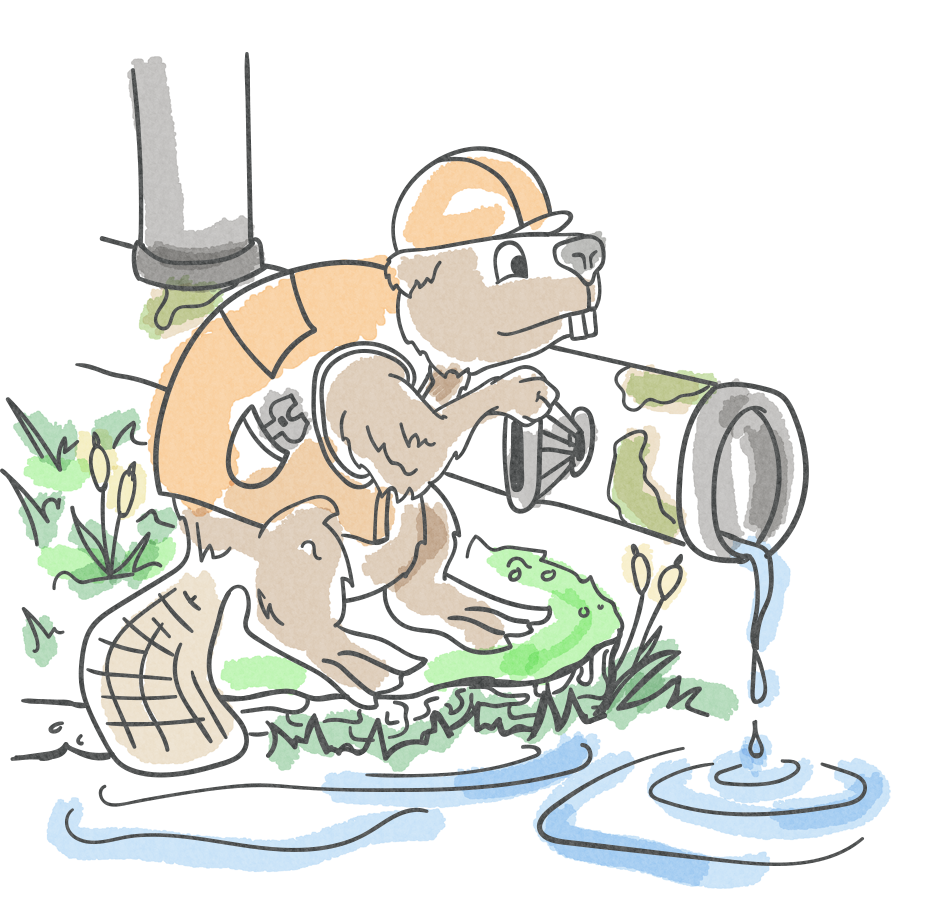 It's time for Congress to invest in clean water!
Join MountainTrue in calling for Congress to triple its annual appropriations for the Clean Water State Revolving Funds from $2 billion to $6 billion.
With the Water Quality Act of 1987, the US Congress established the Clean Water State Revolving Funds (CWSRF) to provide sustainable, long-term financial assistance to support communities' needs. Since its inception, the CWSRFs have provided a total of $151.2 billion (as of 2018) in financial assistance — meeting a mere fraction of our nation's infrastructure needs. The EPA has estimated a current price tag of $745 billion dollars — $271 billion of which is needed for sewage and stormwater systems. And that doesn't include an additional $448-$944 billion that would be needed to meet the challenge of climate change. Here in North Carolina, the state only receives around $25 million per year from the fund. Last year alone, there were $638.8 million in requests.
Increasing our investment in the CWSRF is a first step, and MountainTrue urges policy makers and legislative leaders to explore new investments to ensure that our drinking water is safe and that our rivers are swimmable and fishable.
North Carolina can do better
We don't need to wait for the federal government to act. North Carolina can act now by adopting a state standard for E. coli bacteria and upgrading the state's spill notification system. This will ensure that the public knows the full extent of the problem, and that local governments can better target and respond to spills that threaten recreation and fishing waters.
To track down faulty septic systems and help landowners fix them, the North Carolina legislature should restore full funding for the Wastewater Discharge Elimination (WaDE) program. A former DENR program, the WaDE team was wildly successful at finding and repairing septic failures and the illegal straight piping of sewage into North Carolina's waterways. Funding for WaDE was cut after the 2008 recession, and it's time to bring the program back.
Here are more actions that can be taken at the state, county and local levels to help keep our North Carolina's waters fishable and swimmable. 
Our Rivers Need You
Help tackle the issues that most affect river health. Support the I Love Rivers action plan to keep our rivers healthy.
Agency Actions: 
The NC Department of Environmental Quality (DEQ) should upgrade its notification system for pollution spills and sewage overflows to alert the public through email, texts and social media.
DEQ should adopt a state standard for E. coli.
NC Department of Health and Human Services should adopt an E. coli safe standard.
Legislative Action:
Restore full funding for the DEQ's Waste Detection Elimination (WaDE) program, which was wildly successful at finding and repairing illegal straight piping of sewage and septic failures.
Move DEQ's enforcement of sediment erosion and stormwater control to the Division of Water Resources and provide sufficient funding and resources.
Provide increased funding for the Community Conservation Assistance Fund so communities can improve stormwater.
City & County Actions:
Upgrade sewage infrastructure to reduce leaks and overflows from heavy rains.
Invest in stormwater management infrastructure to reduce erosion and flooding.
Invest in real time monitoring so the public has a better idea of when it is safe to swim and we can better track pollution sources
Invest in source tracking to determine what is the source of the pollution.