> STEP 3: REDUCE PLASTICS
Step 3: Keep Plastic Bottles & Bags Out Of Our Rivers
Plastic pollution is a global problem, but we all have to be part of the solution.
Single-use plastics are clogging up North Carolina's rivers and streams. Every year, MountainTrue and other local conservation groups clean up thousands of tons of garbage from local waterways — most of it: plastic bottles, styrofoam cups and bags.
These plastics can take hundreds of years to degrade, but never really go away. Instead, they break down into smaller an smaller pieces that we call microplastics. These microscopic fragments, films and fibers of plastic end up in river sediment, suspended in surface waters, and can even be carried on the wind.
The microplastics in our waters are consumed by aquatic organisms, which are then ingested by the larger organisms that eat them, including humans. The bioaccumulation of these plastics and the additives used to make them can be harmful or toxic to both wildlife and people. Studies have shown harmful effects on our respiratory, reproductive, and nervous systems.
TAKE ACTION TO STOP PLASTIC POLLUTION 
Pass a Plastic Reduction Bill in the General Assembly
Call on the North Carolina General Assembly to pass legislation banning single-use plastic bags, cutlery, styrofoam and food containers.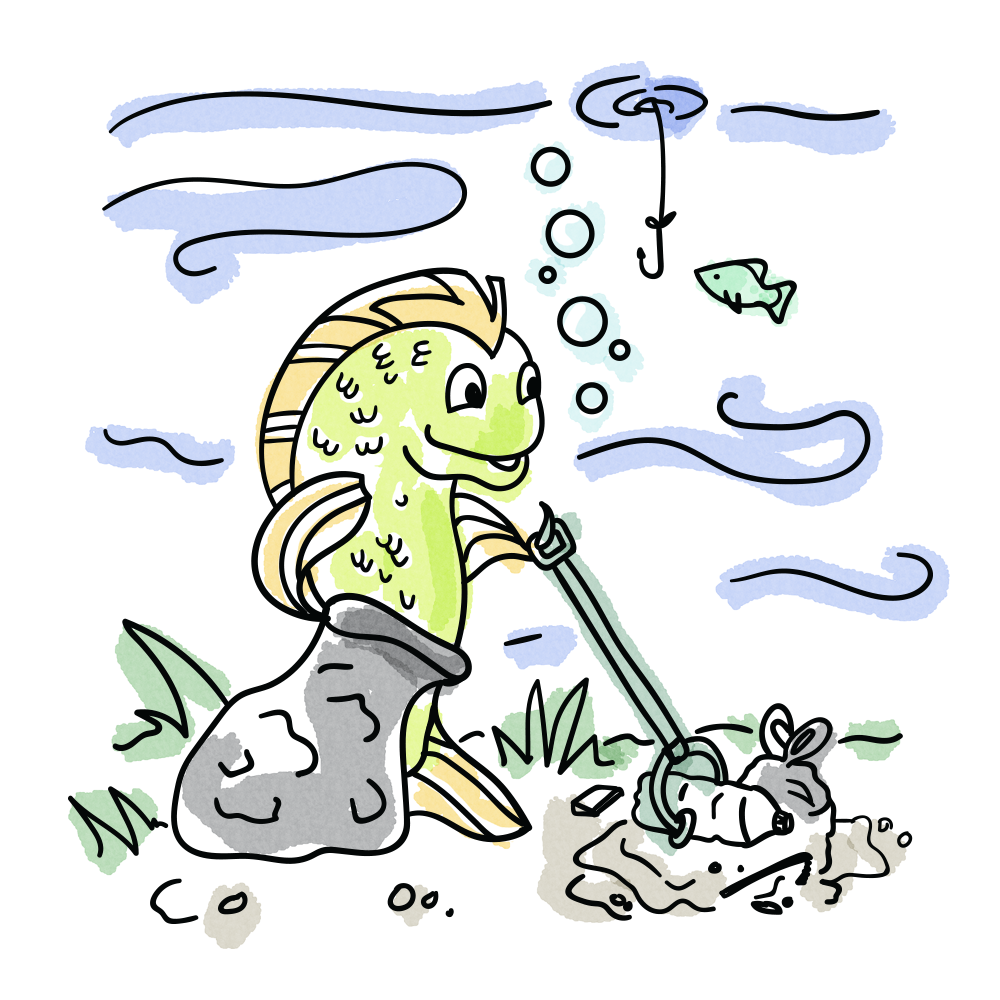 What MountainTrue is Doing To Reduce Plastics in Our Environment
Microplastics Water Monitoring
MountainTrue's Riverkeepers and volunteers are collecting water samples from area waterways. We analyze these water samples for the presence of microplastics and we sort them according to the type and concentration of these plastics in our streams and rivers.
We're using this data to measure the concentrations and inventory kinds of plastics that are making their way into our environment. We do this so we can advocate for production strategies and waste elimination policies that target the plastics most common in our region.
In both the French Broad and Watauga Rivers, we're finding a lot of microfibers from synthetic clothing, microfilms from plastic bags, and plastic fragments from a variety of harder plastic products such as bottles, lids and toys. Early data shows 15-20 pieces of microplastics per liter of water in the French Broad and 7-13 pieces per liter in the Watauga. These results are among the highest on record for plastic pollution in rivers. Our studies continue, and through a grant with Waterkeepers Carolina, we're part of a statewide coalition collecting water samples from throughout Western North Carolina and the rest of the state.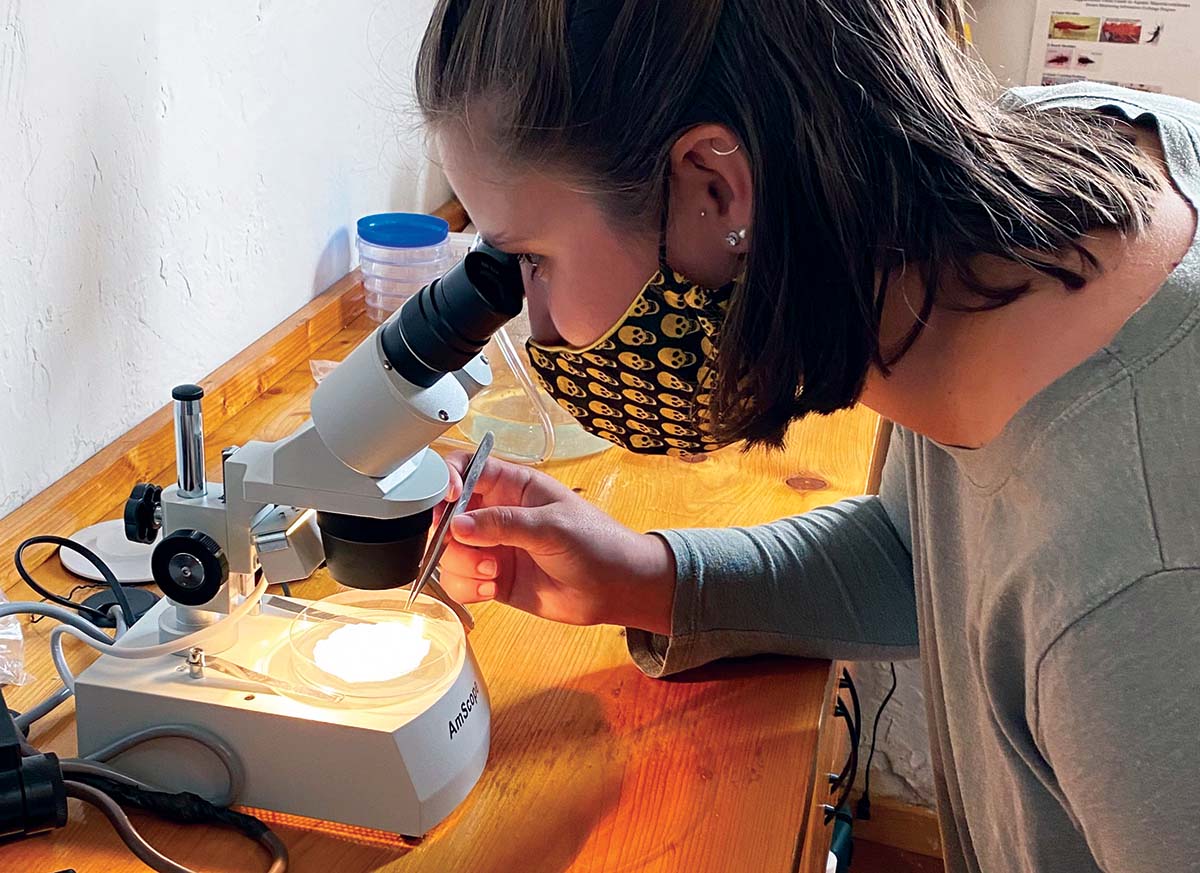 Hannah Woodburn, MountainTrue's High Country Watershed Coordinator analyzes water samples for microplastics in the lab at our High Country office.
Intercepting River Litter with Trash Trouts
MountainTrue is partnering with Asheville GreenWorks to install Trash Trouts in the streams and tributaries that are most impacted by plastic pollution in our region. The Trash Trouts are fabricated by Asheville Greenworks, an Asheville-based nonprofit, as part of their litter prevention program. 
The device is a large cage with a wide mouth that floats on pontoons. Booms are anchored upstream on each bank to direct floating debris into the mouth of the cage. Large pieces of floating trash and plastic are trapped inside the Trash Trout, while smaller organic matter passes through and fish and other aquatic wildlife pass below the device. 
Each Trash Trout costs approximately $3,500 to manufacture and install, not including the additional staff and volunteer time needed to empty and maintain the devices. MountainTrue services the Trash Trouts and collects data on every piece of litter collected. MountainTrue is seeking support from businesses and individuals in the form of sponsorships and donations in order to deploy more of these litter collection devices throughout our region.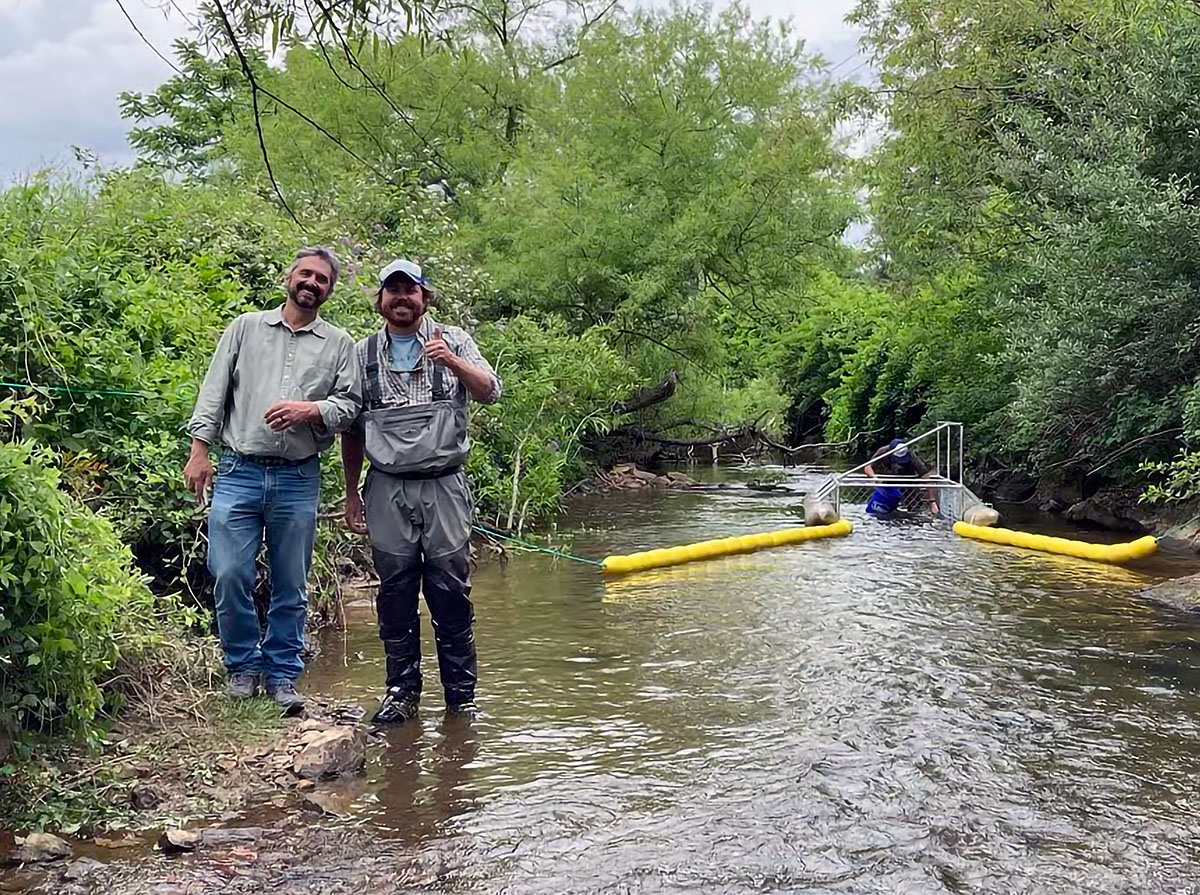 George Santucci, Sustainability and Special Projects Manager for the Town of Boone, poses with Watauga Riverkeeper and MountainTrue High Country Regional Director Andy Hill in front of the Winkler Creek Trash Trout in Boone. The litter collection device was installed on June 2, 2021.
Partnering with Local Businesses to Find Better Alternatives
MountainTrue is partnering with the Hendersonville Environmental Sustainability Board on "Working To Be Plastic Free" — a voluntary plastic reduction program for local businesses interested in taking meaningful steps toward reducing single-use plastic items like water bottles, plastic bags, takeout containers, cutlery and straws.
Businesses are encouraged to take the Working To Be Plastics Free Pledge. Participating businesses will receive a window decal to advertise their commitment to customers. Businesses that are enrolled will have access to consultation with local experts, and will continue to be publicly recognized in MountainTrue's media.
In July 2021, Hendersonville's City Council approved a resolution to kick off the new program, and shortly thereafter Mayor Volk signed the Working to Be Plastic Free Pledge for the city to participate. In the first month of the new program, ten local businesses accepted the challenge of becoming as plastic free as possible: Dancing Bear Toys, Dogwood, Shine, Be Clutter Free, Highland Lake Inn and Resort, Smart Start Partnership, Juls Buckman Photography, Well-Adjusted Chiropractic, and Underground Bakery.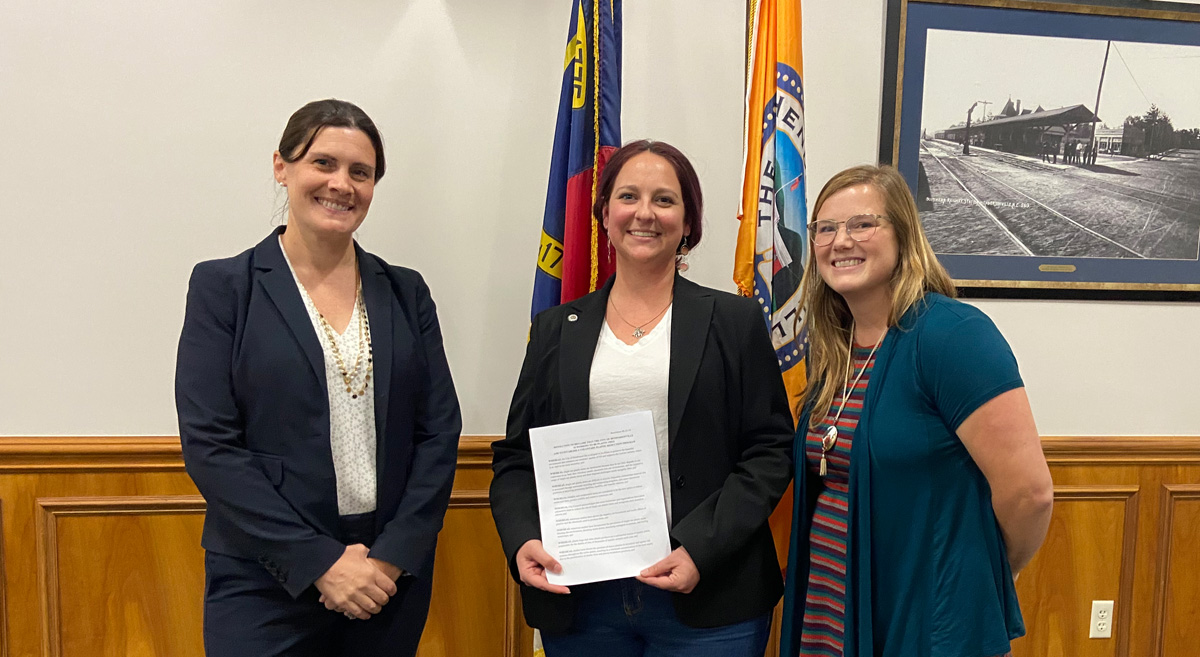 L to R: Beth Stang, chair of Hendersonville's ESB. Lyndsey Simpson, H'ville City Councilwoman, and Christine Wittmeier, chair of MountainTrue's Recycling Team, hold a July 1st proclamation endorsing the Working to Be Plastic Free program.