Step 2: Reduce Farm & Nutrient Runoff
We all love farm fresh produce, and many of the local farmers who help keep our fridges full do a great job of growing vegetables and raising livestock in a way that is sustainable for the health of our rivers. Unfortunately, others do not.
Agricultural runoff that carries animal waste and fertilizer are a significant source of bacterial and nutrient pollution. The result is higher levels of E. coli and other pathogens in our rivers and streams, and dangerous algal blooms that take over our ponds and lakes. Let's support the many small family farmers throughout North Carolina that are striving to provide healthy food while protecting our local communities and waterways.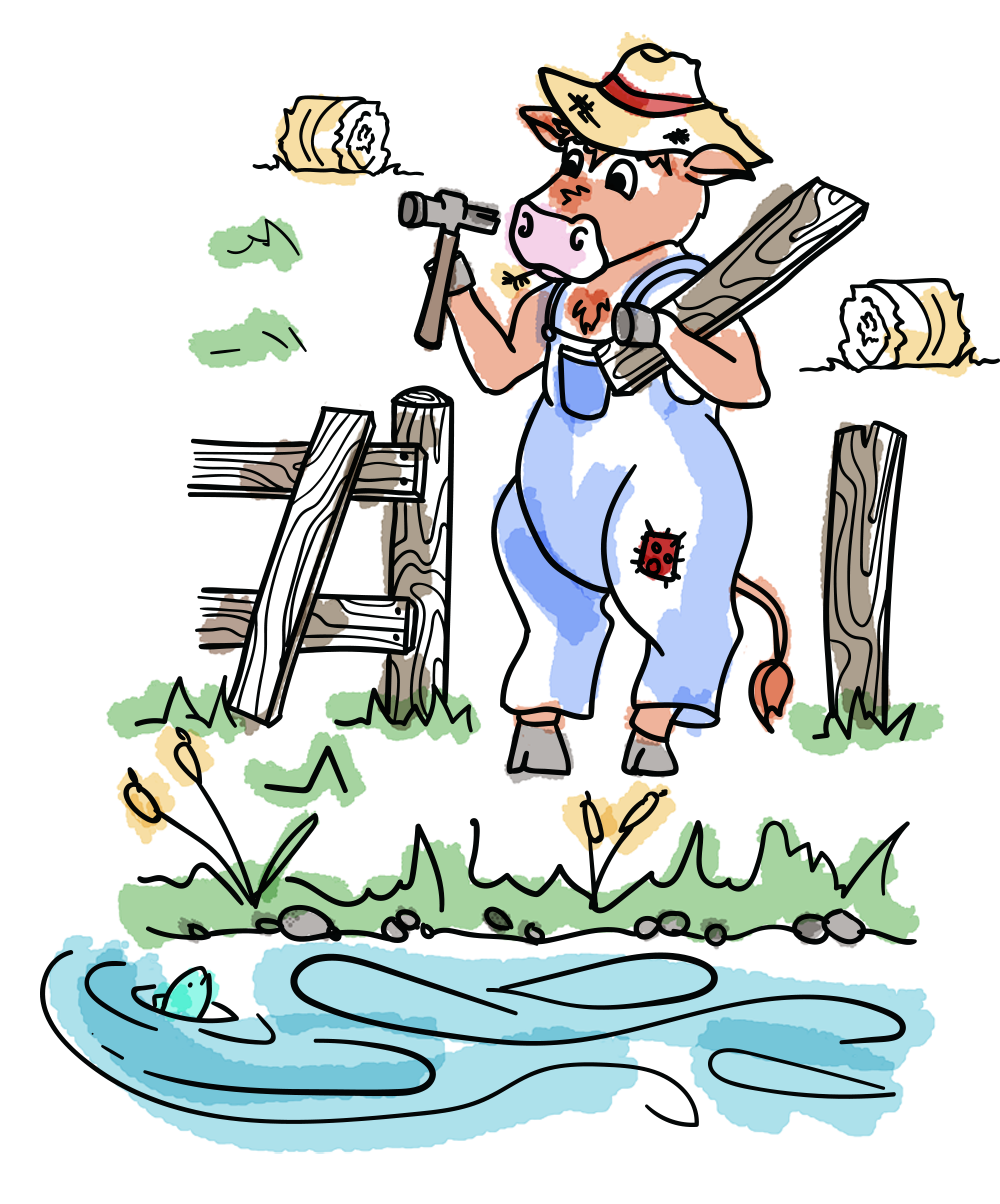 Support the farms that are doing it right!
We can make a difference by supporting the farmers who are striving to do it right. Buying from these farms now is a way to not only feed your family but to protect our fragile environment. This is a great time to buy a Community Supported Agriculture share; farms offer regular delivery of everything from produce, to dairy, to meat.
Help other farmers improve their practices!
It is not always affordable for small-scale farmers to adopt management practices that keep our waters clean and protect our environment. We need to stop overusing fertilizers and pesticides, build fences to keep cows and other livestock out of streams and rivers, and create buffers of shrubs, grasses and trees along riverbanks to absorb and filter stormwater runoff. We need to do more to encourage and support local farmers to adopt these better management practices, and to enforce clean water standards if they don't.
Our Rivers Need You
Help tackle the issues that most affect river health. Support the I Love Rivers action plan to keep our rivers healthy.
Agency Actions:
The Soil & Water Conservation Division of the NC Department of Agriculture and Consumer Services (DA&CS) should strongly encourage Agricultural Cost Share Program technicians to proactively approach farmers in watersheds where water quality is impaired and impacted to try to secure their participation for installing agricultural best management practices to improve water quality. The agency should consider raising the allowed dollar amounts and/or providing 100% support for installation of livestock practices on farms along waterways that are impaired by bacterial pollution.

DEQ and DA&CS should develop a cooperative approach to help farms comply with clean water laws.
DEQ should adopt a state water quality standard for E. coli.
Legislative Actions:
Allocate more funding to the Soil & Water Conservation Division of DA&CS to help farmers build fences and provide alternative watering sources to keep cows from defecating in streams.
Move DEQ's enforcement of sediment erosion and stormwater control to the Division of Water Resources and provide sufficient funding and resources.
Require farms to follow a set of best management practices, including fencing and stormwater mitigation.
Require sufficient riparian buffers to help keep sediment and nutrient runoff from polluting our rivers and streams.