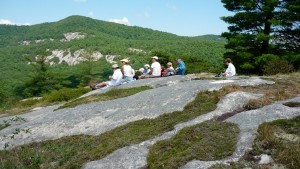 Protecting Public Lands
MountainTrue engages communities in safeguarding the treasures of our public lands, including wildlife, old growth forests, and rare ecosystems. We believe public lands are the greatest assets of our region. We also believe that management of these lands should maintain and restore their ecological integrity and promote recreational opportunities.
Here are a few examples of what we're doing on behalf of our public forests:
We engage citizens in management and planning for our public lands and forests.
We promote ecological restoration as a management approach for public lands.
We are leaders in invasive exotic plant control in WNC.
We advocate for protection of ecologically significant areas.
We support strategic acquisition for public lands, and conservation management on adjacent private lands.
We coordinate and collaborate with partner conservation groups.
We work to influence transportation projects that would have significant impact on our forests.
Consider joining our Forests and Public Lands Task Forces.  Call our Staff Ecologist Bob Gale for more information at 828-258-8737.
Public Lands News:
January 2015: Click here to see maps of areas threatened in the draft revision of the Nantahala-Pisgah Forest Management Plan.
From the National Wildlife Federation — Dismantling America's Treasures:  The Assault on U.S. Public Lands: National forests, wilderness areas, wildlife refuges, wild and scenic rivers, and other treasured public lands have become the focus of a small number of elected officials whose intention is to tear down protections, limit access to outdoor enthusiasts, and to promote extractive activities over all others. These attacks have culminated in the list of legislative proposals below, and when put together they paint a grim picture of the future of public lands. [more]
Information, comments and summaries of the U.S. Forest Service public meetings
Forest service kicks off revision of Nantahala-Pisgah Management Plan
MountainTrue supports efforts to return fire to Linville Gorge