May news from MountainTrue's four regional offices: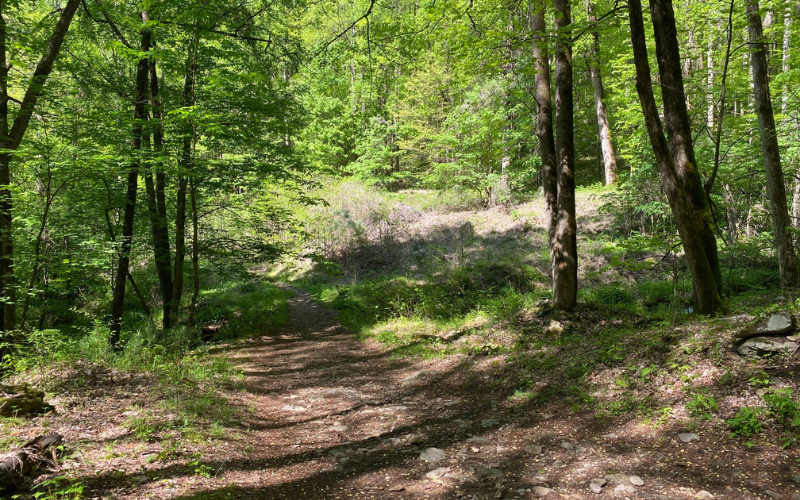 Photo: A patch of still-dormant kudzu covering the forest floor in one part of Sylva's Pinnacle Park will be an initial focus of control efforts.
Tackling invasive plants at Pinnacle Park
MountainTrue is partnering with the Pinnacle Park Foundation on a strategy for controlling nonnative invasive plants at the 1,100-acre park, which is owned by the Town of Sylva. Our Western Region Program Coordinator, Tony Ward, and AmeriCorps member, Darby Stipe, met with Foundation board members and others on April 29 to evaluate patches of kudzu, English ivy, and other invasives that are pushing out native plant species that would normally thrive there.
Put the FUN in FUNdraising: help MountainTrue while doing your favorite activities this summer!
Last year's successful Hike-a-thon was a blast, so we decided to do it again in 2023! This summer, you can raise money for MountainTrue by enjoying your favorite outdoor activities: hiking, biking, and paddling. Mark your calendars for June 15 through August 31, and sign up to support a good cause and have fun outside! Click here for more info on the 2023 MountainTrue-a-thon.
Join us on a Guided Adventure this summer!
MountainTrue's summer '23 Guided Adventures are officially open for registration! These adventures provide the opportunity to get outside in nature, enjoy the beautiful scenery of the Southern Blue Ridge Mountains, and learn from experts along the way. MountainTrue's staff of ecologists, naturalists, and riverkeepers will teach you to gain a new appreciation for the world around you. With limited spots available, these Guided Adventures will sell out quickly! Click here to sign up today!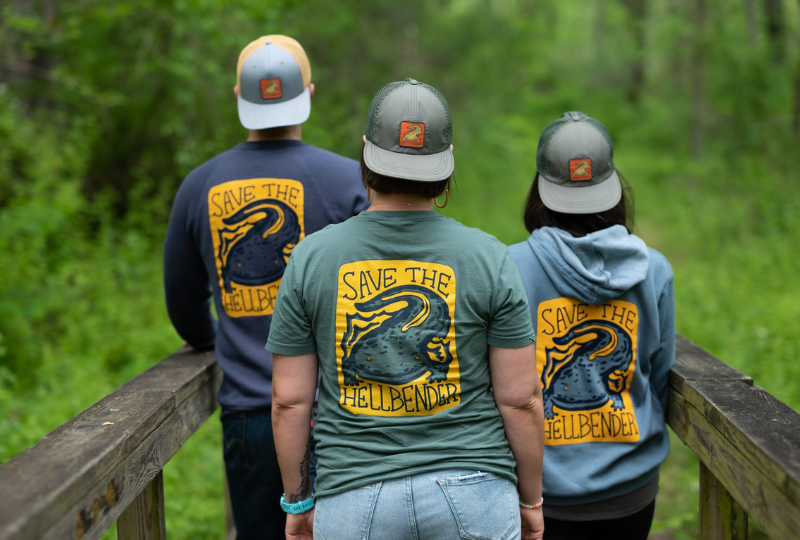 Photo: MountainTrue's new 'Save the Hellbender' tshirt, crewneck, hoodie, and hats are now available on the MountainTrue store!
Get your new MountainTrue Merch!
Current MountainTrue members will receive a 5% discount on merchandise (check your email inbox for your discount code). Your MountainTrue merchandise purchase supports our continued work and spreads the word about our mission to protect the places we share. Together, we can do more. Get your MountainTrue merch today!
MountainTrue in the news: Josh Kelly speaks about the Nantahala-Pisgah Forest Plan
An opinion piece by MountainTrue's Public Lands Field Biologist, Josh Kelly, was recently published in the Asheville Citizen Times. Josh elaborates on the newly-released Forest Plan — which was adopted by the US Forest Service in late March 2023 — and explains how it flies in the face of President Biden's pledge to protect old-growth forests by putting over 12,000 acres of old growth on the chopping block. Click here to read the full piece.