Sarah Ogletree, Creation Care Alliance Director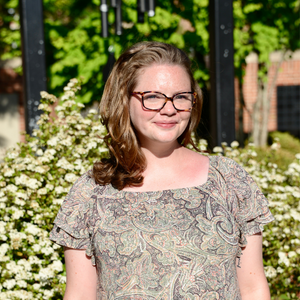 Sarah is thrilled to be joining the Creation Care Alliance team and for the opportunity to do the work of faith-based ecological justice in the region that has made her who she is. She has worked at the intersection of faith, ecology, and Creation Care at NC Interfaith Power & Light, as well as at United Methodist Churches in Cullowhee and Winston-Salem, Parkway United Church of Christ in Winston-Salem, First Baptist Church in Sylva, and here with the Creation Care Alliance back in 2017.
Sarah holds a Master's of Divinity from Wake Forest University School of Divinity, where she focused her studies on faith and ecology. She received her Bachelor of Arts in Sustainable Development from Appalachian State University. Notably, she was the recipient of the national 2018 Emerging Earth Care Leader Award from Presbyterians for Earth Care and was named a 2019 Re:Generate Fellow.
In her free time, Sarah enjoys planting flowers, singing, and playing the fiddle with her husband, William. She is a fan of snuggling up on the couch to read Southern Appalachian novels and also loves exploring with her small but mighty dog, Bo.

sarah@mountaintrue.org