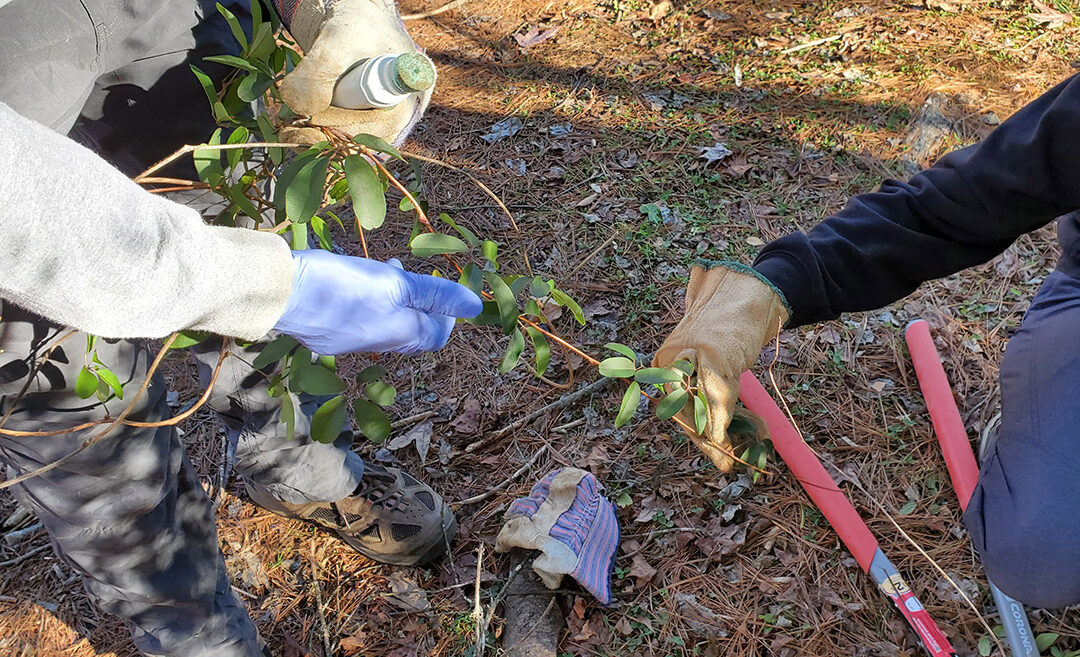 Removing Non-Native Invasive Plants In Hot Springs With Tamia Dame and Bob Gale
Last December, I headed out with MountainTrue's Ecologist and Public Lands Director, Bob Gale, to treat non-native invasive plants with a few volunteers at an Appalachian Trail (AT) trailhead in Hot Springs, NC. This trailhead leads hikers straight to the parking lot for Laughing Heart Lodge, which is just one of the many hostels along the trail that provides accommodations to thru-hikers. The small town of Hot Springs is a hub for AT thru-hikers because of its position along the AT, its charming accommodations and its natural beauty.
Trailheads are often vulnerable to the spread of non-native invasive plants due to their proximity to roadways, since tires and shoes can carry the seeds of invasive plants and deposit them onto the ground around them. Upon meeting around ten in the morning at the trailhead, we were greeted by a plethora of multiflora rose (Rosa multiflora), Chinese privet (Ligustrum sinense), kudzu (Pueraria montana), oriental bittersweet (Celastrus orbiculatus), and a newly appearing vine here, Akebia quinata, also known as five-leaf akebia or chocolate vine. Only a short distance up the trail ahead, invasive plants were sparse – making this a great opportunity to prevent them from spreading further.
After a brief training in cut-and-paint herbicide use, non-native invasive plant identification and safety, the group broke up to tackle the dense foliage from each corner of the parking lot. Cut-stump herbicide treatment is ideal for woody stem plants such as multiflora rose and Chinese privet, and easy to figure out for first-time volunteers. Here's how it works: Once plants have been cut to the base of the stem, take a small bottle with a sponge tip and a needle that protrudes with pressure and presses onto the cut stump, sending the herbicide down into the roots. The herbicide contains a blue dye as an indicator for safety or spill purposes, which also makes it easier to tell the difference between treated and untreated plants in areas dense with invasives.
The weather was cool and sunny; great weather for battling a thorny wilderness of multiflora rose in long sleeves under little tree canopy. This exotic invasive perennial shrub is particularly harmful because of its natural lack of predators, incredible shade tolerance and high seed production, to name a few factors. When we arrived, the southeastern corner of the parking lot had several mature multiflora rose plants which had effectively overtaken the native plant life beneath them.
Bob and Tamia worked on this corner until it was nearly rid of invasives and visibly much healthier, promoting an environment in which native plant life can thrive as hikers pass through. Positioned on the north and northwestern corners of the lot, volunteers Scott and Kayla cut through thickets of multiflora, privet, oriental bittersweet and kudzu. Diligently cutting and painting through the morning and afternoon, these two were able to significantly improve the appearance of this side of the parking lot and make great progress on this non-native invasive removal project.
While the situation here is not yet perfect, we were able to put an impressive dent in the sheer volume of non-native invasive plants that stood when we arrived. We look forward to continuing our invasive treatment work on the Hot Springs AT trailhead as the weather warms, and thank Scott and Kayla for their hard work with us!