What we're up to: science, boots on the ground & collaboration
We're Hiring: Four Open AmeriCorps Positions! Apply by May 31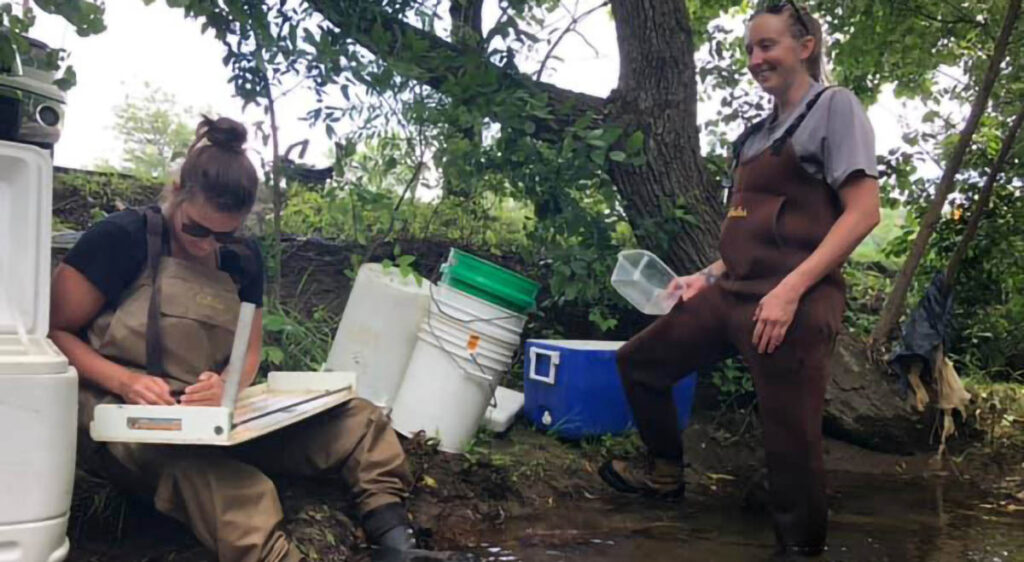 MountainTrue, through AmeriCorps Project Conserve, is seeking dedicated individuals to fill four positions that serve critical conservation needs in Western North Carolina The positions are Water Quality Administrator positions in both Hendersonville and Boone, and ForestKeeper Coordinator and Outings & Education Coordinator positions in Asheville. Each member will serve 1700 hours from September 1, 2021 through July 31, 2022. The deadline to apply is May 31.
Check out our jobs page to read individual position descriptions, learn about AmeriCorps Member benefits and eligibility requirements and apply!
Ward Mill Dam Removal Reconnects Aquatic Habitat After 120 Years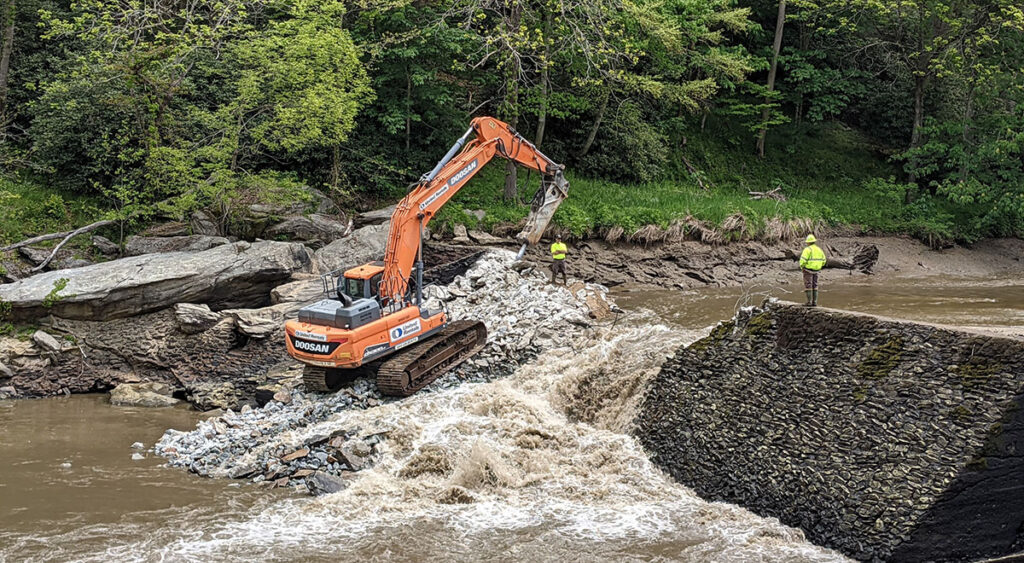 In a huge win for local aquatic wildlife, the Ward Mill Dam just a few miles from Boone, North Carolina has finally been removed. The first dam was constructed at the location in 1890 and improved upon over the years. The dam had been an obstacle for local aquatic wildlife for the past 130 years. Now, native fish such as the brook trout, tangerine darters and threatened salamanders like the hellbender will be reunited and benefit from a reconnected and improved cold-water aquatic habitat. The removal project was a high priority for experts and biologists and accomplished by a partnership including American Rivers, Blue Ridge Resource Conservation and Development, MountainTrue, the Watauga County Soil and Water Conservation District and the U.S Fish and Wildlife Service. Read more.
Get Your Ticket to No Man's Land Film Festival!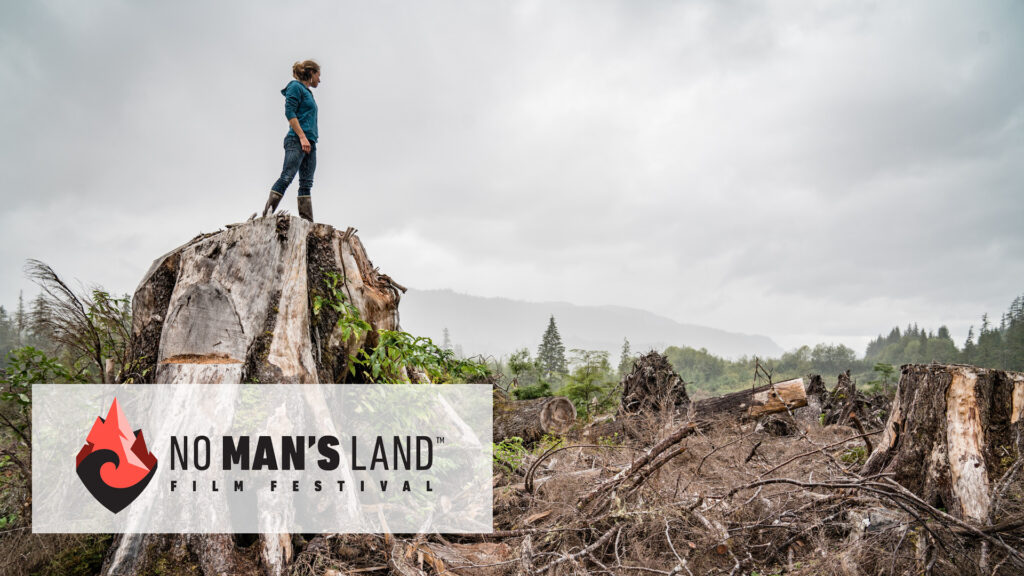 MountainTrue is proud to bring the No Man's Land Film Festival (NMLFF) back to the Southern Blue Ridge Mountains for a fourth year. This year's film program will highlight intrepid climate activists, conservationists, problem solvers, committed grassroots organizers, and environmental justice champions – all women, and all inspiring! And this year's festival is being paired with actions that the public can take to help keep our local rivers clean, stop industrial pollution and fight climate change.
"This year's film festival will showcase dazzling vistas and tell stories that will inspire all of us to seek out adventure and fight to protect our mountains, forests and rivers," explains MountainTrue's Community Engagement Director Susan Bean, who is organizing the event. "We hope to have at least 300 actions taken during the festival to protect the outdoor treasures here in our own backyards."
Get your tickets, watch the film trailers and take action.
One Million Gallons of Sewage Overflowed into Western North Carolina Waterways During Six Month Period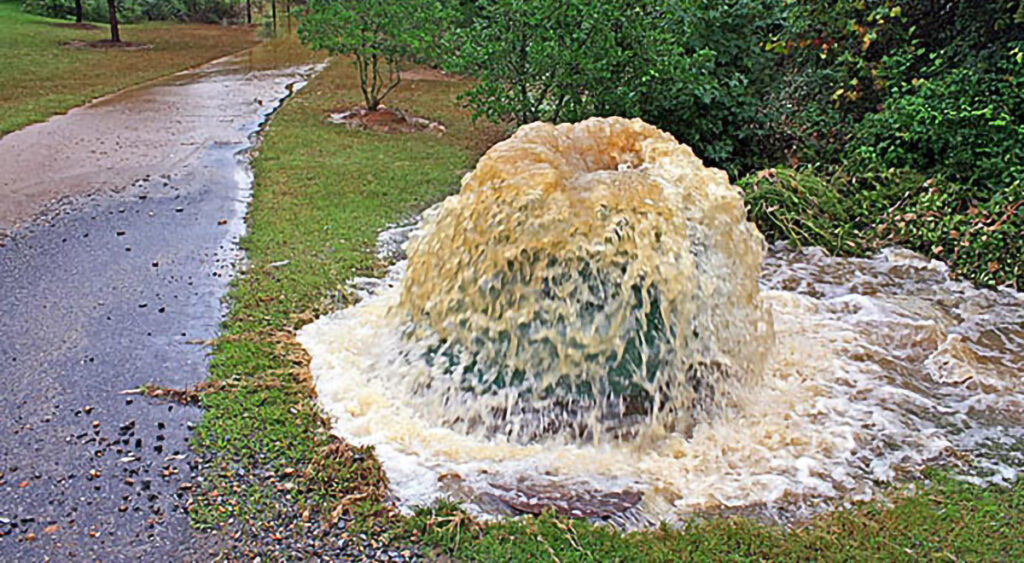 More than one million gallons of sewage overflowed from inadequate wastewater infrastructure into the French Broad River and other area waterways in Western North Carolina between August 3, 2020 and March 4, 2021, according to state data acquired and analyzed by MountainTrue. The sewage spills happen when heavy rains overwhelm inadequate wastewater infrastructure, causing rainwater and sewage to overflow from manhole covers. Prior DNA testing conducted by MountainTrue showed that leaks from sewer and wastewater infrastructure were a significant source of bacteria pollution in the French Broad Watershed. Read more.
This DEQ data underscores those findings and supports a key MountainTrue policy goal: reducing human-derived bacteria contamination by fixing our broken sewer and wastewater systems. Take action to clean up our waters at ilovrivers.org.
2021 BioBlitz Tri-County Smackdown: Who Will Be Crowned Champion of Biodiversity in WNC?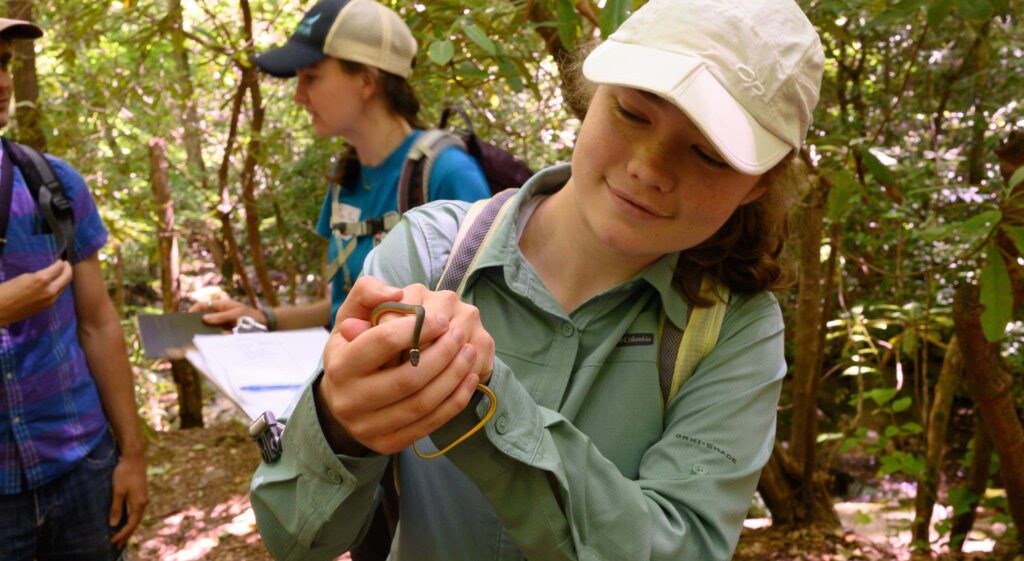 Join MountainTrue for the 2021 BioBlitz to compete for the crown of 2021 Champion of Biodiversity. The competition takes place virtually across three counties (Jackson, Transylvania and Watauga counties) from June 5 through June 19, and is a great opportunity for experts and aspiring naturalists to get outside and add to the scientific record by documenting the vast biodiversity of our region.
Everyone can participate through the iNaturalist web and smartphone platforms. Scores will be tallied for each county and for individual participants, with prizes and bragging rights for our winners (note: you must sign up using our registration form to be eligible to win). Prizes will be awarded to individual winners in the following categories: Overall best observation, most total observations, most species, most birds, most arthropods (including insects!) and most fungi. We will recognize the County Champion of Biodiversity as the county that receives the most observations of unique species. Additional recognition will go to the county with the most participants and the most observations submitted. Learn more and sign up.
Help NC Get an Electric Vehicle Specialty License Plate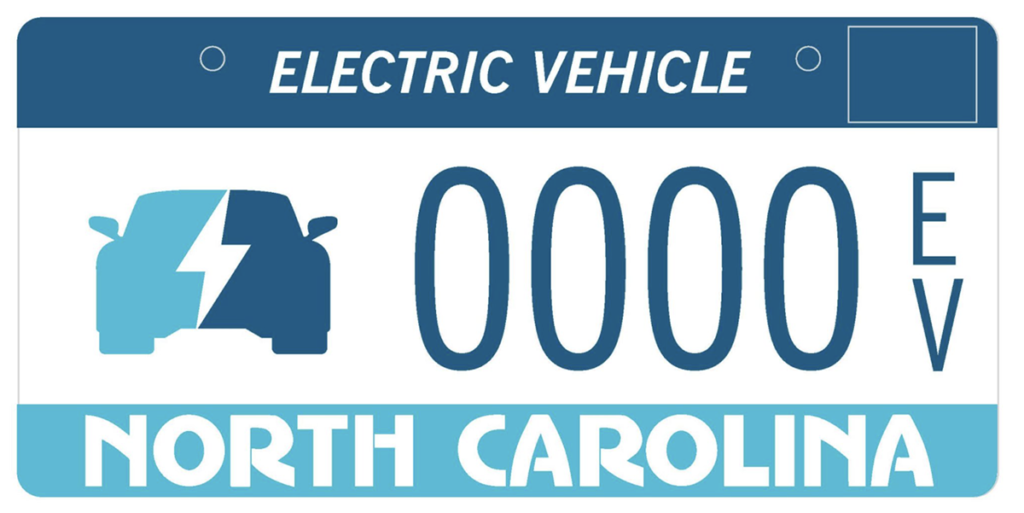 Plug-in NC is working to increase awareness and adoption of electric vehicles across the state. One aspect of this effort is getting an electric vehicle specialty license plate approved by the legislature. There must be 500 applications for the specialty plate to receive final approval, and there are currently only 350. Help push this effort across the finish line by submitting an application!
Take Action To Reduce Damage From Landslides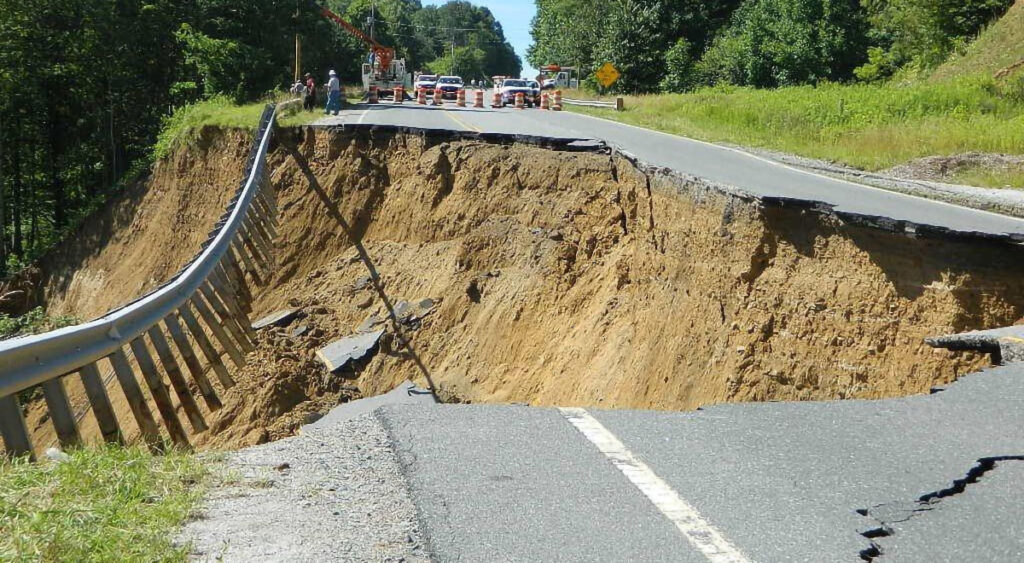 We saw the damage of landslides firsthand in Haywood County two years ago, when a landslide blocked I-40 and required over 26,000 people to take a 160-mile detour for two weeks. We've seen it when landslides have destroyed and condemned homes all over our region, impacted a major gas line, moved excessive sediment into Franklin's drinking water supply and resulted in a tragic loss of life in Watauga, Polk and Macon counties. Unfortunately, as climate change causes more frequent and heavy rainstorms, landslides are also becoming more common and dangerous.
The good news is, we can make our communities safer from landslides if we know where to expect them. The NC Department of Environmental Quality has been mapping landslide risk in our mountains, but the funding for the highly trained, technical mapping staff who do this work will run out this June. Take action by asking your State Senator to continue funding for the landslide hazard mapping effort in this year's Senate budget.
Central Regional News
For Buncombe, Madison, McDowell, Mitchell and Yancey counties
Solarize Asheville-Buncombe Reaches Its Cheapest Pricing Level!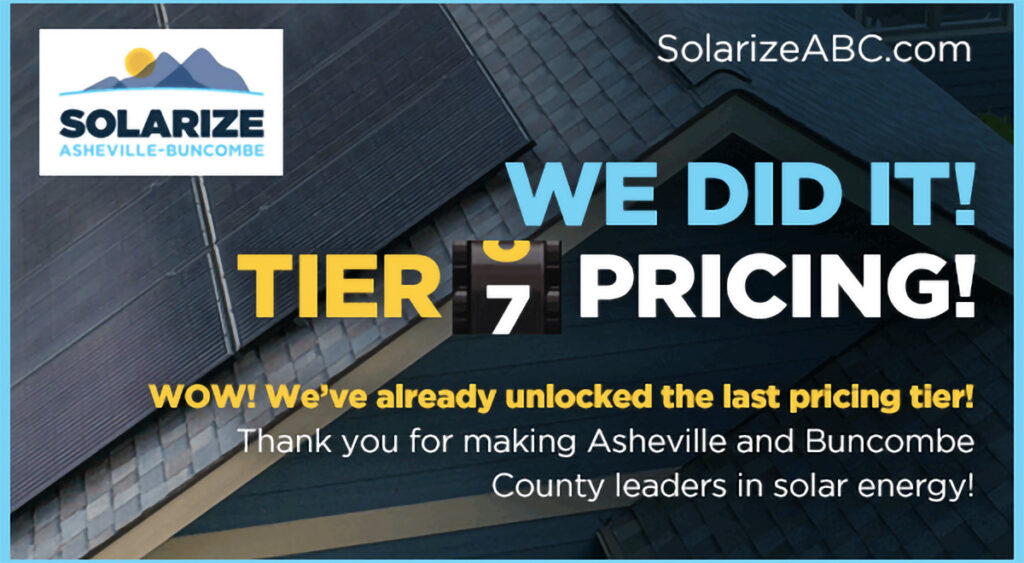 Solarize Asheville-Buncombe has truly taken off like no Solarize campaign before it, reaching the final pricing tier – tier 8 – in record time. This means we have made solar energy more affordable for hundreds of residents in Buncombe County!
To extend accessibility further, Solarize Asheville-Buncombe also signed our first income-based solar grant last week. This grant will cover the full cost of a solar installation for a low-income family in Buncombe County – significantly reducing energy costs for many decades, and providing greater financial security while utility costs fluctuate.
At the same time, the workforce development component of Solarize is moving forward, as Green Opportunities has completed multiple weeks of solar installation training for community members with traditional barriers to employment.
We are so grateful to all of our supporters who have signed up or donated to make Solarize such a success. If you haven't yet, here are some ways you can participate in the campaign:
You can still sign up! Register for your free home solar evaluation here to see if solar energy will be a good fit for your property.
Help make solar energy attainable for even more families by donating to our Neighbor-To-Neighbor solar crowdfunding campaign. 100% of funds will help more community members in Buncombe County afford solar energy.
Want to learn more about the various ways to finance solar energy? Mark your calendar for Solarize Asheville-Buncombe's financing workshop on May 26 from 6-7pm. See our events calendar below for more details.
Call on Asheville City Council and the Buncombe County Board of Commissioners: Build Back Better with Public Transit this Spring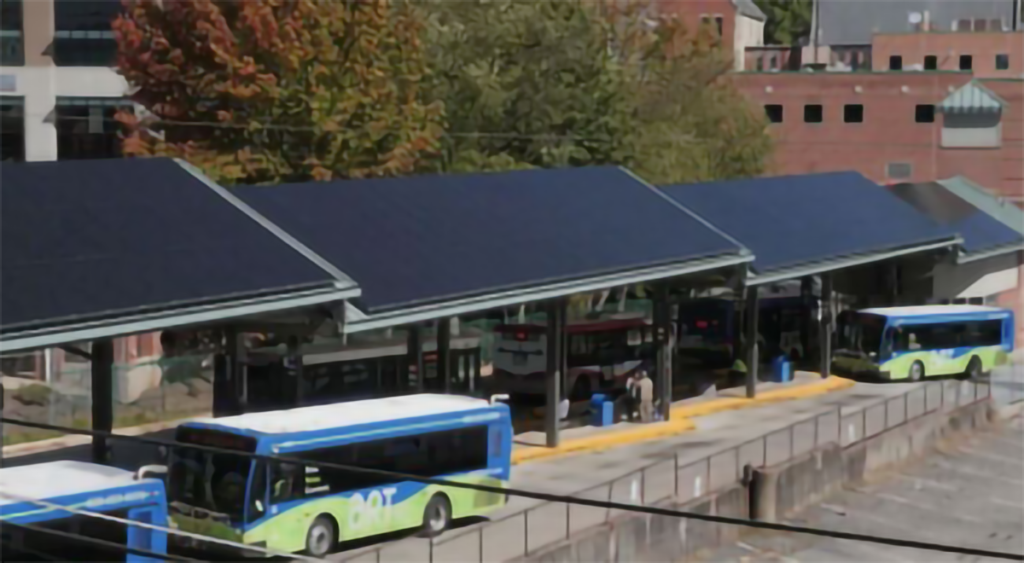 On time, all day, and more often. These are the words that guide our advocacy for a more frequent and accessible public transit system in Buncombe County.
This spring we are advocating for more transit funding from Asheville City Council and the Buncombe County Board of Commissioners, and so far, we have good news. City Council has indicated support for our requests to fund the next steps in Asheville's Transit Master Plan: extending evening hours, which will help night service workers get home without having to spend an hour's wages or more on an Uber or Lyft; and creating more frequent transit service to South Asheville on Hendersonville Road, which will connect more residents to job opportunities and health services like MAHEC. Now, we need to keep the pressure on to make sure City Council follows through and includes these items in its final budget this month.
We are also calling on the County Commissioners to fund a Transit Master Plan at the County level and to restore the County's subsidy for Mountain Mobility within Asheville city limits. The County used to pay for this important service, but removed it in 2019 – creating even more of a strain on Asheville's already underfunded transit system. Take action for better public transit.
High Country Regional News
For Alleghany, Ashe, Avery, Burke, Caldwell, Watauga and Wilkes counties
Swim Guide Launches this Memorial Day Weekend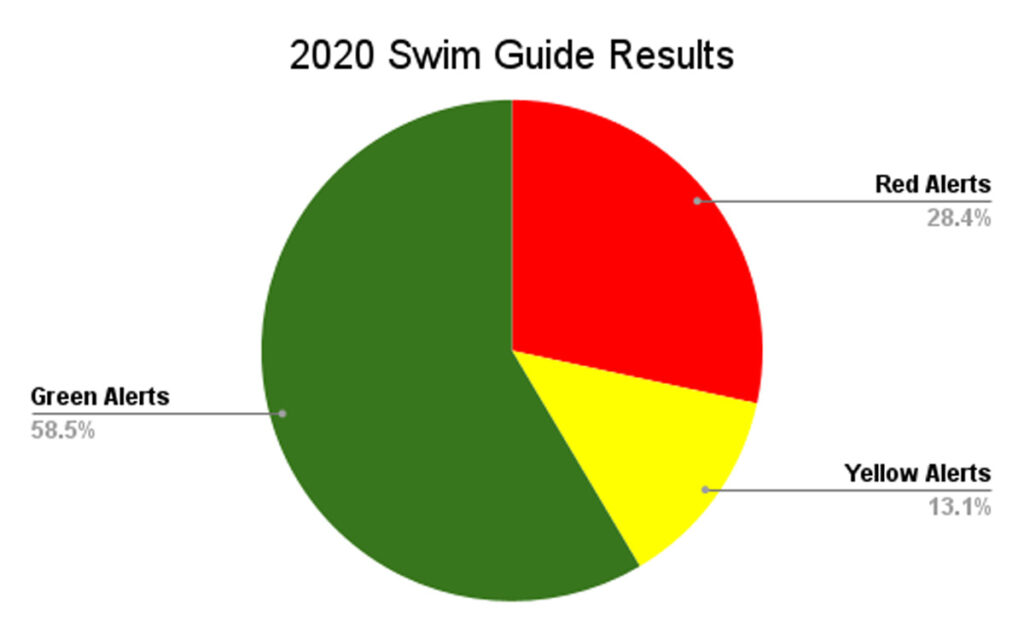 The 2021 Swim Guide season will be in full swing for the summer starting Wednesday, May 26! Our High Country staff, interns and volunteers will take E. coli water samples weekly until Labor Day, and you can check out the weekly report on your favorite swimming or fishing hole at SwimGuide.org.
Interested in collecting samples over the summer? Fill out this form and our High Country Water Quality Administrator Hannah Woodburn will contact you with more program details.
Help Welcome our Summer Interns!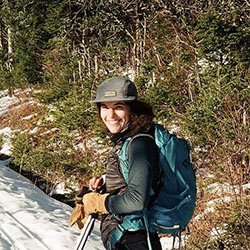 My name is Caty Parham (she/her). I'm a senior at Appalachian State pursuing a degree in Geography with a GIS concentration and a Spanish minor. I'm hoping to spend more time out on the water through monitoring and to apply GIS skills to various MountainTrue projects. I'm excited to work with an organization that is so passionate about protecting our local lands and waterways, and to gain new skills this summer.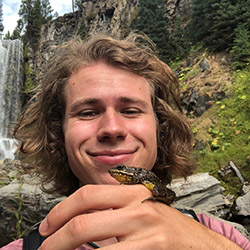 I'm Hutch Whitman, and I'm in my third year at the University of California Santa Barbara studying Ecology and Evolution. Even though I've been living on the West Coast, I've become passionate about studying Appalachia, its freshwater ecosystems, and the flora and fauna within them (especially salamanders). I'm hoping my time with MountainTrue will give me hands-on experience working in rivers and learning the steps that go into protecting our waters and keeping them healthy.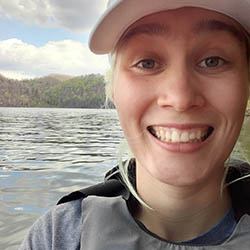 My name is Annabelle Blackwell, and I'm an Appalachian State alumni with a degree in Sustainable Development. I look forward to serving my community by protecting the High Country's freshwater ecosystems, and I'm especially eager to help with microplastics research and work with volunteers this summer. I'm passionate about all things relating to environmental sustainability. In my free time, I love to climb, hike and kayak.
Southern Regional News
For Cleveland, Henderson, Polk, Rutherford and Transylvania counties
Henderson County Planning Board Recommends Denial of Asphalt Plant Rezoning; Final Decision To Be Made June 1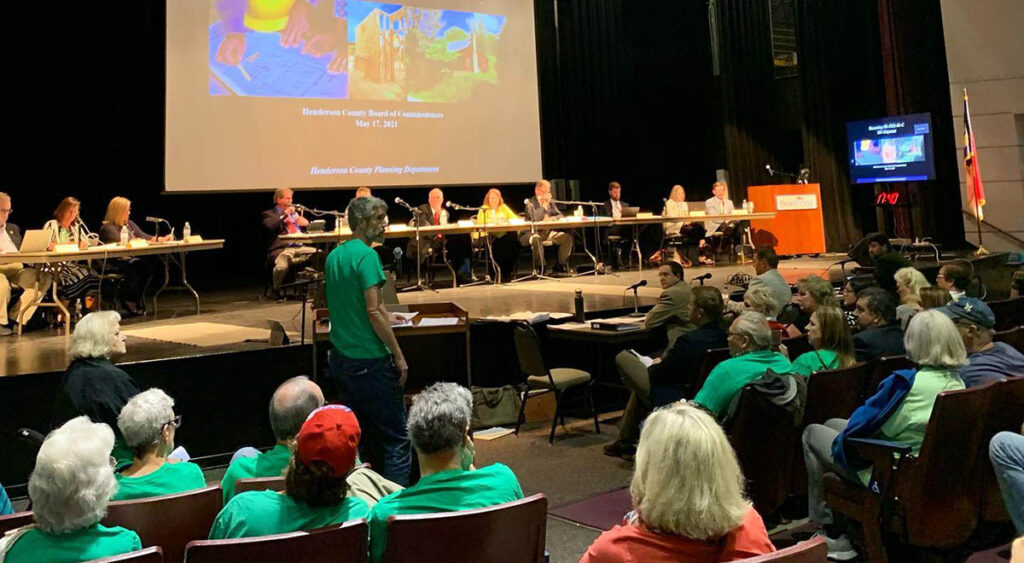 On April 15, the Henderson County Planning Board voted to recommend that the Board of Commissioners deny the rezoning request for an asphalt plant in East Flat Rock. The Board of Commissioners took up the issue at a well-attended hearing this past Monday, and after nearly three hours, decided to table the final decision until a June 1 meeting at the historic courthouse in Hendersonville.
Be there wearing green on June 1 at 6 pm to keep up the pressure and tell the Commissioners that rezoning for an industrial plant in this location is unacceptable. You can also send comments to the Board of Commissioners here. Read more.
Broad River Spring Sweep May 29, Race Day and Fun Float June 12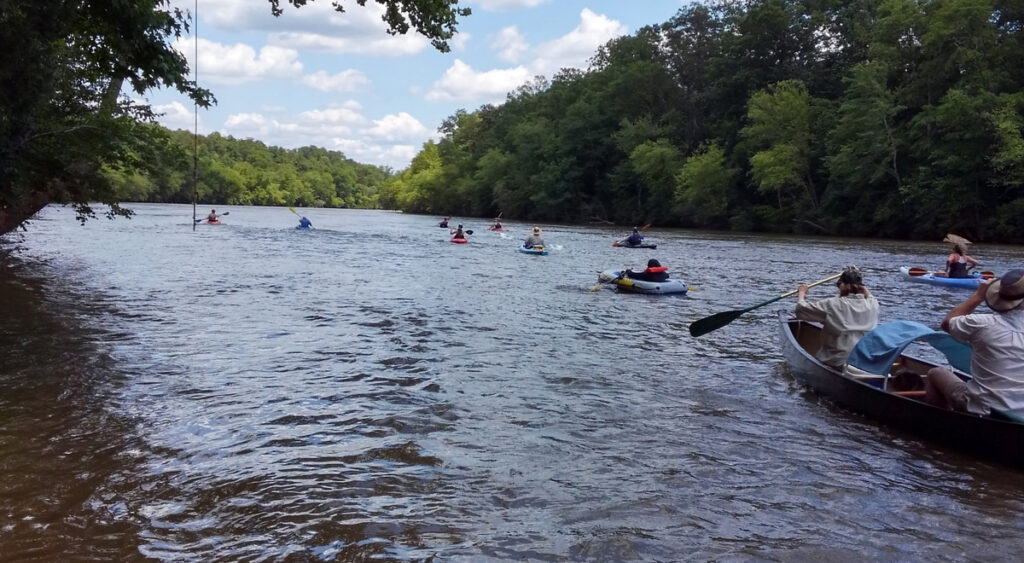 Come out and join us on the water with the Broad Riverkeeper this spring! On May 29, we will be cleaning up our most popular and scenic section of the Broad River: Lake Houser to the Greenway. This five-mile stretch of river is an easy float with a few Class I rapids along the way to add in some fun. Sign up.
Then on June 12, join us for the 3rd Annual Broad River Race Day and Fun Float! Race your friends or take a leisurely float down the same beautiful stretch of river we just cleaned up. Bring your canoe, kayak, jon boat, raft, or any vessel you can paddle. Sign up.
Western Regional News
For Cherokee, Clay, Graham, Haywood, Jackson, Macon and Swain counties in NC, and Towns and Union counties in GA
Swim Guide Launches For the Summer Season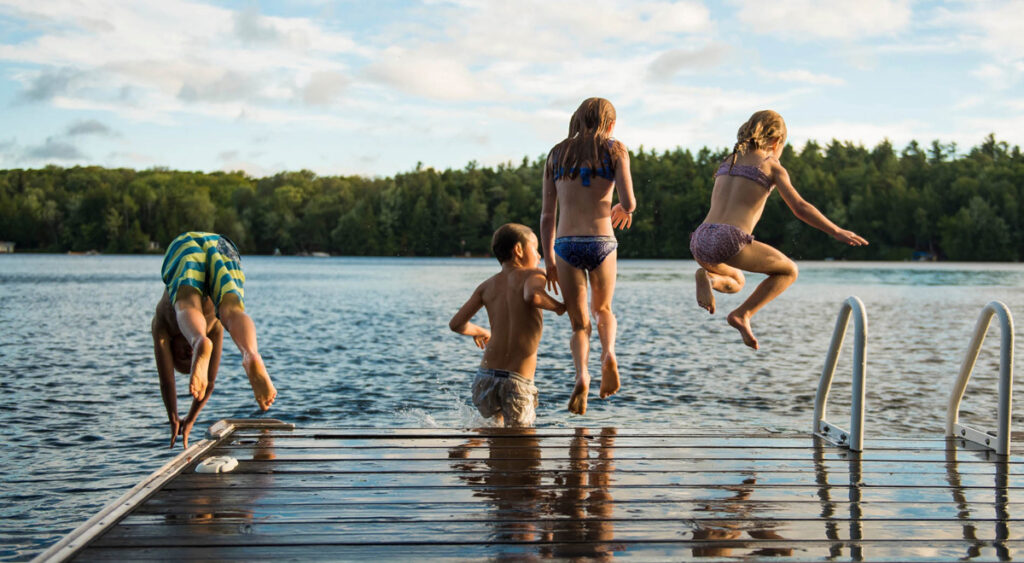 MountainTrue's 2021 Swim Guide program starts next Wednesday, May 26, just in time for Memorial Day weekend! In the Western Region, we will be collecting weekly E. coli samples from 15 sites across the Pigeon and Hiwassee River Watersheds from May to September. E. coli is a reliable indicator of the presence of other bacteria and pathogens in our waters that are harmful to human health. Results will be published in time for the weekend on the Swim Guide website (theswimguide.org) and on the smartphone app, which is available for Android and Apple smartphones.
We are also looking for volunteers to collect Swim Guide samples in Haywood County. Email Anna Alsobrook at anna@mountaintrue.org for more information.
2021 Carson Conservation Scholarship Winners Announced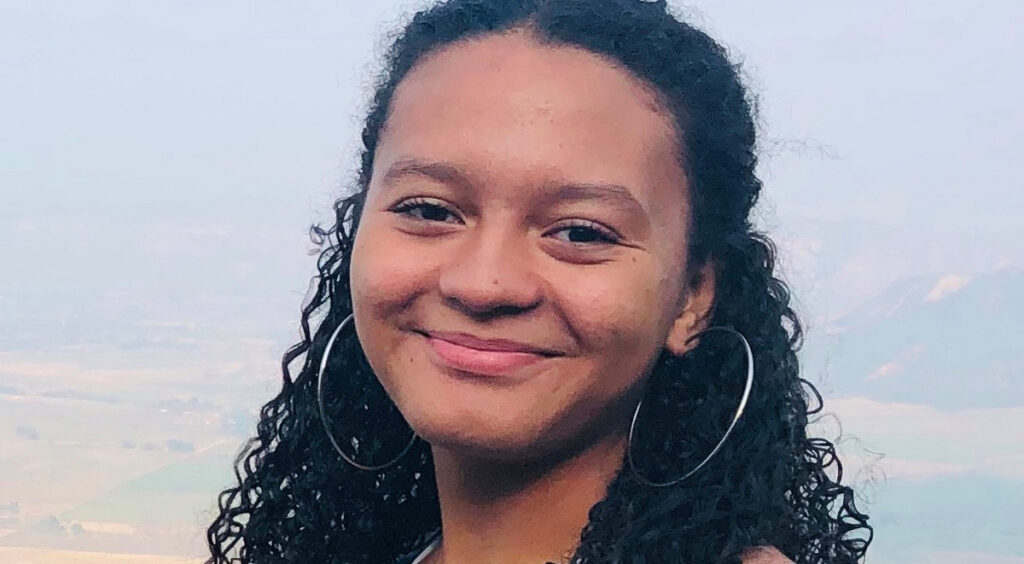 Murphy High School senior Kaiya Pickens is this year's top Glenn F. Carson, II Memorial Conservation Scholarship award winner! Kaiya plans to attend the University of North Carolina at Asheville in the fall, where she will pursue a double major in Ecology and Environmental Biology. Her scholarship is $2,000 and is renewable at $1,000 per year for up to three additional years. Additional $500 scholarships were awarded to Ethan Beavers from Robbinsville High School in Graham County, and Colby Davis from Hiwassee Dam High School in Cherokee County. Read more.
Help Us Win the Regional BioBlitz Competition!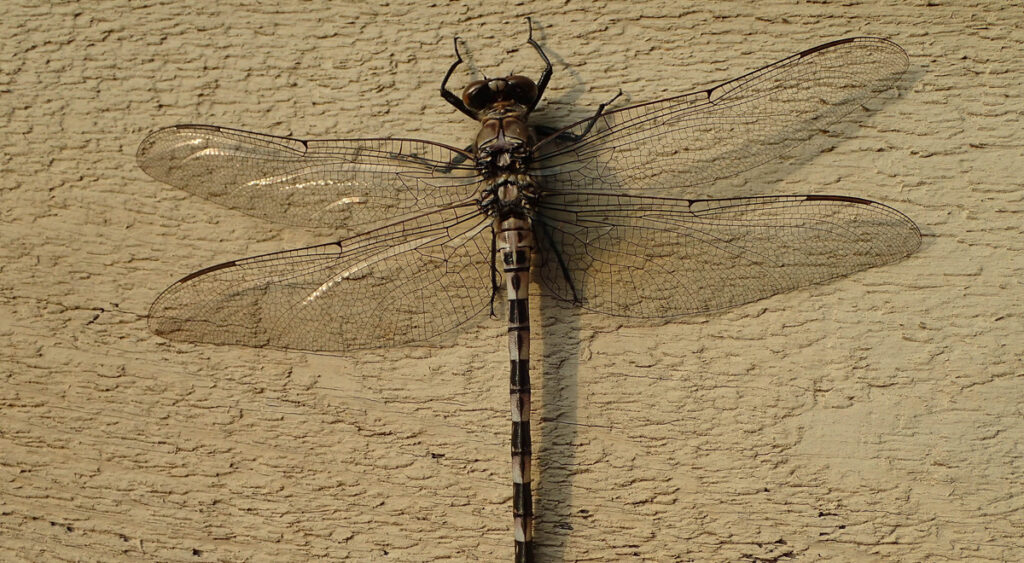 Every year, MountainTrue hosts a BioBlitz event to get experts, naturalists, and learners outdoors to document every living organism we can find. This year we're hosting a regional BioBlitz competition – a tri-county smackdown – to determine the 2021 champion of biodiversity!
Here in the Western Region, Jackson County will compete against Watauga in the High Country and Transylvania in the Southern Region. The competition kicks off on June 5, when we will launch the events on iNaturalist.org and begin accepting submissions, and lasts through June 19. Scores will be tallied for each county and for individual participants, with prizes and bragging rights for our winners (note: you must sign up using our registration form to be eligible to win). Prizes will be awarded to individual winners in the following categories: Overall best observation, most total observations, most species, most birds, most arthropods (including insects!) and most fungi. We will recognize the County Champion of Biodiversity as the county that receives the most observations of unique species. Additional recognition will go to the county with the most participants and the most observations submitted.
We're also hosting an in-person BioBlitz event in Jackson County on Sunday, June 6 from 2-5 pm. We'll meet at the Richland Balsam parking lot on the Blue Ridge Parkway and then disperse to various overlooks and trails on the Jackson County side of the road. Participants in the in-person event must register in advance and be fully vaccinated against COVID-19. Sign up for the free Jackson County BioBlitz event today!
Events & Volunteer Opportunities
May 20, 11 am-12 pm – Climate Change in Our Mountains and Strategies for Mitigation and Adaptation
Join our MountainTrue University Climate Series with Public Lands Director & Ecologist Bob Gale and Public Lands Field Biologist Josh Kelly as they discuss the likely effects of climate change in the Southern Blue Ridge Mountains. Sign up.
May 22, 10 am-12 pm – Hike & Learn to Identify Trees in Union County, GA
Join Tony Ward, MountainTrue's Western Region Program Coordinator, for a 1.2-mile loop trail hike through an upland forest area of Meeks Park and learn how to identify many of the trees in our region. Sign up.
May 26, 12-1 pm – Building Our City with Heather Worthington (Virtual)
In many American cities, it is illegal to build anything other than a detached single-family home on 75% of residential land. Join Minneapolis's Director of Long Range Planning, Heather Worthington, as she discusses why single-family zoning has come under scrutiny as cities grapple with a dire shortage of affordable housing. Sign up.
May 26, 6-7 pm: Solarize Asheville-Buncombe Financing Workshop
When it comes to purchasing a solar system, most homeowners find that financing makes sense economically. We have set up this online workshop to help clarify how lending works for solar panels. Register by signing up for a free solar evaluation here.
May 29, 10 am-4 pm: Broad River Spring Sweep
Come join MountainTrue's Broad Riverkeeper David Caldwell as we clean up the Broad River! We will be working on one of the most popular and scenic sections, from Lake Houser to the Broad River Greenway. Sign up.
June 1, 9-11 am: Lewis Creek Preserve Nature Walk
The Lewis Creek Preserve is an eight-acre treasure that includes a boardwalk overlooking a rare remaining Southern Appalachian bog. MountainTrue's Ecologist and Public Lands Director, Bob Gale, will lead a slow hike along the trail, interpreting the plant life, wildflowers, and value of pollinators on this property. Sign up.
June 4, 10 am-12 pm: High Country Snorkel
Join MountainTrue's High Country Water Quality Administrator, Hannah Woodburn, and take the plunge to explore the unique ecosystems of the Watauga River. Hannah is one of the leading experts on the ecology of the Watauga and is eager to help us find some smallmouth bass, blacknose dace, rainbow and brown trout, and hopefully some tangerine darters! Sign up.
 June 5-19 – 2021 BioBlitz: Tri-County Smackdown
This year's MountainTrue BioBlitz pits Jackson, Watauga and Transylvania counties against each other to determine the 2021 champion of biodiversity. The competition kicks off on June 5 on iNaturalist. We can't wait to see what kinds of observations our participants will share. Tell your friends, neighbors, family, and fellow naturalists, and get prepared for a BioBlitz like no other! Sign up.
June 6, 2-5pm: High Elevation In-Person BioBlitz in Jackson County
The in-person BioBlitz group will meet at the Richland Balsam parking lot on the Blue Ridge Parkway and then disperse to various overlooks and trails on the Jackson County side of the road. Advanced registration is required to participate. Sign up.
June 12, 2-5 pm: Broad River Race Day and Fun Float
Come on out for the 3rd annual Broad River Race Day! We welcome folks to race at your own pace, and enjoy these five miles on the most beautiful stretch of the Broad River. Sign up.
June 12, 1-5 pm: Wicked Weed Float and Cleanup
Come ready to float, clean up our river, and taste the release of the Riverkeeper Beer at the after-party. We will meet at the Pearson Bridge put in at 1 pm, pick up trash along the way, and take out in Woodfin. Sign up.
June 23, 12-1 pm: MountainTrue University: Community-Powered Solar in the Fight Against Climate Change
In this community conversation, MountainTrue's Organizer & Communications Manager Eliza Stokes will focus on the power of two recent collaborative solar energy purchasing efforts in Buncombe County and explore how similar campaigns could build momentum for renewable energy in other communities in the Southern Blue Ridge. Sign up.