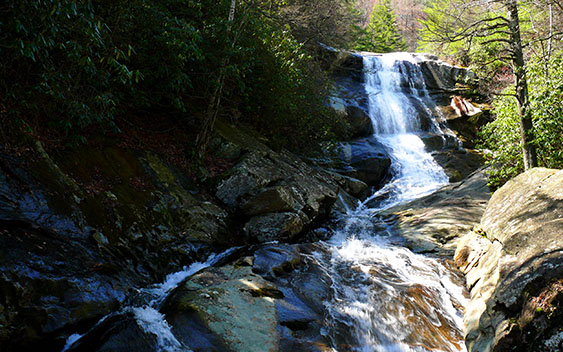 June 29 – A Milestone For Our National Forests
Upper Creek Falls on Upper Creek (part of the Catawba River watershed) in the Pisgah National Forest. Photo by Ken Thomas
Monday, June 29, 2020 MountainTrue delivered more than 600 public comments on the Draft Management Plan for the Nantahala and Pisgah National Forests that were generated through our online commenting portals and cards that we handed out at trailheads. This moment marked a major milestone in a six-year public campaign to win a better Forest Management Plan. 
In that time, MountainTrue members and supporters have generated thousands of comments throughout the different phases of the plan, and MountainTrue staff have spent tens of thousands of hours in the field, reviewing planning drafts and documents, working with stakeholders and drafting formal comments. We organized four panel events across Western North Carolina and six more on-line virtual info sessions since the COVID-19 lockdown.
MountainTrue was also a key collaborator and signer of the 107-page comment letter from the Nantahala-Pisgah Forest Partnership. Through our participation in the Partnership, we're proud to have helped foster a collaborative spirit among a broad set of forest user groups that we hope will last well into the future. We also helped draft 326 pages of legal and technical comments in partnership with the Southern Environmental Law Center, the Wilderness Society and Defenders of Wildlife to guide the Forest Service in their drafting of a final plan.  
Let us take this moment to celebrate each other for our collective hard work. Great job! And let's hope that it all pays off with a great Management Plan that protects our forest ecosystems, helps sustain our region's economy and provides our community with wonderful places to work, play and rejuvenate.